Whether you are hosting a full Thanksgiving meal or bringing food to a meal as a guest, Easy Gluten-Free Thanksgiving Recipes covers all the key Thanksgiving favorites. These are fun, delicious recipes made easy so you can enjoy the food and the day outside of the kitchen! Most of these recipes are naturally gluten-free, in addition to those that are modified to be gluten-free and all have been tested at my Thanksgiving table on gluten diners as well (with a thumbs up)!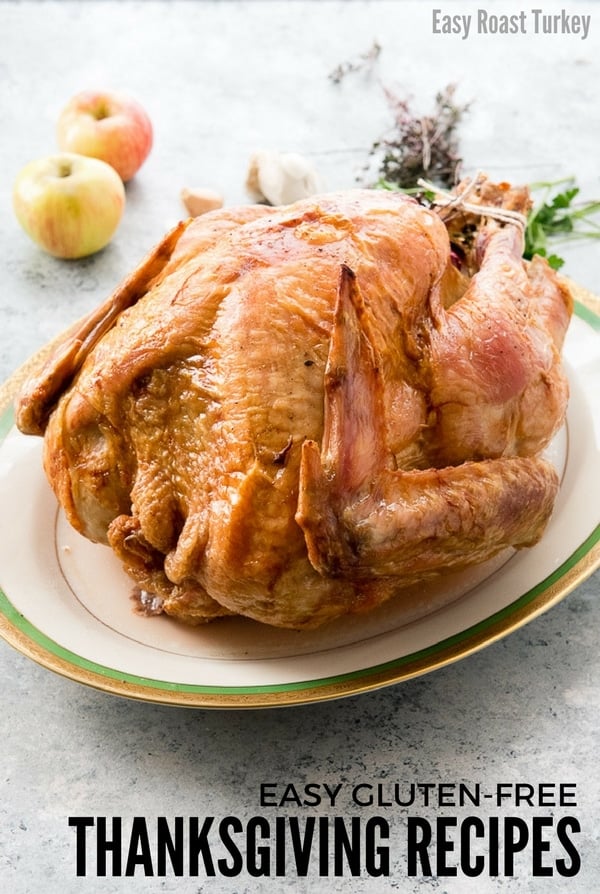 Thanksgiving is almost upon us and if any of you are feeling like I am, we want it to be easy this year. I'm not willing to forego family favorites but am ready for a relaxed day and some fun too which means no elaborate recipes. If you haven't made Thanksgiving dinner before or maybe are newly diagnosed as needing to eat gluten-free (or hosting gluten-free guests), it can feel overwhelming. Never fear! Today I'm sharing a collection of Easy Gluten-Free Thanksgiving Recipes to cover all the key Thanksgiving dishes that are delicious, gluten-free (trust me, no one will know) and easy.
These recipes have been selected since they are particularly easy. For more options in every Thanksgiving category check out the Thanksgiving recipes index.
Easy Gluten-Free Thanksgiving Recipes
Appetizers
A great part of Thanksgiving is hanging out while the cooking happens all day. Though a big meal is the culmination of the day, having snacks to nibble on while waiting for that is key. Cranberry Pecan Goat Cheese Roll is a three-ingredient option to be set out with crackers and sliced apples. Sweet Spiced Nuts can be prepared the day before and set out in bowls. Cranberry Salsa is a fun spin on traditional salsa keeping with the season. Baked Brie is always elegant but SUPER easy and fast to make. Add a few toppings, bake for 6-10 minutes and it's ready to go. Here are some favorite combinations: Baked Brie with Maple-Pumpkin Butter, Honey, Marcona Almonds and Pepitas or Spicy Cranberry-Raspberry Baked Brie with Toasted Hazelnuts and Pepitas.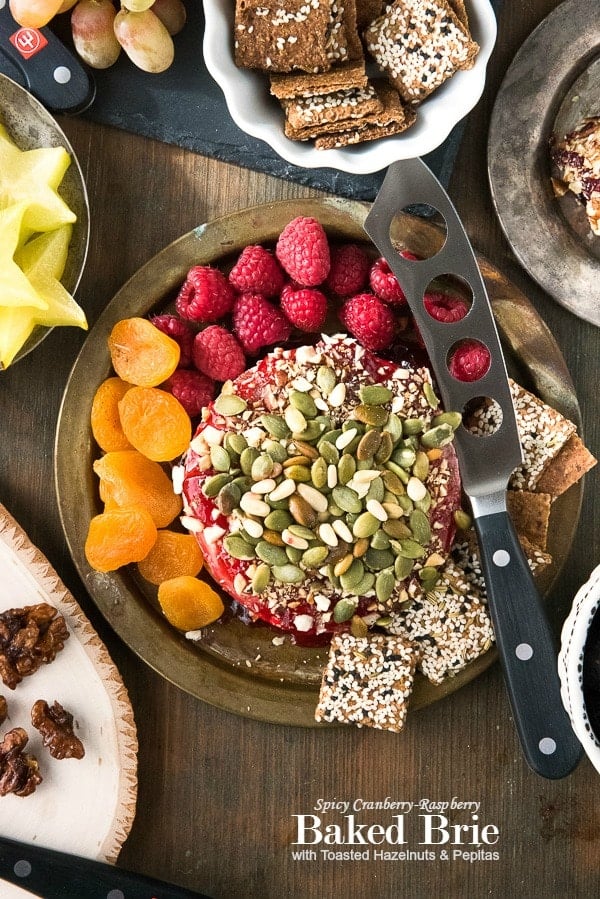 Turkey
Easy Roast Turkey is absolutely the way to go. There is no brining involved (but if you are ready to step up your turkey game there is a bringed turkey recipe in the Thanksgiving recipe index) and the prep work is minimal. A special little trick ensures moist turkey meat without a fuss! Not feeling turkey this year or having a small gathering? Lemon Herb Roasted Cornish Game Hens are a great alternative.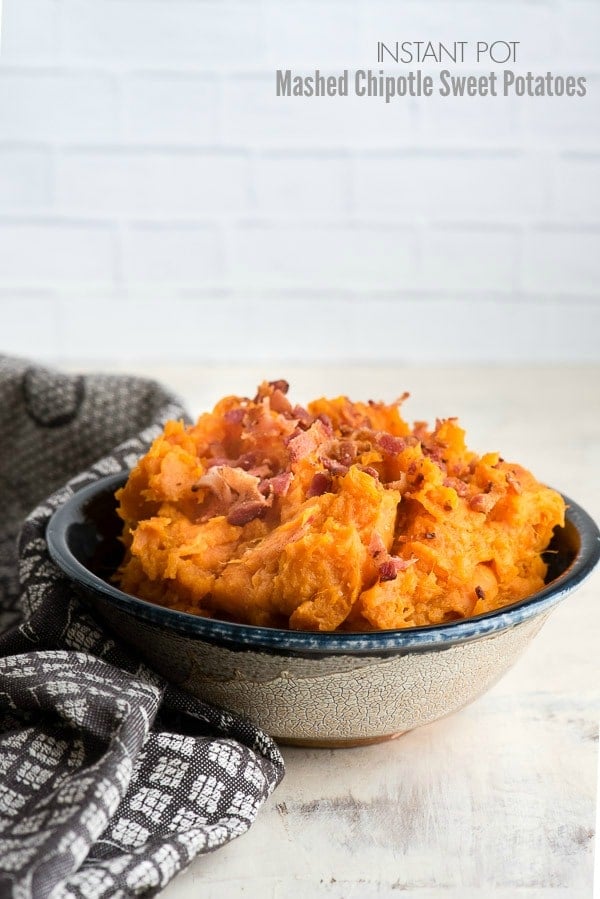 Potatoes
I've started to develop recipes using my Instant Pot pressure cooker more this year with an eye toward how to stay out of the kitchen mainstream and do everything in one device. These Instant Pot Mashed Chipotle Sweet Potatoes add a kick to the dinner and are ready in a flash; no mini marshmalows included, sorry. Roasted Garlic Buttermilk Smashed Potatoes are made traditionally but with updated flavors that will pop on your dinner plate.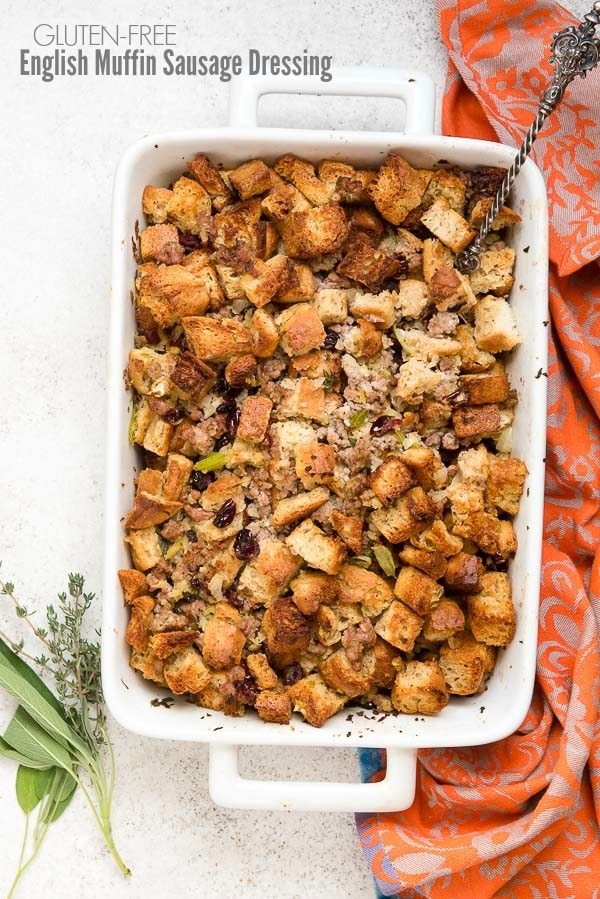 Dressing/Stuffing
I recently shared the difference between stuffing and dressing in this post on Search english muffin Gluten-Free English Muffin Sausage Dressing. I always make dressing outside the turkey to avoid any healthy concerns. We love Spicy Chorizo Cornbread Sage Dressing. It has a homey rustic feel with spicy chorizo and sage flavors. Any 'everything bagel' lovers? Everything Bagel Sausage Dressing builds on the garlic onion goodness of the bagels and bakes it into a delicious dressing.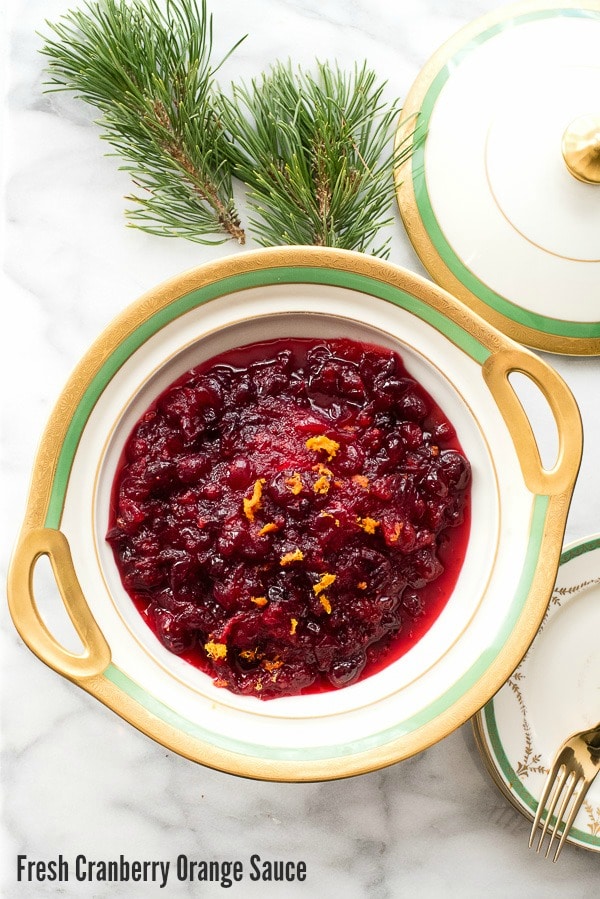 Cranberry Sauce
The absolute easiest thing to make for Thanksgiving dinner is cranberry sauce. Cranberry sauce takes about 15 minutes and can be made the day before so you don't have to worry about it or take the time on Thanksgiving to make it. Some of my favorite recipes for cranberry sauce include Fresh Cranberry Orange Sauce, Spicy Jalapeno Cranberry Sauce, and Slow Cooker Cranberry Pear Sauce with Ginger (which is made in a slow cooker so it's out of the other recipes on the stovetop). They are all great tasting and give options to change up the flavors.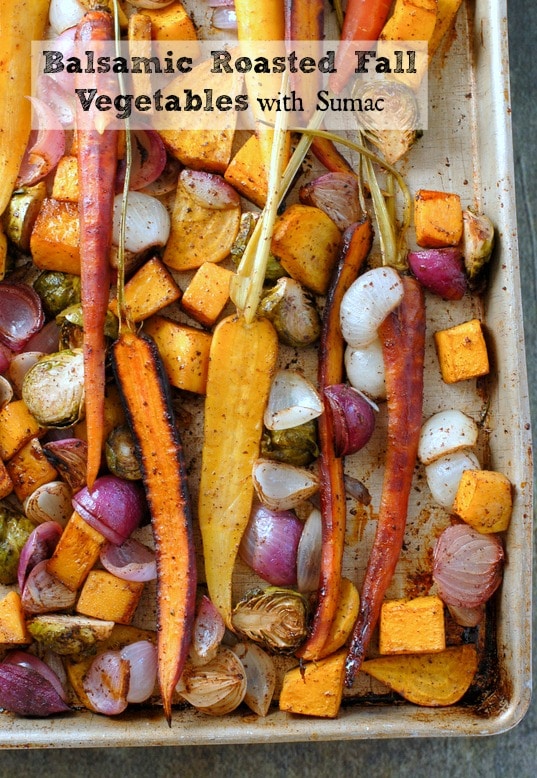 Side Dishes
I did a fancy version of the traditional green bean casserole a few years ago and though it's delicious it takes more time than I'd comfortably call 'easy'. Instead I recommend Fresh Green Beans with Bacon and Sliced Almonds.Warm Cranberry Honey Dressing and Winter Salad is a nice addition to the Thanksgiving meal and breaks up heavier dishes with some greens. Balsamic Roasted Fall Vegetables with Sumac are beautiful and super easy to prepare. The addition of Sumac adds a nice bright almost citrusy flavor to the vegetables. Herb Roasted Garlic Brussels Sprouts, Sweet Potatoes and Carrots are another seasonal recipe that is easy and perfect for Thanksgiving.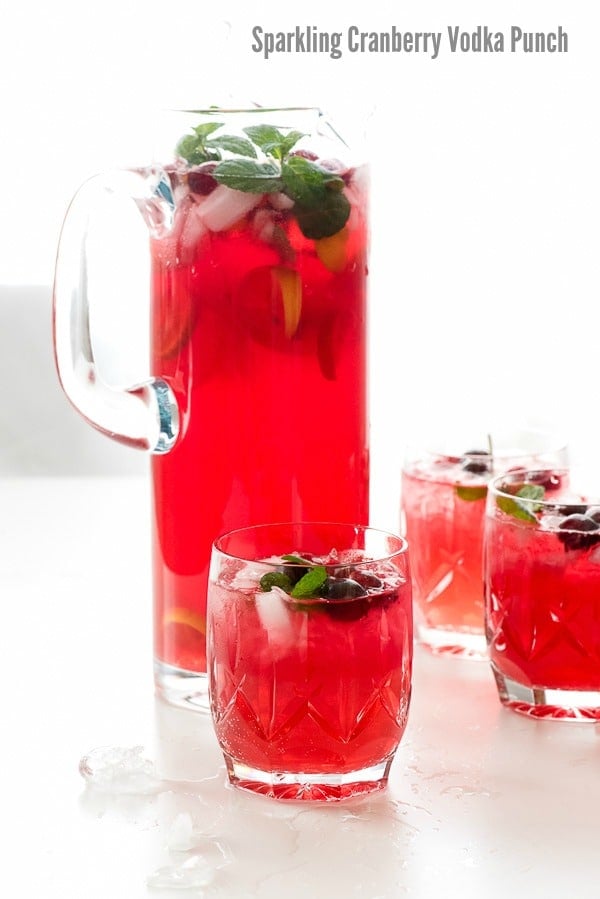 Boozy Drinks
Wine is popular with Thanksgiving dinner however it can be nice to offer options of have something on hand before the meal. Sparkling Cranberry Vodka Punch is fun, festive and only has a handful of ingredients. You can make it in less than 5 minutes. Autumn Sangria is a wonderful wine and fruit infusion that can be made the day before and kept in the fridge in a spigot jar ready for easy serving.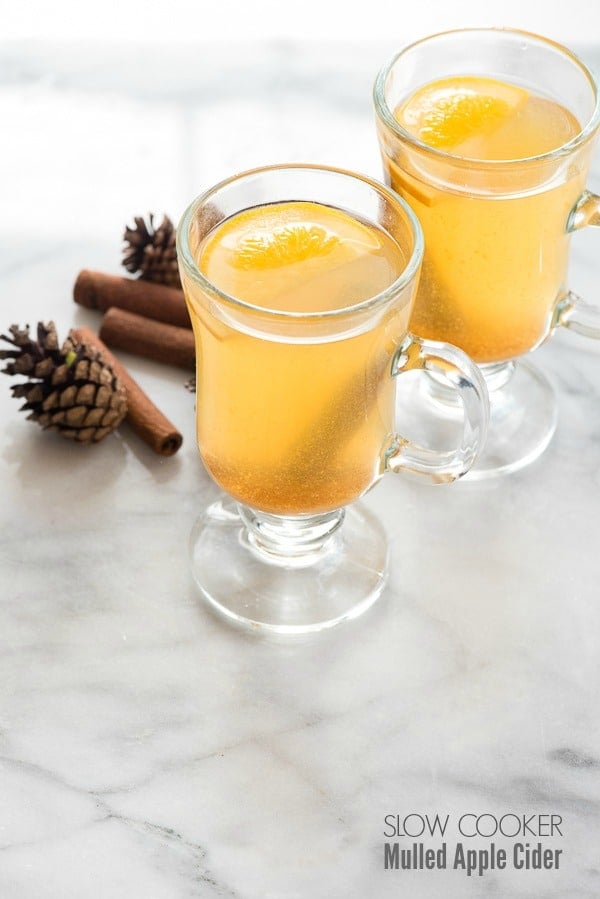 Mocktails
It's nice to have a mix of alcohol and non-alcoholic drink options when entertaining a group especially for an all day hang out. Slow Cooker Mulled Apple Cider can be set up in the slow cooker and left for guests to serve themselves leaving you to focus on preparing the Thanksgiving meal. Sparkling Apple-Pear Mock Sangria is an infusion like actual sangria but without any booze. This sparkling version feels like a party for kids, or anyone opting out of other adult drinks.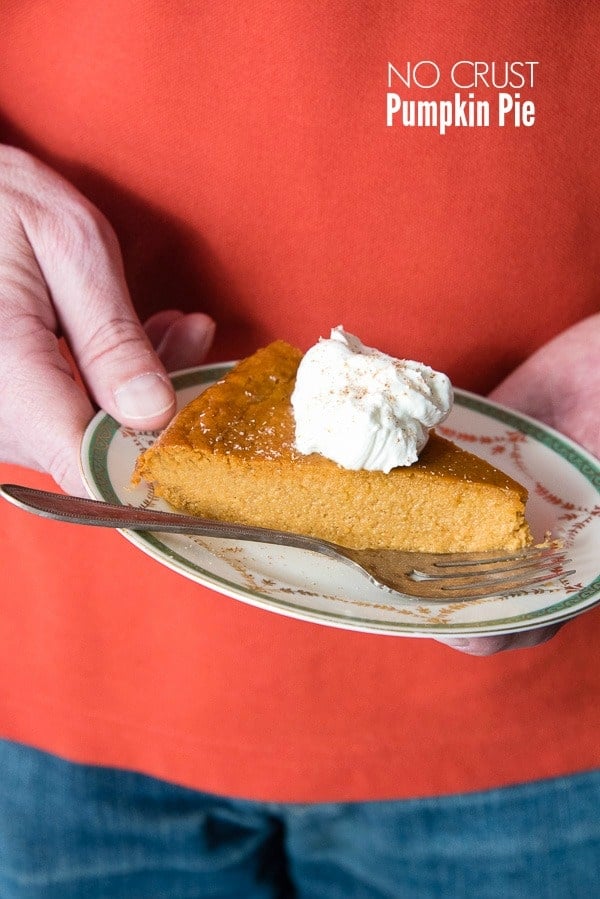 Desserts
Everyone has their own favorite Thanksgiving dessert, usually pie. We tend to go for a traditional pie and something which as become our family tradition that is completely NOT traditional: Grasshopper Pie. No Crust Pumpkin Pie has the best part of traditional pumpkin pie without the hassle of making a crust. Sour Cream Raisin Pie is an old school pie that is brimming with the spices of the season and plumped raisins in a creamy custard. For something different Caramelized Roast Pumpkin is a candied pumpkin that is wonderful with whipped cream or a scoop of ice cream. Spicy Apple Crisp with Cranberries and Walnuts is a homey seasonal dessert with a bit of spicy heat to end a filling meal!