This post has been made possible thanks to my ongoing partnership with Udi's Gluten-Free, striving to share gluten-free lifestyle information to make everyday just a bit easier!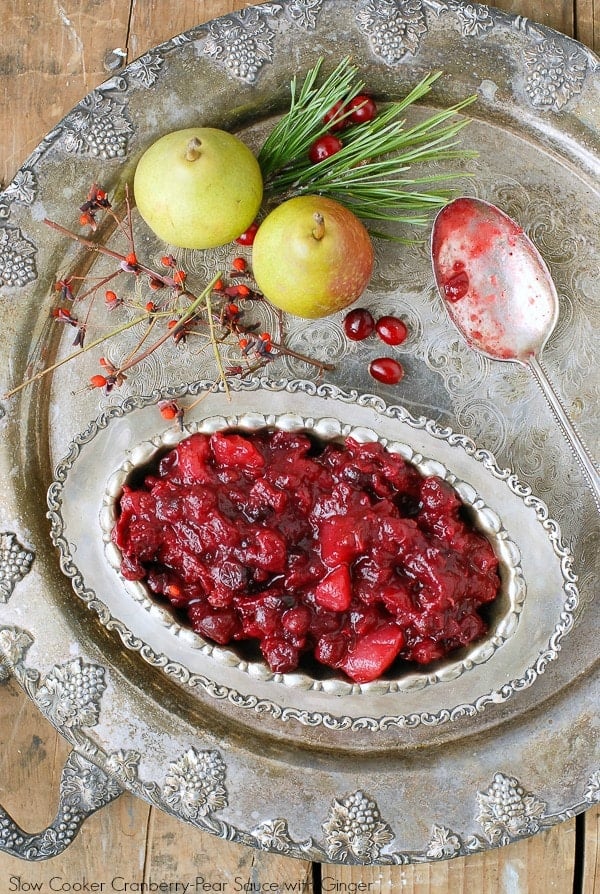 Thanksgiving can be a stressful holiday for everyone but certainly more so for those who are gluten-intolerant, or with any food restrictions. It's a holiday about togetherness and being excluded via menu items can sting more than on other occasions. Early into our time of being gluten-free we experienced this and especially for my kids who were young at the time, being left out of delicious desserts was especially hard. It's really not a feeling one can describe unless they've experienced it personally.
Fortunately there are so many gluten-free options for all the favorite Thanksgiving dishes and the internet abounds with ideas if you are a hosting cook and don't know where to start! I've learned over the years, just because I cook gluten-free does not mean I have to give up the creativity and sophisticated flavors I cherish in favorite recipes.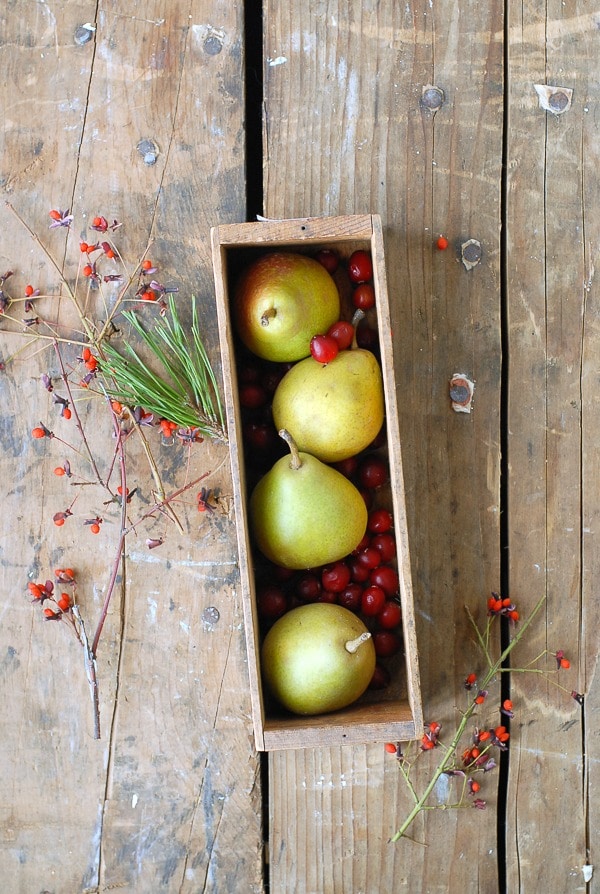 What I do struggle with however is space in my kitchen to make everything! Generally my husband is the main cook for this holiday and we work out a schedule for the kids and I to bob and weave around his preparation to whip up whatever we are assigned to prepare for the meal. This fall I have committed to share at least one new slow cooker recipe a week on Boulder Locavore feeling there is nothing more convenient than piling mouth-watering ingredients into a slow cooker to fill the house with gorgeous aromas and have dinner pop out without my intervention.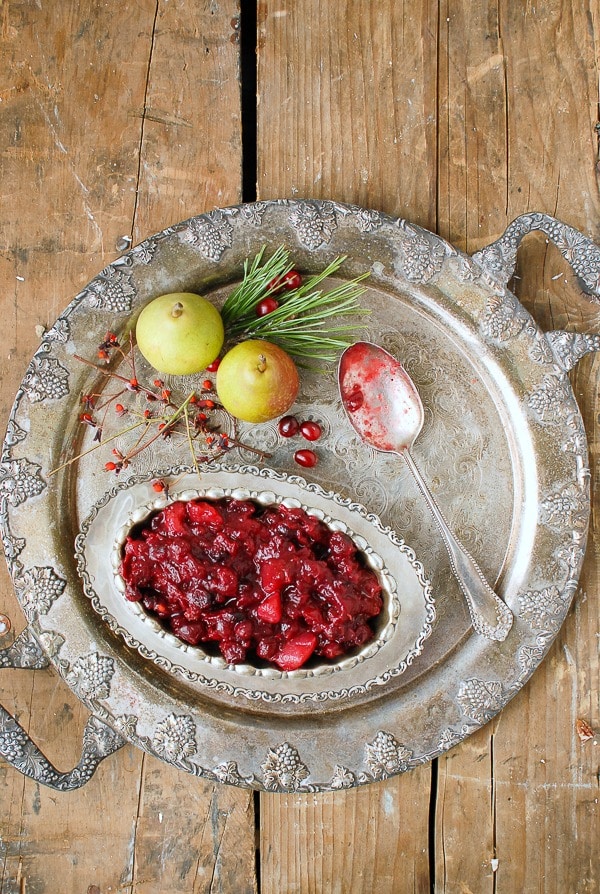 It struck me that a slow cooker could be a great space saver in Thanksgiving preparation too. One of my favorite things to make is the Cranberry Sauce. Though simple, I love the opportunity to change up the flavors of the sweet-tart relish to create something new each year. I grew up on the canned cranberry gelee, and though loving the texture and the telltale ridges on the sides of the plated cranberry tube, making cranberry sauce fresh is definitely the way to go.
This year I made Cranberry-Pear Sauce with Ginger and it's perfection! Everything is prepped in about 10 minutes, thrown into a slow cooker and done in three hours. I love the flavors of cranberry, pear, fresh ginger, lime and orange. It's only slightly sweetened with sugar allowing the orange juice and ripe pear to naturally sweeten the tart cranberries.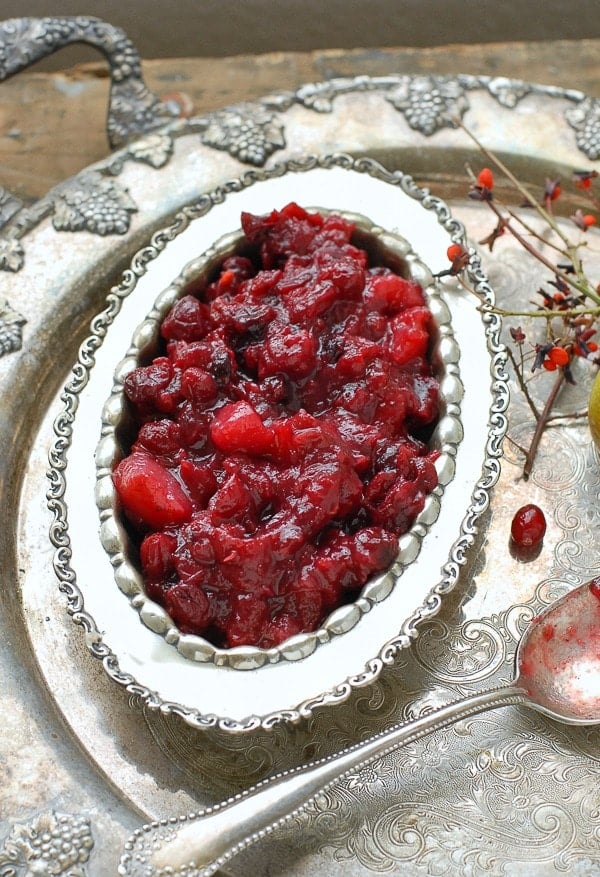 Recipe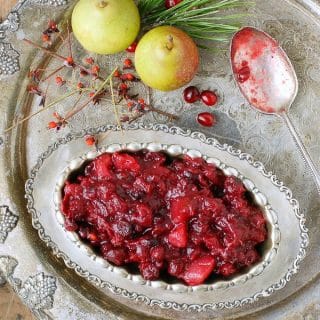 Slow Cooker Cranberry-Pear Sauce with Ginger
There is no easier side dish than fresh Cranberry Sauce, whether it be for Thanksgiving or any cool weather occasion. This recipe is made all the most easy by use of a slow cooker. Five minutes of prep and three hours of cooking without intervention! A blending of fall flavors makes this recipe layered, sweet and tart. A perfect compliment to any meal!
Print
Save Recipe
Recipe Saved!
Pin
Rate
Ingredients
12

ounce

(1 bag) fresh Cranberries

½

cup

Orange Juice

1

small ripe Pear

, peeled, cored and chopped

1

tablespoon

Port wine

Zest of ½ lime

1

teaspoon

finely minced fresh Ginger Root

3

tablespoons

Granulated Sugar

¼

teaspoon

ground Cardamom
Instructions
Combine all ingredients in the slow cooker. Cook on High for 3 hours. Cranberries will be partially popped and the sauce will have begun to thicken.

Allow to cool to room temperature before serving (it will continue to thicken). I can be made smooth by processing through a blender or with an immersion blender if desired. Also additional sweetener may be added (honey suggested) if desired.
Nutrition
Calories:
60
kcal
|
Carbohydrates:
15
g
|
Protein:
0
g
|
Fat:
0
g
|
Saturated Fat:
0
g
|
Cholesterol:
0
mg
|
Sodium:
1
mg
|
Potassium:
92
mg
|
Fiber:
2
g
|
Sugar:
9
g
|
Vitamin A:
55
IU
|
Vitamin C:
14.4
mg
|
Calcium:
7
mg
|
Iron:
0.2
mg
In case you are craving some gluten-free Thanksgiving inspiration, I've included some links to irresistible recipes both gluten-free and gluten-eating diners will love. With well over 100 options, I feel sure you'll find something you'll love!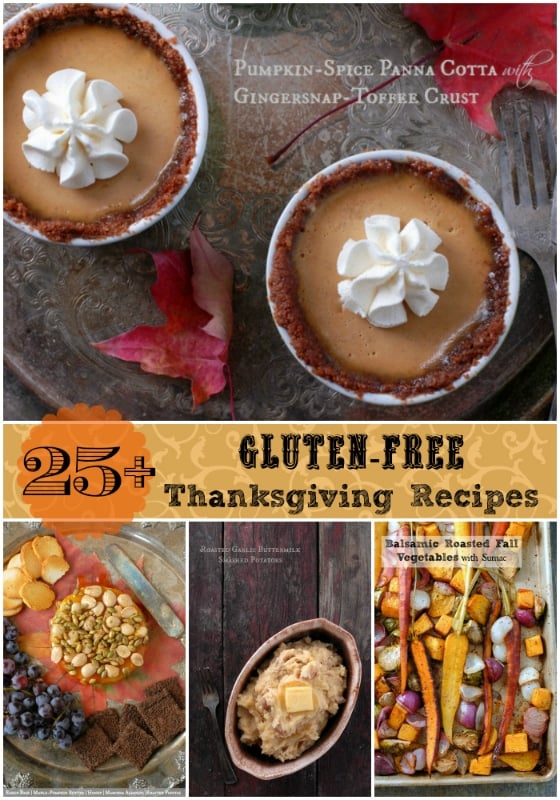 Boulder Locavore's 25+ Best Gluten-Free Thanksgiving Recipes from last year
Some new Boulder Locavore favorites:
Pumpkin Polenta with Maple-Bacon Gravy
Mini Pumpkin Pie Cheesecakes in Mason Jars
White Wine Ginger Thyme Brined Roast Turkey
Eating Well: Gluten-Free Thanksgiving Recipes
Food and Wine: Ultimate Gluten-Free Thanksgiving Recipes
Saveur: Gluten-Free Recipes for Thanksgiving