Sparkling Cranberry Vodka Punch is perfect recipe for holiday meals and gatherings. It also can be changed up for a shortcut hot mulled drink too!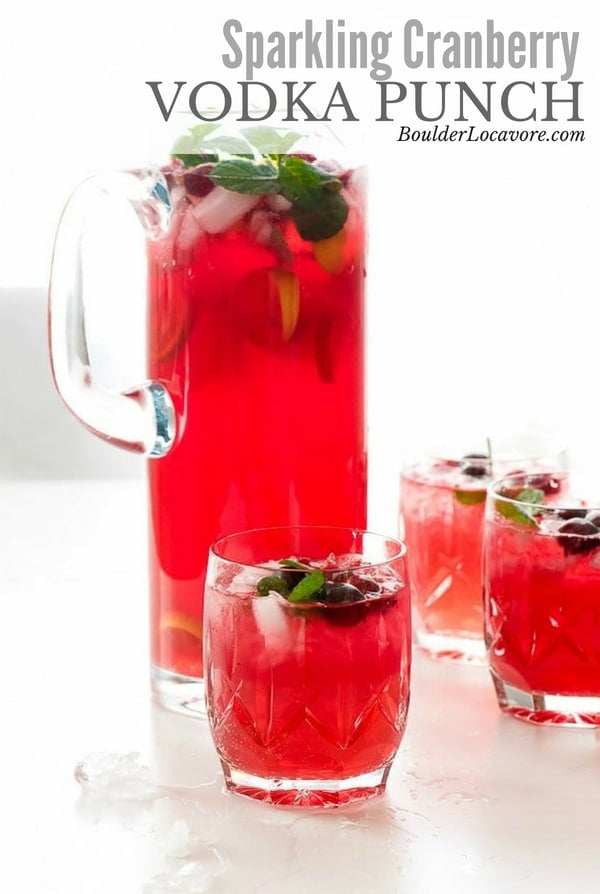 Having a fun punch on hand keeps the mood festive and bright.
Sparkling Cranberry Vodka Punch is just the ticket for fall and winter gatherings!
And don't you love that color?!
The ingredients are available all year long. Have it for Thanksgiving, Christmas and Fourth of July too!
Trust me, after serving it just once, you'll get requests.
And YOU won't mind making it because it's so EASY and delicious!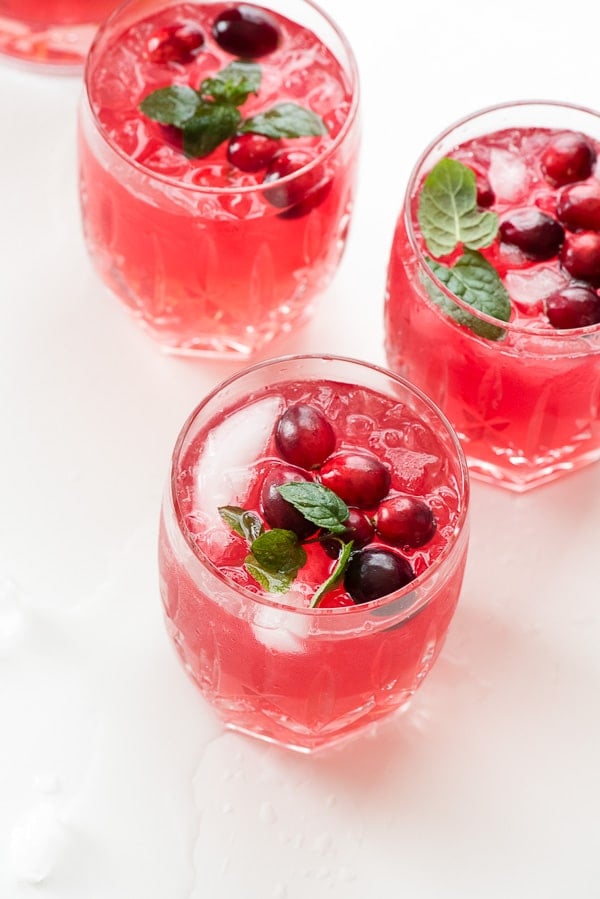 An Easy Festive Punch Recipe!
This drink could not be easier to make or more refreshing to drink!
Seasonal flavors of cranberry and ginger in a fizzy punch that is perfect for holidays and parties.
Served with lots of ice, this thirst quenching sipper is light enough to day drink or serve with your meal.
It can be whipped up in no time and served from a punch bowl or in individual glasses.
It's a festive cocktail to make any holiday or party a memorable occasion!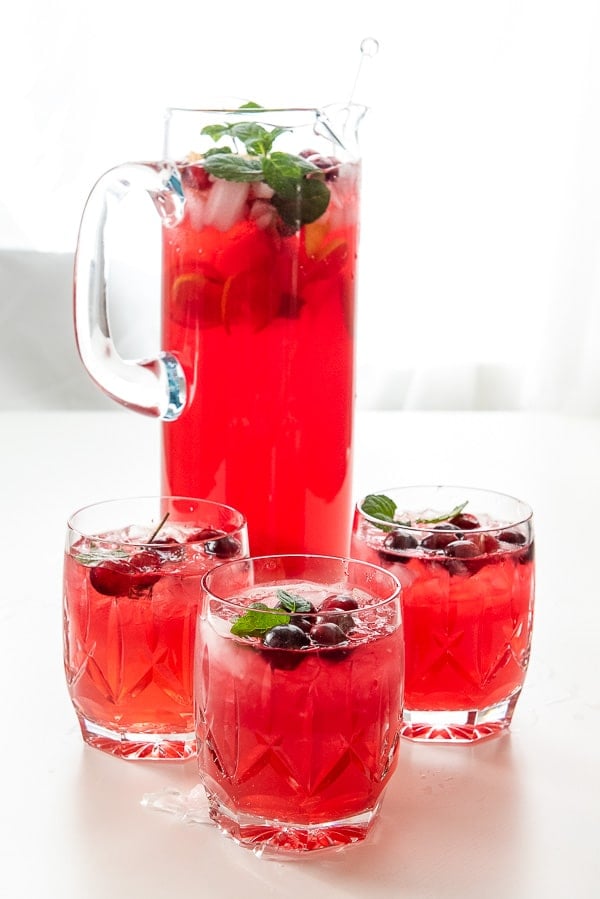 Recipe Ingredients
Four simple ingredients make this vodka cranberry punch a winner:
Cranberry Juice
Vodka
Lemonade
Ginger Ale or Ginger Beer
How to Make Cranberry Vodka Punch – Step-by-Step
This is how easy it is…
STEP 1: Add the Cranberry Juice Cocktail to a pitcher or other glass container.
STEP 2: Add the Vodka.
STEP 3: Add the Lemonade.
STEP 4: Chill the first three ingredients for 2-3 hours to completely chill and allow the flavors to blend.
NOTE: if the ingredients are pre-chilled, the punch only needs to chill for 2 hours.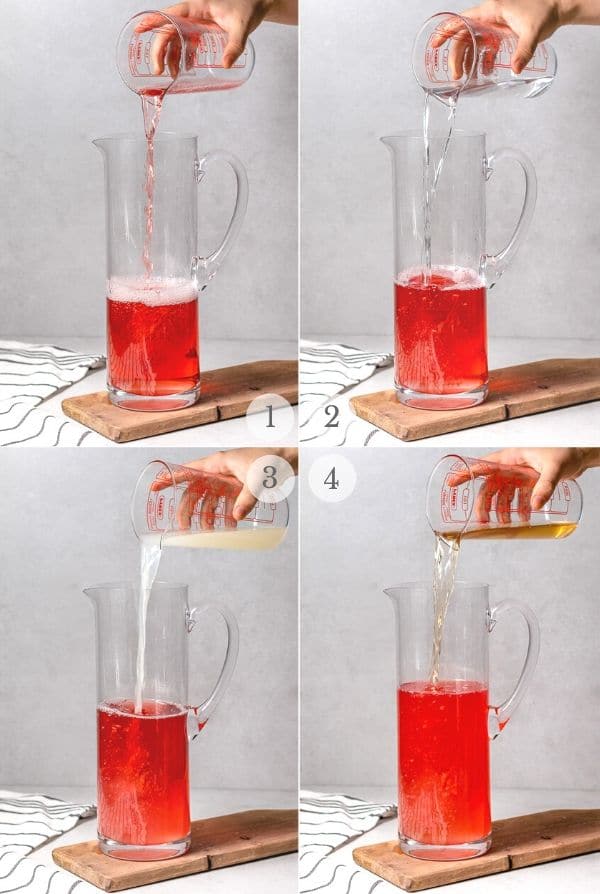 STEP 5: Add the chilled Ginger Ale (photo 4).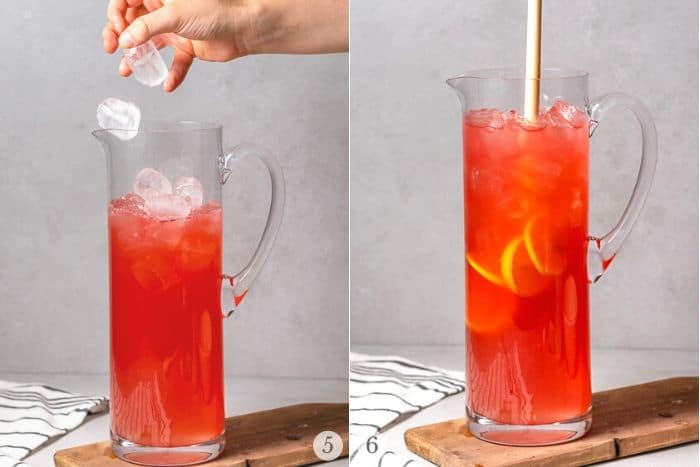 STEP 6: Add ice and slices of oranges, fresh cranberries (if available) and mint sprigs and serve (photos 5-6).
PRO TIPS
I have a few tips to make your punch perfection:
Use Cranberry Juice

Cocktail
As much as I love antioxidants, I don't recommend using unsweetened cranberry juice for this punch; it's too tart.
Classic cranberry juice cocktail (or sweetened cranberry juice) is what you'll want to use.
Chilling Ingredients
Chilling the combined juice, lemonade and vodka for a few hours helps to blend the flavors.
It also allows the punch to stay cooler longer when combined with the ginger ale.
Time Saving Tip – Pre-Chill Ingredients
Chilling the ingredients BEFORE combining them, makes this process go even quicker!
NOTE: the ginger ale should always be pre-chilled before adding it to the other three ingredients and the ice.
How to Serve It
Use a punch bowl, glass dispenser with spigot or a pitcher.
This punch is perfect for Thanksgiving, Christmas, holiday gatherings or just to keep in the fridge in case someone pops over .
NOTE: add the ginger ale when serving if keeping some ready in the fridge so it doesn't lose its fizz.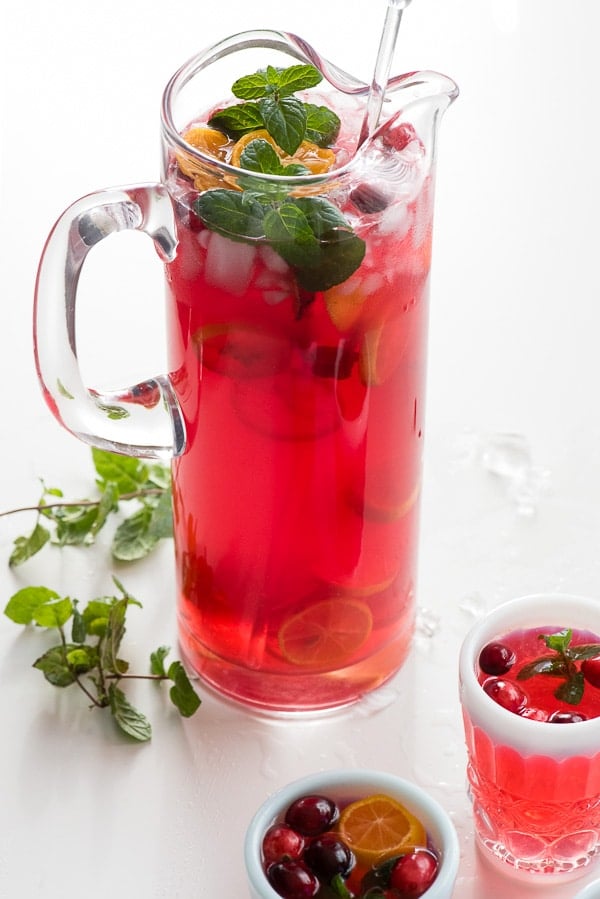 Turn it into a Warm Mulled Punch!
Too cold outside for a chilled punch?
Add all the ingredients together and warm in a saucepan with a ¼ teaspoon pumpkin pie spice.
NOTE: Include the ginger ale. It won't stay fizzy but will add warming ginger flavors.
Serve in mugs by a roaring fire.
It's like a shortcut mulled cocktail that will take the edge of the briskest of days!
More Recipes You'll Love
Try These too!
Did you make it? Please RATE THE RECIPE below!
Please SUBSCRIBE and FOLLOW ME on FACEBOOK , TWITTER , INSTAGRAM and PINTEREST !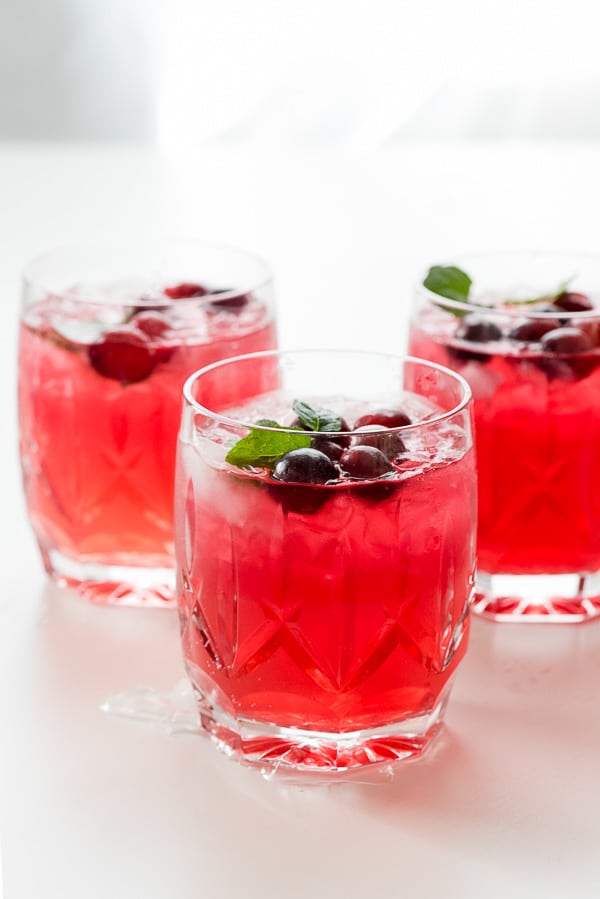 The Only 5 Punch Recipes You Need – Free Printable
Punch recipes are a 'must have' for hosting friends and family!
Five of my favorite punch recipes have been combined onto one handy CHEAT SHEET you can print!
Originally published: November 22, 2016
Sparkling Cranberry Vodka Punch is a fast and easy recipe to serve a crowd!