Spicy Chorizo Sage Cornbread Dressing takes dressing from ho hum to woo hoo with this easy recipe! It's truly irresistible and too good just to serve on Thanksgiving!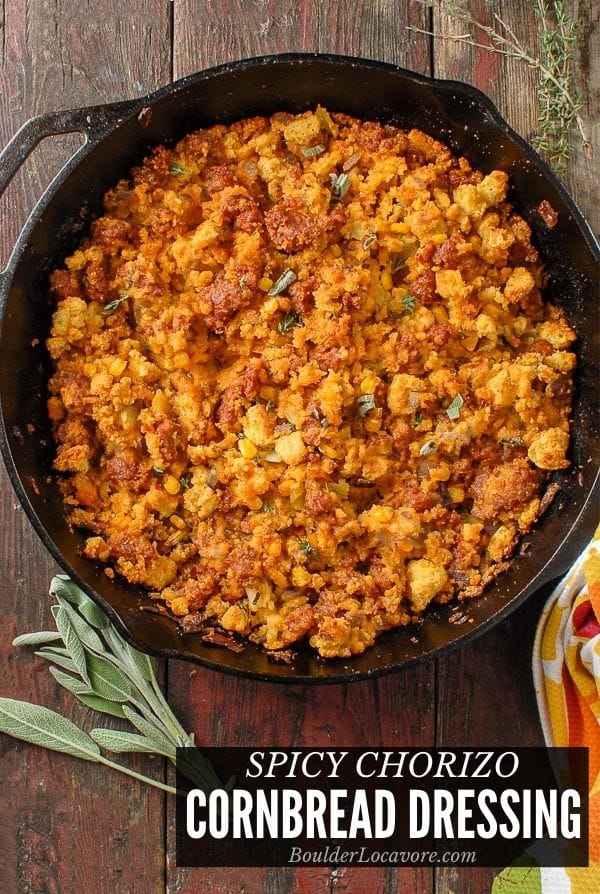 Truth be told I always hated stuffing as a child.
It was difficult to get excited about, with no flavor and its underwhelming beige color. Those days are over, my friends.
Spicy Chorizo Sage Cornbread Dressing is the absolute opposite.
Packed with flavor from spicy chorizo, fresh sage and thyme, homey cornbread (gluten-free or regular), garlic, onion and more.
My kids beg me to make this multiple times during the year!
They eat it on its own and tell me how much they love it every time!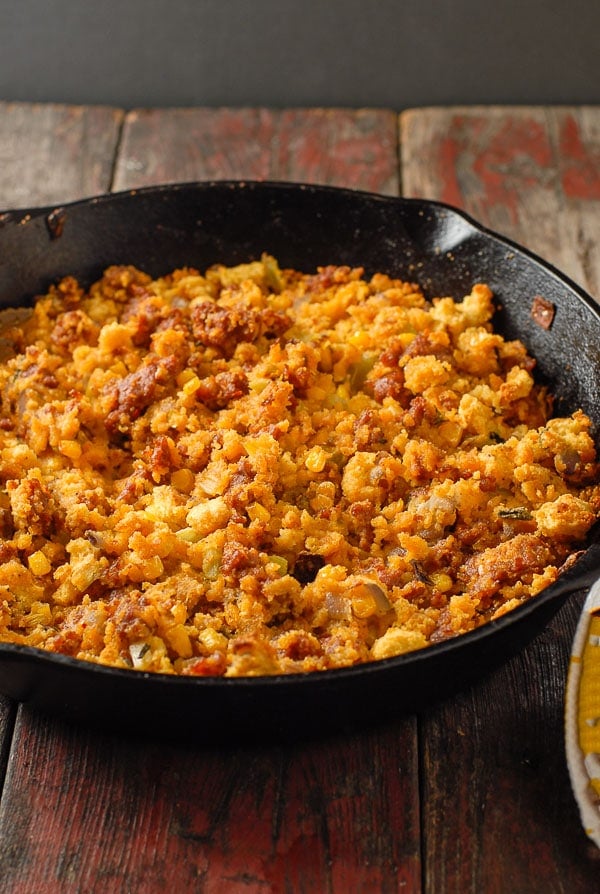 My family wants this all year not just for Thanksgiving!
One bite and you'll be hooked on the deep flavors of this moist, exciting dressing!
Definitely serve it for Thanksgiving but pair it up with a roast chicken, pork chops, steak or any other favorite protein.
It's so good you you'll find yourself craving this cornbread dressing recipe!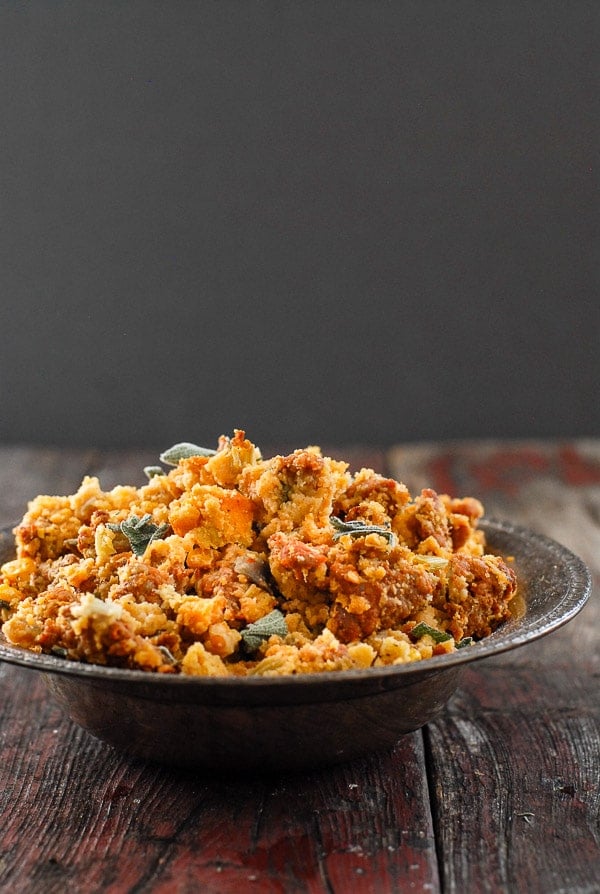 What's the Difference Between Stuffing and Dressing?
'Stuffing' and 'Dressing' are often used to describe the same dish. It's how they are prepared that makes them different from each other.
Stuffing and dressing are traditionally a cubed, seasoned bread dish.
Both should be slightly moist. They can end up being dry if not mixed with the right ingredients or if cooked too long.
What is Stuffing?
As it sounds, a stuffing recipe is prepared and put inside the turkey to cook.
The benefit of this cooking method is the extra flavor from the juices inside the turkey.
I'm sure it seems an easy way to cook the stuffing and turkey at the same time too.
The concern about stuffing is potential food poisoning.
This can happen from bacteria developing due to difficulty controlling the temperature of the stuffing while it cooks inside the turkey.
To cook the turkey well and keeping the stuffing at a 'food safe' temperature is difficult.
What is Dressing?
Dressing is stuffing prepared on its own and cooked on its own on the stove top or in the oven.
It has great flavor and the cook doesn't need to worry over potentially making guests ill.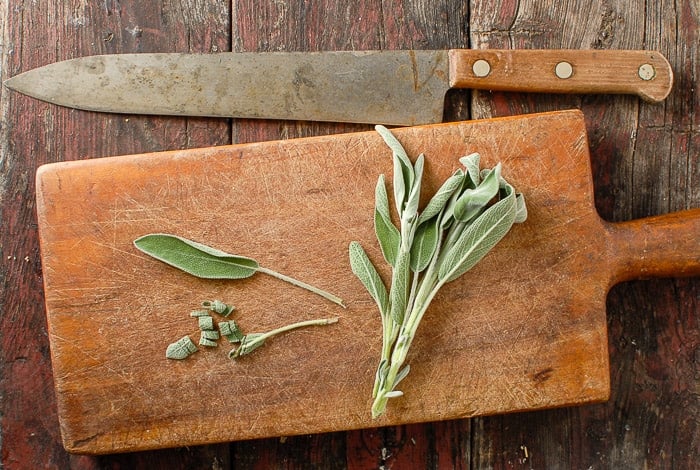 Spicy Chorizo Sage Cornbread Dressing
This dressing recipe is a flavor showstopper! It's easy to make and a delicious side dish for roasted meats and Thanksgiving dinner.
Dressing Ingredients
Homey cornbread is the bread ingredient in the dressing. It adds soul-warming comfort food flavor.
I love this delicious Cornbread recipe
The ground Mexican Chorizo sausage gives spiciness, satisfying texture and great flavor.
The pair bring pizzazz to the dinner table unlike traditional white bread dressing.
The bold flavors of sage and thyme introduce a fantastic aroma and flavor to the dressing.
Caramelized vegetables, including corn kernels, which contribute the satisfying texture.
This dressing is moist, but not overly so, and is something I wouldn't wait for Thanksgiving annually to enjoy!
Mexican or Spanish Chorizo?
This recipe uses Mexican chorizo.
Mexican chorizo is ground or 'loose'. It is sold in packages like ground beef or in wrapped 'tubes' like loose pr bulk sausage.
Spanish chorizo is aged and hard.
It can only be sliced. It is not recommended for this dressing recipe.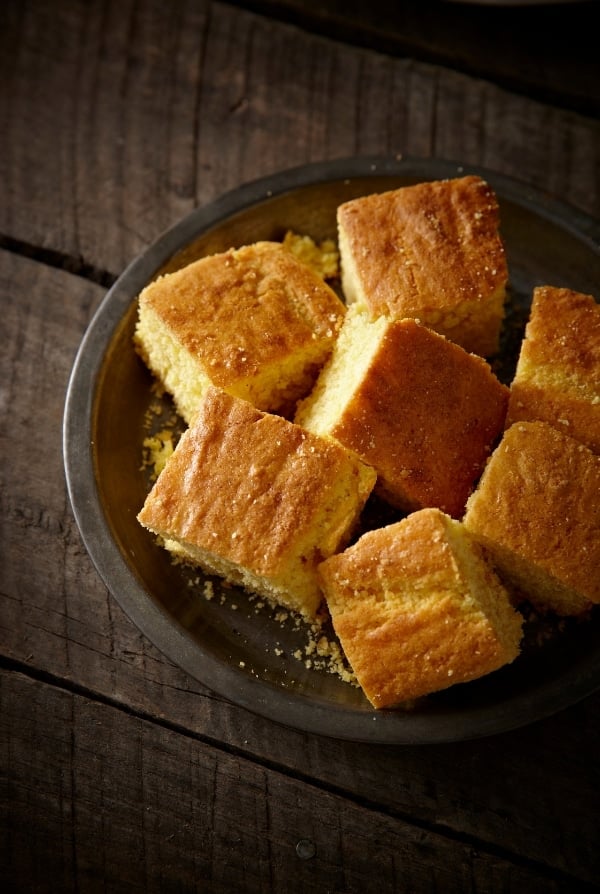 Make it with Traditional Cornbread or Gluten-Free Cornbread!
Make this dressing with regular or gluten-free cornbread.
It tastes great with either type of cornbread.
Use our favorite cornbread recipe. You'll never make it from a mix again (and it's just as easy)!
How to Make this Cornbread Dressing – Step by Step:
For a detailed printable recipe refer to the recipe card at the end of the blog post.
STEP 1: Preheat the oven to 350 degrees.
STEP 2: In a large, ovenproof skillet, melt the butter.
STEP 3: Add the corn, garlic, onion and celery; saute for 10 minutes until the onions are translucent or slightly brown.
STEP 4: Add the chorizo to the large skillet over medium high heat. Brown for 2-3 minutes breaking it into small pieces while it cooks (TIP: a stiff spatula works well for this).
STEP 5: Next, add the fresh herbs (sage and thyme); saute for 1-2 minutes until fragrant.
STEP 6: Add the cornbread, salt and pepper, using a large spoon to fully combine with the other ingredients.
STEP 7: Mix in the egg.
STEP 8: Pour the chicken stock (chicken broth) evenly over the dressing (no need to mix it again).
STEP 9: Place in the oven, covered, for 30 minutes. Remove the lid and allow to cook for 10-15 additional minutes for the top to brown. Serve hot!
Need MORE delicious Thanksgiving recipes? This Easy Thanksgiving Recipes collection is a great place to start!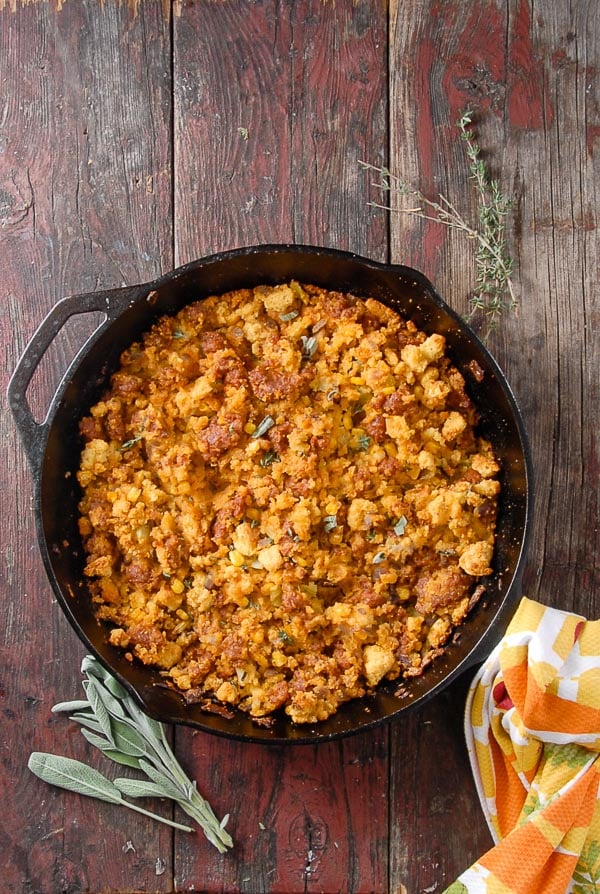 Storing Leftovers
Store in an airtight container in the refrigerator for up to 4 days.
Can this Cornbread Dressing be Frozen?
Yes! Put it in the freezer bag or container removing as much air as possible. Freeze up to 1 month and thaw in the refrigerator.
Try These Recipes Too!
Did you make it? Please RATE THE RECIPE below!
Please SUBSCRIBE and FOLLOW ME on FACEBOOK , TWITTER , INSTAGRAM and PINTEREST !
Originally published: November 10, 2013