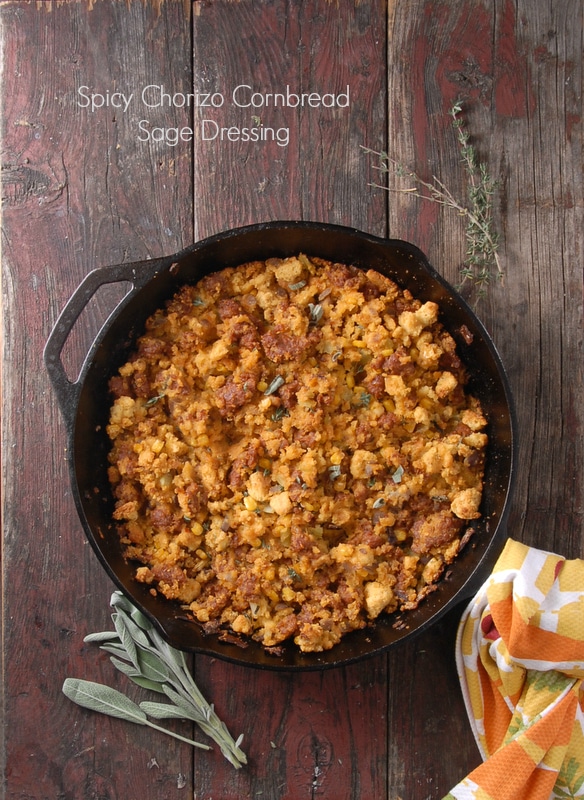 Truth be told I always hated stuffing as a child.  Undoubtedly prepared from a box as was vogue at the time, I felt it tasted like nothing, with slight bouillon overtones.  I did not appreciate the beige-on-beige visual presentation of the bready holiday side dish and it never secured a place on my burgeoning Thanksgiving day plate.
Fast forward to becoming a cooking adult and the epiphanal realization that there is not just one way to have stuffing, or dressing.  At the hands of my culinary-wizard husband, who loves preparing the Thanksgiving Day meal (and does it well), we've explored several different dressing recipes all a highlight of the meal.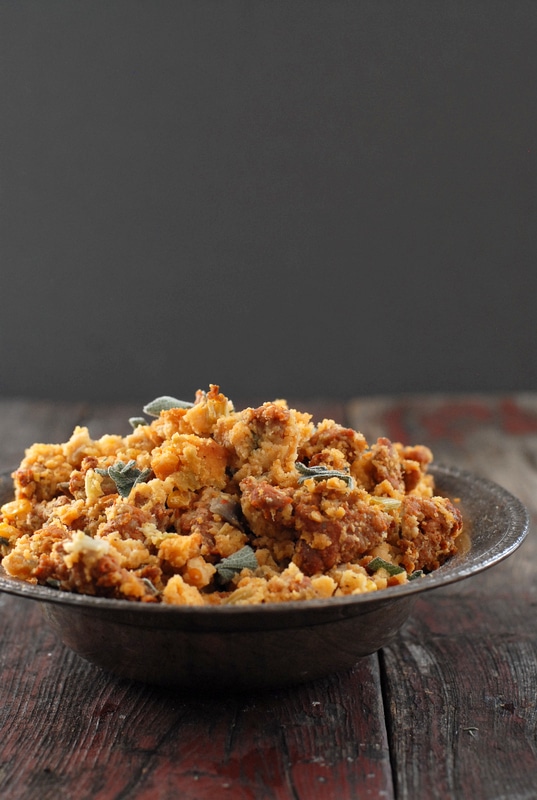 Stuffing or dressing, which is it?  The terms are used interchangeably but are different methods to prepare this iconic side dish.  As it sounds, stuffing is prepared and housed inside the turkey to cook.  Extra flavor would be added from the bird however in recent years concern over food poisoning from bacteria developing due to cooking temperature control issues have made this a less popular way to cook it.  Dressing is stuffing prepared on its own, cooked safely as with other side dishes, suffering no loss of flavor and leaving the cook to breathe a bit easier over potentially making guests ill.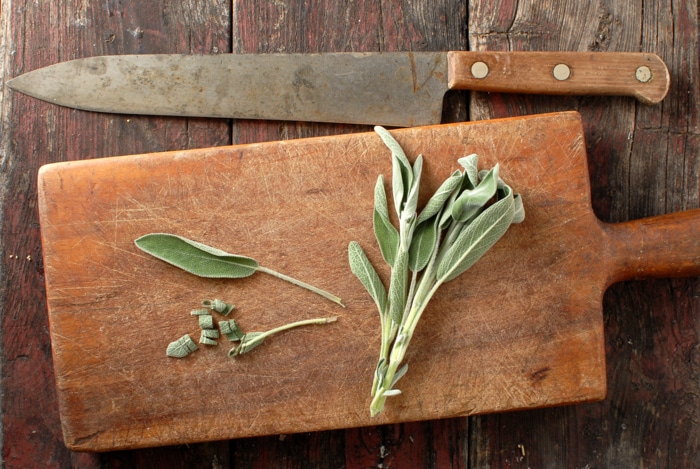 Stuffing or dressing are traditionally a cubed, seasoned bread dish, slightly moistened through most often ending up too dry.  Being gluten-free the dressing  often is skipped due to the gluten in the bread used.  A favorite combination for me is cornbread and chorizo, offering some spiciness, texture and great flavor; more than mere white bread can conjure.  It can be prepared with either gluten-free or traditional gluten cornbread, ending up with the same delicious result.  The bold flavors of sage and thyme introduce a fantastic level of aromatics to the dish along with the caramelized vegetables, including corn kernels, which contribute a satisfying texture.  This dressing is moist, but not overly so, and is something I wouldn't wait for Thanksgiving annually to enjoy!
This isn't your Mama's dressing.  And to some of us, that's a good thing.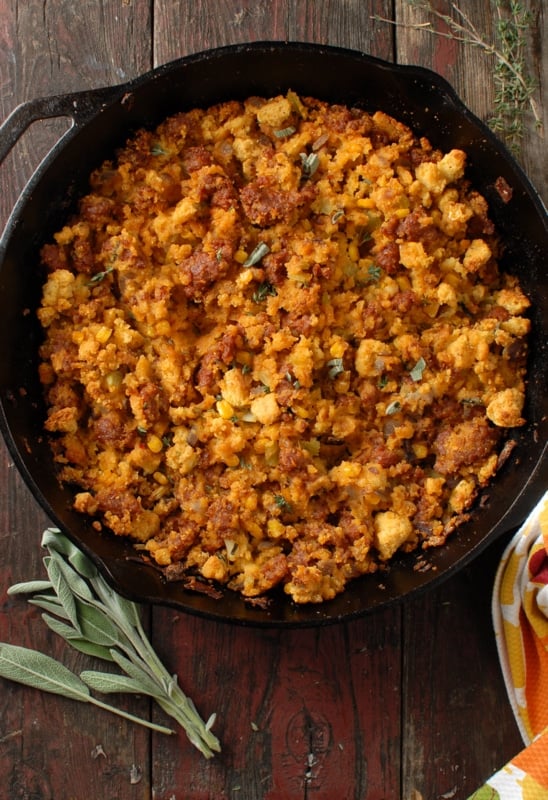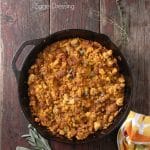 Spicy Chorizo Cornbread Sage Dressing
This dressing is always a highlight when served at our Thanksgiving table, and is perfect for regular meals as well. Cornbread adds a depth of flavor to compliment the spicy Chorizo and aromatic sage and thyme. The dressing is perfectly moist.The dressing may be prepared fully in an ovenproof skillet for a rustic table presentation as described here, or transferred once combined on the stove top into a buttered casserole dish to complete cooking in the oven and then served with the rest of the meal. For added depth of flavor, garnish the finished dressing with a sprinkle of fresh sage and thyme.
Servings
6
-7 cups prepared dressing
Ingredients
3

tablespoons

unsalted Butter

1

cup

Corn Kernels

, fresh or frozen and thawed

1

medium Red Onion

, chopped

2

stalks Celery

, trimmed and chopped

2

cloves

Garlic

, minced

1

pound

loose Chorizo

, roughly chopped*

4

cups

prepared Cornbread

(gluten-free or with gluten), coarsely crumbled (_note: can be stale_)

1 ½

teaspoon

fresh Thyme leaves

(removed from about 8-10 medium sprigs)

1

tablespoon

fresh Sage leaves

, diced (approximately 10-12 medium-large sage leaves)

½

teaspoon

Kosher Salt

½

teaspoon

Black Pepper

1

Egg

, beaten

1

cup

Low-Sodium Chicken Broth/Stock
Instructions
Preheat oven to 350

In a large, ovenproof skillet, melt the butter over medium-high heat.

Add the corn, onion, celery and garlic. Saute for 10 minutes, stirring occasionally. Onions will become translucent and may begin to brown slightly.

Add the chorizo and brown for 2-3 minutes, breaking up the sausage as it cooks.

Add the sage and thyme. Saute for 1-2 minutes allowing the herbs to become fragrant.

Add the cornbread, salt and pepper. Using a cooking spoon, mix well to combine all ingredients evenly.

Add the egg and mix again.

Pour the chicken stock evenly over the cornbread mixture. There is no need to mix again if pouring the broth evenly over the cornbread mixture.

Place in the oven, covered, for 30 minutes. Remove lid and allow to brown on top slightly (10-15 additional minutes). Serve immediately. Additional chopped sage and thyme can be added to garnish the dressing.
Recipe Notes
The recipe can be made gluten-free or with gluten based on the type of cornbread used.*I used a locally produced Chorizo which is loose as with Mexican Chorizo, however it is a Spanish recipe so deep in flavor. Due to the texture of chorizo it can be difficult to pull apart when cooking so rough chopping it before browning aids in breaking the meat apart when cooking. For this recipe I recommend a loose chorizo vs the traditional hard cured Spanish chorizo.