If you love moist, juicy turkey meat and perfectly crunchy skin, you'll love this no-fuss Easy Roast Turkey recipe. A simple high-to-low temperature method and a flip of the turkey mid cooking ensure a perfect holiday turkey every time.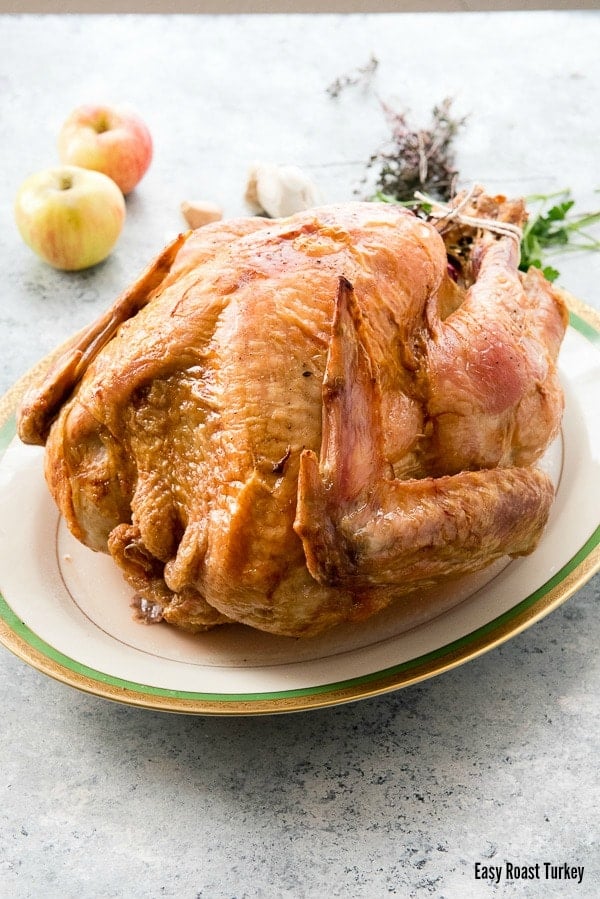 My husband is our turkey cooker for holiday meals. In fact he's taken over making most of the holiday dishes. He loves to cook and Thanksgiving, Christmas and New Year's are times he really can spend the time making new recipes.
Historically we've been turkey briners. We discovered the method years ago and typically a version of brining is what we do for our Thanksgiving bird. If you aren't familiar with brining, it is a method of combining salt, sugar and other herbs or liquids in which the turkey is immersed for an extended period of time before roasting. The intention is to increase the moisture saturation of the turkey leaving extra moist meat. My recipe for White Wine Ginger Thyme Brined Roast Turkey is an example of this (and a delicious one).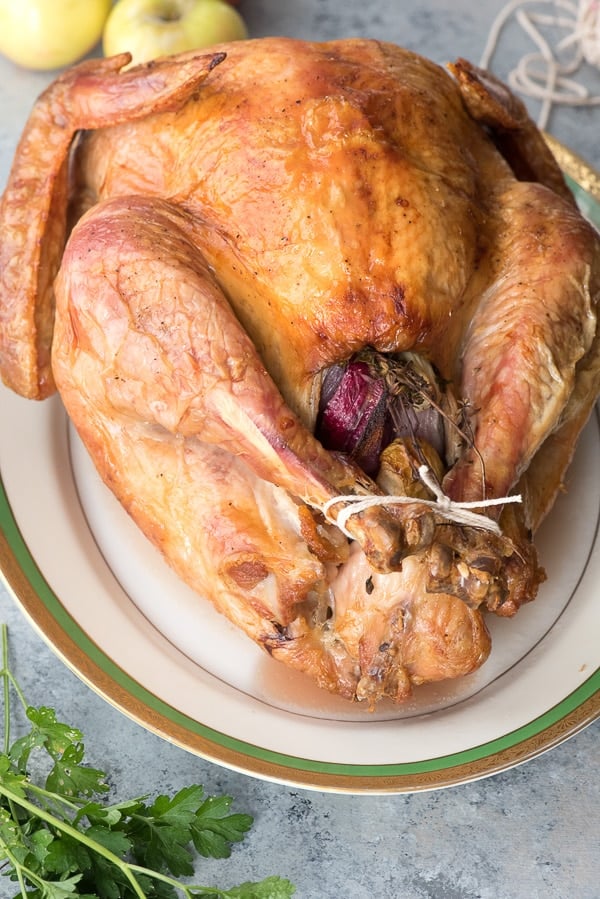 When I first learned to cook, turkey brining wasn't 'the thing'. I wanted to share a turkey recipe with you before Thanksgiving and it struck me that if you have not mapped out the timing of thawing your turkey, time for brining, or if you don't have space in your refrigerator for a 5 gallon food-grade bucket, brining is a 'no go'. And brining isn't the only way to ensure fabulous turkey!
The method I'm sharing today is a no brine recipe but does include a trick; flipping the turkey part way through. One of my favorite chicken recipes does something similar and by flipping the bird and changing the temperature it always is perfectly moist and juicy.
Today's recipe starts with the breast down on high heat. This allows the juices to migrate into the breast, the meat that is notorious for drying out, before it's flipped to cook breast side up to ensure that crackling skin we all love! The cavity is stuffed with celery, onions, apples and some herbs for aromatic flavor in the meat. Otherwise it's very straight forward leaving a tasty turkey without a big fuss.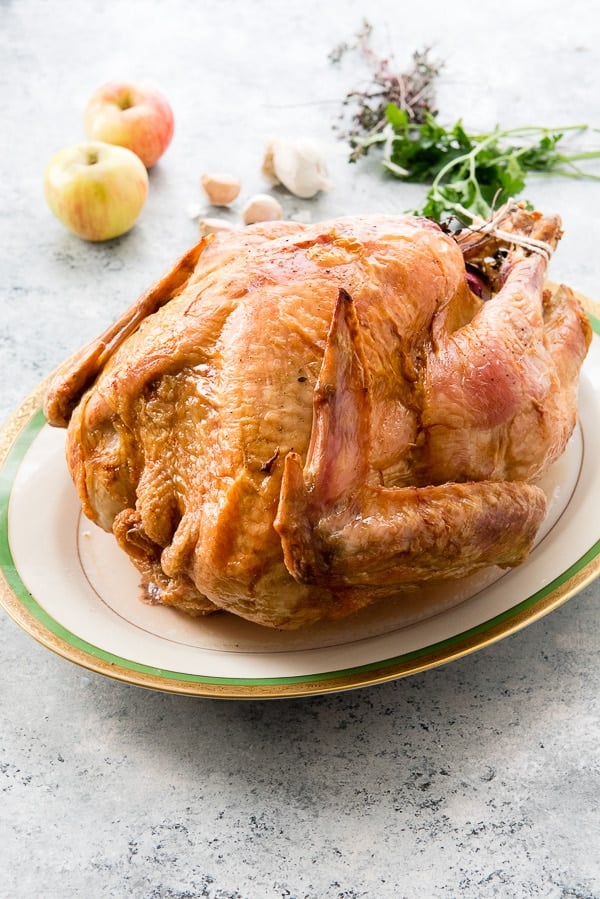 There are a few things to consider before starting. I was listening to NPR last week and they said the most common question asked of the Butterball Turkey Help Line for turkey support on Thanksgiving is 'how long does it take to thaw a turkey'. I have that answer for you: plan 24 hours per 5 pounds of the turkey. An easier way is thawing it in water, changing the water about every 30 minutes (of course keeping it cold). That's what I did with the 15-pound turkey I cooked today and it was thawed within 24 hours. This recipe must start with a thawed turkey!
For this recipe, the turkey is rinsed with cold water and patted dry with paper towels the night before cooking, and it is placed on a baking sheet in the refrigerator uncovered. This allows the skin to dry out a bit which helps create that crunchy cooked skin. The turkey also needs to be removed from the refrigerator to warm up the morning of cooking. I recommend allowing a few hours at room temperature before roasting.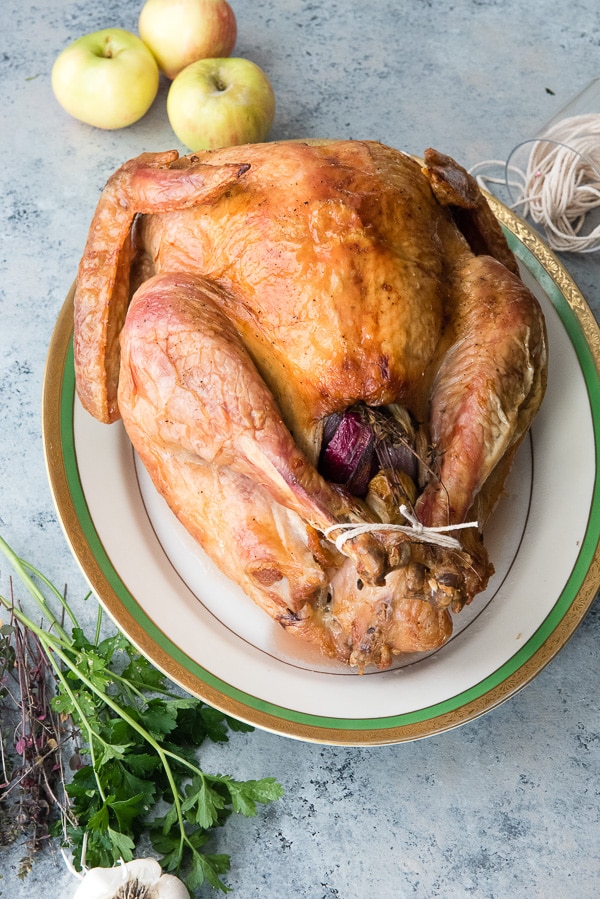 Using a roasting pan that is no deeper than 2 inches prevents the turkey from beginning to steam in any rendered juices. We cover our V-roasting rack with heavy foil (dull side facing the turkey), punctured with holes so the juices can drain into the pan.
Lastly using an instant read thermometer ensures perfect cooking time for your turkey. Since all turkeys weigh different amounts the best way to test the doneness of the turkey is when the thigh (don't touch the bone with the thermometer) meat reads 165 degrees. Based on the size of the turkey checking for doneness can begin around 2 hours of cooking.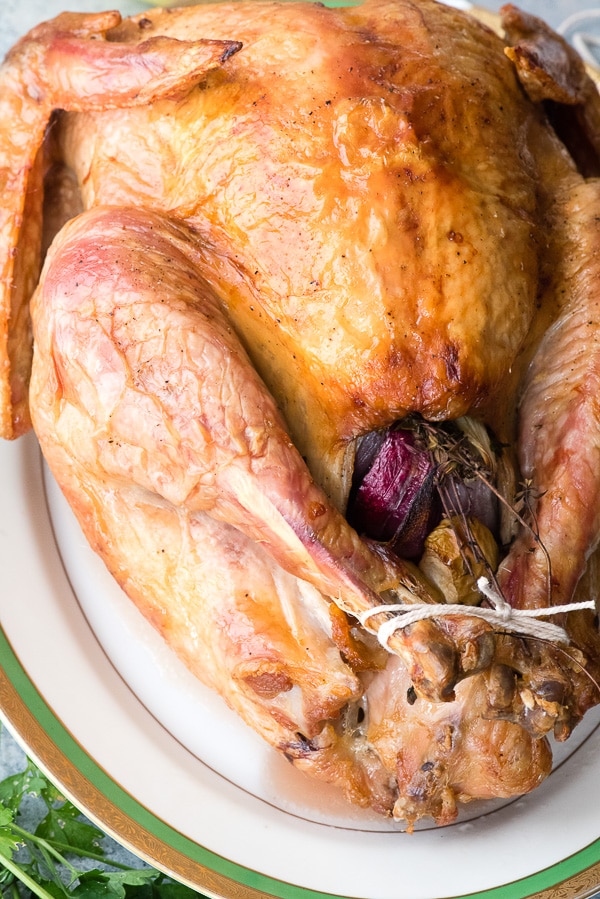 The 15 pound turkey I cooked for this post took 2 hours and 33 minutes. Due to differences in oven temperature accuracy, differing turkey weights, the temperature of the turkey when it's placed in the oven, the cook time may vary slightly. If using and instant read thermometer, you can always cook a turkey to be perfectly juicy with beautiful golden, crisp skin every time!
EQUIPMENT – WHERE TO BUY: There are a few items that are key for this recipe and you'll find you will use them in many recipes. A heavy roasting pan, a V-rack for roasting, an instant read thermometer and butcher twine to truss the turkey legs. There are many varieties of these and I will include those that I use below.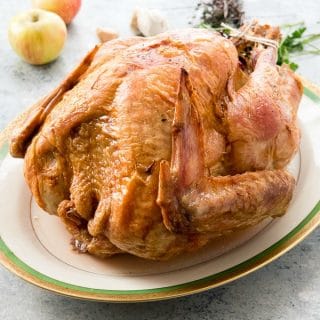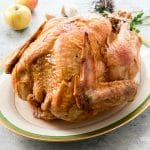 Easy Roast Turkey
This simple no-brine turkey recipe is perfect every time and relies cooking the turkey on high temperature with the breast down to start, then flipping and finishing on low temperature. It keep the turkey moist and allows the skin to be crisp.
Relying on an instant read temperature to determine them the turkey is done will make it perfectly every time.If cooking a smaller or larger turkey, the general rule of thumb if cooking a turkey only on 325 the entire time is to allow 15 minutes per pound of the turkey.
The initial 45 minutes accelerates this rate but will give you a general guide to calculate the cooking duration.Note on prep time: the prep time includes 2 hours of the turkey sitting at room temperature to warm up before cooking.
Prep Time
2
hours
15
minutes
Cook Time
2
hours
35
minutes
Total Time
5
hours
20
minutes
Servings
15
Serves 15 (using guide of 1 pound turkey weight per person)
Ingredients
1 15-

pound

Turkey*

, thawed; rinsed and patted dry with paper towels (giblets and neck removed; can reserve for gravy)

1

small Apple

, rinsed, cored cut into wedges

2

small Celery Stalks

(with leaves), rinsed and cut into 2-inch segments

1

small Onion

, peeled and cut into wedges

3

medium Garlic Cloves

, peeled

6-8

fresh Thyme sprigs

, rinsed

3

stems fresh Italian Parsley

, rinsed

3

tablespoons

Vegetable Oil

2

teaspoons

Kosher Salt

1

teaspoon

freshly ground Black Pepper
Instructions
The night before roasting: put the turkey on a baking sheet uncovered in the refrigerator to sit overnight.

The day of roasting the turkey: Remove turkey from the refrigerator and allow to sit at room temperature for two hours. (When ready to roast the turkey) Preheat oven to 425 degrees. Cover V-rack (roasting rack) with foil (dull side outward), poke holes and spray with cooking spray; place in a roasting pan no deeper than 2-inches. Combine the salt and pepper into a small bowl.

Coat the cavity of the turkey with some of the oil (easiest down with your hand), and some of the salt and pepper, rubbing all around the cavity. Fill the cavity with the onion, apples, celery, garlic and herbs. Brush the remaining oil all over the outside of the turkey and rub in the remaining salt and pepper to coat. Truss the turkey legs (ignore if the legs were done before purchasing) and place breast DOWN in the prepared rack in the roasting pan.

Cook the turkey for 45 minutes (note: cook 45 minutes with the breast down even if cooking a different size turkey).

Remove the roasting pan from the oven and turn the oven temperature DOWN to 325 degrees. Using several paper towels (and avoiding touching the hot roasting pan) turn the turkey over so the breast is now UP. Note: avoid using utensils which can puncture the skin. Cook for 1 hour.

After an hour wrap foil around the wing tips to avoid them burning and return to oven.

At 2 hours cooking time, check temperature in the thick part of the thigh with an instant read thermometer (without touching the bone). Return to oven and cook until the temperature of the thigh reaches 165 degrees. Note: the temperature can rise quickly as the turkey is almost done. Once the turkey temperature registers in the 140 degree range check again in 15-20 minutes to avoid over cooking. Once the thigh registers 165 degrees, remove from oven and lightly tent with foil; allow to rest for 30 minutes before carving.
Recipe Notes
*Should your turkey different in weight, larger or smaller, follow the recipe through flipping the turkey and once breast up measure the temperature and remove when the thigh registers 165 degrees (quicker with a smaller turkey and more time for a larger turkey).
Nutrition Facts
Easy Roast Turkey
Amount Per Serving
Calories 520
Calories from Fat 198
% Daily Value*
Fat 22g34%
Cholesterol 247mg82%
Sodium 699mg29%
Potassium 811mg23%
Carbohydrates 2g1%
Protein 74g148%
Vitamin A 260IU5%
Vitamin C 2.4mg3%
Calcium 45mg5%
Iron 3.1mg17%
* Percent Daily Values are based on a 2000 calorie diet.