Cornish Game Hens add a special touch to any meal. This recipe for Lemon Herb roasting them is so easy and they cook in less than an hour!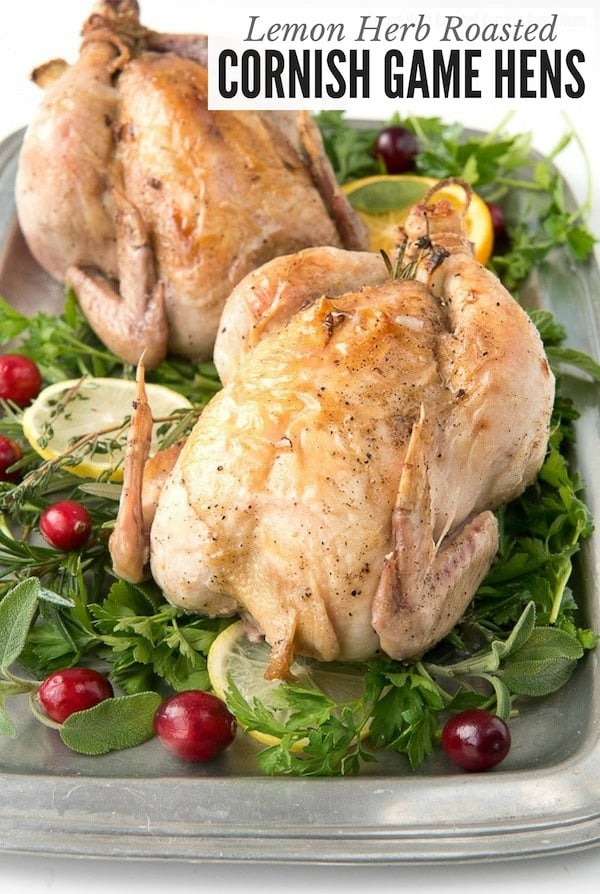 Originally published November 2015; Updated October 2018
One of my fondest childhood dinner memories was when my mom would serve Cornish Game Hens. They appear as a whole chicken in minature and each are served as an individual main dish to the delight and surprise for the diner.
They are very easy to prepare and perfect anytime; including as a possible change up for Thanksgiving or Christmas meals, when wanting something fantastic but with far less time and effort.
What Is a Cornish Game Hen?
Also known as Cornish Rock Hens, these diminutive hens (which actually can be male or female) are not at all a game bird but rather a chicken hybrid small enough for a single serving entrée.
Usually weighing between a 1-1 ½ pounds, they have a presence that automatically feels exotic and special in my book. Who doesn't feel having an entire bird for themselves is unique?
Where to Buy Cornish Game Hens?
Cornish Game Hens are sold at most grocery stores usually individually wrapped and in with the frozen. At this time of year, you may be able to find them with the butcher fresh as well.
Since are usually sold frozen they need to thaw fully before cooking. The price for a 1 ¼ pound bird is around $6 making them reasonably priced as well.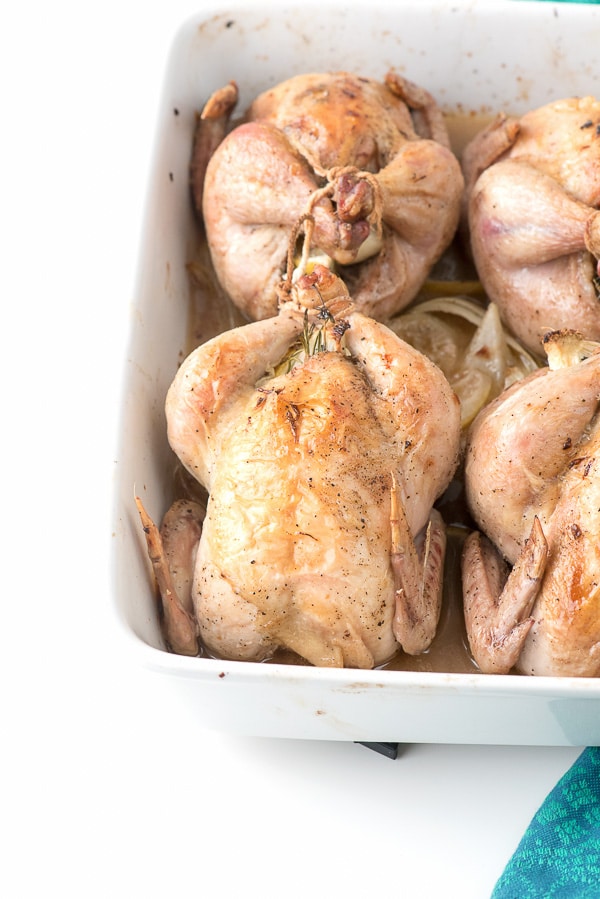 Why Make Cornish Game Hens
As you can see from the photos, these little birds make a beautiful presentation and are a delicious one-person entrée. They automatically elevate the dinner plate to a restaurant-like feel with no extra effort from you!
They are as easy as a whole roast chicken to make. Great for entertaining, Friendsgiving or Thanksgiving if wanting a break from making a whole turkey (and they are much faster and less fussy to cook).
How to Cook Cornish Game Hens
I like to roast them and multiple Cornish game hens fit in one large baking dish making it an easy thing to do. It takes less than an hour.
Lemon Herb Roasted Cornish Game Hens Recipe
When roasting chickens I love to salt and pepper the whole bird and add lemons to the cavity which gives the meat a delicious flavor.
For these birds I wanted to recreate the lovely roasted taste and appearance with the golden, crackling skin and the heavenly aroma filling the kitchen when they are cooking.
The cavity of the Cornish game hens are filled with lemon wedges, onion wedges and aromatic herbs. They are also basted with a simple infused olive oil-butter mixture leaving the birds juicy and the skin perfect.
With a cooking time of under an hour, there is plenty of time to whip up some side dishes like Roasted Garlic Buttermilk Smashed Potatoes or a beautiful Winter Salad with Warm Cranberry Honey Dressing while the birds are cooking to make a special meal for all who share it together!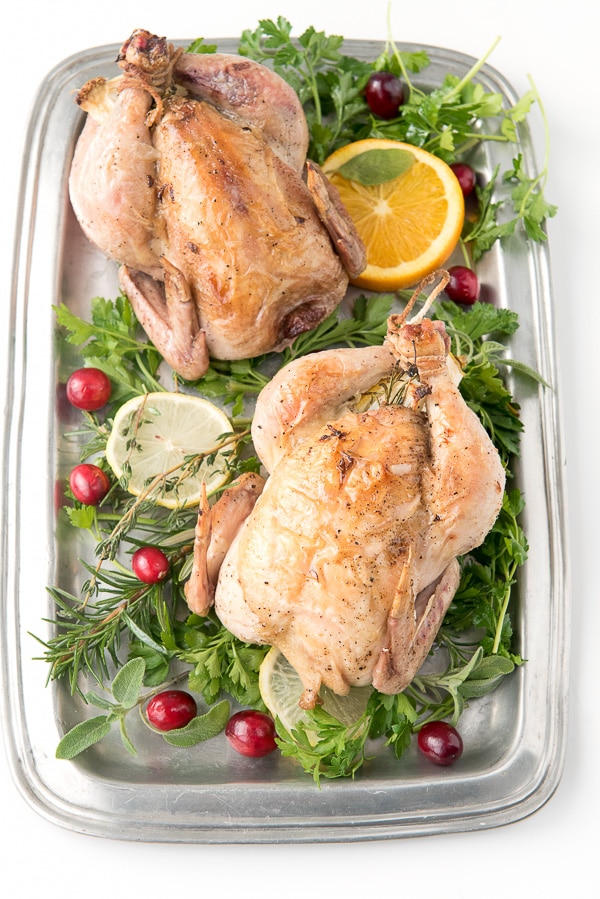 Trussing the Cornish Game Hens
'Trussing' is the tying of the legs of a chicken or bird before cooking. It sometimes refers to the wings too but that doesn't apply with Cornish game hens.
Trussing a bird closes off the cavity which prevents too much hot air from circulating into the bird and drying out the breast as it cooks. When it is stuffed trussing also helps keep the stuffing inside the chicken or Cornish game hen.
Butchers twine, also called kitchen twine, is typically used for trussing. It's 100% cotton and holds the legs in place during cooking. There is a link in the Supplies below to learn more.
A trick I use when tying the legs together is to double an 8-10 inch length of butcher twine, hold the loop (the middle of the double twine) at the curve just below the end of a drumstick, thread the remaining twine through the loop and pull until it's snug, not overly tight.
This provides a secure anchor for the twine. From here, weave the twine around the two leg ends and tie together. Refer to photos for final result.
TIP: Don't have Butcher's twine? You can also secure the legs by wrapping a piece of foil around them or secure with toothpicks.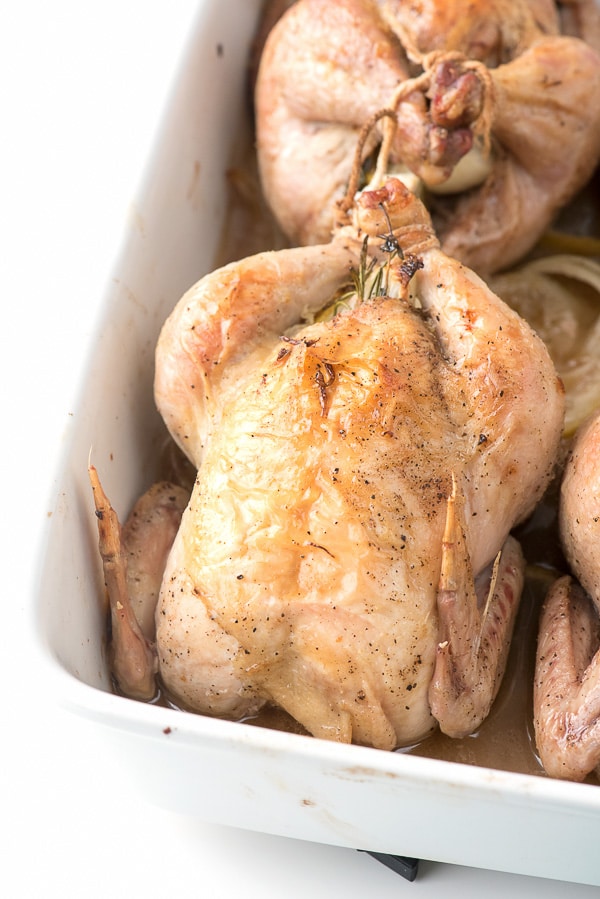 Supplies for making Cornish Game Hens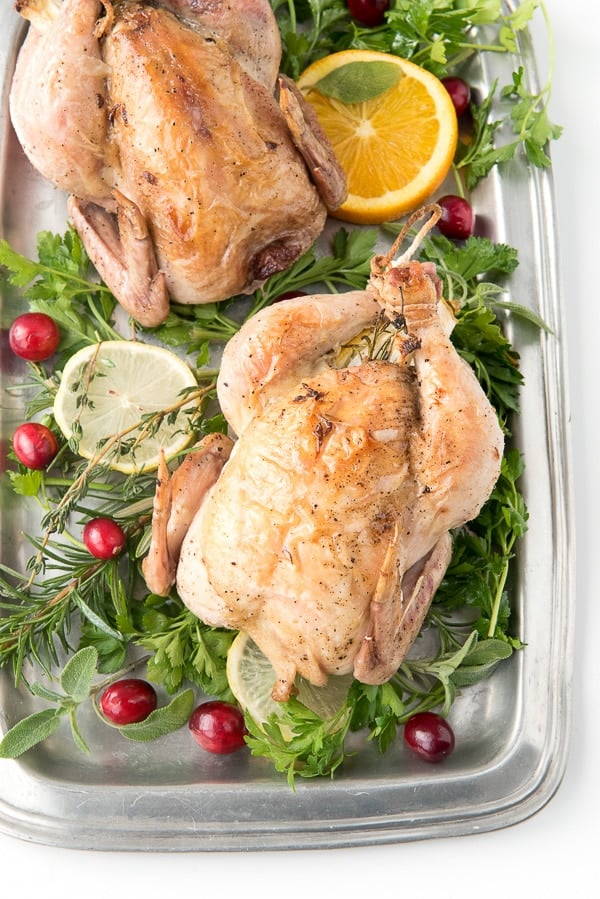 If you've made this Lemon Herb Roasted Cornish Game Hens recipe please RATE THE RECIPE below!
Please SUBSCRIBE and FOLLOW ME on FACEBOOK , TWITTER , INSTAGRAM and PINTEREST to see more delicious food, travel and what I'm up to!
How to Make this Cornish Game Hens recipe – Step by Step: