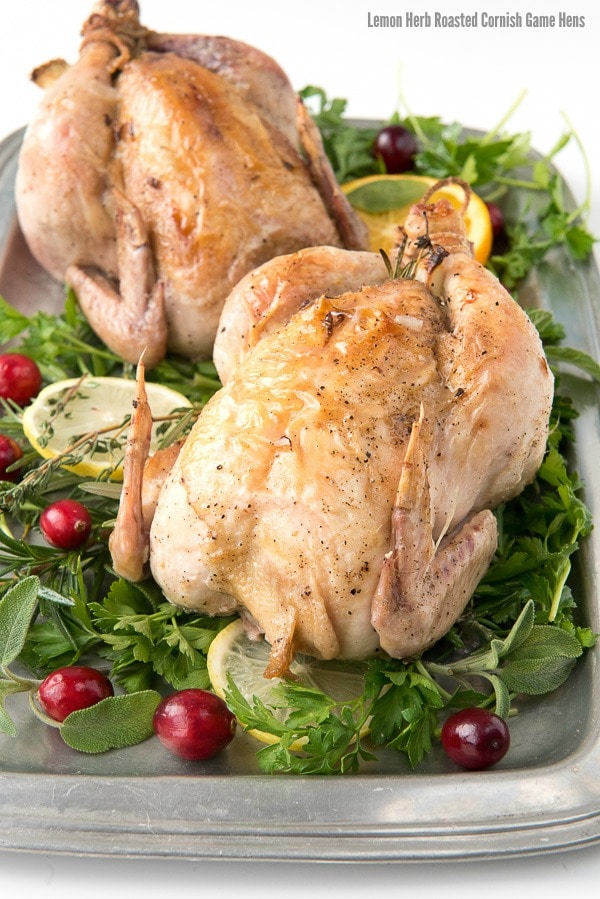 One of my fondest childhood dinner memories was when my mom would serve Cornish Game Hens. Also known as Cornish Rock Hens, these diminutive hens (which actually can be male or female) are not at all a game bird but rather a chicken hybrid small enough for a single serving entrée. Usually weighing between a 1-1 ½ pounds, they have a 'Honey, I shrunk the fowl' presence that automatically feels exotic and special in my book. Who doesn't feel having an entire bird for themselves is unique?
I loved arriving to the dinner table and finding everyone's plate full with their own personal hen along with cozy side dishes making ordinary dinners feel like a party. Everything is in miniature so devouring a whole hen is not a chore, though they can be served cut in half offering two entrees per bird.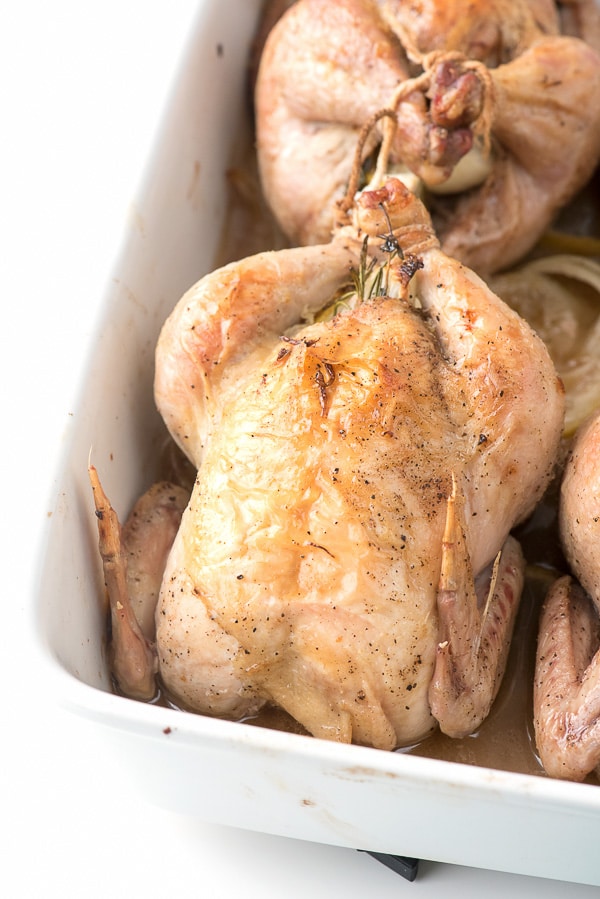 With holiday entertaining afoot and Thanksgiving almost upon us, sharing an easy recipe for roasting Cornish Game Hens seemed well timed. I've been hearing news stories about a turkey shortage this year; though our local Whole Foods butcher assures me they will not have a shortage, which isn't surprising since the Boulder Whole Foods has the largest meat department of any Whole Foods in the U.S. (who knew, right?!).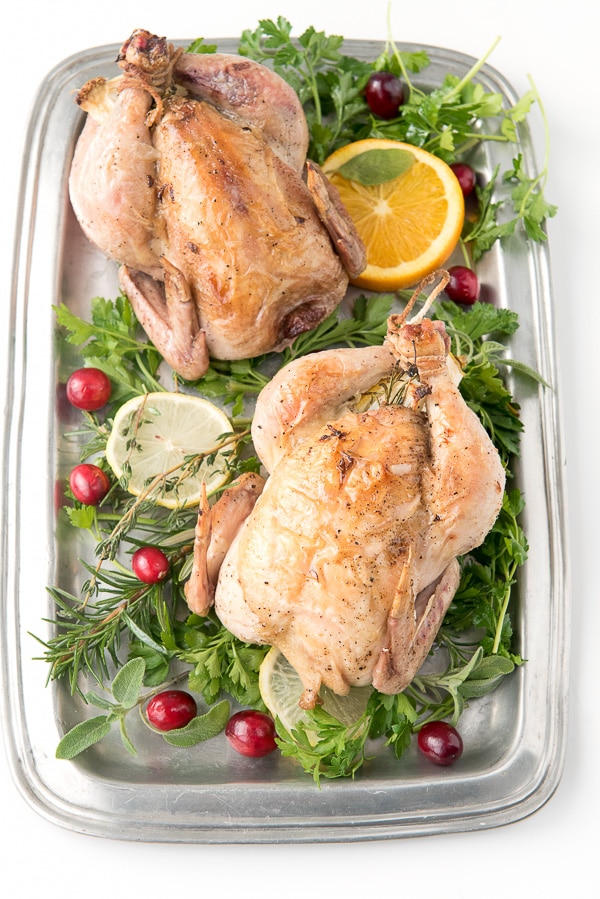 I was thinking about how long even a smaller turkey lasts us as a family of four after the holiday and always loving alternatives I wondered about what else could be served for Thanksgiving that would feel in keeping with the holiday traditions. I think Cornish Game Hens would be a fun alternative to change it up or for a small group who doesn't want loads of leftovers for weeks following. They are usually sold frozen and need to thaw fully before cooking. The price for a 1 ¼ pound bird is around $6 making them reasonably priced as well.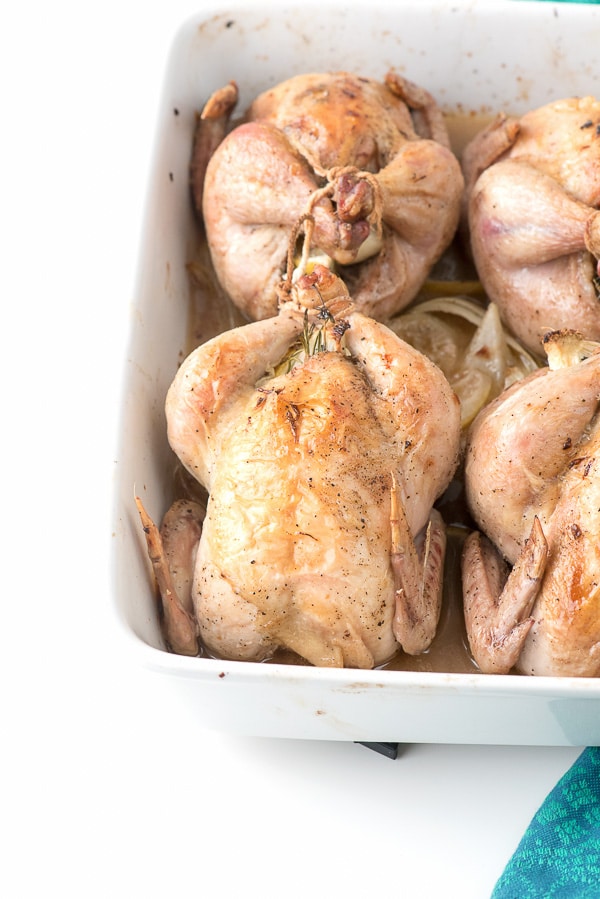 When roasting chickens I love to salt and pepper the whole bird and add lemons to the cavity which gives the meat a delicious flavor. For these birds I wanted to recreate the lovely roasted taste and appearance with the golden, crackling skin and the heavenly aroma filling the kitchen when they are cooking. The cavity of the hens are filled with lemon wedges, onion wedges and aromatic herbs. They are also basted with a simple infused olive oil-butter mixture leaving the birds juicy and the skin perfect. With a cooking time of under an hour, there is plenty of time to whip up some side dishes like Roasted Garlic Buttermilk Smashed Potatoes or a beautiful Winter Salad with Warm Cranberry Honey Dressing while the birds are cooking to make a special meal for all who share it together!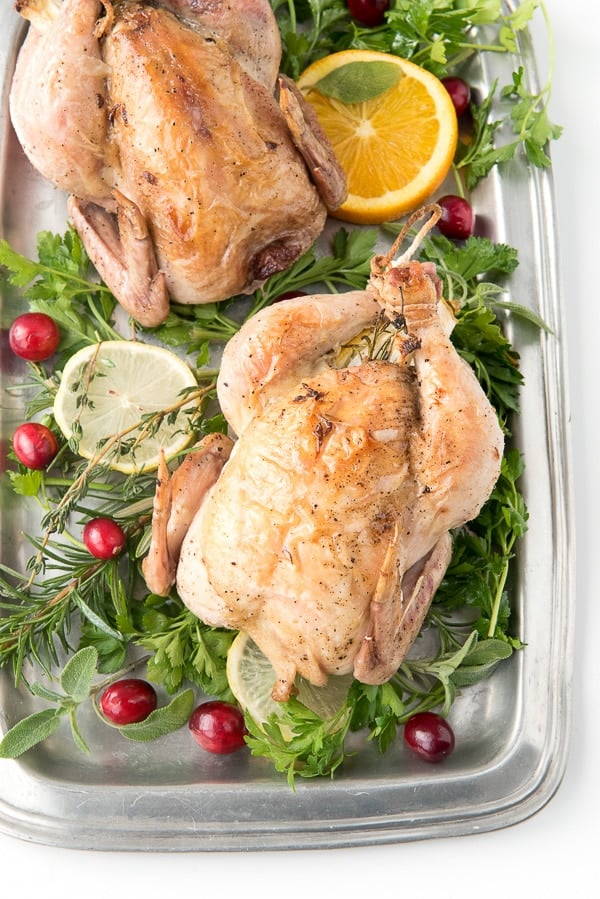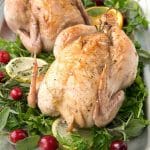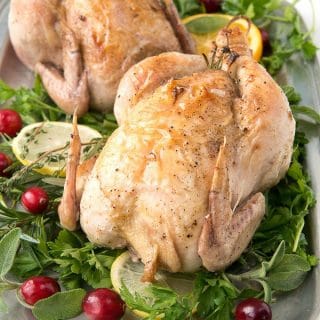 Lemon Herb Roasted Cornish Game Hens
Individual Cornish Game Hens always make a meal feel special and are a great holiday meal choice as well. This simple roasting method leaves them with juicy, succulent meat and crispy golden skin. Hen cavity sizes vary so if there is excess onion or lemon which cannot fit, add it to the base of the roasting pan before placing the hens on top. This will add to the flavor of the pan juices which are drizzled over the hens when serving.
Total Time
1
hour
25
minutes
Ingredients
4

Cornish Game Hens

, 1 ¼-1 ½ pounds (all hens the same size); fully thawed if frozen

2

teaspoons

Kosher Salt

2

teaspoons

Black Pepper

, freshly ground

2

small Lemons; 1 cut into 4 wedges lengthwise

, the other sliced crosswise into paper thin slices

1

small Yellow Onion

, cut lengthwise into 8 wedges leaving the root end intact*

8

sprigs fresh Thyme

5

sprigs fresh Rosemary

, each cut in half

8

fresh Sage leaves

Butcher's twine

Instant read thermometer
Ingredients for the Basting liquid:
3

tablespoons

Olive Oil

1

teaspoon

Unsalted Butter

1

small Shallot

, diced

2

medium Garlic Cloves

, diced

1

sprig Rosemary

3

slices

of the Lemon

(see ingredients above)
Instructions
Set the Cornish hens out to come to room temperature about 1 hour before cooking. Preheat the oven to 425 degrees and set a rack to the middle position of the oven.

While the hens are coming to room temperature, make the basting sauce. In a small sauce pan over medium-low heat, combine the olive oil and butter. Once the butter has melted add the shallot, garlic, rosemary and lemon slices. Allow to simmer for 3 minutes and then remove from the heat to cool and infuse.

Rinse the hens inside and out, and pat fully dry with paper towels. Combine the salt and pepper and rub over the hens externally as well as inside the cavity.

Stuff each hen with 1-2 onion wedges, 1 lemon wedge, 2 sprigs of thyme, 2 rosemary sprig halves, 2 sage leaves. Tie the legs together with butcher twine, in a crossed position but not overly tightly.**

Spray the sides of an 11-inch by 13-inch baking pan (this helps prevent the sides of the hens from sticking to the pan while cooking), add remaining lemon slices and any of the onion wedges that were not stuffed into the hens (separate them into pieces). Baste the hens fully and place them with breasts up in the baking pan. Cook on 425 degrees for 30 minutes.

Lower the heat to 350 and cook an additional 20 minutes. When an instant read thermometer inserted into the thickest part of the hen (usually the thigh or breast) reads 165 degrees (the juices should run clear as well), remove the pan from the oven and allow the hens to rest for 15 minutes before serving. Reserve the flavorful pan juices to drizzle over the hens when serving.
Recipe Notes
*Instead of cutting off the ends of the onion, peel the onion and cut through the root end but leave it intact. That functions to hold the onion wedge together, making it easier to handle when inserting it into the hen's cavity.
**A trick I use when tying the legs together is to double an 8-10 inch length of butcher twine, hold the loop (the middle of the double twine) at the curve just below the end of a drumstick, thread the remaining twine through the loop and pull until it's snug, not overly tight. This provides a secure anchor for the twine. From here, weave the twine around the two leg ends and tie together. Refer to photos.
Nutrition Facts
Lemon Herb Roasted Cornish Game Hens
Amount Per Serving
Calories 1020
Calories from Fat 666
% Daily Value*
Total Fat 74g 114%
Cholesterol 457mg 152%
Sodium 1439mg 60%
Potassium 1127mg 32%
Total Carbohydrates 4g 1%
Protein 77g 154%
* Percent Daily Values are based on a 2000 calorie diet.
More great poultry recipes: