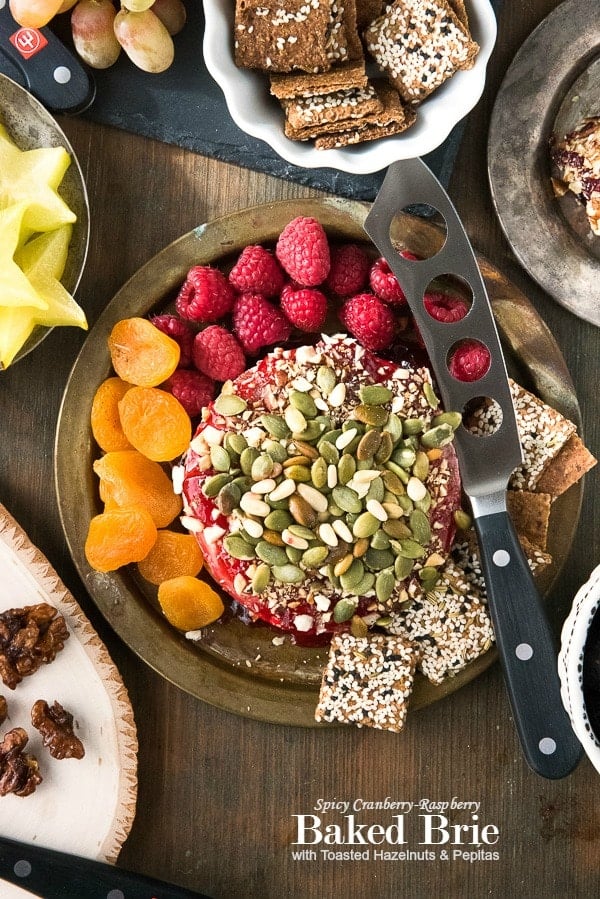 'Entertaining'. Who would think one little word could strike such fear in the hearts of food-loving adults. If you are one finding panic at the mention of the 'e' word, I suggest taking baby steps and think of it as 'having friends over'. That feels a bit less intimidating, doesn't it?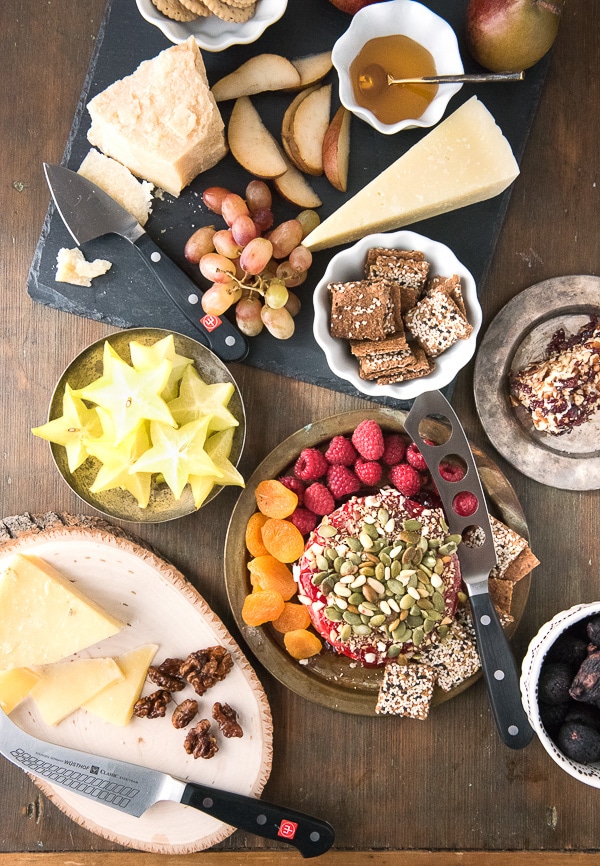 Whatever you call it or however you think of it, socializing over food and drink happens constantly in December and I'm here to help you get ready to meet the challenge head on. For me personally I find hosting parties to be very much like working out; the more often you are doing it the easier it becomes. You get into the swing of things, find what works for you and can pull off a holiday gathering like a champ.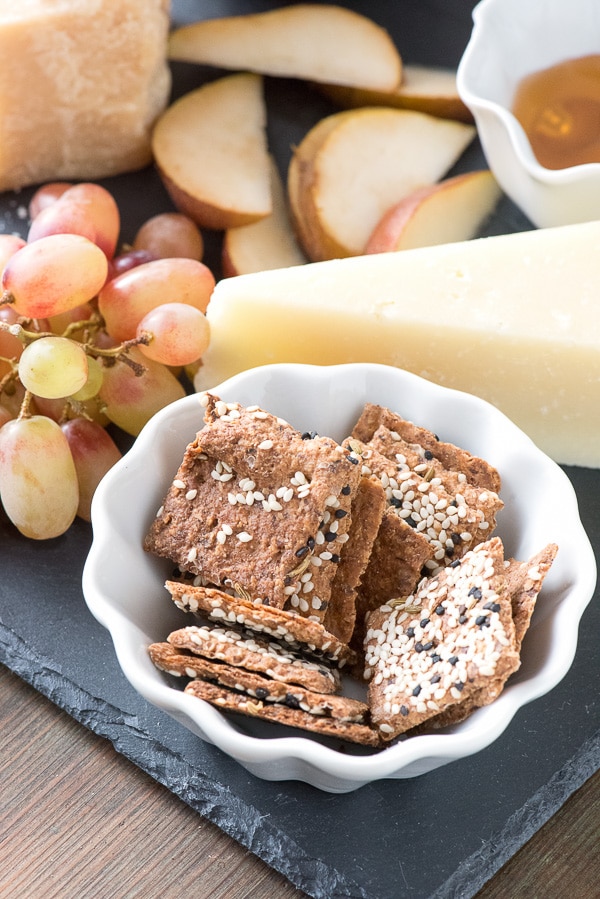 I will share a little secret. I become very distracted once my guests arrive. I want to catch up and enjoy their company, not slave away in the kitchen once they've arrived. My kitchen is an open style too so it's nearly impossible for me to concentrate with friends sipping cocktails at my bar overlooking my attempts to pull appetizers in and out of the oven or try to plate things to look interesting. I need quiet to do all of that.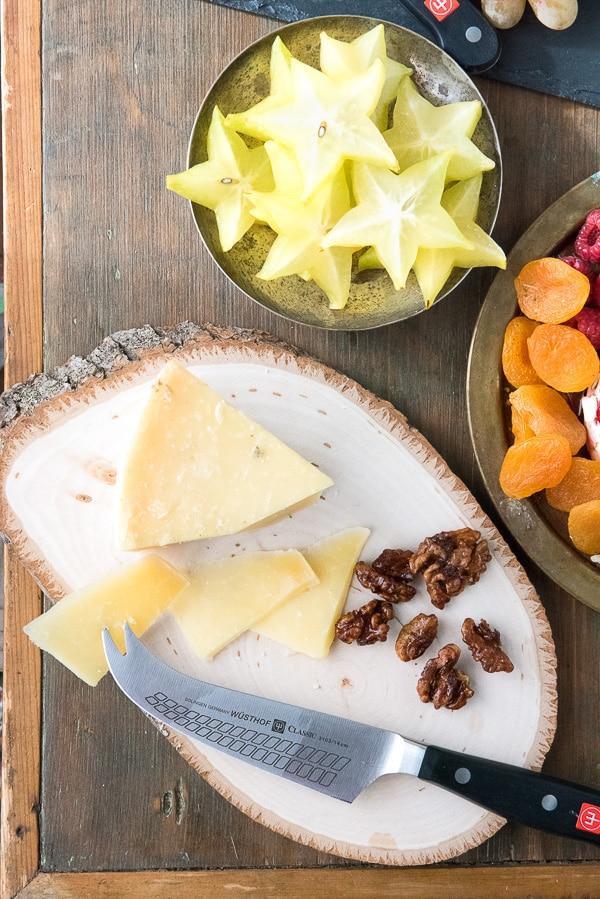 Over the years I have found some great recipes that are fast and easy to prepare but your guests will never guess that. I really love an elaborate cheese spread with a variety of soft and hard cheeses, fruits, nuts and crackers that guests can self-serve at will.
One of my favorite seasonal recipes is a Cranberry-Pecan Goat Cheese Roll. It has a whopping three ingredients, can be made ahead of time and takes about five minutes to make. It has a wonderful blend of sweet and tangy flavors with a great crunch from the pecans.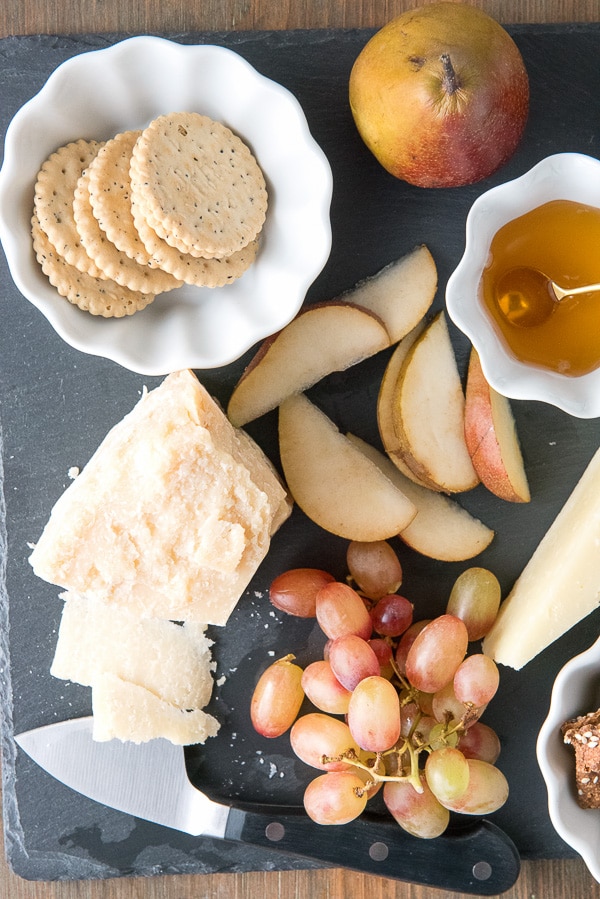 Another favorite is baked Brie cheese. The top rind is sliced off an 8-ounce wheel of brie cheese which is then covered with a sauce, jelly or jam and baked for less than 10 minutes. Once out of the oven the cheese is topped with nuts or fruit and served warm. It has a homey flavor and almost spreadable consistency all done within about 15 minutes.
Two past favorites are Baked Brie with Pink Champagne Jelly, Red Grapes and Marcona Almonds, and Baked Brie with Maple-Pumpkin Butter, Honey, Marcona Almonds and Pepitas. Both have been hits at holiday parties and the champagne jelly can be used in many different ways as well.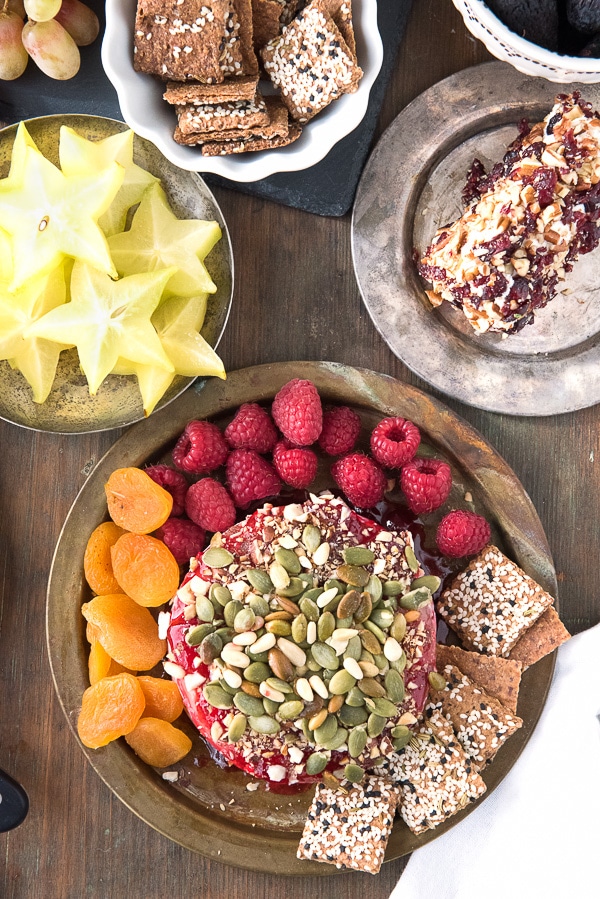 Today I've created a new recipe for Spicy Cranberry-Raspberry Baked Brie with Toasted Hazelnuts and Pepitas. The jelly is made from scratch in just 15 minutes though needs to fully cool and set up before baking on the brie. It can either be placed in the refrigerator for around an hour, or be made the night before, which breaks the recipe into 2-15 minute sessions approximately. Not bad for this delicious outcome, right?!
Baked Brie is one of the most effortless and elegant appetizers for entertaining at any time of the year. I love this version especially for the holidays for the flavors and the appearance.
A simple homemade jelly is whipped up in about 15 minutes and after it cools and solidifies it is added to the top of brie cheese for a sweet and spicy appetizer. The nuts and seeds give it a perfect texture that no one will be able to resist!
The bulk of the total recipe time is the cooling and solidifying of the jelly. The jelly can be made the day before and kept sealed in the refrigerator leaving only about 15 minutes total required to prepare the baked brie from start to finish! The jelly recipe makes enough for two baked brie's.
Since you asked…..these are the cheese knives used in the photos: Wusthof Classic 3 Piece Cheese Knife Set.
Recipe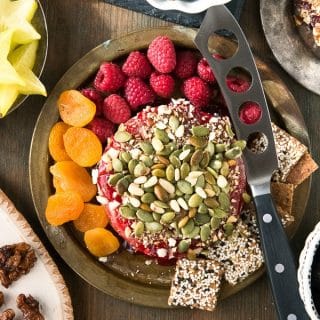 Spicy Cranberry-Raspberry Baked Brie with Toasted Hazelnuts and Pepitas
Baked Brie is one of the most effortless and elegant appetizers for entertaining at any time of the year. I love this version especially for the holidays for the flavors and the appearance.
Print
Save Recipe
Recipe Saved!
Pin
Rate
Servings:
8
1/2 cup Spicy Cranberry-Raspberry Jelly (enough for 2 baked bries); the baked brie will serve 4 as a solo appetizer and more with additional appetizers
Ingredients
Ingredients for the Spicy Cranberry-Raspberry Jelly:
¼

cup

plus 2 tablespoons Water

2

tablespoons

Port Wine

½

cup

Granulated Sugar

½

cup

fresh Cranberries

½

cup

fresh Raspberries

1

teaspoon

diced

, seeded Serrano Pepper
Ingredients for Baked Brie:
1

wheel of Brie cheese

(8 ounces)

¼

cup

Spicy Cranberry-Raspberry Jelly

(see above)

2

tablespoons

chopped Hazelnuts

1 ½

tablespoons

raw Pepitas

2

teaspoons

Pine Nuts

Crackers for serving the baked Brie
Instructions
Instructions for the Spicy Cranberry-Raspberry Jelly:
Combine the water, port wine and sugar in a medium sauce pan over Medium-High temperature. Stir as the liquid comes to a boil to dissolve the sugar.

When it begins to boil, add the cranberries, raspberries and chile pepper; reduce heat to Medium-Low and allow to simmer for 10 minutes or until all the cranberries have popped open and the mixture has thickened. Stir periodically.

While the mixture is simmering, equip a small bowl with a fine sieve. Once the cooking time is complete, pour the mixture through the sieve and press with a firm cooking spoon inside the sieve to release all the available liquid. Place the bowl in the refrigerator to cool and thicken; discard contents in the sieve.
Instructions for Baked Brie:
Preheat the oven to 350 degrees. Cover the bottom of a baking sheet (one with sides; not completely flat) with parchment paper.

Slice the rind off one of the circular flat ends. Place the brie on the prepared baking sheet with the cut side facing up.

Spoon the Spicy Cranberry-Raspberry Jelly onto the top of the brie. It will melt during cooking so does not need to be perfect, just covering the top of the cheese.

Bake the brie until it has softened but not melted; about 8-10 minutes (less if using a dark baking sheet).

While the brie is baking, place the chopped hazelnuts in a small, dry skillet over medium-high heat. Stirring constantly, heat the hazelnuts until they begin to turn golden and smell toasted (1-2 minutes); do not overcook.

When the Brie is done, remove the baked Brie from oven and gently place on a serving dish. Sprinkle the top evenly with the toasted hazelnuts, pepitas and pine nuts.

Serve immediately in thin slices atop a cracker.
Nutrition
Calories:
215
kcal
|
Carbohydrates:
22
g
|
Protein:
7
g
|
Fat:
10
g
|
Saturated Fat:
5
g
|
Cholesterol:
28
mg
|
Sodium:
189
mg
|
Potassium:
99
mg
|
Fiber:
1
g
|
Sugar:
18
g
|
Vitamin A:
165
IU
|
Vitamin C:
3.9
mg
|
Calcium:
59
mg
|
Iron:
0.6
mg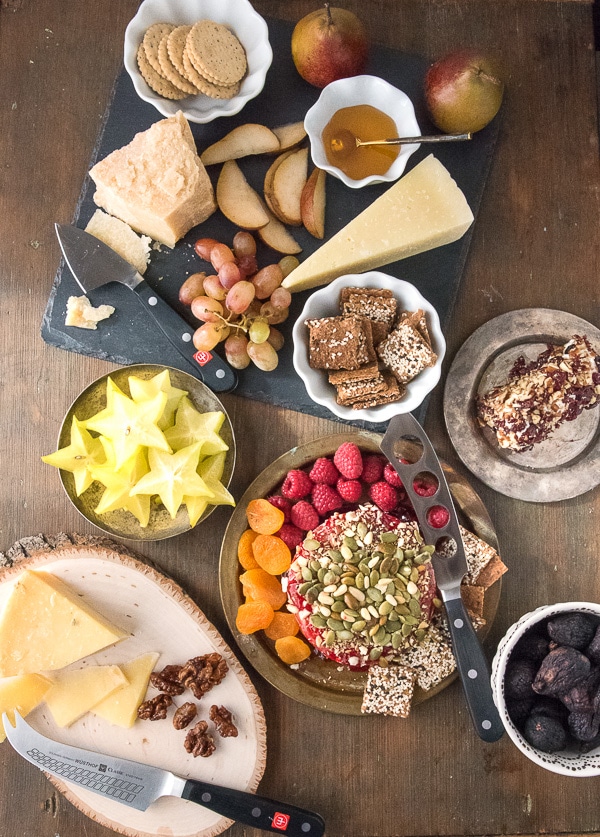 When I put together a cheese and fruit platter I like to make it visually engaging by combining old and new cutting boards, bowls, and serving utensils. Mixing color and form, or creating a more monotone collection as with the Parmigiano-Reggiano cheese, pears, honey, and tawny colored grapes keeps thing enticing. Mixtures of strong and light cheeses, salty nuts, sweet fruits and different types of crackers make for unlimited combinations of flavor pairings (all of these crackers are gluten-free too).