Instant Pot Mashed Sweet Potatoes are a delicious, wholesome side dish ready in a flash! A special ingredient delivers big satisfying flavor.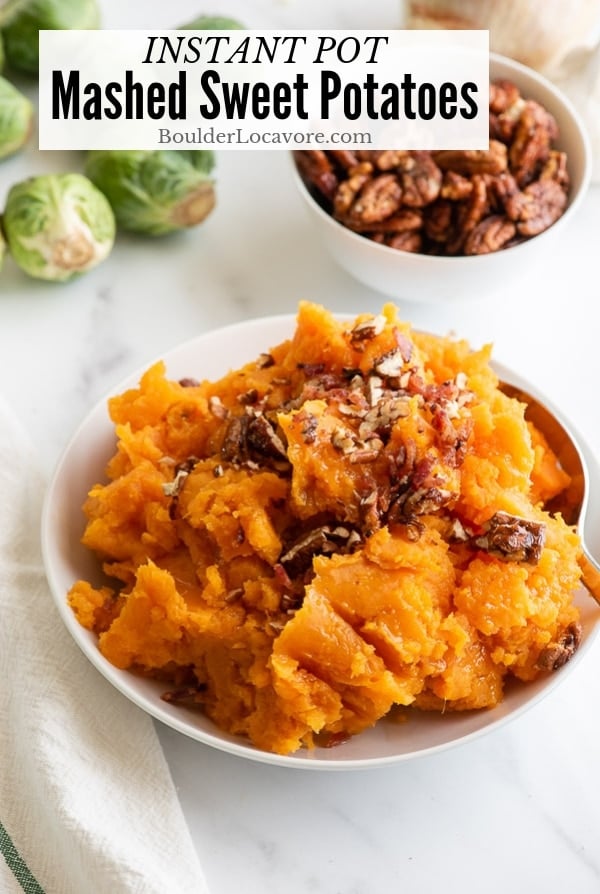 Something I love about food is how it ties families and friends together. It can be difficult to gather for the holidays but somehow making the same well-loved family favorite recipes keeps us all together in spirit.
This year I'm aiming for all EASY recipes! I've had many Thanksgiving holidays where I've cooked for days and end up almost collapsing at the dining table with no appetite when the meal is finally served.
I'm tweaking some longtime family favorite recipes to be easier and faster to prepare without sacrificing the wonderful flavors we love. Instant Pot Mashed Sweet Potatoes recipe are one of those conversions!
If you love Classic Sweet Potato Casserole we have a recipe for that too!
Jump to:
Instant Pot Mashed Sweet Potatoes
I'll confess it has taken me many years to warm up to sweet potatoes. As a child my only exposure was marshmallow topped casseroles that were just too sweet for my liking.
What I've realized is though sweet potatoes ARE sweet, they aren't THAT sweet. It's what you add with them that makes the difference.
Why make THESE Mashed Sweet Potatoes?
This easy recipe is ready in 30 minutes. The cooking time is 8 minutes!
It is the perfect way to cook sweet potatoes to a mashable consistency and can be made at the last minute with little notice.
The only ingredients added to the finished sweet potatoes are butter, orange juice and maple syrup; and just a bit on the last two.
Cooking in a pressure cooker retains more nutrients of the ingredients too!
All cooking is done in the electric pressure cooker so it leaves your kitchen free for other cooking.
The mashed sweet potatoes are soft, savory with just enough orange flavor and maple sweetness to allow the natural sweet potato flavor to shine. They are truly irresistible.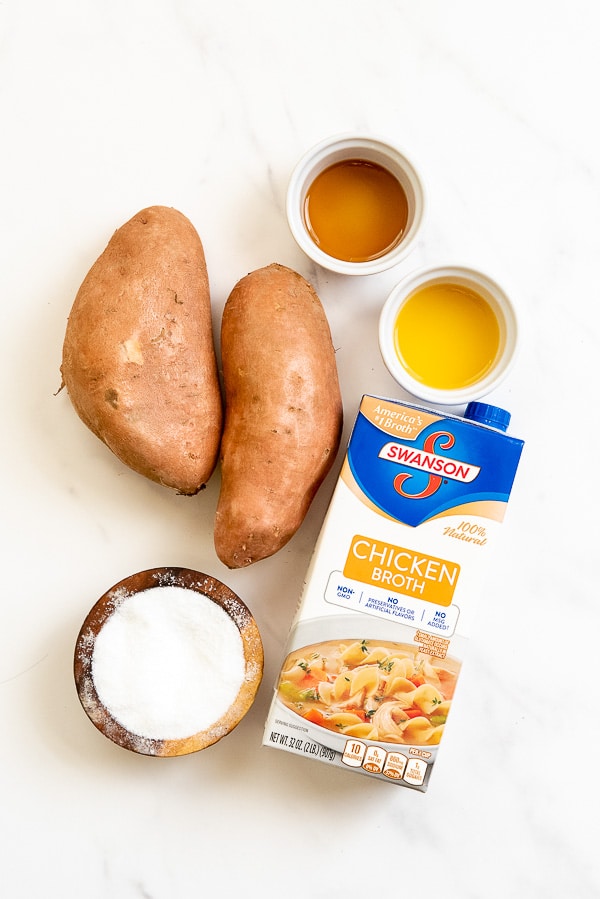 What Ingredients are in Mashed Instant Pot Sweet Potatoes?
It's a short list:
sweet potatoes
butter
orange juice
maple syrup
chicken Broth
This recipe is a perfect example of how a combination of simple, high-quality ingredients can create a fantastic recipe.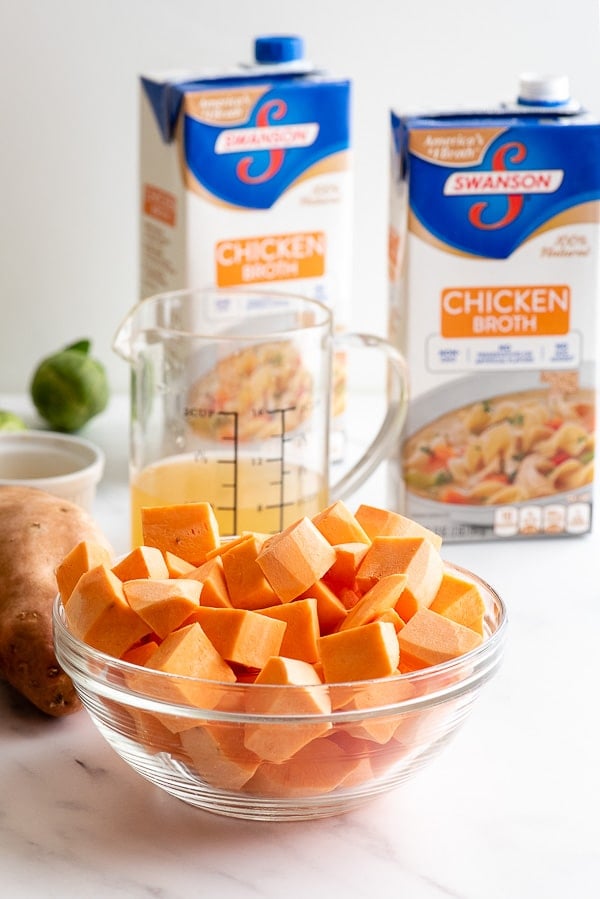 The SECRET That Makes This Recipe So Good
It's the Chicken Broth.
Instead of cooking the sweet potatoes in water, as with most Instant Pot recipes, these Instant Pot sweet potatoes are cooked in chicken broth.
The broth adds a depth of flavor that transform the mashed sweet potatoes from good to glorious.
My grandmother and mother always used Swanson broth in their cooking and it's a brand I've always loved for the quality of ingredients and the flavor; it's 100% natural.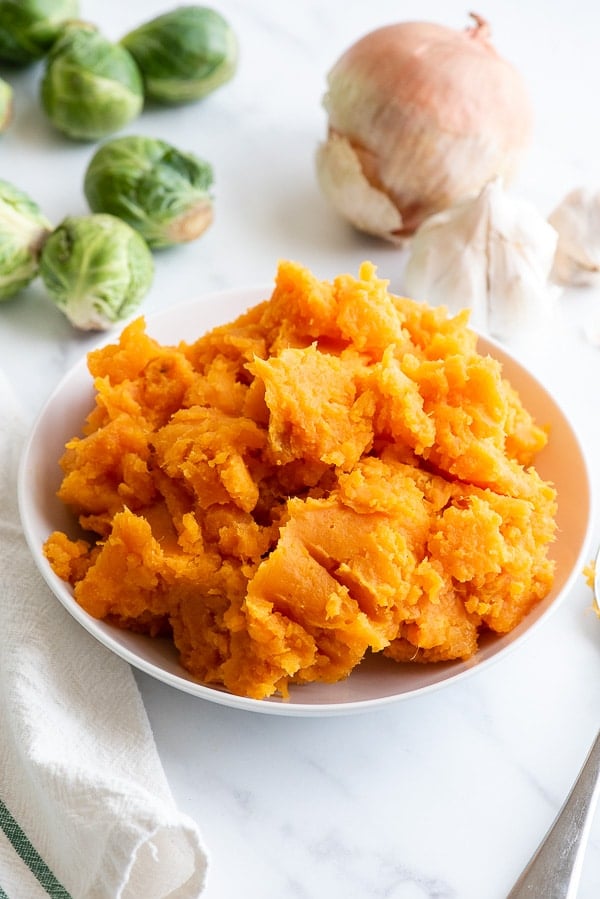 How to Make Mashed Instant Pot Sweet Potatoes
Pressure cooking the sweet potatoes is key to get a perfect mashable consistency and fast!
I love that the entire recipe is done in the Instant Pot too, leaving the rest of your kitchen free for other cooking.
NOTE: This recipe was developed using an Instant Pot multi-cooker and the instructions correlate to that device though any electric pressure cooker will work!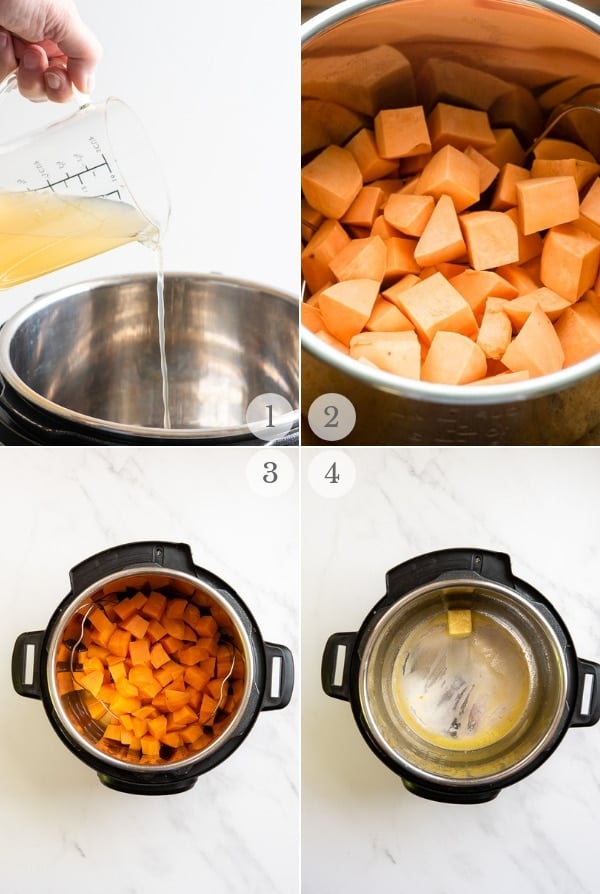 Place the steaming trivet in the Instant Pot insert. Pour in the Swanson Chicken Broth (photo 1).
Add the prepared sweet potatoes (photo 2). Lock the lid, select MANUAL, HIGH PRESSURE and 8 minutes.
When the cooking is complete, do a QUICK RELEASE to release the pressure (photo 3). Allow the pressure cooker to stay on the WARM setting (the automatic Instant Pot default after cooking is done).
Remove the cooked sweet potatoes (spoon them out of the insert with a slotted spoon into a mixing bowl). Drain the cooking broth and reserve it! Remove the trivet.
Add the butter to the pressure cooker insert and allow it to melt (photo 4).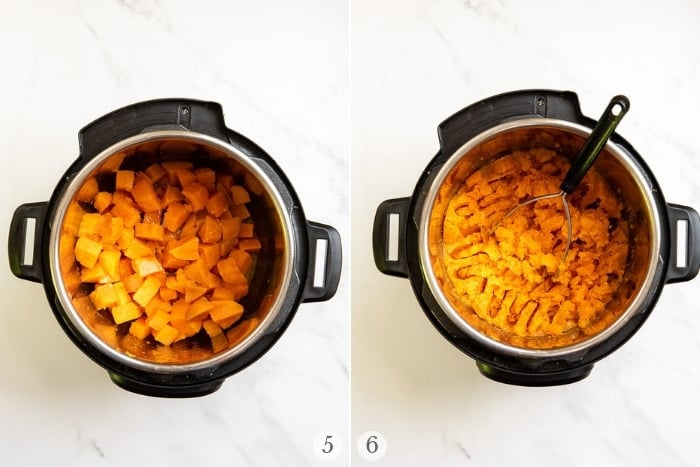 Add the cooked sweet potatoes back into the insert and add the maple syrup and orange juice (photo 5).
Mash with a potato masher until smooth (it takes only a few mashings) (photo 6). Salt to taste.
Reuse the Cooking Broth!!
The reserved cooking broth does not go back into the Pressure Cooker Sweet Potatoes but it is delicious (taste it and I know you'll agree). Don't throw it out! Use it for:
Soup stock
Making gravy
Steaming liquid for vegetables
How to Take These Mashed Sweet Potatoes Up a Notch
The Instant Pot Mashed Sweet Potatoes are perfect as is. BUT if you are making them for a holiday or dinner when you'd like to impress here's how you can take it up a notch:
Make a batch of Sweet Spiced Nuts. Chop some up to sprinkle on the top of the mashed sweet potatoes. The nuts are a fantastic addition, can be made up to 2 weeks beforehand and make great snacks too!
Fry up a few slices of bacon until done but not overly crisp (still pliable). Drain on paper towels, remove any excess fat and chop to sprinkle on the mashed sweet potatoes.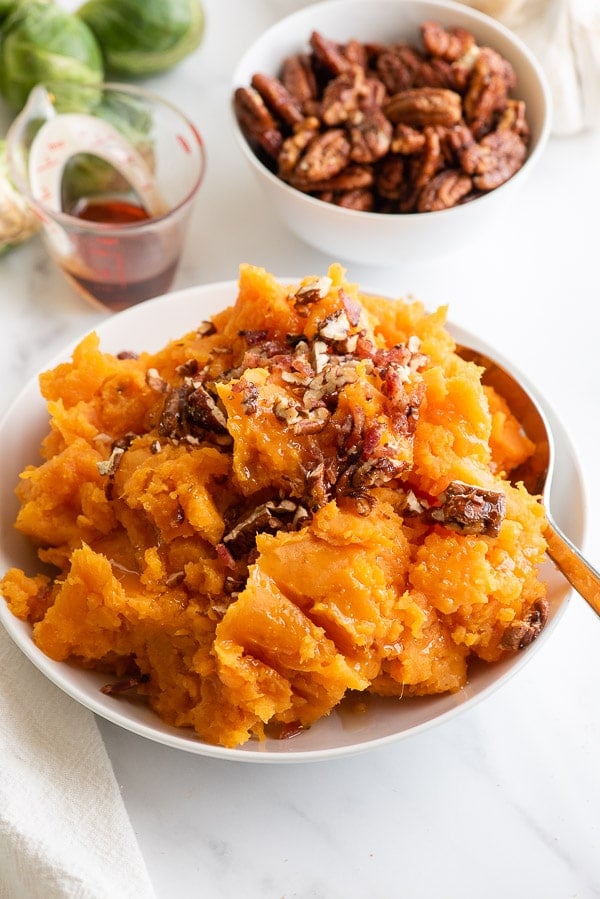 Want Sweeter Instant Pot Mashed Sweet Potatoes?
How sweet people like their sweet potatoes is variable. I have a solution to squash any table debates about whether they are sweet enough; a maple syrup drizzle.
Have a pourable container of maple syrup on the table or individual containers for each diner, to drizzle over the top of these creamy mashed sweet potatoes.
This keeps it easy allowing diners to sweeten to their liking rather than over sweetening the base batch of Instant Pot Mashed Sweet Potatoes.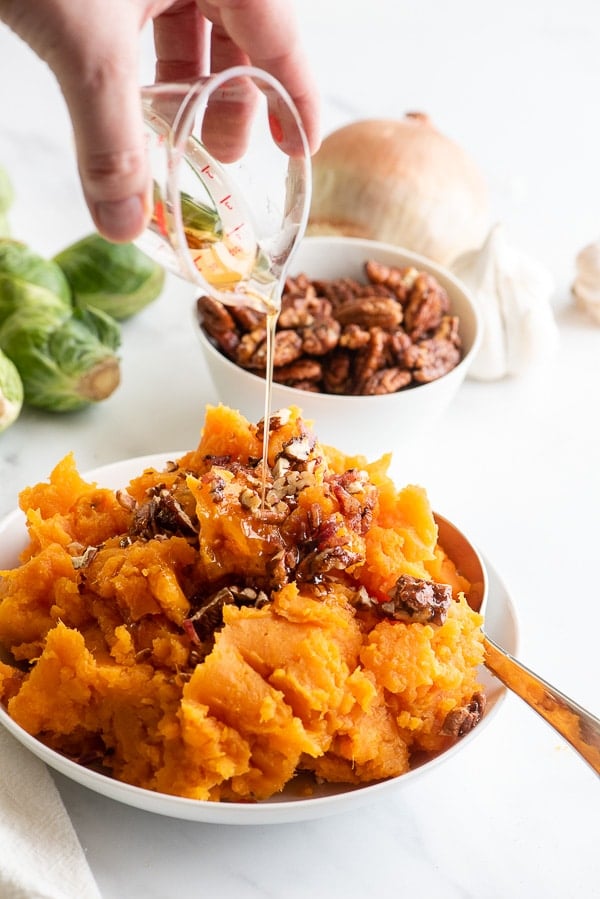 Try these Potato Recipes too!
Did you make it? Please RATE THE RECIPE below!
Please SUBSCRIBE and FOLLOW ME on FACEBOOK , TWITTER , INSTAGRAM and PINTEREST !
5 MIND-BLOWING INSTANT POT TIPS YOU NEED!
I've uncovered some unexpected, useful tips you'll want to know.
Sign-Up below and I'll tell you all my Instant Pot secrets!
Recipe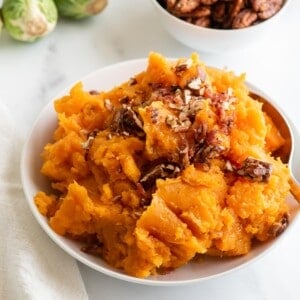 Mashed Instant Pot Sweet Potatoes
Mashed Instant Pot Sweet Potatoes are easy, fast and delicious with just a handful of wholesome ingredients!
Print
Save Recipe
Recipe Saved!
Pin
Rate
Servings:
8
1/2-cup servings
Ingredients
6-

quart

Instant Pot

2

pounds

Sweet Potatoes

peeled and cut into 1-inch cubes

1

cup

Swanson Chicken Broth

regular

2

tablespoons

Unsalted Butter

2

tablespoons

fresh Orange Juice

1

tablespoon

Maple Syrup

Kosher Salt to taste
Optional Toppings
2-3

slices

Bacon

cooked, drained and chopped

1

batch

Sweet Spiced Nuts

chopped
Instructions
Put the sweet potato cubes in the Instant Pot trivet along with the chicken broth. Close, ensure vent is sealed and program for 8 minutes on Manual and High Pressure.

When complete, do a quick release and remove the sweet potatoes from the Instant Pot (tip: use a slotted spoon). Remove and reserve the cooking liquids.

Keeping the Instant Pot on Warm (the default setting after cooking) add the butter to the Instant Pot insert to melt.

Return the sweet potatoes to the Instant Pot. Pour in the orange juice and maple syrup.

Using a potato masher, mash the potatoes and stir to combine all the ingredients. Salt to taste and serve warm. NOTE: The potatoes may be left in the Instant Pot on warm until serving.
Nutrition
Calories:
132
kcal
|
Carbohydrates:
25
g
|
Protein:
1
g
|
Fat:
2
g
|
Saturated Fat:
1
g
|
Cholesterol:
7
mg
|
Sodium:
170
mg
|
Potassium:
419
mg
|
Fiber:
3
g
|
Sugar:
6
g
|
Vitamin A:
16185
IU
|
Vitamin C:
6.9
mg
|
Calcium:
39
mg
|
Iron:
0.8
mg