Caramelized Roasted Pumpkin is a simple dessert featuring fresh pumpkin slices roasted in a cinnamon ginger caramel sauce. The softened pumpkin is candied while roasting leaving a sweet, delicious dessert for any fall meal or Thanksgiving!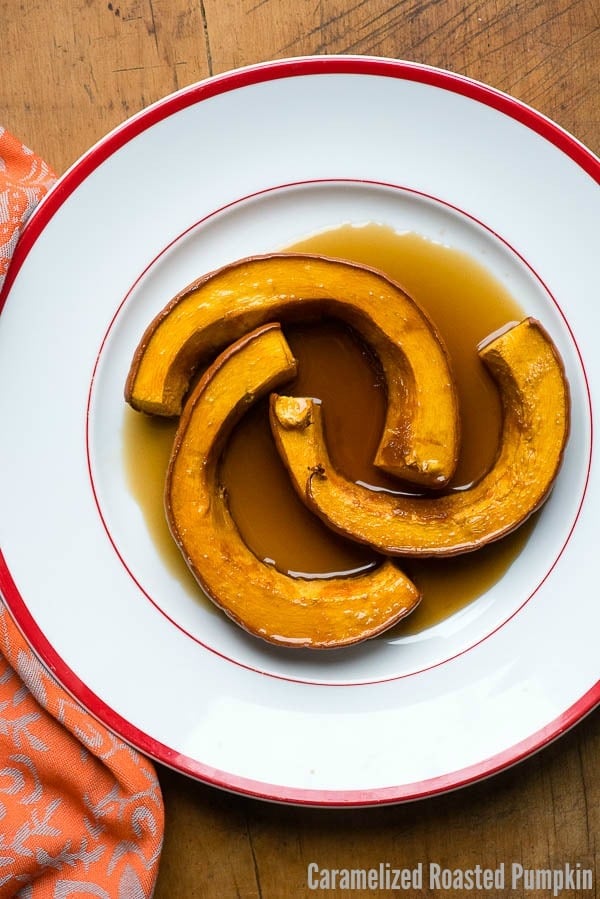 Today's recipe is inspired by Día de los Muertos, or the Day of the Dead. For years before I knew what the holiday was about I thought it seemed creepy. Falling the days after Halloween, with a prominence of skulls and with its name, it sounded like it might be a continuation of Halloween. More similar to All Saints Day, Día de los Muertos is a day to remember loved ones who have died.
My teen son was tasked by his high school Spanish class to attend a Día de los Muertos event and write about it, as well as create something relevant to the holiday. He and a friend baked an incredible gluten-free skull shaped loaf of bread that took them hours to do. It made me remember a post I'd done about the holiday featuring our favorite Lemon Roast Chicken, as well as other classic foods for the holiday such as Easy Slow Cooker Mole Chicken Thighs or Pumpkin Mexican Hot Chocolate.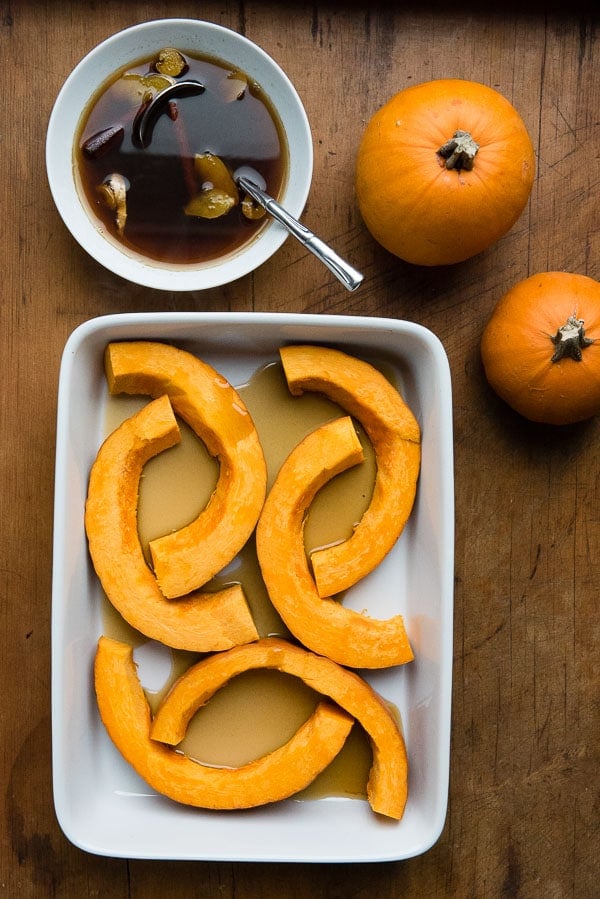 I love cooking with fresh pumpkin at this time of year. Whether making homemade DIY homemade pumpkin puree (used for everything you'd use canned pumpkin), no crust pumpkin pie, pumpkin cheesecake, Pumpkin Roasted-Banana Quick Bread, Pumpkin Chipotle Cream Pasta Sauce or broasted pumpkin seeds. You get the drift; there is no end to the options.
Caramelized Roasted Pumpkin is a wonderful simple recipe that can be used in many ways. Inspired by Candied Pumpkin or Calabaza end Tacha, pumpkin roasted in a caramel sauce with authentic Mexican ingredients such as piloncillo, raw Mexican sugar shaped in a cone.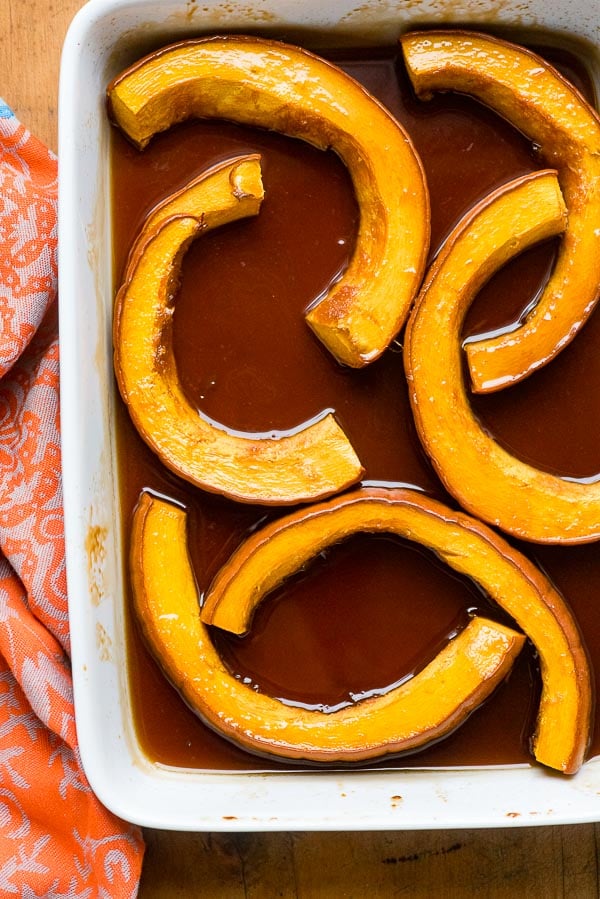 Sliced fresh sugar or pie pumpkins are cooked in a sweet sauce of dark brown sugar and orange juice infused with cinnamon sticks and fresh ginger. As the sliced roast the sauce thickens slightly and coats the pumpkin with wonder sweet flavor. The pumpkin slices don't need to be peeled before cooking as the pumpkin easily separates from the skin once roasted.
How to use Caramelized Roasted Pumpkin:
Serving the slices of caramelized roasted pumpkin drizzled in the sauce is a wonderful dessert option or addition to a Thanksgiving menu. Easy to prepare, it caramelized roasted pumpkin is a unique and special seasonal recipe. Can be sprinkled with a tiny bit of sea salt to elevate the flavors.
The pumpkin can be cut up into cubes and served over ice cream or with whipped cream. The skin can be removed and the pumpkin pureed and used for a sweet twist in other recipes where you'd normally use pumpkin puree. Adding chunks of the pumpkin in typically savory dishes such as rice medleys or salads offer a great flavor contrast.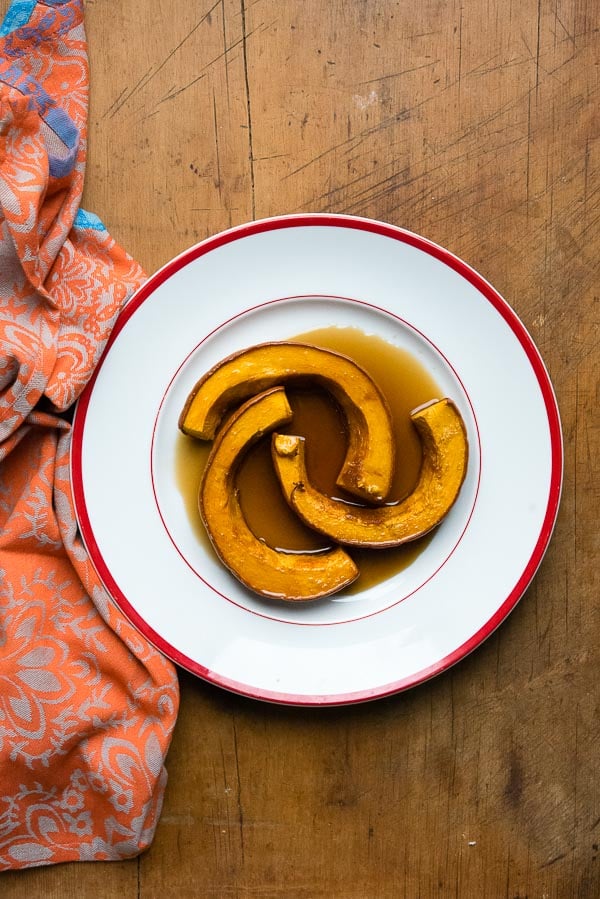 How to Make Caramelized Roasted Pumpkin:
Recipe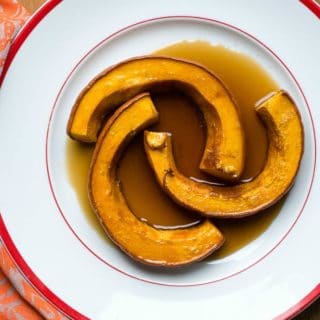 Caramelized Roasted Pumpkin
Fresh pumpkin slices are roasted in a caramelized cinnamon ginger sauce to a candied finsh. A simple, delicious fall dessert or Thanksgiving option. Can also be pureed to use in recipes calling for puree for a sweet twist!
Print
Save Recipe
Recipe Saved!
Pin
Rate
Ingredients
2

cups

Water

1/2

cup

Orange Juice

(no pulp)

1

cup

Dark Brown Sugar

1

inch piece

Ginger Root

thinly sliced

2

pound

Sugar or Pie Pumpkin
Instructions
Preheat oven to 350 degrees.

In a large saucepan combine the water, orange juice, sugar, cinnamon and ginger. Bring to a boil and reduce heat to simmering; simmer 15 minutes.

While the liquid is simmering, slice pumpkin vertically and remove all the seeds and fiber. Slice each half into 1-inch thick slices and place into a 13-inch by 9-inch baking dish, interleaving them so they are in a single layer.

Strain the liquid to remove the cinnamon and ginger and pour into the baking dish. Bake until the pumpkin is done (test by checking for softness with a fork) 45-60 minutes. Remove from the baking pan and allow to cool for a few minutes before serving. Spoon some of the caramel sauce onto the pumpkin on the serving plate. See blog post for other use suggestions.
Nutrition
Calories:
191
kcal
|
Carbohydrates:
48
g
|
Protein:
1
g
|
Sodium:
16
mg
|
Potassium:
604
mg
|
Fiber:
1
g
|
Sugar:
41
g
|
Vitamin A:
12915
IU
|
Vitamin C:
23.9
mg
|
Calcium:
79
mg
|
Iron:
1.6
mg