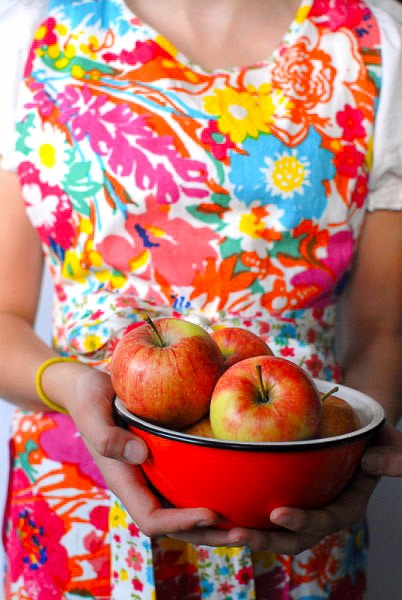 We've kicked Halloween to the curb and passed through the gateway to 'The Season of Cooking'. Each year following the exhale on November 1 I turn my sights on the coming weeks of harvest foods, Thanksgiving preparation, holiday baking and seasonal cocktails. For me this season is inseparable from my collection of aprons.
Truth be told I don't love to shop without purpose. I'm not a mall walker, a window shopper; I simply don't have the time. Whenever I'm looking for something that would be better if homemade, from cottage industry or unique one-of-a-kind pieces I look first on Etsy. For those not familiar with Etsy it's an online marketplace for handmade items, vintage wares, consumables and unique finds. It is populated with personal online 'shops' from all over offering craftsperson's wares for sale. I've found fabulous niche t-shirt designers to cookie bakers extraordinaire, vintage photo props and special gifts there.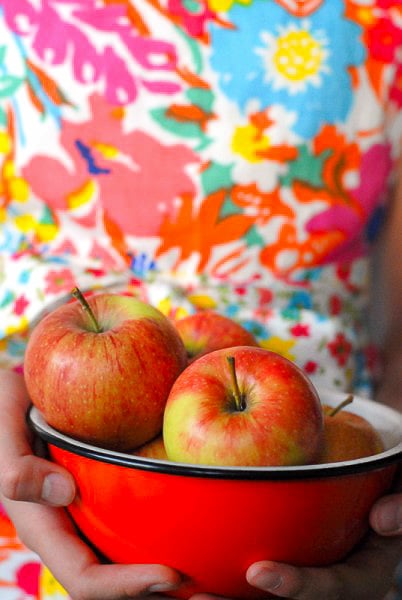 Almost two years ago I wrote a post about having a good apron. A mainstay of the 1950's seemed to give way to the Gloria Steinem years and has swung back around with the resurgence of the cool of the home cook. In that post I collected aprons from a number of Etsy shops, one of which was Pamwares.  I featured her holiday aprons finding them whimsical, fun and unique. Ironically Pam sent me an email a few weeks back asking about my interest in hosting a giveaway of one of her aprons on my blog. It was a full circle moment causing me to return to the original post to verify indeed she was the same Pam I'd loved so much.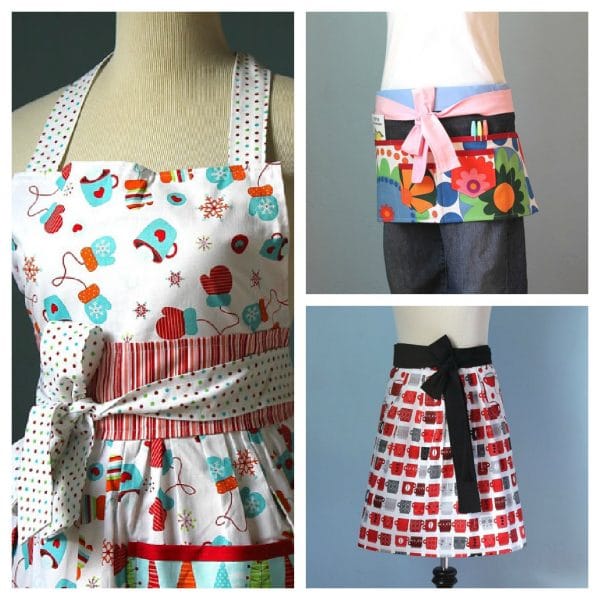 If you peruse her site you'll find happy-making full and half aprons as well as some crafty cloth wreaths and pennants. She hails from Florida and you can feel the sunshine in her work! We felt kicking off the cooking season with this gift would be perfect! For me the apron also has a retro association with being a hostess so I'm including a simple seasonal appetizer fit for any gathering:  Cranberry Pecan Goat Cheese roll. Three ingredients (four if you count salt) and you are good to go.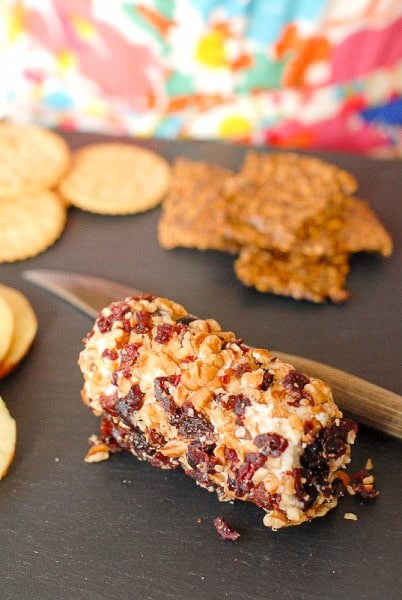 Pam is generously offering one of her full size aprons to the giveaway winner (valued at $32.00!).  To enter the giveaway (open to U.S. residents only):  CLOSED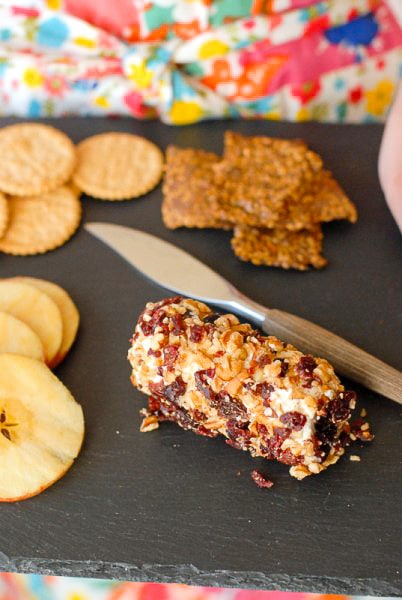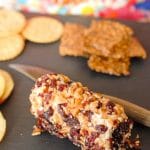 Cranberry Pecan Goat Cheese Roll
This appetizer could not be more simple, seasonal or delicious. The mixture of flavors is sublime with the sweet cranberries, tangy goat cheese, crunchy nuts and touch of salt. Keep the ingredients on hand and whip it up whenever unexpected company pops by. Perfect with crackers, flat bread and sliced fruit (apples and pear in particular!).
Servings
2
(Makes one 3 1/2-inch by 1-inch diameter cheese log)
Ingredients
1 4-

ounce

log goat cheese

¼

cup

dried sweetened cranberries

, finely chopped

3

tablespoons

pecans

, finely chopped

Pinch of salt
Instructions
Allow goat cheese to sit at room temperature for 15 minutes. Add cranberries, pecans and salt into a small bowl; stir to fully combine.

Lay a piece of plastic wrap or wax paper on a countertop (large enough to wrap fully around the goat cheese). Place cranberries, pecans and salt on the plastic wrap in the center in a wide strip to allow rolling the goat cheese.

Roll goat cheese in the mixture to fully cover. Wrap and refrigerate until serving.
Nutrition Facts
Cranberry Pecan Goat Cheese Roll
Amount Per Serving
Calories 337
Calories from Fat 225
% Daily Value*
Total Fat 25g 38%
Cholesterol 32mg 11%
Sodium 261mg 11%
Potassium 79mg 2%
Total Carbohydrates 14g 5%
Protein 14g 28%
* Percent Daily Values are based on a 2000 calorie diet.