This colorful Easy Grilled Chicken Kabobs recipe is a must for summer grilling. Marinated overnight, the kabobs grill in 10 minutes!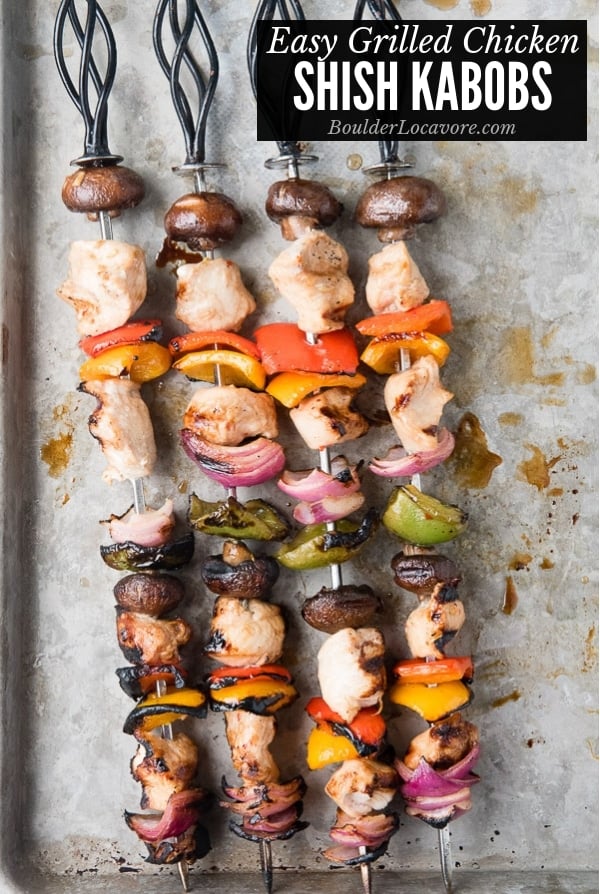 Grilling season has begun and in my house the grill is fired up almost every day in the summer.
It keeps the house cooler than running the oven and the flavor of grilled food just tastes like summer to me.
One of my favorite things to make are Easy Chicken Shish Kabobs.
This kabob recipe, or chicken kebab recipe, could not be easier, prettier or more flavorful.
All the ingredients are put in a bag to marinate overnight (or at least a few hours).
All that's left is threading the skewers and cooked for about 10 minutes the next day. Dinner is done!
This is a naturally gluten-free recipe too.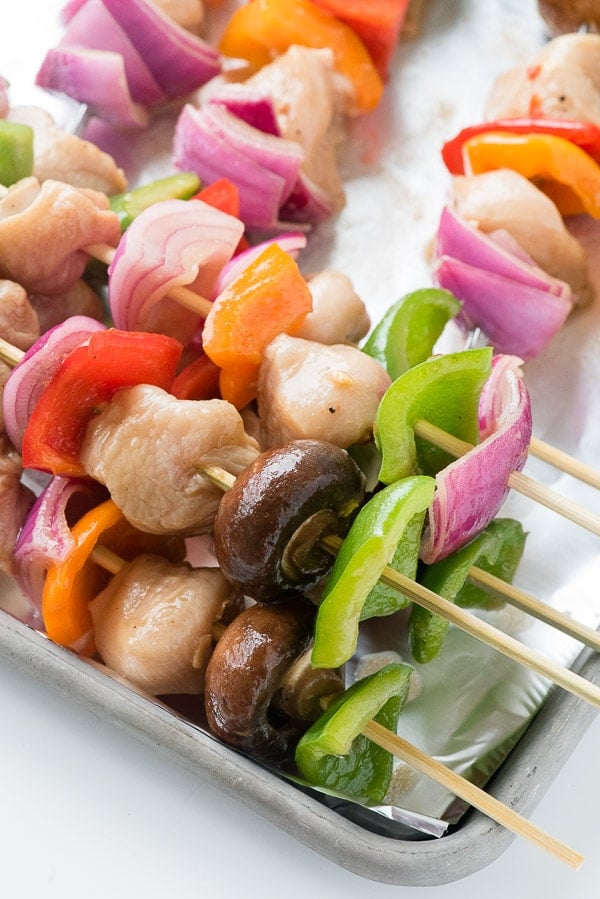 Summer is here and I'm ready for some grilling action!
No meat, vegetable or fruit is safe from my grill but one of my favorites are these Easy Grilled Chicken Shish Kabobs.
These grilled chicken kabobs are colorful, loaded with marinated chicken and vegetables, and grill in about 10 minutes; what's not to love, right?
In the case of this kabob recipe, EVERYTHING is to love!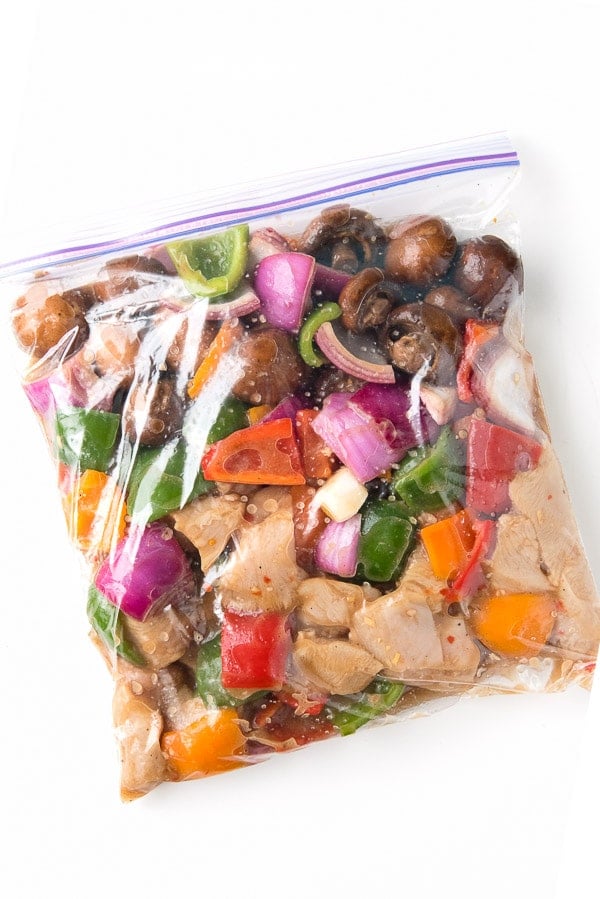 Easy Chicken Kabobs – A Fast, Colorful Main Dish
Having both meat and vegetables on the skewers streamlines a meal and also produces an eye catching plate everyone will love.
With a rainbow of colors available in sweet peppers, it's easy to really wow when creating your skewers.
Being able to marinate the ingredients overnight and leaves just threading the skewers before grilling.
If you don't have time to marinate them overnight, let them soak for at least a few hours for best flavor.
Chicken skewers are a great recipe for grilling parties being so eye-catching, filling and quick to grill. Everyone always loves a great kabob recipe.
Ingredients in Chicken Kabobs
The ingredients in the shish kabobs are simple and delicious!
The chicken kabob marinade is full of flavor from:
Vegetable Oil
Red Wine Vinegar
Worcestershire Sauce
Kosher Salt
freshly ground Black Pepper
diced Ginger
Garlic Cloves , diced
The kabobs include:
boneless skinless Chicken Breasts
Bell Peppers (any colors)
Cremini Mushrooms
Red Onion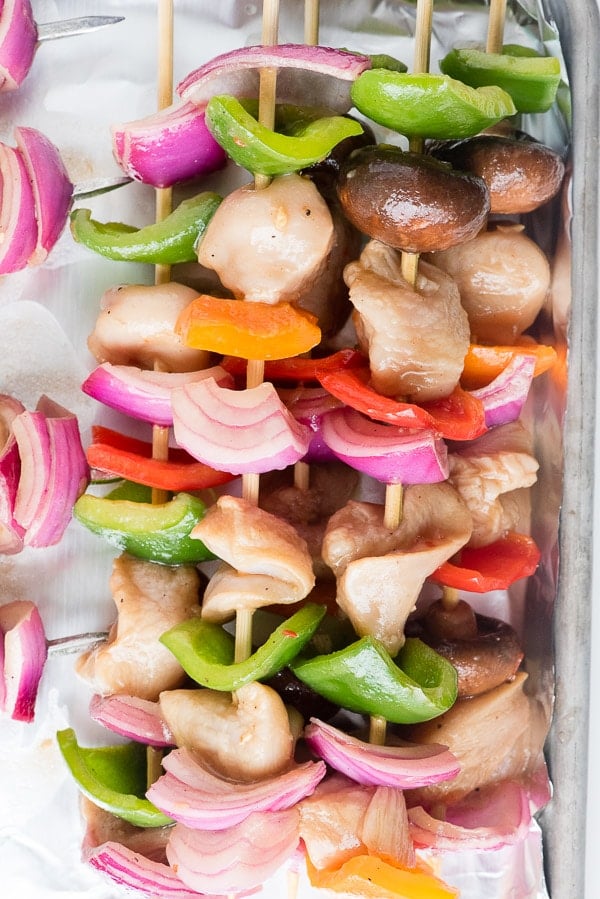 Variations
Use Olive Oil. Swap the vegetable oil for a quality olive oil.
Try Chicken Thighs. Use boneless chicken thigh meat instead of chicken breast. Thigh meat is richer in flavor and will stay moist longer due to the higher fat content.
Add some Cherry Tomatoes. Cherry tomatoes blister on the grill giving a sweet smoky caramelized flavor to the tomatoes.
Don't Soak Bamboo Skewers (Life-changing Tip from a Grill Master)
I learned a life-changing trick when I attended Barbecue University with Steven Raichlen last summer.
I no longer soak my bamboo skewers in cold water!
In an experiment with soaked and unsoaked wooden skewers, they both caught fire at the same time.
PRO TIP: If using bamboo skewers place a double layer of foil underneath the exposed end of the skewers on the grill grate.
It keeps them from charring and makes it easier to flip them.
There also are reusable stainless grill shields for skewers dedicated for this purpose.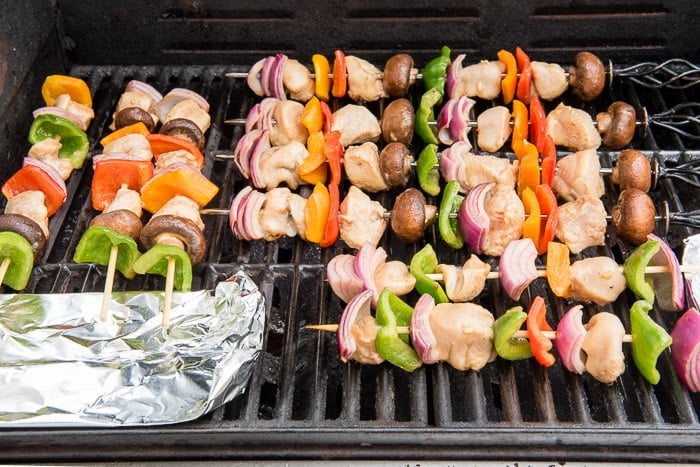 Double Skewers or Flat Skewers for Chicken Kabobs Success!
When making skewers to grill, single round skewers often lead to the ingredients on the skewer not turning evenly.
Some piece may stay in place, others may spin which can lead to over or undercooking.
PRO TIP: Double skewering or using a flat skewer (either a metal flat skewer or bamboo flat skewer) ensures no ingredients spinning while grilling.
Flat skewers keep all ingredients in place so when rotating from side to side it all stays intact allowing quick, even grilling.
Allowing a bit of space between each ingredient is also a good practice to allow everything to cook evenly.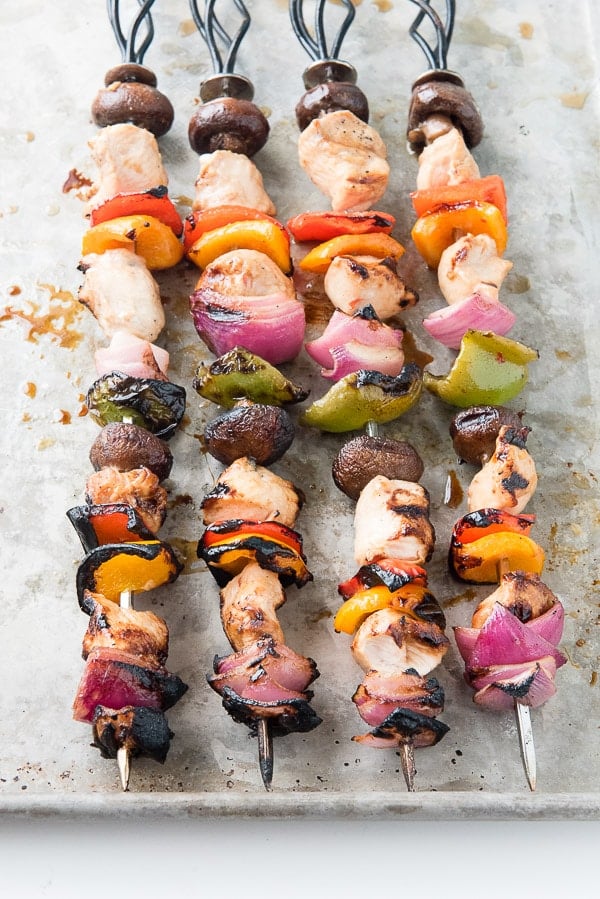 How to Make Chicken Kabobs – Step by Step
Please refer to the printable recipe card at the bottom of the post for detailed instructions!
Combine marinade ingredients in a zipper close gallon plastic bag. Seal bag, and shake vigorously to combine.
Add the chicken kabob ingredients to the bag; squeeze out air as possible and seal. Massage the bag contents to coat. Refrigerate overnight.
Remove the marinated ingredients and discard the marinade.
Thread skewers with the chicken and vegetables leaving about 3 inches at the blunt end. NOTE: Allow a bit of space between ingredients for best cooking results.
Heat the grill to medium heat (around 350 degrees).
Place skewers on the grill with a strip of foil underneath the end of the skewer if bamboo.
Close the lid and allow chicken kabobs to cook 10-15 minutes, rotating them on each side during the cooking (2-3 minutes a side).
Check to ensure the chicken has no pink color in the middle before removing all the skewers from these grill.
Allow to sit 5 minutes before serving.
Chicken Shish Kabobs Can Also be Broiled!
Though this recipe is intended for grilling, the kabobs can also be broiled.
How to Broil the Chicken Kabobs
Place under the broiler for 5 minutes and flip for another 5 minutes.
Monitor the kabobs while cooking to ensure they don't burn.
Also ensure there is no pink in the center of the chicken when done.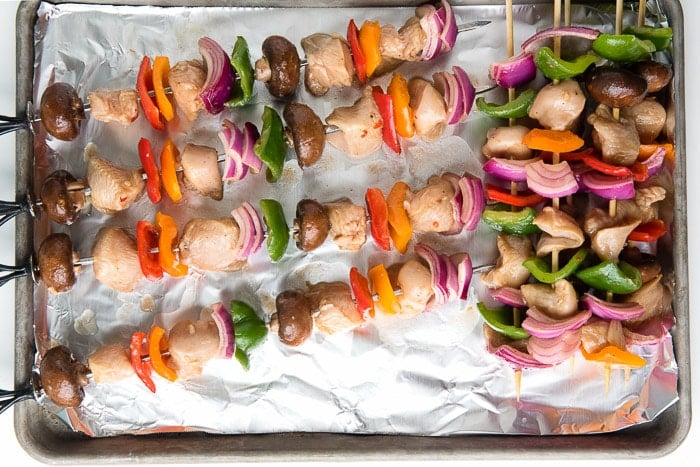 What to Eat with the Chicken Kabobs
These flavorful Chicken Kabobs are great for summer dining.
Pair it up with some delicious Cilantro Lime Rice or Coconut Rice and you are set.
If you love these Chicken Shish Kabobs, you'll love these recipes too:
Did you make it? Please RATE THE RECIPE below!
FOLLOW ME on FACEBOOK , TWITTER , INSTAGRAM and PINTEREST!
Originally published: May 27, 2016