Homemade Ketchup is bursting with fresh tomato flavor and spices. It's easy to make and totally worth it! You've never REALLY tasted ketchup until you've made it yourself.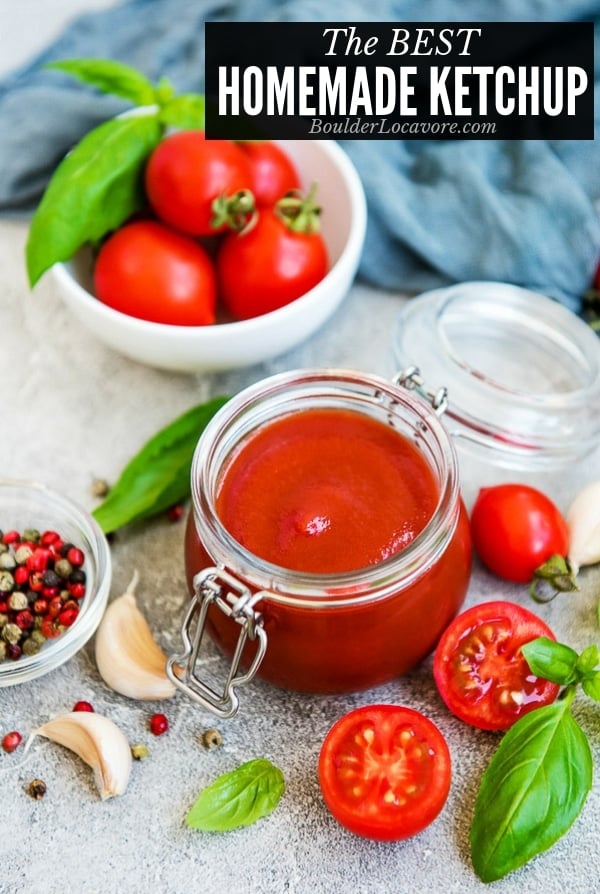 A quick walk around your local grocery store or Farmer's Market reminds the peak of tomato season is on its way.
Every imagineable variety and shape is available, boasting a natural sweetness only found with in-season tomatoes.
Canners are preparing to get their tomato sauce on and most of use are gobbling them up in fresh form salads, dressing, sandwiches or just by themselves.
I have a recipe that has been a long-time summer favorite you MUST MAKE before summer ends: the Best Homemade Ketchup!
Like many things, once you make it from scratch with fresh tomatoes you'll realize how fantastic ketchup can be AND will want to use it with many recipes.
Why Make Homemade Ketchup?
Like many homemade recipes for items that are mass produced, the flavor of homemade ketchup is better in my opinion.
Most homemade ketchup recipes are made with canned tomatoes. That's fine but nothing beats fresh tomatoes, am I right?
This recipe uses fresh tomatoes and aromatic spices to make a sauce like none you've tried!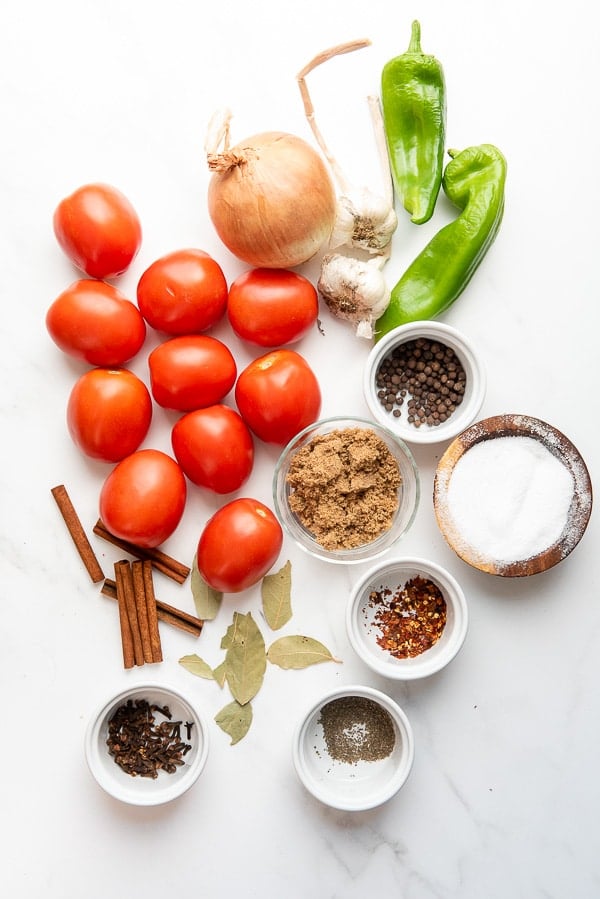 What Type of Tomatoes are Used in Homemade Ketchup?
Most tomato sauces are made with Roma style tomatoes due to their lower moisture content and high flavor.
I made my homemade ketchup with a mix of Roma hybrids and heirloom cherry tomatoes and it was delicious.
Experiment with the tomatoes you have on hand for varied flavor in every batch!
Is it Hard to Make Homemade Ketchup?
No! It's very easy and takes less than an hour with most of the time being inactive time of yours.
How Long will Homemade Ketchup Last?
It should be kept in a glass container, sealed, for up to three weeks in the refrigerator.
NOTE: since tomatoes are acidic they can react with plastics which is why glass containers are recommended.
How to Freeze It
I've never personally frozen this ketchup recipe as it gets eaten too fast BUT you can freeze ketchup!
I recommend freezing using an ice cube tray.
After the ketchup is totally cooled, fill the cavities in a plastic or silicon ice cube tray. This allows use in smaller volume.
Place in the freezer to hard freeze.
Once the cubes are solid, remove them and place them in a large plastic freezer bag or container.
Remove as needed and thaw in the refrigerator or at room temperature.
Stir the ketchup before use.
The consistency may be more runny after freezing and thawing.
Does Homemade Ketchup Thicken as It Cooks?
It does! It will simmer for about 30 minutes during which time it does thicken.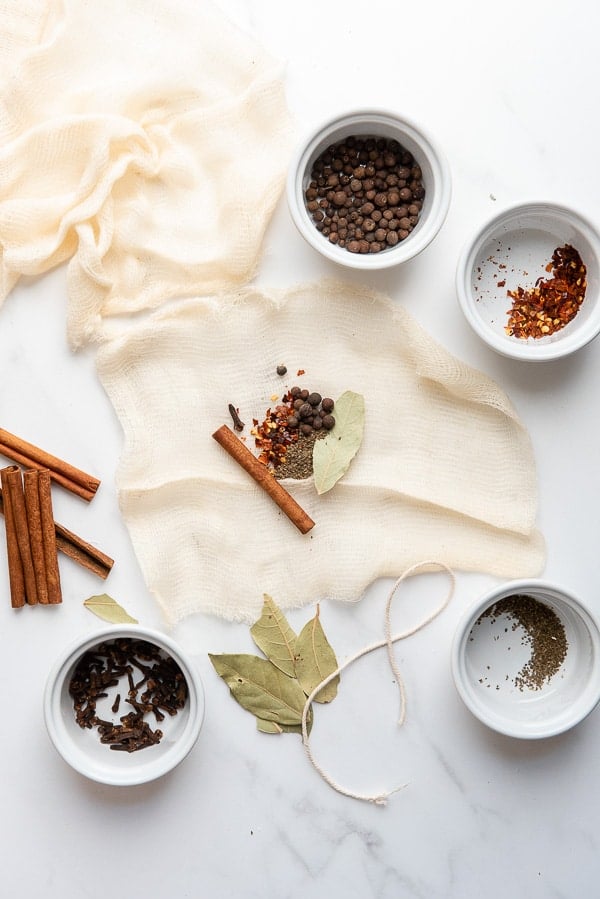 Homemade Ketchup Ingredients
This homemade ketchup recipe is full of fresh seasonal ingredients, herbs and spices that you'll love!
whole cloves

bay leaf

celery seeds

chile flakes

whole allspice

Roma (or Plum) tomatoes

kosher salt

apple cider vinegar

light brown sugar

yellow onion

Anaheim chile

garlic clove
Trust me you'll never want to use store bought ketchup again!
How to Make Homemade Ketchup – Step by Step:
For a detailed printable recipe, please refer to the recipe card at the end of the blog post. Check out the video too.
Make a spice packet with a square of double layered cheesecloth. Add the cloves, bay leaf, cinnamon stick, celery seeds, chile flakes, and allspice.
Tie closed with kitchen twine.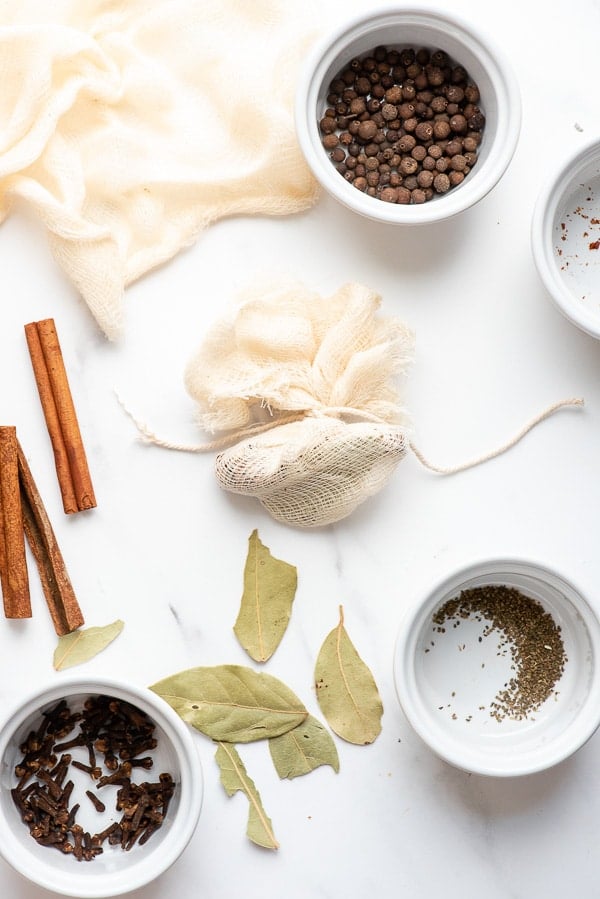 Add the tomatoes, salt, vinegar, sugar, onion, chile, garlic and spice packet to a 4-quart pot.
Allow to simmer for about 30 minutes.
Remove the spice packet and discard.
Puree the ketchup and strain to remove any seeds.
Add back in the pot to simmer longer and thicken (about 30 more minutes).
When thickened to a desired texture (note: will thicken more when cool), the homemade ketchup is put in a glass container. Store in the refrigerator for up to 3 weeks.
Suggested Supplies for Making Homemade Ketchup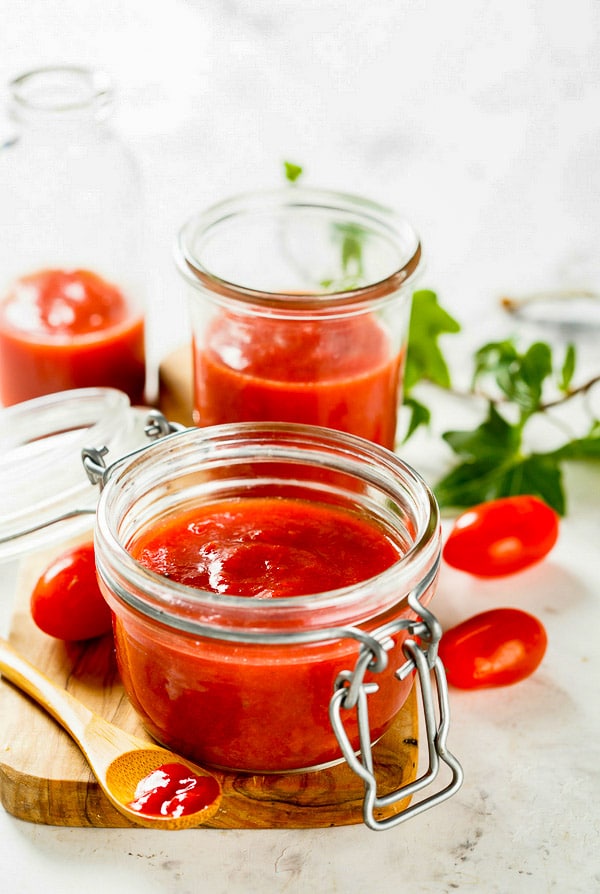 Like the idea of making your own condiments from scratch? Here are some more recipes ideas!
More Recipes You'll Love
Shakshuka (Poached Eggs in Spicy Tomato Sauce)
Homemade Tomato Soup: an Easy Fresh Tomato Soup Recipe
Did you make it? Please RATE THE RECIPE below!
Please SUBSCRIBE and FOLLOW ME on FACEBOOK , TWITTER , INSTAGRAM and PINTEREST to see more delicious food, travel and what I'm up to!
Originally published: October 4, 2012