Spicy Jalapeno Cranberry Sauce makes a meal a party. A super easy recipe that cooks in 15 minutes and thickens beautifully when chilled. Perfect for Thanksgiving and Christmas dinner menus, and a whole lot more (tips and recipe ideas included).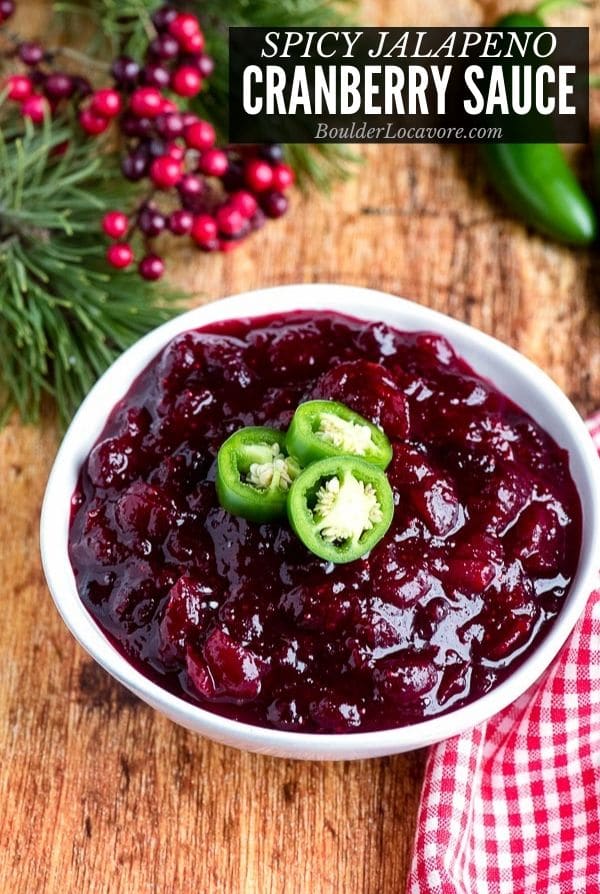 Homemade cranberry sauce is always a star at any holiday meal!
It is the EASIEST recipe to make for Thanksgiving. It's a perfect assignment for kids old enough to cook!
It only takes a handful of ingredients, cooks in 15 minutes and is always better than store-bought cranberry sauce.
This recipe kicks it up a notch in the flavor department.
Spicy Jalapeno Cranberry Sauce is a perfect blend of sweet and spicy flavors. It's brings excitement to any dish it's paired with.
It will be the talk of your Thanksgiving table!
Spicy Cranberry Sauce
As much as I love Thanksgiving food there can be a bit of a bland flavor about it all.
I like to include something with some spiciness.
Maybe it's in my mind but I feel like it perks up the digestion and my palate too.
Spicy Jalapeno Cranberry Sauce is a delicious mix of sweet, savory and spicy flavors that are irresistible.
The end recipe is sweet and sassy!
Make Ahead Cranberry Sauce
This recipe can be made the day before using.
A 'make ahead' option on busy holiday cook days is always a great find!
The flavors may even be better when it is make a day ahead!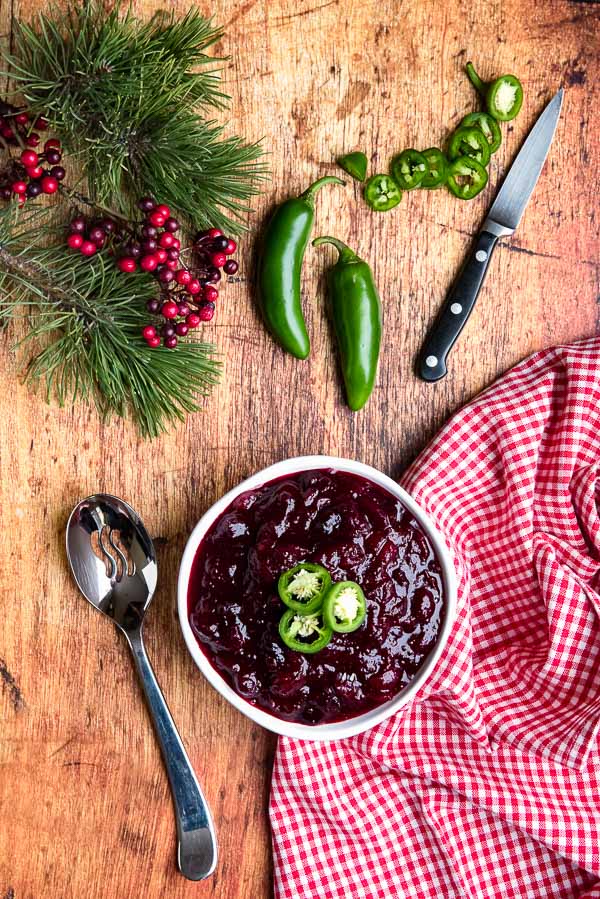 Spicy Jalapeno Cranberry Sauce Ingredients
This recipe includes classic cranberry sauce ingredients as well as a spicy touch!
Buying Cranberries
Cranberries are usually only available around the winter holidays.
Stock up on some bags of cranberries when they are available and freeze them!
Then you can enjoy cranberry recipes all year long.
I put multiple bags in a few 1-gallon plastic zip-seal bag and freeze them. I can remove individual bags of cranberries and use them whenever the mood strikes.
PRO TIP: Removing Seeds from Jalapeno Peppers
I developed a trick to easily removing seeds from Jalapeno peppers. It's fast but still requires precaution when handling spicy peppers
Wash hands thoroughly after handling peppers or wear some food safe gloves (rubber, vinyl, latex) when handling hot peppers.
The oils from spicy peppers can stay on hands long after touching or cutting peppers even if hands are washed.
If you touch your eyes or nose you will feel a burning sensation.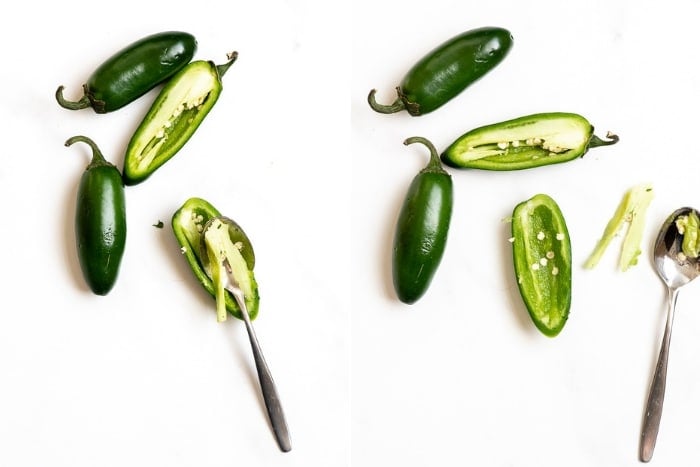 STEP 1: Slice the pepper lengthwise
STEP 2: Insert the rounded end of a small dining spoon underneath the white membrane and seeds at the top of the pepper.
STEP 3: Keep the curved back of the spoon flush with the inside wall of the pepper. Push the spoon up toward the stem end of the pepper, releasing the membrane and seeds.
STEP 4: Turn the spoon over and using the pointed end again scrape out (and discard) and remaining seeds.
How to make Cranberry Sauce – Step-by-Step
There are many great things about this recipe.
One of the best in my opinion is how easy it is to make! It's fast too.
For a detailed printable recipe refer to the recipe card at the end of the blog post.
STEP 1: In a large saucepan combine all ingredients EXCEPT the cranberries. Bring to simmer and add the cranberries.
STEP 2: Simmer 15 minutes, stirring occasionally. NOTE: the cranberries will pop during cooking.
STEP 3: Remove from heat and cool to room temperature. Transfer to a sealed container and fully chill.
NOTE: the sauce will thicken as it cools.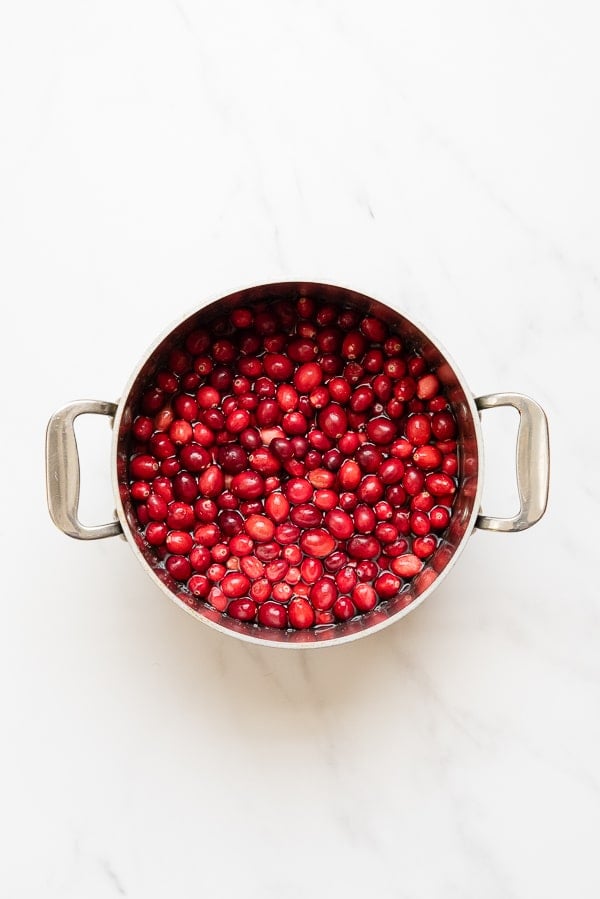 Storing Cranberry Sauce
Cranberry sauce can be stored in an airtight container in the refrigerator for up to 10 days.
Can Cranberry Sauce be Frozen?
Yes! Put it in an airtight container and freeze for up to 2 months.
How to use leftover Cranberry Sauce
This recipe is great for so many dishes, not just a holiday meal relish!
This recipe is too good to only eat with holiday meals!
More Cranberry Recipes
Did you make it? Please RATE THE RECIPE below!
Please SUBSCRIBE and FOLLOW ME on FACEBOOK , TWITTER , INSTAGRAM!
Originally published: November 9, 2017