Tart, sweet cranberry sauce is always a holiday menu staple but Spicy Jalapeno Cranberry Sauce makes a meal a party. A super easy recipe that cooks in 15 minutes and thickens beautifully when chilled. Perfect for Thanksgiving and Christmas dinner menus, and a whole lot more (tips and recipe ideas included).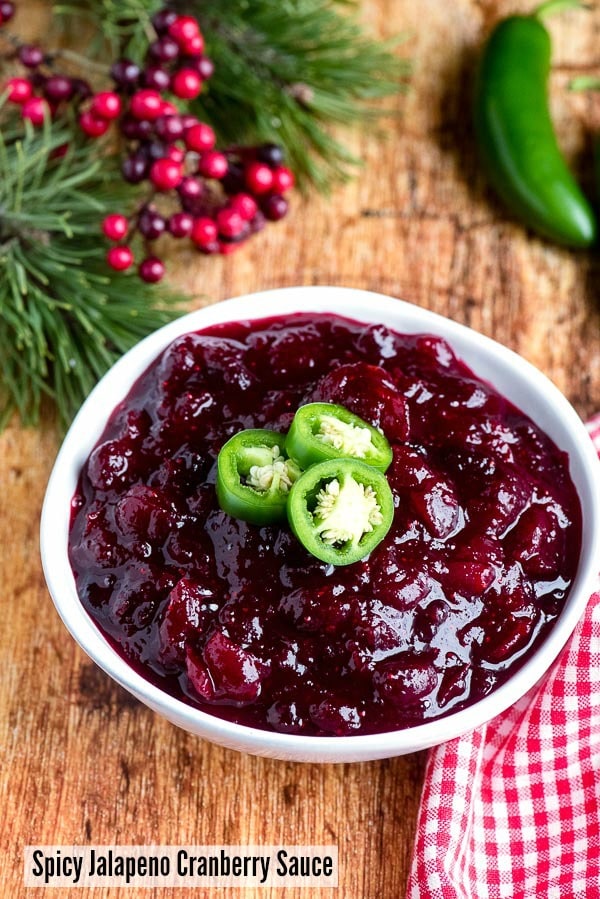 Cranberry sauce has been my Thanksgiving favorite since I was a kid. It started with the canned jelly and expanded to fresh cranberry sauce when I started cooking myself. I had no idea how easy it is to make and believe me you want to sign up to bring it for the next Thanksgiving when you are a guest. It can be made with as few as three ingredients (cranberries, water and sugar) and takes no more than 15 minutes to cook. I'm kicking it up a notch in the flavor department today with Spicy Jalapeno Cranberry Sauce! It still is the easiest thing on the holiday menu.
As much as I love Thanksgiving food there can be a bit of a bland flavor about it all. I like to include something with some spiciness. Maybe it's in my mind but I feel like it perks up the digestion and my palate too. Spicy Jalapeno Cranberry Sauce includes some diced jalapenos along with the traditional fresh cranberries, white and brown sugar, and orange juice. The end recipe is sweet and sassy!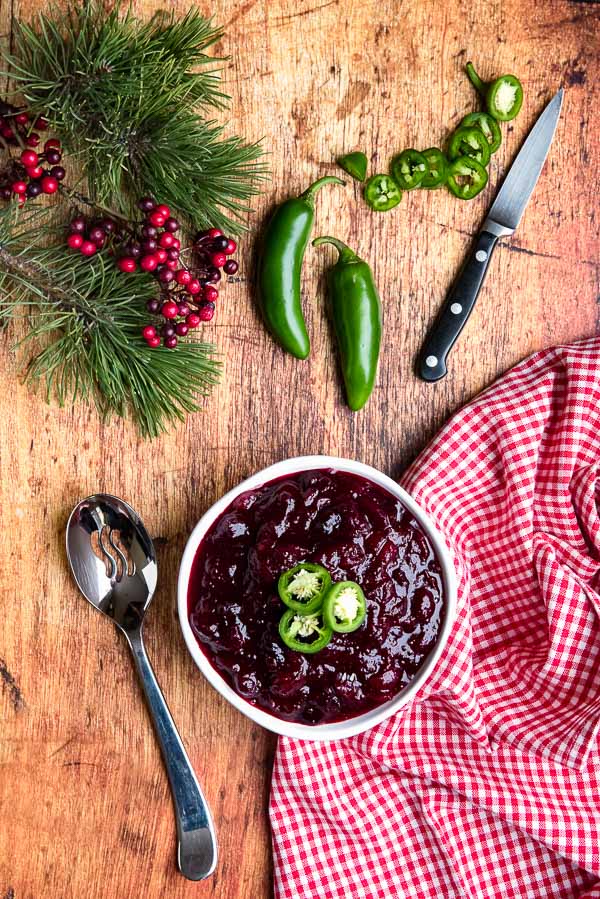 Cranberry Sourcing Tip:
Cranberries are usually only available around the winter holidays. If you want to enjoy cranberry recipes year round, stock up on some bags of cranberries when they are available and freeze them! I put multiple bags in a few 1-gallon plastic zip-seal bag so I can remove individual bags and use them whenever the mood strikes.
How to use leftover Cranberry Sauce:
Cranberry sauce is one of those dishes that is an obvious relish but otherwise it can sit in the fridge seemingly without purpose. That is a cryin' shame. I've been making grilled cheese sandwiches on my Griddler with this spicy jalapeno cranberry sauce. Add grated cheese on your favorite bread, some cranberry sauce, more cheese and a second slice of bread.
It is fantastic on the top of baked brie as an appetizer. Spread it on toast. Top a scoop of vanilla or chocolate ice cream with it. Put some in your smoothies. We need to get the cranberry sauce out of the holiday dinner only box; it's too good not to use it in every way you can!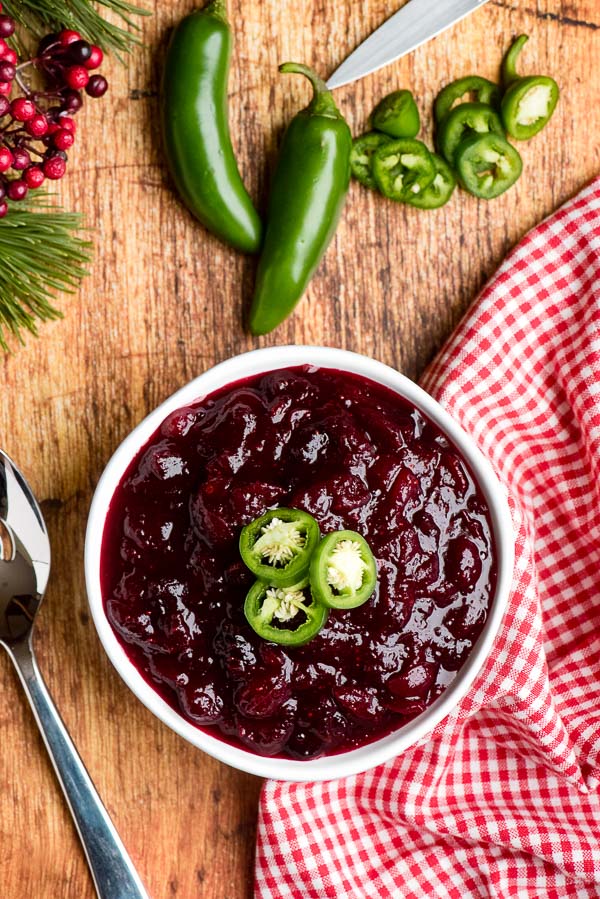 Want more cranberry sauce recipes? Fresh Cranberry Orange Sauce, Slow Cooker Cranberry-Pear Sauce with Ginger or Spicy Honey Cranberry Sauce.
How to make Spicy Jalapeno Cranberry Sauce: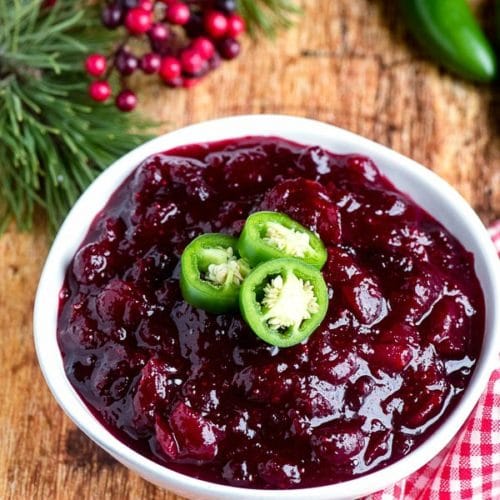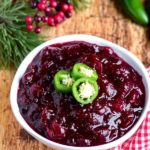 Spicy Jalapeno Cranberry Sauce
Spicy Jalapeno Cranberry Sauce is sweet and spicy, adding an exciting relish for any meal, especially Thanksgiving and Christmas. The sauce cooks in 15 minutes and will be fully thickened after full cooling. May be made the day before using.
Yield: 2 1/2 cups
Total Time
1
hour
20
minutes
Ingredients
2

Jalapeno Peppers

seeded and diced

1/2

teaspoon

Kosher Salt

1/2

cup

Light Brown Sugar

1/2

cup

Granulated Sugar

1/2

cup

Orange Juice

1/2

cup

Water

1/2

teaspoon

Orange Zest

12

ounces

Cranberries
Instructions
In a large saucepan combine the jalapeno peppers, salt, sugars, orange juice, water and orange zest. Bring to a simmer over medium heat and add the cranberries.

Simmer for 15 minutes, stirring periodically (cranberries will pop while cooking). Remove from heat and cool to room temperature. Transfer to a sealed container and full chill. NOTE: the sauce will thicken as it cools.
Nutrition Facts
Spicy Jalapeno Cranberry Sauce
Amount Per Serving
Calories 146
% Daily Value*
Fat 0g0%
Cholesterol 0mg0%
Sodium 172mg7%
Potassium 107mg3%
Carbohydrates 37g12%
Protein 0g0%
Vitamin A 110IU2%
Vitamin C 20.3mg25%
Calcium 19mg2%
Iron 0.3mg2%
* Percent Daily Values are based on a 2000 calorie diet.