With fresh apple cider readily available, you won't want to miss whipping up a batch of Slow Cooker Mulled Apple Cider. Whole spices, fruit and cider simmer to make a comforting hot drink to fight the chill of winter.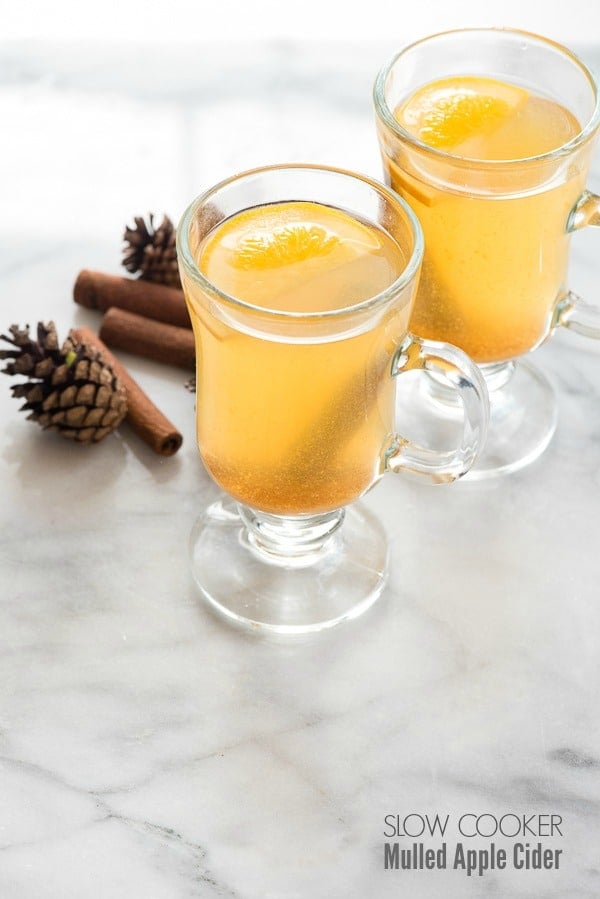 Winter's chill has set in for us. The wind is screaming outside as I am writing this. One of my weather apps just blared on my iPhone that a severe weather alert is in effect from rush hour today until tomorrow. Bring it on, I say! If it's freezing outside we might as well have some snow to make it pretty. I'm celebrating with a steaming hot batch of Slow Cooker Mulled Apple Cider!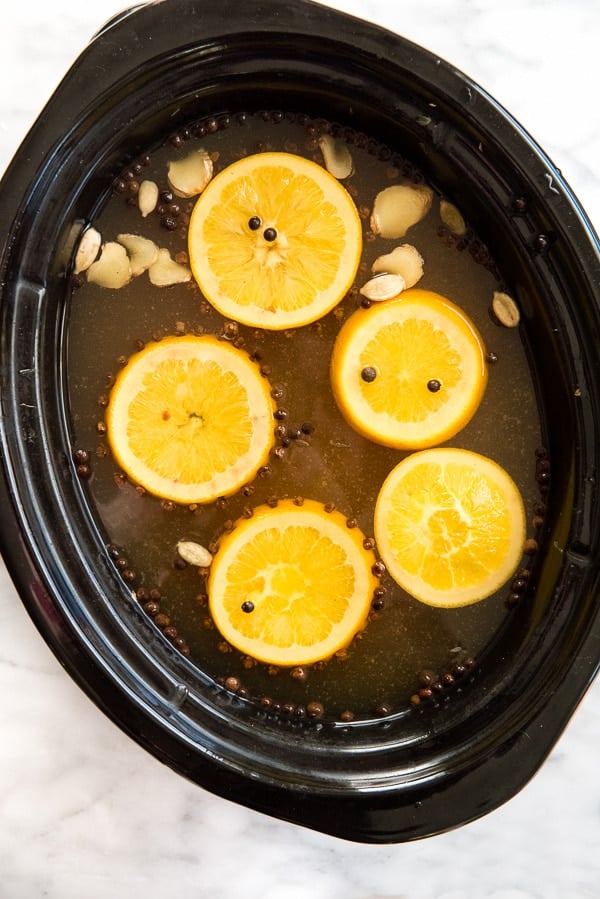 Hot Mulled Wine is winter tradition originating in Northern Europe. Red wine is heated and combined with aromatic spices to make a cozy beverage to sip fireside in the winter. I shared a recipe for a Scandinavian version of mulled wine called Glogg in the early days of Boulder Locavore. It's delicious and the spices can be combined (dry) with a bottle of wine and the recipe as a great hostess gift!
For youngsters and those preferring not to drink alcohol, slow cooker mulled apple cider is a great alternative! Anything taking advantage of the fix-it-and-forget-it ease of the slow cooker is my speed this time of year too. I love the availability of fresh apple cider at this time of year. If you aren't sure about the difference between apple juice and apple cider, apple cider is unfiltered (which is why it has a cloudy appearance). Personally I love the more rustic quality of the apple particles that swirl around as you drink it. It has a naturally sweet flavor as well making it easy to build on for this delicious slow cooker mulled apple cider recipe.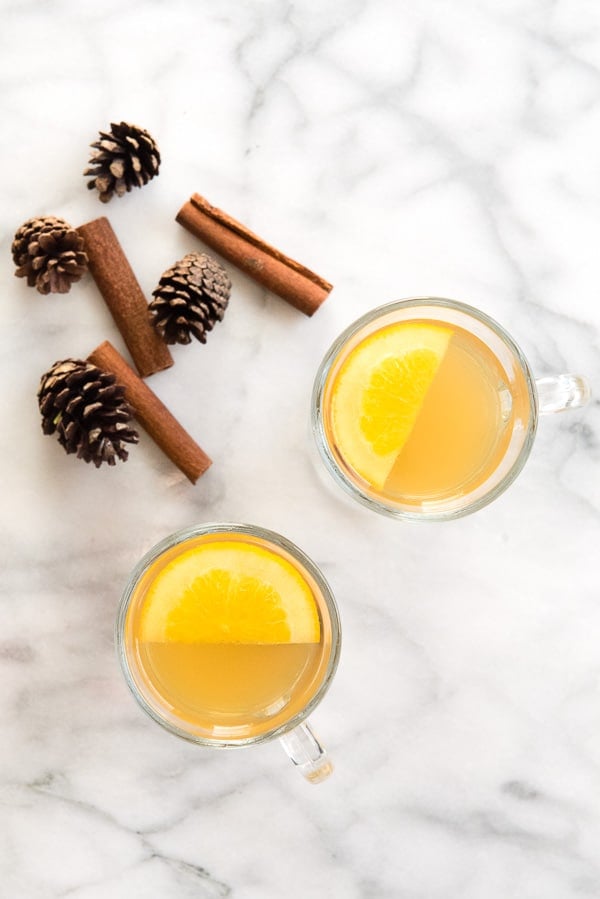 There is nothing better than coming inside after a chilly outing to pick up a Christmas tree, decorating the house outside with lights or some holiday shopping, to be greeted with a house smelling of spiced cider! I really think it is the homiest smell ever. It's great to make up a batch before going out to do some Christmas caroling too (does anyone do that anymore?) so it's piping hot when you return home.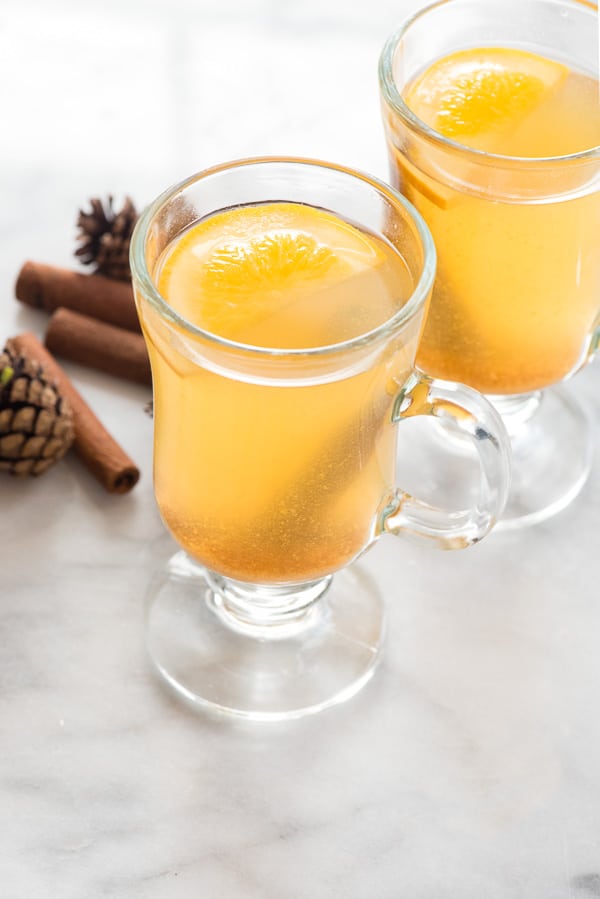 This recipe uses whole spices for a few reasons. Whole spices are easier to strain out before serving. Also ground spices can create a undesirable gritty texture to hot drinks in my opinion. If you don't want to deal with straining the cider, the allspice berries, cloves and cardamom pods can be wrapped in a sachet made of cheesecloth, tossed into the cider and then easily removed once the cider is done simmering. Personally, I love the look of clove-studded fruit and find adding the cloves to the rind of the orange slices to be both pretty as well as it keeps them out of the way of scooping into a mug!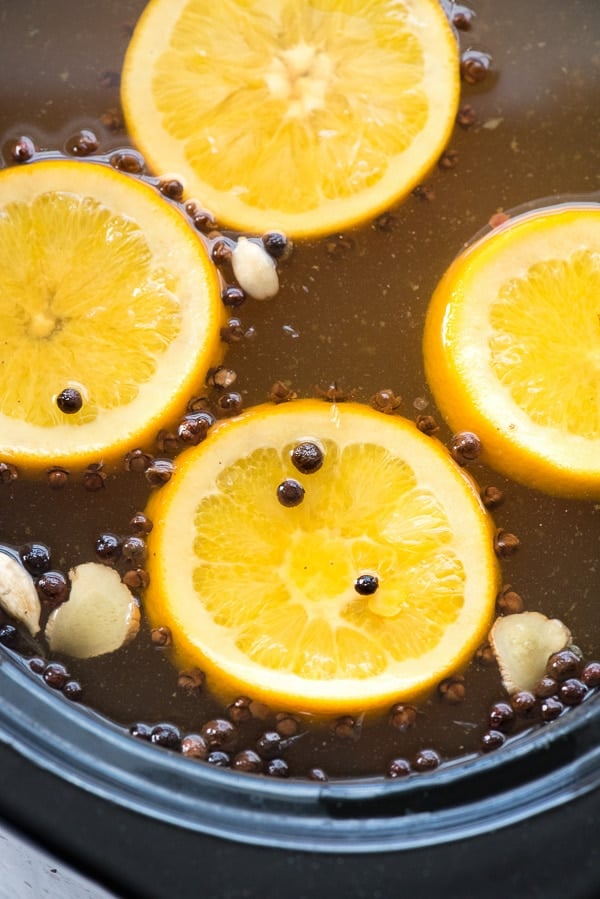 I love making hot drinks in the winter using the slow cooker. Slow Cooker Hot Buttered Rum is another favorite. It is made adding the alcohol in serving cups so those wishing the warm, buttery drink booze-less can enjoy it too 'as is' from the slow cooker. A dash of rum extract can also be added for the warming flavor of rum and no alcohol.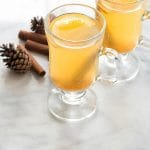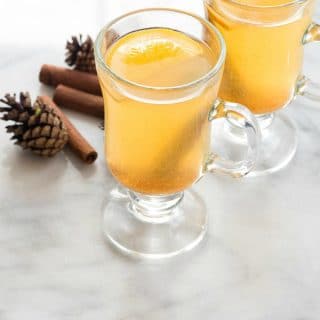 Slow Cooker Mulled Apple Cider
This slow cooker mulled apple cider has a 'just right' amount of sweetness from the cider itself and a bit of brown sugar. The natural spices create a lightly spiced flavor perfect to take the chill out of any winter day.Recipe may be halved to cook in a 4 quart slow cooker.
Total Time
3
hours
10
minutes
Servings
16
1-cup servings (makes 1 gallon total)
Ingredients
1

gallon

Apple Cider

1

large Orange

, cut into ½ inch slices

Peel from 1 medium Lemon

(use a vegetable slicer or paring knife and avoid the pith)

2

teaspoons

Whole Cloves

2

teaspoons

Allspice Berries

1

inch

fresh Ginger Root

, thinly sliced

6

Cardamom Pods

¼

cup

Brown Sugar
Instructions
In a large (6 quart or larger) slow cooker add all the ingredients and cook on LOW for 3-4 hours. Spices can be strained before serving by using a sieve.

Tip: to add the cloves to the rind of the orange slices, make small holes with the sharp end of a bamboo skewer first, then the cloves will insert easily and not break in the process.
Nutrition Facts
Slow Cooker Mulled Apple Cider
Amount Per Serving
Calories 132
% Daily Value*
Total Fat 0g 0%
Cholesterol 0mg 0%
Sodium 11mg 0%
Potassium 275mg 8%
Total Carbohydrates 32g 11%
Protein 0g 0%
* Percent Daily Values are based on a 2000 calorie diet.