Grasshopper Pie is a vintage No Bake pie recipe made with chocolate cookie crumb crust, and light minty frozen marshmallow Creme de Menthe filling. This refreshing dessert is great all year round. Easily made gluten-free or regular.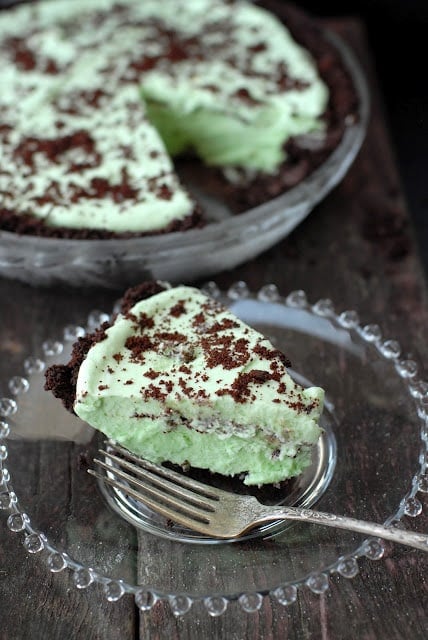 A girlfriend of mine hosted a gathering with a posh, true-to-era ambiance to celebrate the new TV series 'Pan Am'. She and two other ex Pan Am flight attendants were in the wings to fill in on all the inside scoop. The show dipicts the era of elegance in travel when people dressed up to fly, customer service was a priority, no one cared how many ounces of Prell shampoo was on your person, nor were peek-a-boo x-rays required to see if you might be packin'. I recall Pan Am and TWA to have the cache as the luxe airlines that went anywhere in the world.
As a contribution to the gathering I was asked to bring a dessert. For whatever reason I immediately thought of Grasshopper Pie. To me it was one of those era-specific dishes that went away as the age shifted to a new tide. I think it must have been looked at as fairly gourmet, sophisticated, and very clever at the time. She served Cherries Jubilee, another classic dessert that has stood the test of time.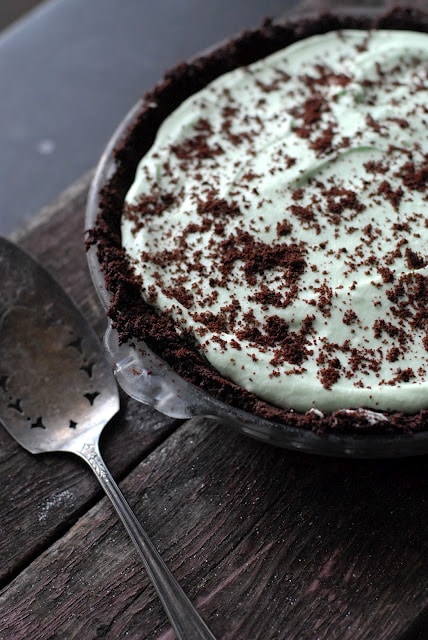 What is Grasshopper Pie?
If you haven't heard of Grasshopper Pie, it has a chocolate wafer crumb crust with a silky green filling, flavored with Crème de Menthe.
I knew somewhere in our family recipe collection we must have had a recipe for Grasshopper Pie. I have my maternal Grandmother's recipe box and came up empty but my Mom produced a recipe card sure it was from the 1950's (I think probably 1960's). When I initially read the ingredients, I confess I told her 'this sounds really gross'. She agreed it did on paper but recalled they found it 'all the rage'.
I was dubious while making it, imagining some goopy, sticky mess from the marshmallows feeling this could not be taking me anywhere I wanted to go. Not so. Much to my surprise by the end of the preparation, the inside of the pie was smooth and flavorfully minty from the Crème de Menthe; not too overpowering nor sticky in the least. Made me want to put on a shift dress, pour a martinimartini and listen to jazz music….OR board a flight on Pam Am to travel somewhere exotic with the rest of the beautiful people of the day.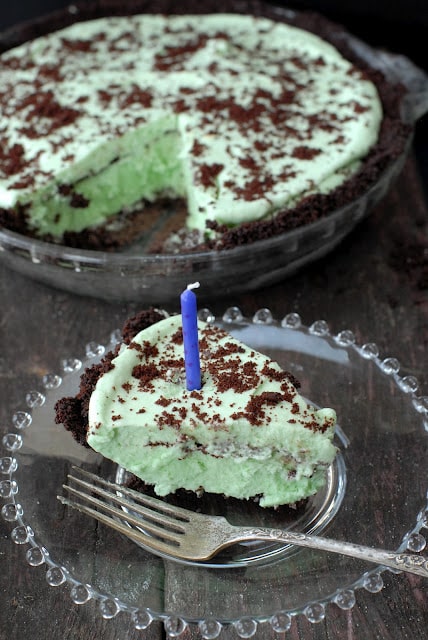 Grasshopper Pie with Cookie Crumbs in the Middle
I did a slight variation to these instructions myself when realizing the volume of the original recipe was not enough for my pie. I had frozen the initial amount of filling with the crumbs on top then added the extra filling amount I needed to fill the pie. This created a crumb 'stripe' that I actually liked for the texture.
If you wish to do this you could fill the pie half full, add some of the crumbs, and freeze it, reserving the remaining filling in the refrigerator. When the pie is frozen, add the rest of the filling and sprinkle with crumbs. Freeze.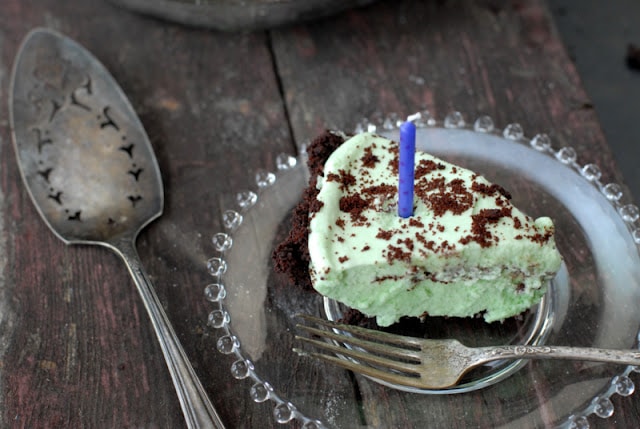 Today marks the one year anniversary of starting my blog. I am always low key about my own birthday, preferring to quietly observe the magic of the day rather than to be the center of it. I could not let this day pass however without sharing my extreme gratitude.
Recently a blogger friend went back to read my very first post, in font too small with no photos, and made the only comment the post has gotten. It touched me deeply and caused me to recall why I started this. My goal was to share the wonder and beauty of food I've felt my entire life, most recently from my local surroundings. I had no idea if it would be of interest (well I knew it would a bit from friends asking for my resources frequently) nor how it would play out.
If you are reading this you have been an integral part of me ending up here a year later. This journey has introduced me to extraordinary people, new food and drink, wonderful opportunities, and stretching myself in a rewarding way defying description. Recently a good friend and enthusiastic supporter from the beginning asked me 'so where do you think this is going?'  I told him I had no idea it would lead me here so could not predict where it would go next.
Wherever that might be, I am so grateful you have been and hopefully will be with me! Thank you from the bottom of my locavore heart.
Grasshopper Pie recipe: