When you are in the mood for grilled steak there is nothing like a Porterhouse. It's a great steak cut and you don't need to go to a restaurant. Easy to make it at home with great results!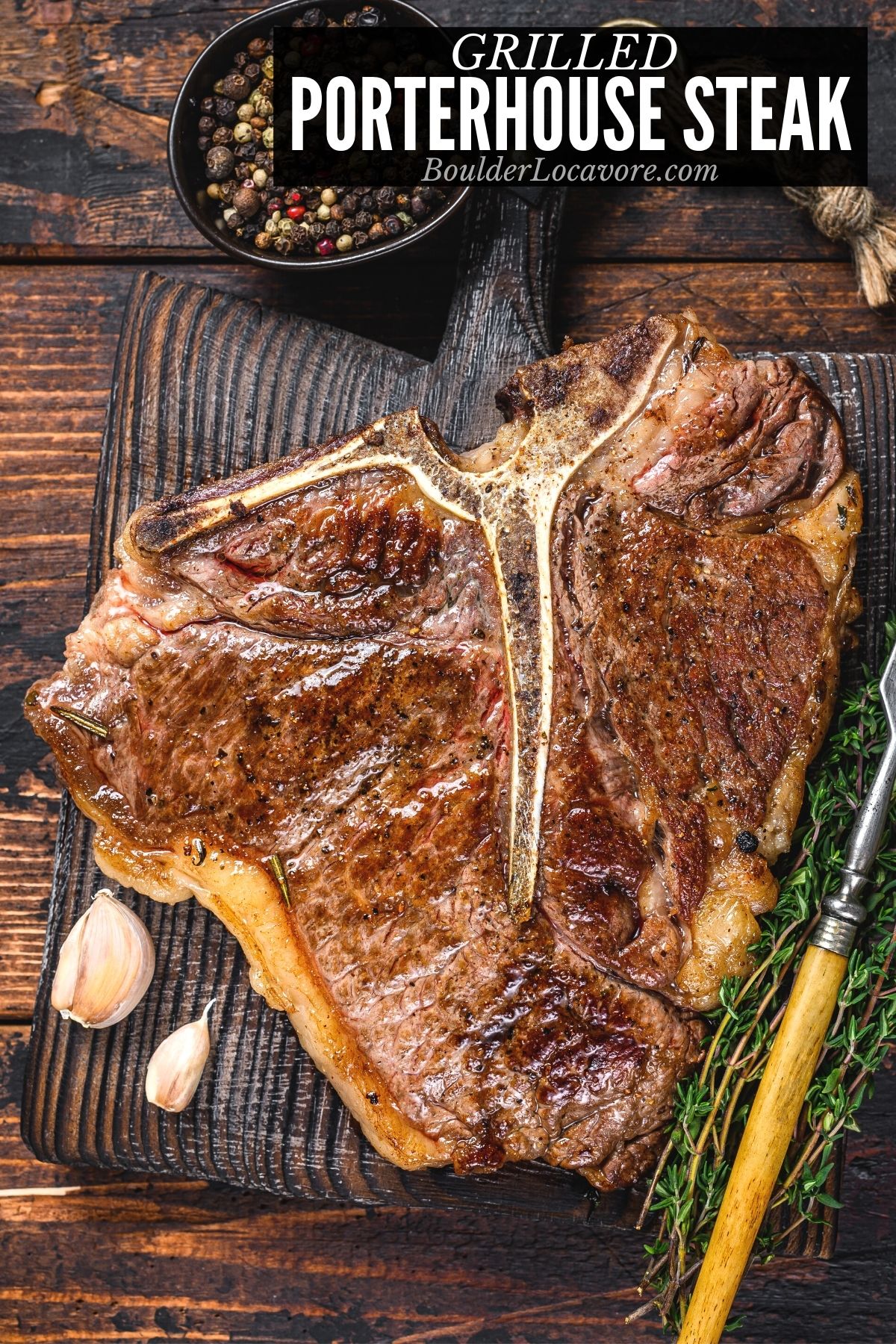 The Porterhouse cut is a serious cut of steak for real meat lovers. They are large steaks great for a few people to share or as a treat for special occasions.
When cooked well they are a tender steak with beefy flavor.
This is a perfect steak for hearty appetites. Serve it with a bold Cabernet Sauvignon.
Cooked over high temperatures the steak sears for a beautiful outer crust leaving a juicy steak you'll love.
Jump to:
What is a Porterhouse Steak?
The 'king of the steaks' is a treat including two steaks in one: a tenderloin steak and a NY strip steak.
They usually are between 20 and 24 ounces a steak so perfect for steak lovers with a big appetite.
For those with a smaller appetite, they can be split between two diners.
Look for good marbling throughout the steak (especially the tenderloin portion). You'll have the best steak with flavorful juices.
Why is it called 'Porterhouse'?
The roots of this juicy steak's name remains a debateable mystery. There are several tales, none of which can be confirmed or fully refuted:
In the late 1800's Zachariah B. Porter, a Cambridge Massachusetts hotel and restaurant owner is said to have given his name to the oversize steaks he served.
Others believe it came from the Porter House hotel in Georgia in the 1800's.
Martin Morrison, the proprietor of porter house Manhattan's 'Pearl House' supposedly named the large t-bone steaks he served.
And the list goes on. Frankly my guess is that these large t-bones were served at steak or chop house restaurants where Porter ale was served and the name most likely was derived from that.
Difference between Porterhouse and T-Bone Steak
Both steaks look similar in that they both have a T shaped bone.
They are also cut from the same area of the cattle (rear of the short loin) and have the same type of meat (New York Strip and tenderloin filet).
For both cuts of US Prime grade will be the most expensive.
So what makes them different? The size of the filet.
Measured from the bone to the thickest portion of the filet, it must be at least 1 1/4 inches thick to be a Porterhouse.
In the United States the USDA (United States Department of Agriculture) determines the size of the filet portion required for a Porterhouse to be classified AS a Porterhouse steak.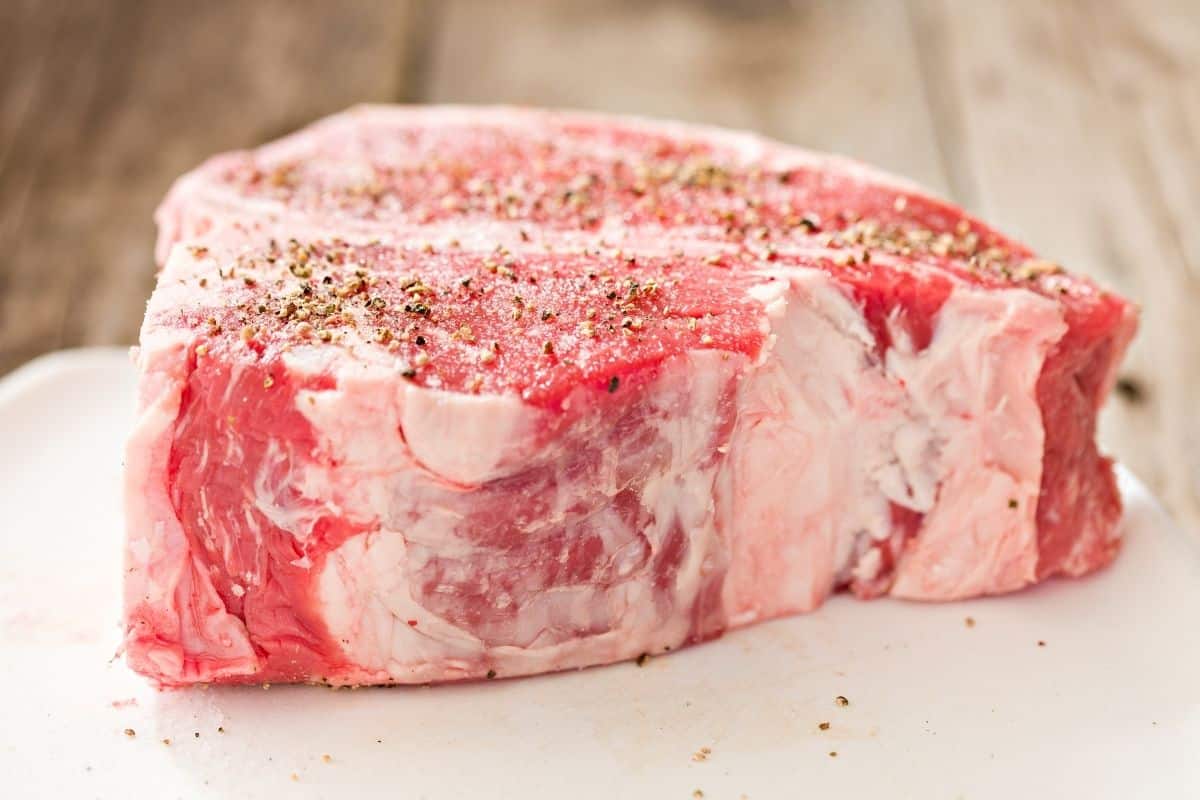 Pro Tips
Bring the steak to room temperature first. Starting with this cut of meat at room temperature will ensure it cooks evenly.
Use a meat thermometer. And instant read food thermometer will ensure quickly assessing the temperature so it does not overcook.
Always start with a clean, hot, well-oiled grill grate. This keeps the steak from sticking to the grates.
Trim excess fat. Fat = flavor so only cut off extra amounts that are likely to create flame flare ups during grilling.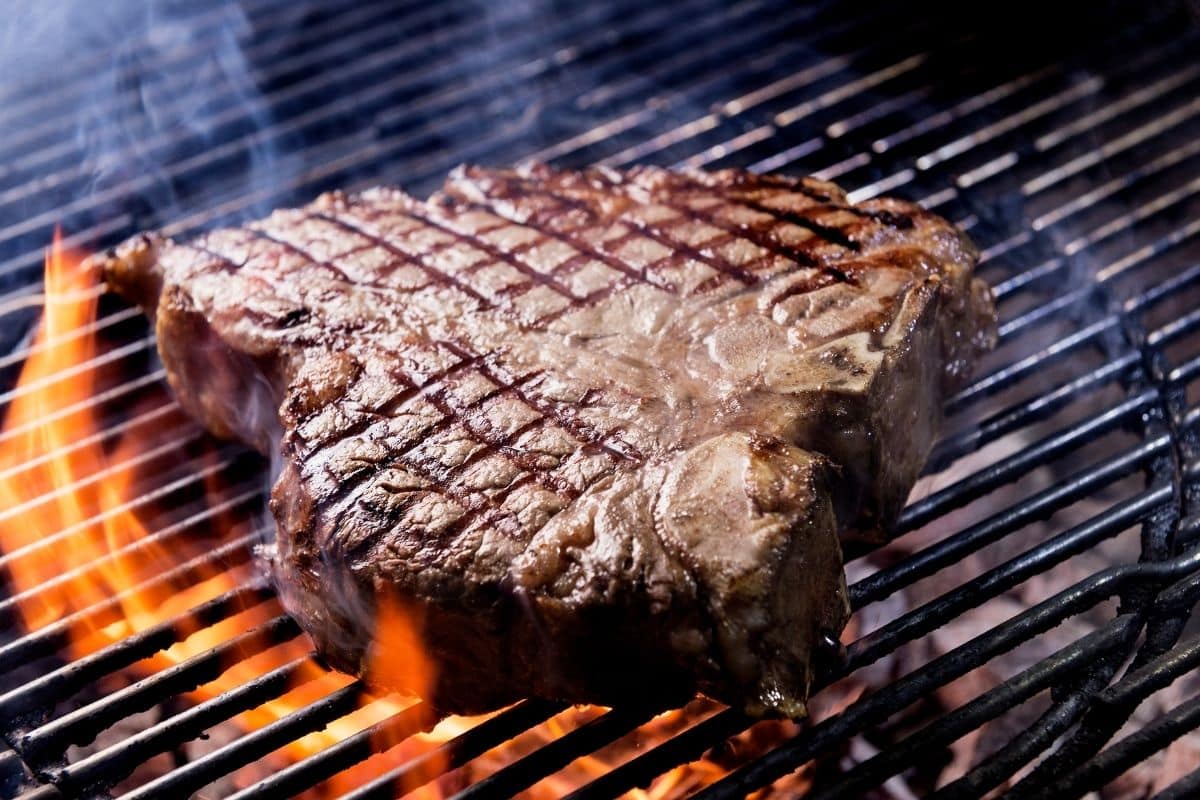 How to Grill a Porterhouse Steak
Though these can be cooked in a cast-iron skillet we think this is a the perfect porterhouse steak recipe for the grill!
STEP 1. Preparation
The steaks should be brought to room temperature before grilling. Set them out 1-2 hours before grilling.
Start with a hot, clean, oiled grill over high heat. They can be cooked on a gas grill or charcoal grill over open flame.
Lightly brush the steaks with olive oil and season steaks with salt and pepper.
STEP 2. Give it a good sear!
Transfer steak onto the prepared grill. Allow to cook for 2-3 minutes; turn 45 degrees and cook 2-3 minutes more (this will create great grill marks).
Repeat on the opposite side. Take the internal temperature to determine doneness.
STEP 3. Rest the steak
Transfer steak onto a cutting board to let the steak rest for 5-10 minutes before serving.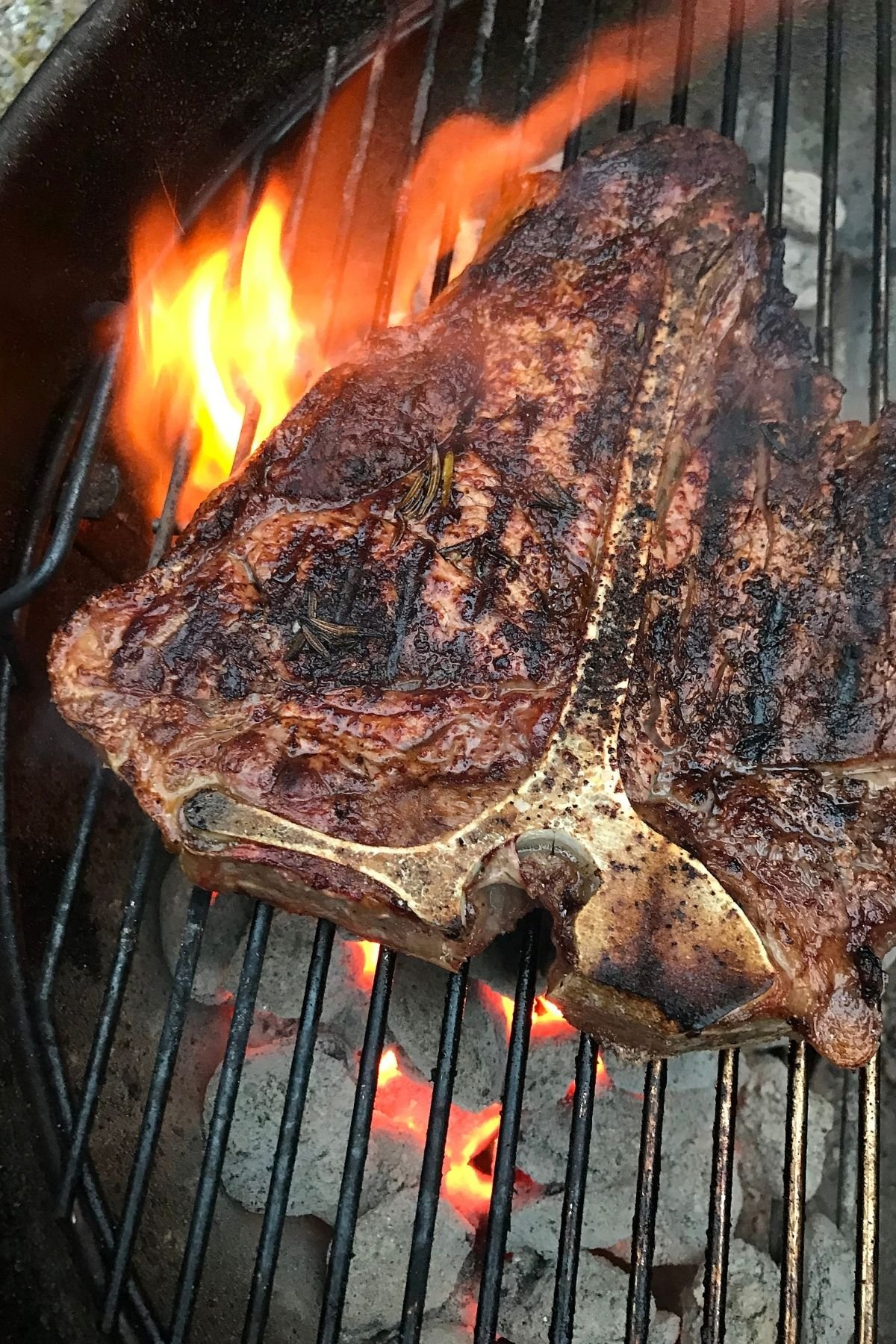 When is the Porterhouse done cooking?
Use an instant read meat thermometer inserted into the thickest portion of the steak to determine if it is done.
It's also important to note that the steak should rest after cooking. This allows the juices to redistribute. During this time the temperature will continue to rise up to 5 degrees F.
How to take the internal temperature of steak
Insert the meat thermometer probe into the center of the steak, not into fat or touching the bone.
Steak Doneness Temperatures
The USDA recommends steaks and roasts be cooked to a final temperature 145°F (medium) and then rested for at least 3 minutes.
However this is higher than many people prefer their steaks to be done, especially if you like Rare or Medium-Rare steak.
Use personal judgement regarding food safety standards when determining the doneness of your steak.
| Doneness | Remove from Grill (temp F) | Resting time (minutes) | Final Steak Temperature (F) |
| --- | --- | --- | --- |
| Rare | 115 degrees | 5-10 | 120 degrees |
| Medium-Rare | 125 degrees | 5-10 | 130 degrees |
| Medium | 135 degrees | 5-10 | 140 degrees |
| Medium-Well | 145 degrees | 5-10 | 150 degrees |
| Well done | 155 degrees | 5-10 | 160 degrees |
NOTE: The USDA recommends steaks and roasts be cooked to 145°F (medium) and then rested for at least 3 minutes.
If you aren't sure how done you like your steak this chart is a visual reference of what each level of doneness looks like.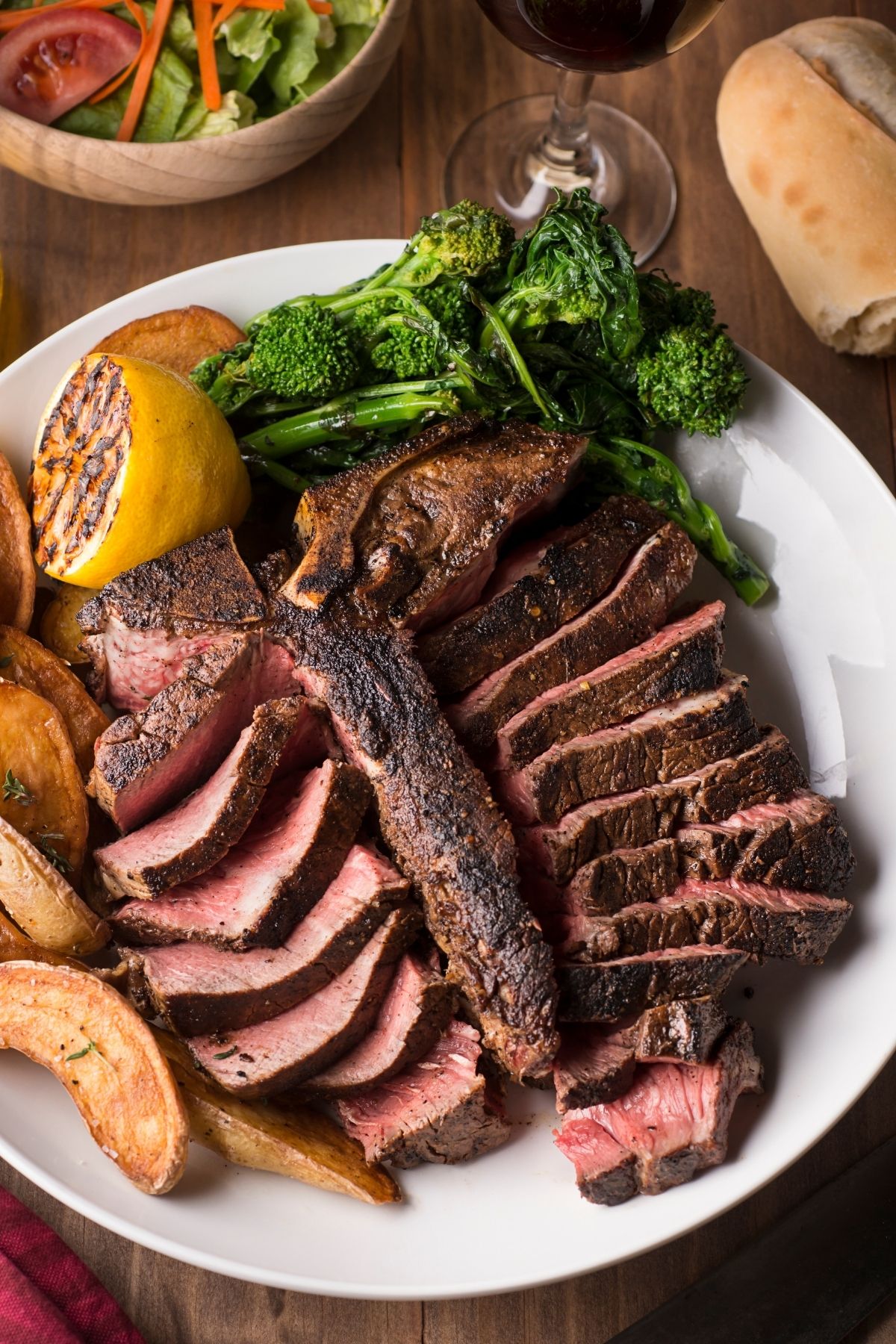 How to slice it
Because of the large size of the steak slicing it is usually the best way to serve it. Slice horizontally from the outside to the bone.
It's a great way to make the steak feed more people too.
More recipes you'll love!
Did you make it? Please RATE THE RECIPE below!
Please
SUBSCRIBE
and
FOLLOW ME
on
FACEBOOK
,
TWITTER
,
INSTAGRAM
and
PINTEREST
!
Recipe