Instant Pot Mashed Potatoes with Sour Cream and Garlic are a mouthwatering side dish recipe that is all done in the Instant Pot! Fast, easy and little clean up!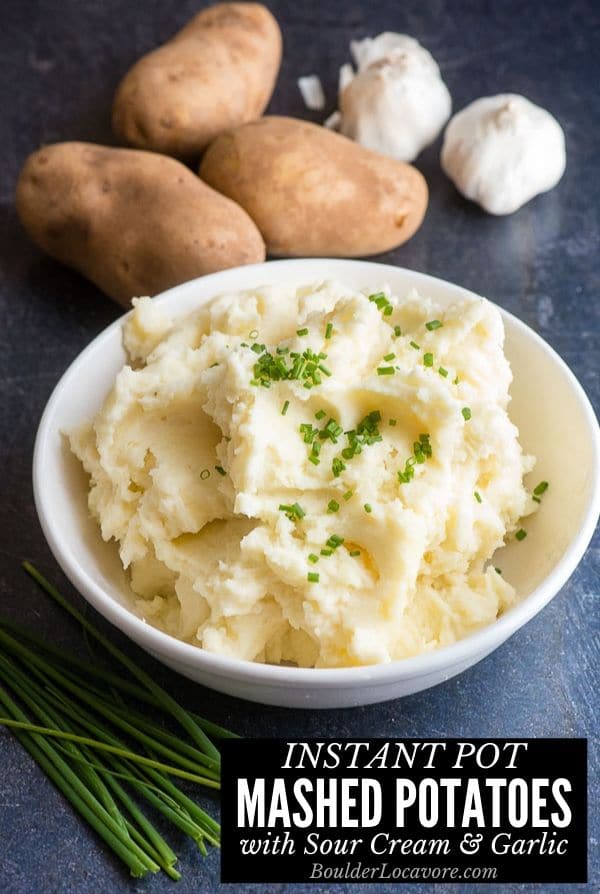 Can you resist a steaming hot serving of buttery mashed potatoes?
It's America's favorite comfort food. With good reason.
Making mashed potatoes has never been easier than using an Instant Pot!
Instant Pot mashed potatoes have wonderful texture and are effortless to make.
They are creamy, silky and brimming with homey flavor.
These Instant Pot Sour Cream Garlic Mashed Potatoes cook in 8 minutes!
All cooking takes place in the Instant Pot too!
That space saving makes it a great recipe for cooking-heavy holidays like Thanksgiving or Christmas!
Instant Pot Mashed Potatoes
I can't think of a holday that doesn't include mashed potatoes in my house!
We'll be making Instant Pot Mashed Potatoes from now on. Why?
Using the Instant Pot keeps the oven and stove top clear for other cooking
They are lightning fast in the Instant Pot
The entire cooking can be done in the Instant Pot making clean up even easier
The texture of the Instant Pot mashed potatoes are perfect every time
Mashed Potatoes with Sour Cream and Garlic
For mashed potato traditionalists, don't let the sour cream and garlic mention scare you off.
There is enough sour cream to perk up the flavor but not make the potatoes overly tangy.
And enough garlic to add a nice flavor without warding off vampires.
I love that these creamy potatoes are made only in the Instant Pot too so you won't have extra bowls to clean up.
NOTE: if you don't want the sour cream or garlic, follow the recipe and omit those ingredients!
Instant Pot Mashed Potatoes Ingredients
The ingredients in this recipes are simple, wholesome and easy to find at any grocery store.
Potatoes
Unsalted Butter
Garlic Paste or garlic cloves
Half and Half
Sour Cream
Kosher Salt
freshly ground Black Pepper (if desired)
Using Garlic Paste
I love using a fresh garlic paste available in the produce department. It's a total time saver.
Also the smooth consistency is perfect for these mashed potatoes. It blends right in.
I typically buy Gourmet Garden brand garlic paste.
They make two types; I would use the non Chunky version for this recipe.
Why Use Kosher Salt?
Believe it or not all salt does not taste the same!
Kosher salt has a milder flavor. It's less intense tasting with a more pure salty flavor.
What Type of Potatoes to Use for Instant Pot Mashed Potatoes
For this recipe russet potatoes are key.
They have the right consistency to make creamy mashed potatoes.
Yukon Gold variety potatoes are another favorite of mine though they tend to become heavier when making mashed potatoes.
Stick with the classic russets for the end result you see here.
The Best Mashed Potato Tool
I use a potato ricer to get the best consistency and ensure no lumps.
If you have not used a ricer before they are easy!
The results speak for themselves; trust me. You'll love having it in your kitchen arsenal.
Just add cooked potatoes into the cavity and squeeze the handles together.
How to Use a Potato Ricer
The potatoes are pushed through a disk with small holes back into the bowl (or in this case the Instant Pot insert).
The photos above show this process. It's fast and easy.
The potatoes come out in small strings that are easily mashed together making creamy mashed potatoes.
A traditional potato masher may also be used (I've done it both ways).
My experience is that the ricer makes the smoothest mashed potatoes.
How to Make Instant Pot Mashed Potatoes – Step-by-Step
As with most Instant Pot recipes, this Instant Pot Sour Cream and Garlic Mashed Potatoes recipe is fast and easy.
Once mashed, the potatoes may stay in the Instant Pot on the warm setting until serving.
They are best right after they are made but with a busy holiday meal like Thanksgiving, coordinating everything to be done at the same time can be tricky!
For a detailed printable recipe refer to the recipe card at the end of the blog post.
STEP 1: Place the trivet in the Instant Pot insert. Add 1 cup water and place potatoes on the trivet.
STEP 2: Seal the Instant Pot. Select MANUAL HIGH PRESSURE for 8 minutes. Follow with an INSTANT RELEASE.
STEP 3: Pour Instant Pot contents into a colander to drain. Remove the trivet. Leave the Instant Pot on WARM setting.
STEP 4: Add the butter and garlic to the Instant Pot insert. Allow butter to melt and add Half and Half.
STEP 5: Mash the potatoes with a potato masher or a ricer (preferred). Return them to the Instant Pot.
STEP 6: Stir the potatoes to mix in the butter mixture. Stir in the sour cream, salt and pepper to taste.
Serve immediately.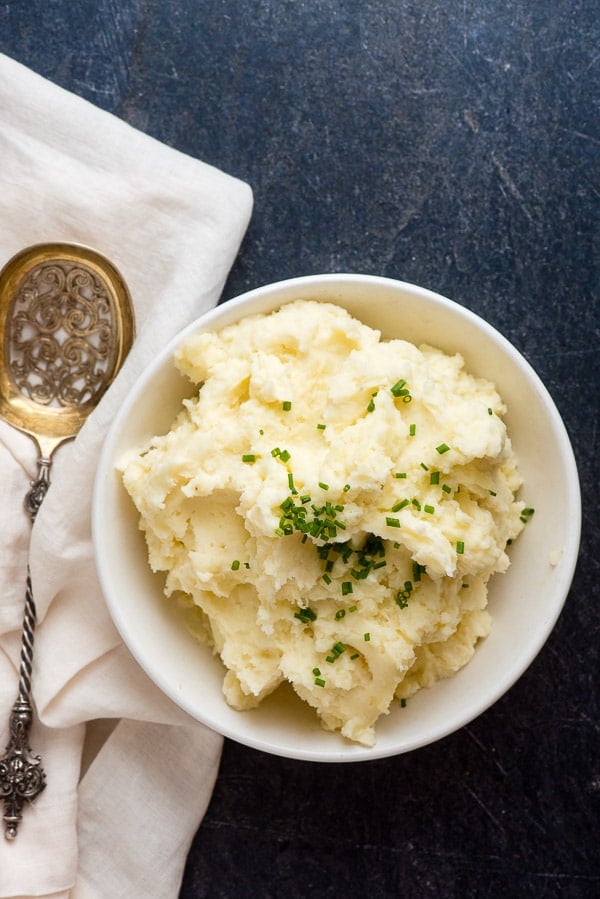 What to Serve with Instant Pot Mashed Potatoes
Try These Recipes Too!
Did you make it? Please RATE THE RECIPE below!
Please SUBSCRIBE and FOLLOW ME on FACEBOOK , TWITTER , INSTAGRAM and PINTEREST !
5 MIND-BLOWING INSTANT POT TIPS YOU NEED!
I've uncovered some unexpected, useful tips you'll want to know.
Sign-Up below and I'll tell you all my Instant Pot secrets!
Instant Pot Mashed Potatoes with Sour Cream and Garlic are fast, easy, creamy and delicious!