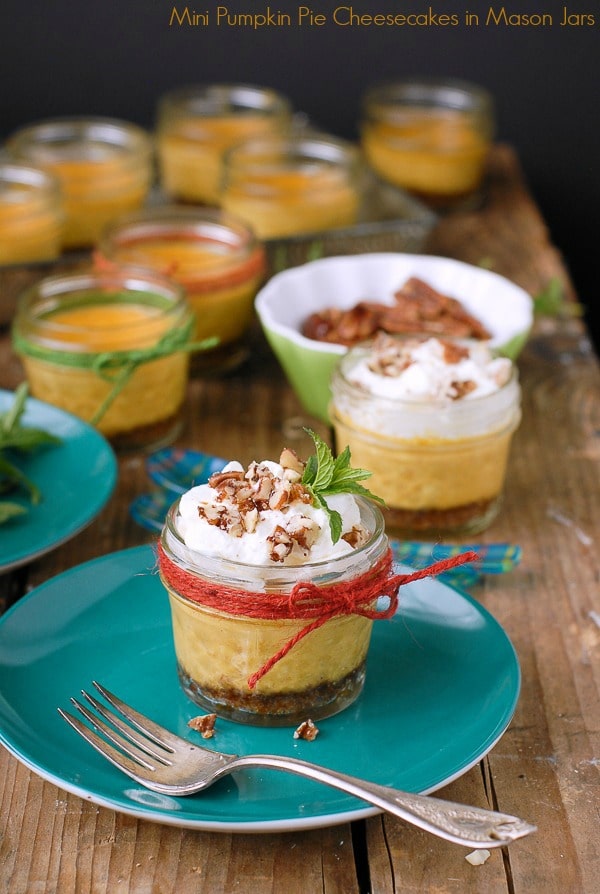 As much as I love every holiday I also love that feeling when it has wrapped up and sights are switched to the next big occasion. Beginning with Halloween, there is at least one major holiday per month until April; each with its own distinct characteristics and charm.
Thanksgiving is certainly the holiday for foodies. It's about home and hearth, family, friends, and tradition. I love hunkering down for days of cooking and trying new dishes to compliment family favorites that define with day for us. Truth be told, my husband is the Thanksgiving kitchen maestro. He loves to cook, is a great cook but like most, rarely has enough time to do so as often as he'd choose. The big holiday meals are his joy. He spends a long time researching new ideas and flavor profiles to come up with the entire meal. Usually I make a pie, and the kids make a pie (always Grasshopper Pie) and the rest is on him.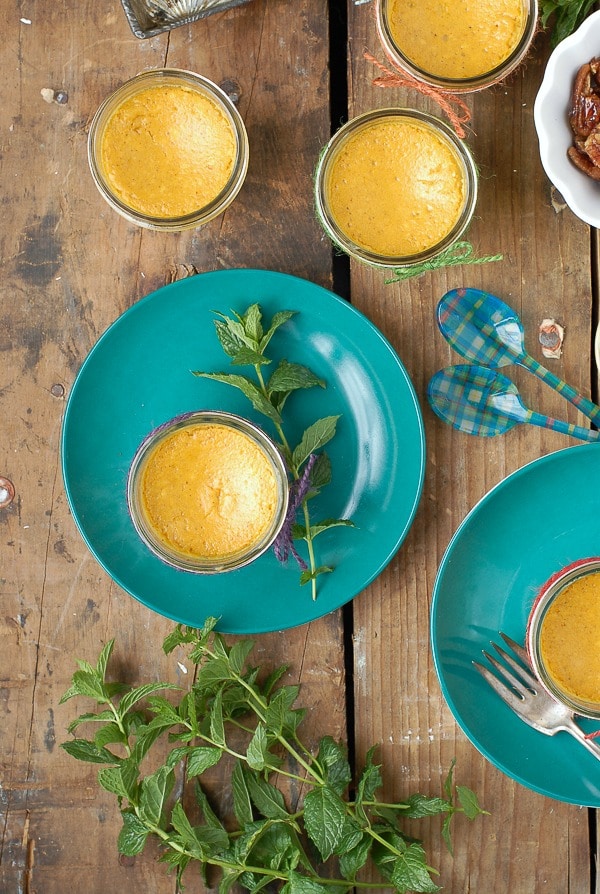 The aspect of Thanksgiving which as always has fascinated me is how there can be multiple days of cooking for a meal which is devoured in about 20 minutes,  leaving diners lethargic with pants unbuttoned and over-stuffed. I feel the desserts are usually shortchanged. Everyone is so full, the idea of a dessert, or two, is almost unthinkable. If eaten immediately after the meal they never get the same moment in the sun as the first bites of turkey, mashed potatoes, gravy and all the other dishes we wait all year to enjoy.
Truth be told it was a long time coming before I warmed up to pumpkin pie at the extended family Thanksgiving buffet. I'm not exactly sure if it was the dense sweetness only winter squash delivers or the unfamiliar taste and texture differentiating it from other pies. Maybe it seemed like the Kissing Cousin to the requisite Sweet Potato Casserole with mini marshmallows. That dish was a thing nightmares were built on for my nubile palate. I was convinced it was regular potatoes saturated with orange juice from the flavor. Fortunately as an adult I've grown to love pumpkin pie, especially when made with homemade pumpkin puree. Even so, it's very difficult to take on a piece after the full Thanksgiving feast.
This year I decided to do something different. My family always wants to try all the desserts but no one leaves stomach room for three slices of pie no matter how thin. Instead I came up with Mini Pumpkin Pie Cheesecakes in Mason Jars. Easy to prepare, they can be made the day before and served chilled or at room temperature. Served in 4 ounce jelly jars they are not only cute but a good four big bites, just about the right amount to appreciate the luscious flavors but without overwhelming the already stuffed stomach.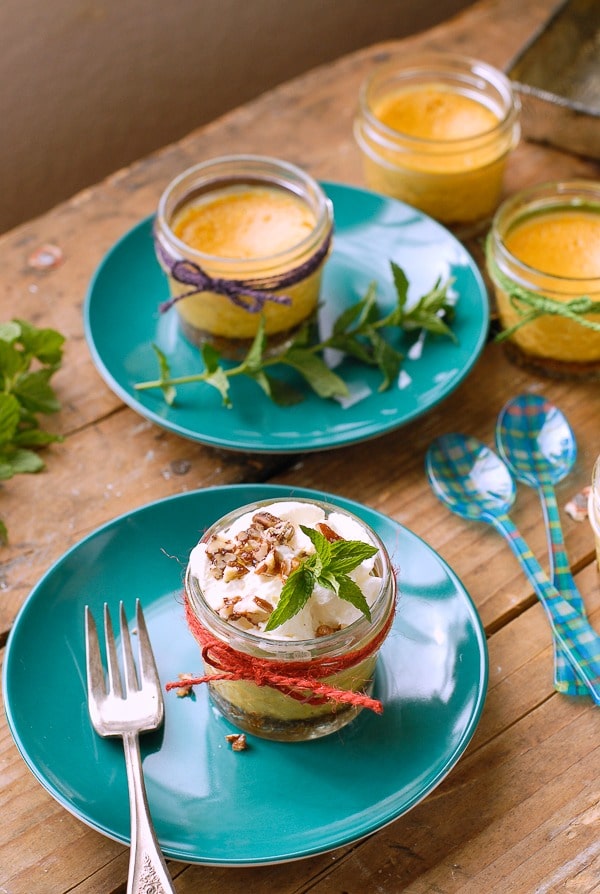 The cheesecakes are a blend of cream cheese and mascarpone cheese making them familiarly tangy but also extra light and creamy thanks to the mascarpone. If you are unfamiliar with mascarpone cheese, it is essentially a very thick cream that has the consistency similar but a lighter than a cream cheese. It's flavor is subtle but it allows these cheesecakes to have their creamy consistency and light texture. These bitty desserts have the familiar seasoning of pumpkin pie, with a spiced up ginger snap crust and the rustic sensibilities we love about Thanksgiving. If you are traveling for the holidays, these can be made the day before and chilled with a traditional Mason jar lid and delivered as single serving desserts.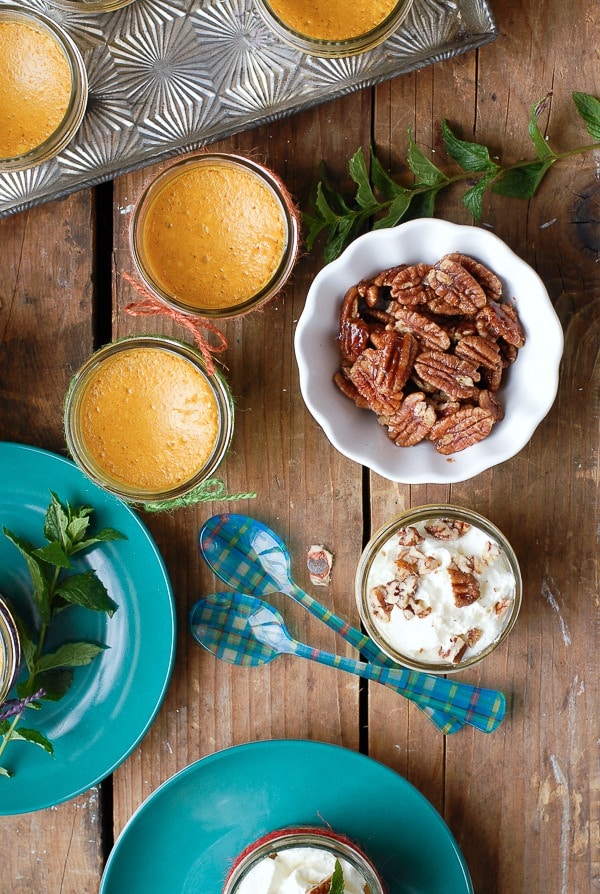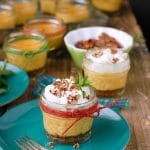 Mini Pumpkin Pie Cheesecakes in Mason Jars
As an alternative for to a full pie, these mini Pumpkin Pie Cheesecakes in Mason jelly jars provide a light, tangy version of the beloved traditional pie in moderate servings. Unlike some cheesecakes which are more dense and heavy, these minis are light and creamy. They may be made the day prior and served at room temperature or chilled. If traveling for Thanksgiving, simply add Mason jar lids and bring them along.
Servings
12
4-ounce Mini Cheesecakes
Ingredients
1

cup

Ginger Snap crumbs

, gluten-free or regular (I used gluten-free Midel Ginger Snaps, ground in a blender to make crumbs)

1

tablespoon

plus 3 tablespoons Granulated Sugar

4

tablespoons

Unsalted Butter

, melted

3

tablespoons

Dark Brown Sugar

1 8-

ounce

package of Mascarpone Cheese

, room temperature

6

ounces

Cream Cheese

(3/4 of an 8-ounce package), room temperature

3/4

cups

Pumpkin Puree

(canned or homemade)

2

Eggs

, room temperature

3/4

teaspoon

Pumpkin Pie Spice

½

teaspoon

Vanilla Extract

Supplies: 12 4-ounce jelly jars

Optional topping: Chopped Candied Maple Pecans

, whipped cream and/or fresh mint sprig
Instructions
Preheat oven to 325 degrees. Spray jelly jars inside with non-stick cooking spray.

In a medium mixing bowl, add the ginger snap crumbs, 1 tablespoon of the granulated sugar and the melted butter; stir to fully combine.

Spoon crust mixture evenly into the twelve prepared jars (approximately 1 tablespoon per jar). Tamp crust down with the back of a dining spoon or a wine cork (something with a flat bottom) to evenly distribute crust on the bottom of the jars.

In the bowl of a freestanding mixer, beat together the cream cheese, mascarpone cheese, pumpkin puree, remaining sugar (3 tablespoons each granulated and brown sugar) and pumpkin pie spice until smooth.

Add the eggs, one at a time; beat on medium-high until incorporated and the mixture is fluffly and light. Beat in the vanilla extract.

Add the cheese mixture evenly to the jelly jars, filling to the lowest outer glass ring (approximately 1/2 inches from the top of the jar; refer to photos).

Place jars in a 13 x 9 inch baking pan. Fill the pan with boiling water until the water level reaches halfway up the outside of the jelly jars.

Place in preheated oven and bake for 30 minutes. Remove mini cheesecakes from the pan and allow to cool to room temperature on a cooling rack. They may be served chilled or at room temperature.
Nutrition Facts
Mini Pumpkin Pie Cheesecakes in Mason Jars
Amount Per Serving
Calories 215
Calories from Fat 135
% Daily Value*
Total Fat 15g 23%
Cholesterol 60mg 20%
Sodium 171mg 7%
Potassium 117mg 3%
Total Carbohydrates 14g 5%
Protein 5g 10%
* Percent Daily Values are based on a 2000 calorie diet.