Pumpkin Polenta with Maple Bacon Gravy celebrates fall flavors with sweet, salty, savory goodness! An easy main or side dish.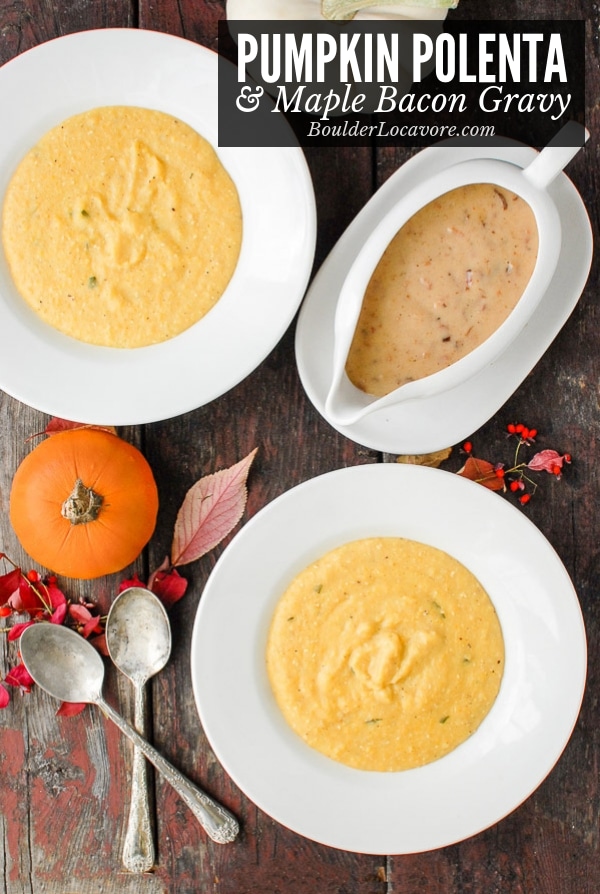 Updated: November 2018
One of my favorite comfort foods is Polenta. It's inexpensive and easy to prepare. It's also very versatile for incorporating different seasonings to change it up!
Pumpkin Polenta with Maple Bacon Gravy is a family favorite. It celebrates the fall season with great seasonal flavors and a cozy feel.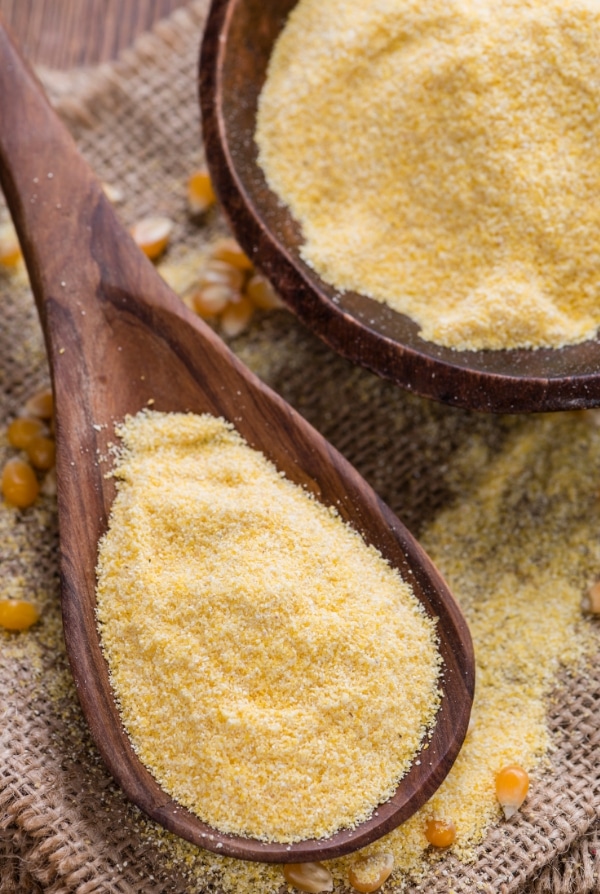 What is Polenta?
Polenta is a wonderful option to include in fall menus. Made from fine to coarse ground yellow cornmeal, it can be prepared in a few ways:
boiled for a creamy porridge-like consistency, or
prepared and chilled to be sliced and either fried or grilled.
Polenta has a light corn flavor on its own.
It can be seasoned with different spices to influence the flavors in many different directions.
Pumpkin Polenta: Main Dish or Side Dish?
Polenta can be eaten as a meat-free main dish or for a side dish too. It's a homey comfort food option in the colder months especially.
Sautéed vegetables or meat sauces are a wonderful topping for either the creamy or firm versions of polenta.
Is Polenta Gluten-Free?
Yes! Polenta is naturally gluten-free.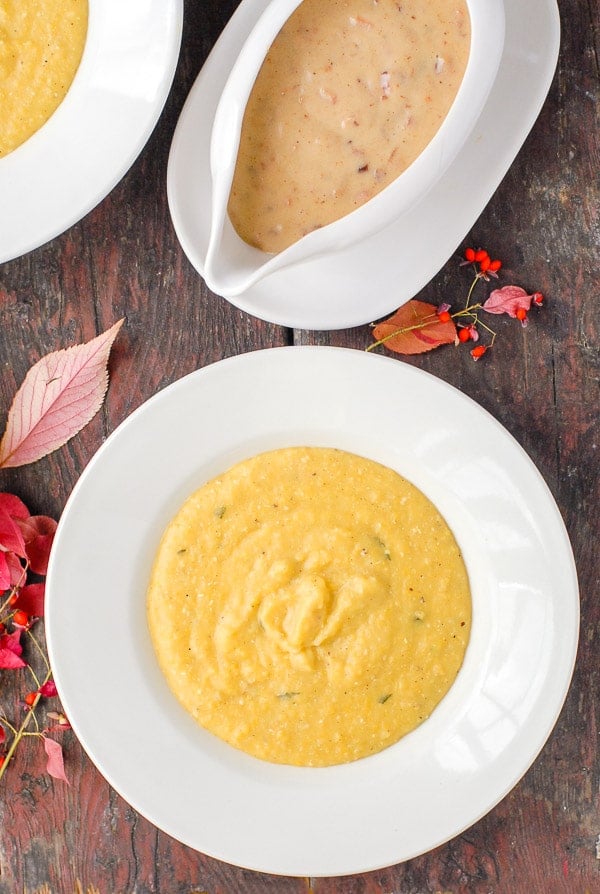 Pumpkin Polenta Recipe
This polenta recipe is a creamy polenta with the seasonal addition of pumpkin puree, and a bit of shallot and sage.
Medium grind cornmeal provides a pleasing rustic texture. The addition of pumpkin puree creates a beautiful, rich color. The pumpkin also adds a fall flavor without taking over the whole dish flavor-wise.
Maple Bacon Gravy
As a topping I wanted a salty-sweet combination to compliment the pumpkin and corn flavors. Behold Maple Bacon Gravy; your life will change forever!
I am not a gravy Girl per se but truth-be-told I would happily lap up every drop of this even without putting it on something else (would be great on Thanksgiving turkey).
This bacon gravy combines bacon, apple and maple flavors making it slightly sweet and still savory.
It's a perfect addition to the pumpkin polenta recipe and would be great on meats or mashed potatoes too!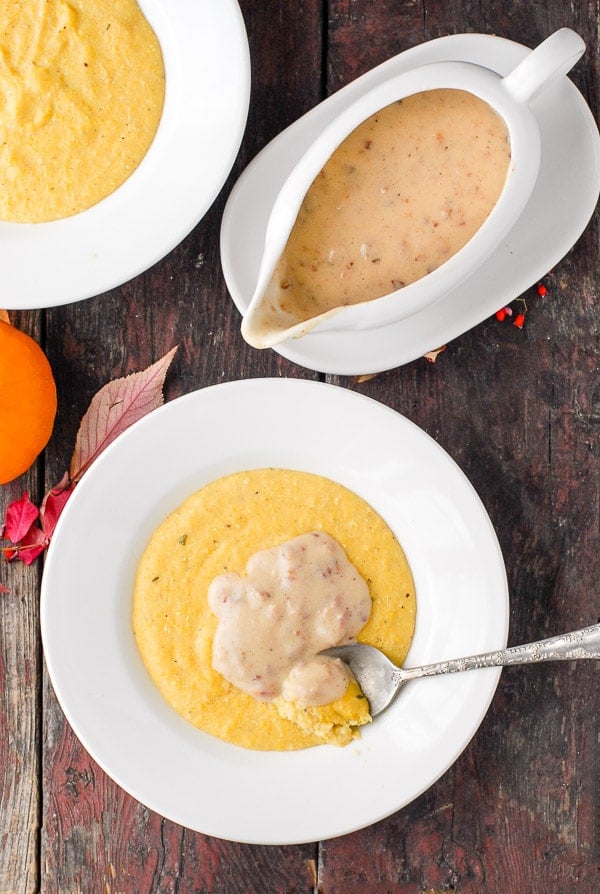 More Recipes You'll Love
Roast Duck with Chinese Five Spice
If you've made this Pumpkin Polenta & Maple Bacon Gravy recipe please RATE THE RECIPE below!
Please SUBSCRIBE and FOLLOW ME on FACEBOOK , TWITTER , INSTAGRAM and PINTEREST to see more delicious food, travel and what I'm up to!
How to Make Pumpkin Polenta and Maple Bacon Gravy – Step by Step:
Originally published: October 3, 2014