A twist on traditional Pumpkin Pie; No Crust Pumpkin Pie. Naturally gluten-free, this easy custard  crustless pumpkin pie delivers the flavors you love without any fuss!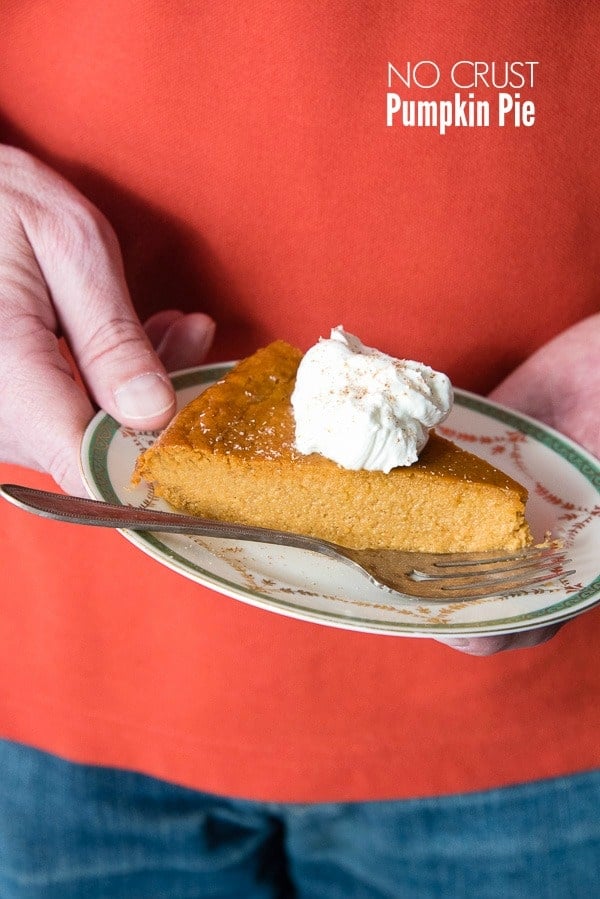 I recently realized I have a problem. Like an addiction problem. And I really had no idea.
I have a TV in my bedroom with TiVo. I'm not a big TV watcher but any shows I'm interested in I get a Season Pass to automatically record them on the TiVo. I'm busy during the day so I tend to try to watch them late at night before hitting the hay. Is this way too much personal information?
One night a week or so ago I turned on the TiVo and besides sounding like a wood chopper had taken up tiny residence inside, lights I'd never seen began to flicker on the front of the box and the TV screen flashed the set-up icon like it was sending Morse code. I quickly deciphered it with no decoder ring required: I'm-Dead-You're-Screwed-for-TV-Watching.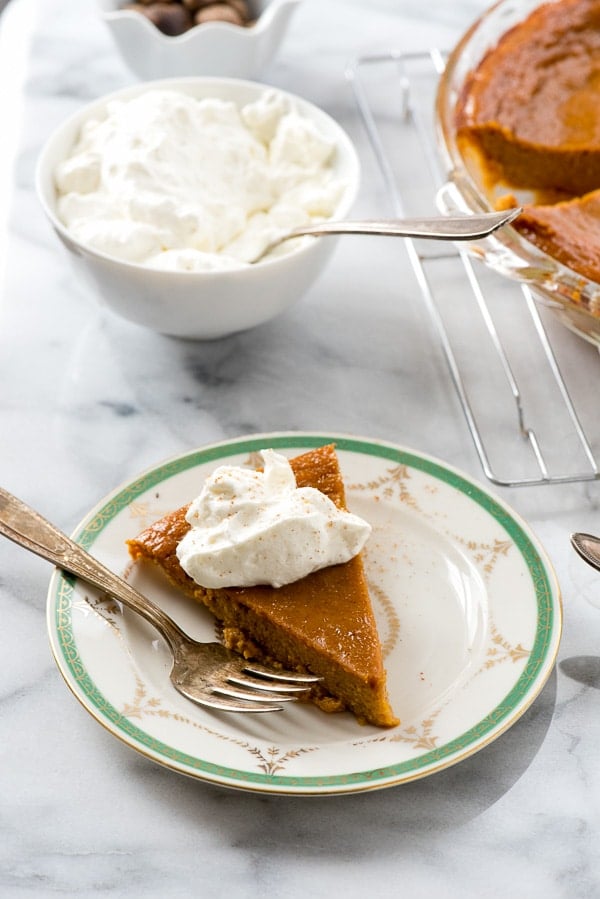 I desperately searched online trying any maneuver I found in TiVo aftermarket tech chat threads. For three days I plugged and unplugged cords in exotic order hoping to jump start the machine which was now holding all of my TV shows hostage. It did cross my mind that maybe I had a problem. An obsession perhaps. A crutch…for sure.
I finally gave up. I acquiesced to the reality that my TiVo was gone and found myself at an utter loss of what to do instead of watching Real Housewife cat fights or zombies prowling the post-apocalyptic earth.
One night I pulled out a box full of packets of vintage recipes I'd either found at thrift stores or bought on eBay after first starting Boulder Locavore. They'd been in the corner of my room untouched for some time. Without distraction, it was a perfect way to fill the TiVo void. I quickly found myself completely fascinated by the brown newspaper clippings and foreign handwriting scribbling out family favorite recipes from a bygone era.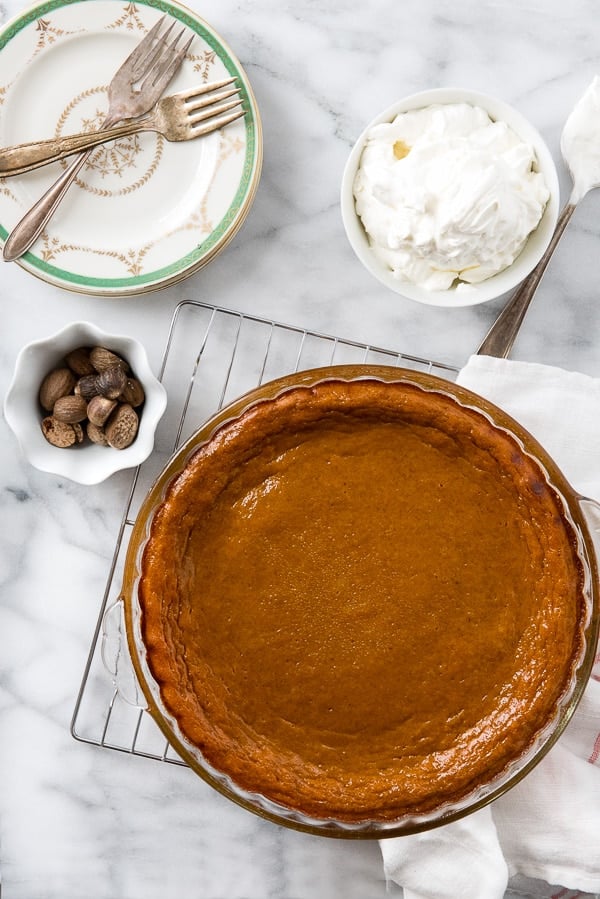 I found a recipe for Ginger Pie copyrighted from 1934. 19…34! I was holding a pie recipe from 82 years ago. It struck me that this generation of children won't know a physical newspaper. They won't know that musty smell of newspaper stored away with treasured news or recipes from random home cooks whose prized cuisine had become fortunate enough to be featured.
I pulled out several the recipes I wanted to make and am sharing one today for No Crust Pumpkin Pie. I've never heard of such a thing but being gluten-free it seemed sort of perfect (though I do love to make pumpkin pie with Whole Foods Gluten-Free Bakehouse crust which remain always in my freezer).
I wasn't totally sure what I was walking into when first making the pie. I made it to the recipe exactly and found there was more batter than fit in the specified pie pan size (but I think those have changed over time too). Also, it baked at a temperature that was too hot. It ballooned up like a full popped container of Jiffy Pop then relaxed and cracked when cooling. I made some tweaks and am sharing that recipe version with you today.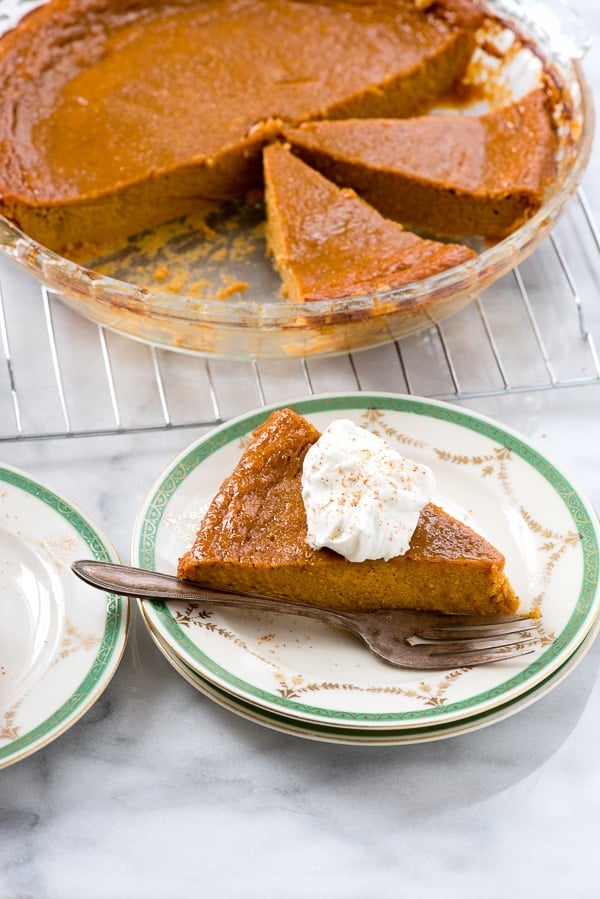 If you haven't had a No Crust Pumpkin Pie it reminds me of a pumpkin flan. Stripped away are the carby flavors of the crust leaving only the beautiful filling, somewhat caramelized in flavor from being cooked without its usual partner crust. This recipe got a big thumb's up from my family and really couldn't be easier to make. The key is to really test the pie toward the end of the baking for doneness. When a knife inserted into the middle of the pie comes out clean, it's done EVEN if it looks a bit jiggly; it condenses as it cools. Do not overcook it or it will crack (but still taste delicious).
Oh, and friends? I'm waiting for my new TiVo to arrive any second from UPS so you'll be spared future confessions on my clear need for a reality TV 12-step program!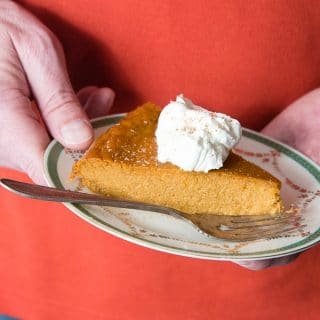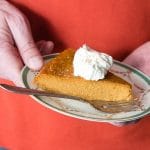 No Crust Pumpkin Pie
This naturally gluten-free crustless pumpkin pie is a cinch to make. All ingredients are mixed together and baked for about 1 hour to form a custard pie without a crust. A wonderful spin on traditional pumpkin pie.The bulk of the Total Time is due to the 2 hours cooling time.
Total Time
3
hours
5
minutes
Ingredients
4

Eggs

, room temperature

½

cup

Granulated Sugar

½

cup

Dark Brown Sugar

1

teaspoon

ground Cinnamon

1 15-

ounce

can Pumpkin

¼

teaspoon

Nutmeg

(freshly grated if possible)

½

teaspoon

Kosher Salt

1 12-

ounce

can Evaporated Milk
Instructions
Preheat the oven to 350 degrees. Spray the bottom and sides (up to the rim) of a 9 1/2-inch regular depth (not deep dish) pie pan with no-stick spray.

Beat the eggs with a mixer. Add remaining ingredients and beat on low setting (to avoid splashing) until combined.

Place the prepared pie pan on a light colored (not black) baking sheet. Pour the mixture into the pie pan. Bake for 50 minutes and test for doneness by sticking a knife in the middle of the pie. If the knife comes out clean it's done (it may still jiggle a little). It not, bake another 5-10 minutes until the knife comes out clean. Note: the pie will firm up when removed from the oven so if it still moves a bit don't worry.

Allow to cool on a rack for 2 hours before cutting or chilling in the refrigerator. Maybe be made the day before serving.
Nutrition Facts
No Crust Pumpkin Pie
Amount Per Serving
Calories 214
Calories from Fat 45
% Daily Value*
Fat 5g8%
Cholesterol 95mg32%
Sodium 232mg10%
Potassium 305mg9%
Carbohydrates 35g12%
Protein 6g12%
Vitamin A 9055IU181%
Vitamin C 3.2mg4%
Calcium 161mg16%
Iron 1.4mg8%
* Percent Daily Values are based on a 2000 calorie diet.