Crustless Pumpkin Pie is a twist on traditional Pumpkin Pie. Naturally gluten-free, this easy custard no crust pumpkin pie delivers the flavors you love without any fuss!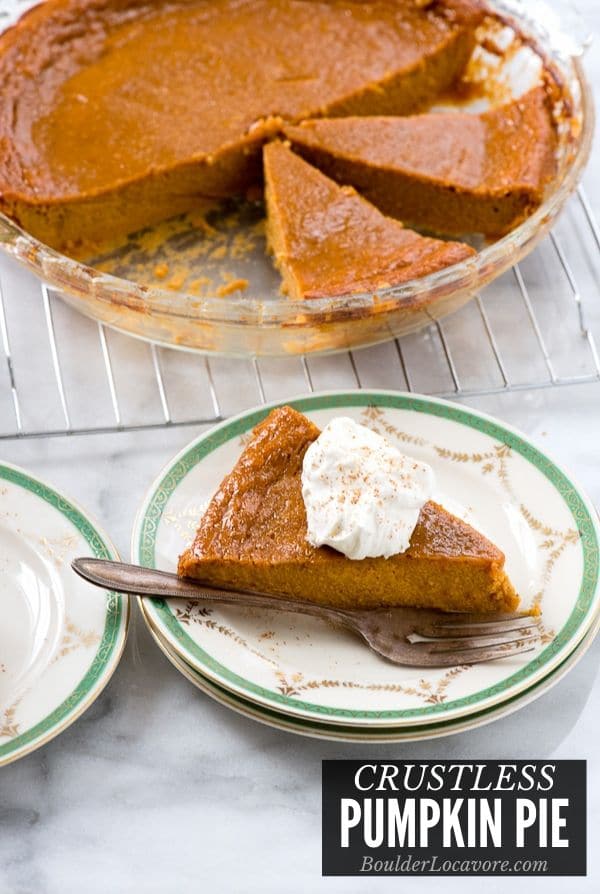 Pumpkin Pie recipes are the signature of fall and Thanksgiving. It's almost everyone's favorite.
The homey aroma of the pies baking makes it hard to wait until taking the first bite!
This easy pumpkin pie recipe will get you to the bite even faster.
Crustless Pumpkin Pie is made of the best part of pumpkin pie!
Crustless Pumpkin Pie
If you haven't had a No Crust Pumpkin Pie it reminds me of a pumpkin flan.
Stripped away are the carby flavors of the crust leaving only the beautiful filling.
It has a caramelized flavor from being cooked without a crust.
This recipe is based on a recipe from the 1930's I found in a pack of vintage recipes.
Now it will become a favorite in YOUR family!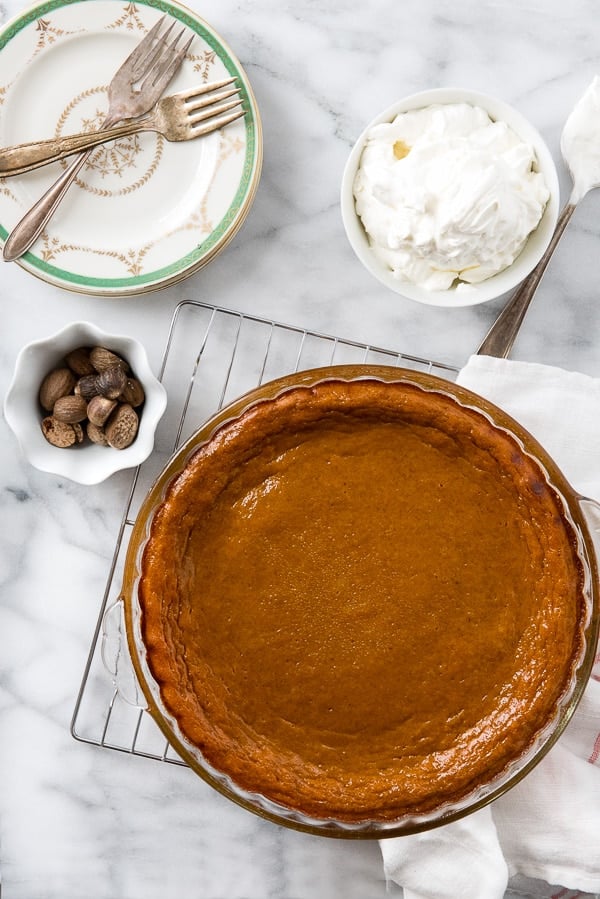 Pumpkin Pie Ingredients
This recipe is made with pumpkin puree that is sweetened and nutmeg is added
Eggs
Granulated White Sugar
Dark Brown Sugar
Cinnamon
Pumpkin Puree
Nutmeg
Kosher Salt
Evaporated Milk
Grated Nutmeg
Ground nutmeg gives that familiar homey flavor to this easy pumpkin pie.
Did you know you can grate your own nutmeg too? Use whole nutmeg and grate them with a fine grater.
The flavor is even fresher and more aromatic than store bought nutmeg
Pumpkin Puree
Use pumpkin puree for this recipe. Not canned pumpkin pie filling.
Store bought or homemade pumpkin puree can be used.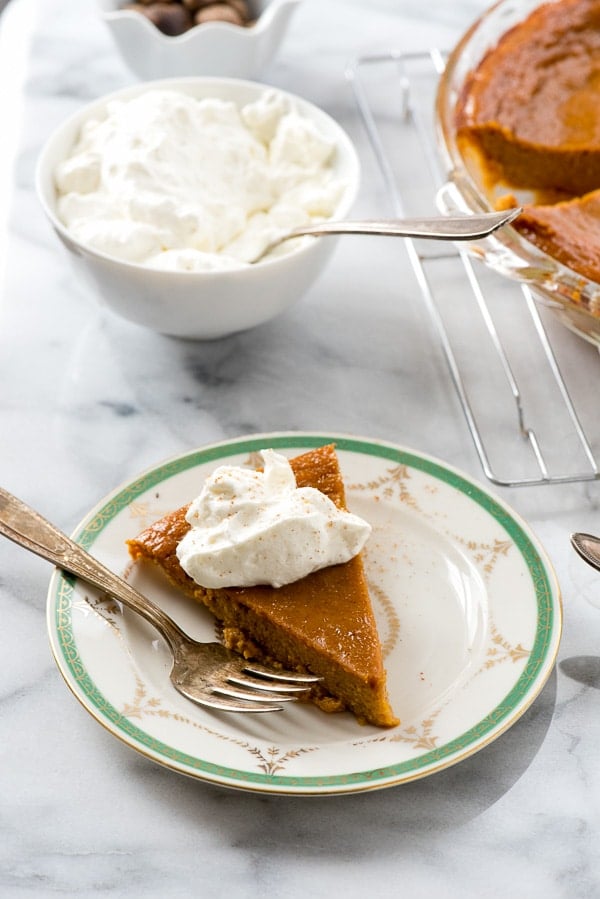 How to Make Crustless Pumpkin Pie – Step-by-Step
This recipe got a big thumb's up from my family and really couldn't be easier to make.
Detailed printable recipe card at the end of the blog post.
STEP 1: Preheat the oven to 350 degrees. Spray a 9 ½ inch pie pan with non-stick spray (bottom and sides to the rim).
STEP 2: Beat eggs with a mixer. Add remaining ingredients, beat on low to combine.
STEP 3: Place prepared pie pan on a rimmed light-colored baking sheet.
STEP 4: Pour mixture into the pie pan. Bake for 50 minutes; test for doneness and if ready remove from oven and place on a cooling rack
STEP 5: Allow to cool for 2 hours before slicing or placing in the refrigerator to chill.
Pro Tips for Baking this Pumpkin Pie
Spray the pie pan on the bottom and sides up to the rim with no-stick cooking spray. The pumpkin pie will rise as it bakes as custard pies do.
It will then settle as it cools. Coating the sides up to the rim prevents sticking.
Use a regular depth pie pan. Do not use a deep-dish pie pan.
Make sure eggs are room temperature. To quickly warm them place them in a bowl of warm (not hot) water to cover the eggs.
Allow them to sit 5 minutes or until they are no longer cool to the touch.
Bake on a light-colored baking sheet. Dark baking sheets become hotter and will cook faster.
Do not overcook it or it will crack (but still taste delicious).
Test the pie toward the end of the baking for doneness. When a knife inserted into the middle of the pie comes out clean, it's done EVEN if it looks a bit jiggly; it condenses as it cools.
Allow the pie to cool completely before cutting and serving. If planning to serve later, cool fully on a cooling rack before putting into the refrigerator.
May be made the day before serving. Perfect for busy cooking holidays like Thanksgiving.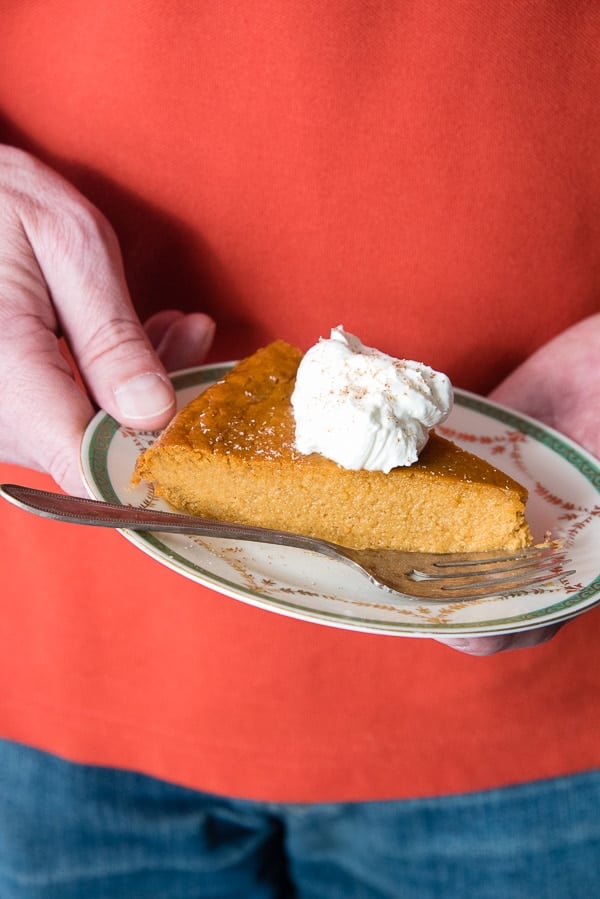 Did you make it? Please RATE THE RECIPE below!
Please SUBSCRIBE and FOLLOW ME on FACEBOOK , TWITTER , INSTAGRAM and PINTEREST !
Originally published: November 18, 2016