Light, fresh recipes are what we love in the springtime and this Instant Pot Baby Carrots with Mint recipe is no exception. The added benefit is it has almost no prep required, only a few ingredients and cooks in a flash leaving perfect consistency carrots.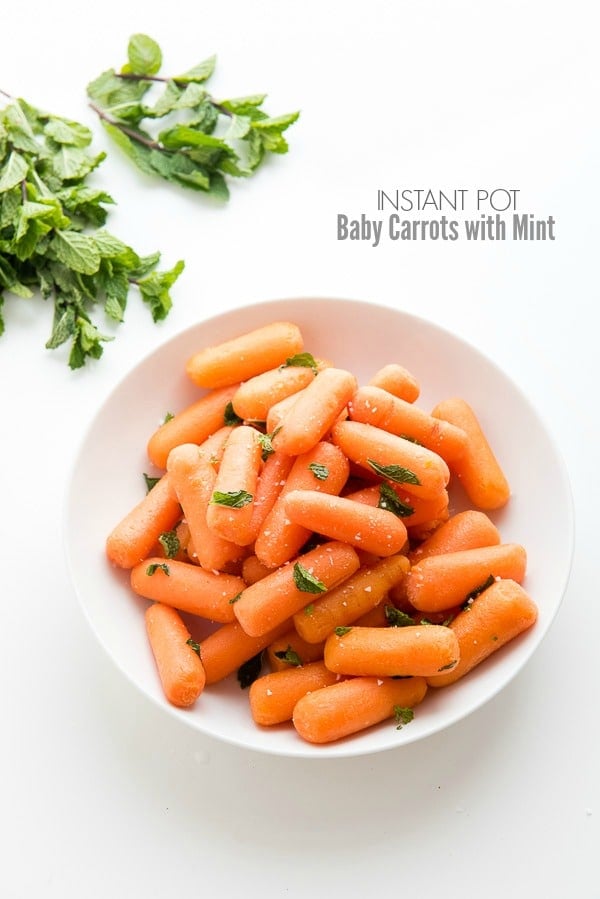 With Spring officially having arrived (on the calendar at least) a light, fresh side dish seemed a good recipe to share. Easter menu planning will be here in the blink of an eye too making Instant Pot Baby Carrots with Mint a fantastic choice. When you see how easy and fast it is to make, I think you'll agree.
Cooking carrots in my experience is a total Goldilocks endeavor. They always seem to turn out too soft (read: mushy) or still so crisp that their full cooked flavor does not shine through. I'm a person who prefers them cooked just past the point of being crunchy so they still have a sturdy constitution without being hard.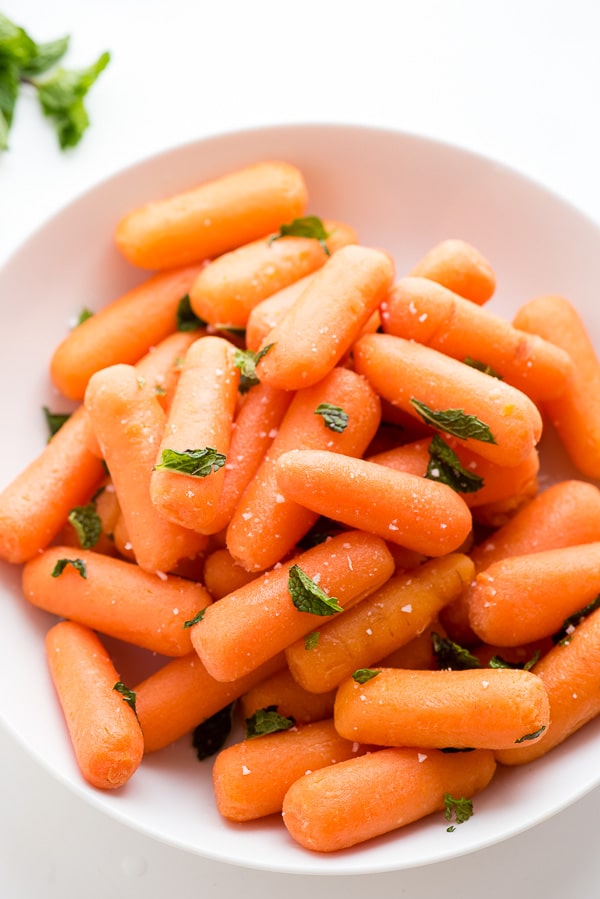 I have a very traumatic memory of the first time attempting to cook carrots. I had invited over some co-workers for dinner and wanted to whip up an impressive meal. I completely bit off more than I could chew.
I picked 4 or 5 recipes I think, all from an impressive cookbook. I did not have much experience planning the timing of multiple recipes at once and despite my best efforts, the carrots, which were to be boiled initially, took for-e.v.e.r. Like hours it seemed. At one point the co-workers were in the kitchen, with sleeves rolled up, at the stove trying to help but those darn carrots were never going to cook properly. Finally they were scrapped.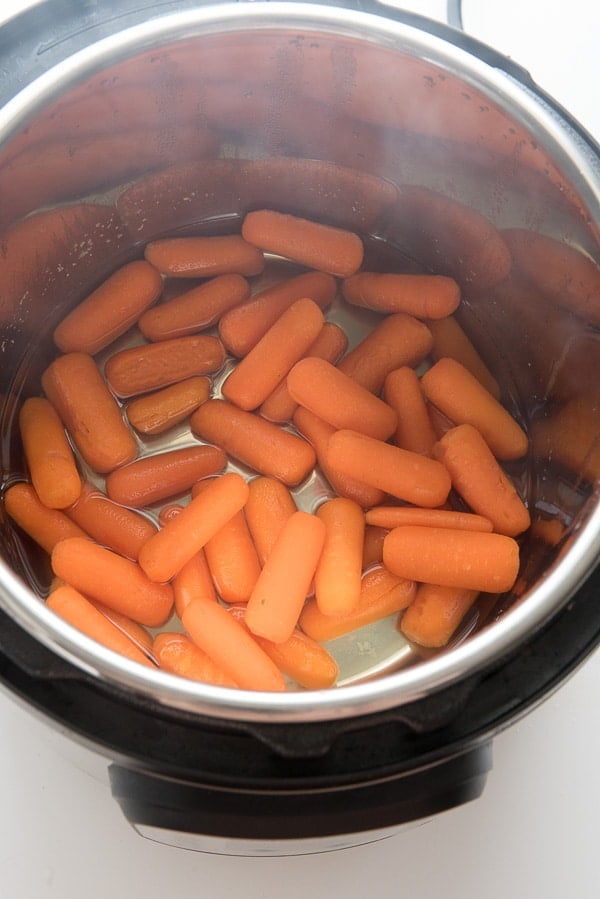 Regular readers will know that I have a hit list I'm whittling through for my new'ish Instant Pot. I made a beautiful Cuban Beef Stew, a nourishing comforting Hearty Chicken Soup. I've broken the code on Making perfect Instant Pot Hard Boiled Eggs. Most recently I mastered the most creamy, dreamy Instant Pot Gluten-Free Macaroni and Cheese with Green Chilies (truly the best comfort food in my book).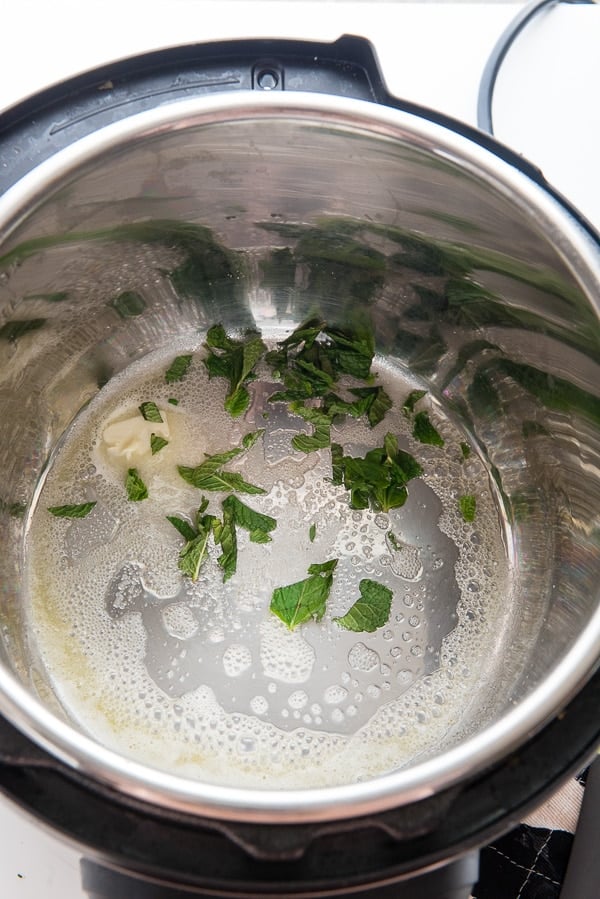 It seemed time to test the 'IP' on cooking carrots. I felt convinced if there was a possibility of getting carrots right, the Instant Pot may be the ticket. As predicted, it did not disappoint.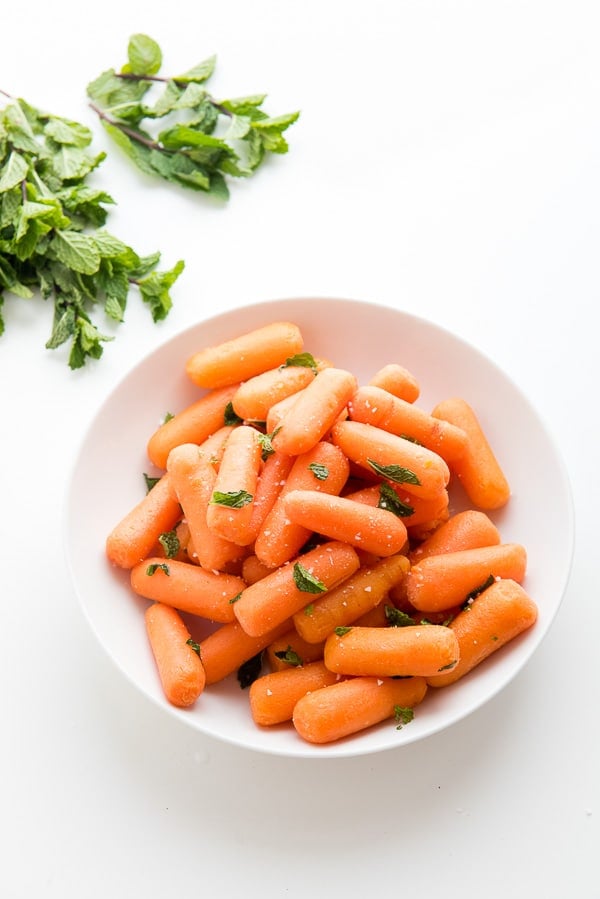 The Instant Pot baby carrots with mint are cooked for 2 minute on high pressure when sautéed briefly with butter and fresh mint still in the Instant Pot. The carrots turn out 'just right'; not too soft, though fully cooked. We had a full family taste test and assessment with everyone (a group very picky about their cooked carrots I'll add) giving a thumbs up.
Mind-Blowing Instant Pot Tips You Need to Know!
After developing Instant Pot recipes for the past few years, I've uncovered some unexpected, useful tips I think you'll want to know!
Sign-Up below and I'll tell you all my Instant Pot secrets!
No Instant Pot? If you like using a spiralizer this Colorful Roasted Spiralized Carrots with Mint and Dill is delicious too!