You'll never buy cranberry sauce after making this simple, 4 ingredient recipe for Fresh Cranberry Orange Sauce. Fifteen minutes to cook and you are done! Can be made the day before serving.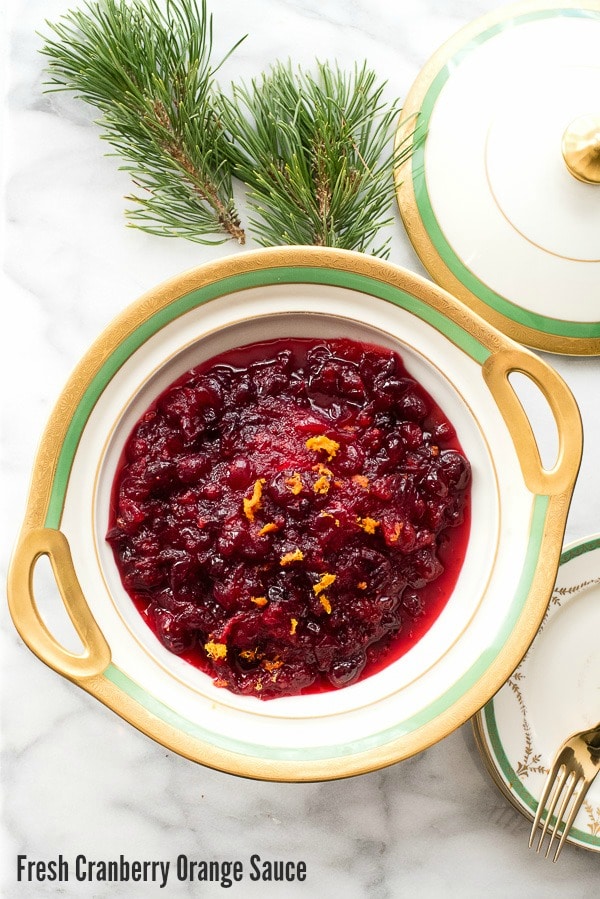 I have very distinct memories of the large Thanksgiving dinners of my youth. The most vivid are those when I was in first and second grade. We lived in Utah while my step father was getting an advanced degree at the university.
I had cousins in Salt Lake City so for holidays we pack up and drive down there to join a huge group for buffet-style feasting. I have food memories of those feasts which were very impactful. The shock and horror to learn what I thought were orange juice soaked mashed potatoes were something called sweet potatoes and that was their natural color and flavor for instance. The mini marshmallows really put it over the top for me. It was the side dish I'd take the obligatory scoop of and try my hardest to swallow it without letting it touch my tongue.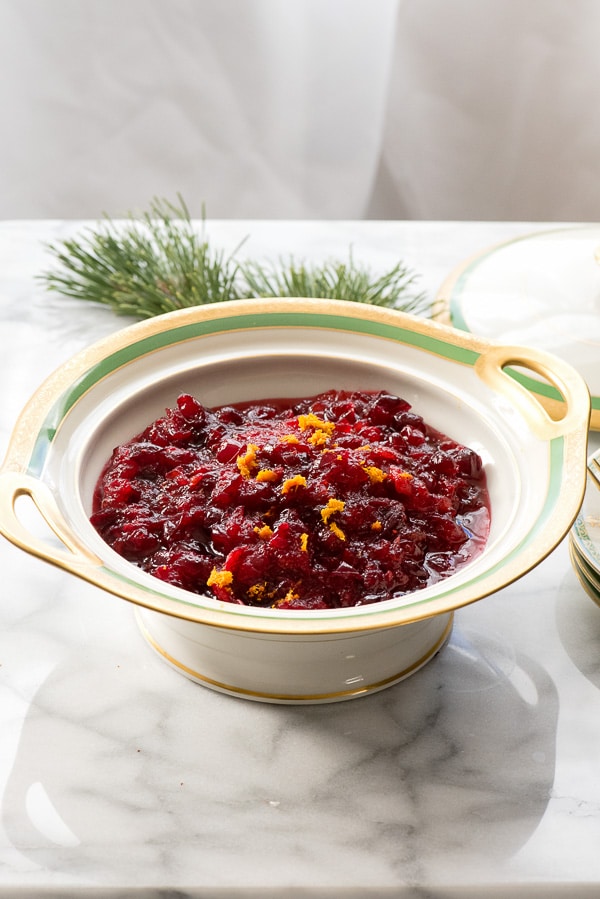 I always loved the 'crunch', which was our lexicon for turkey skin. Regular mashed potatoes were the best. Gravy? No thank you. Stuffing? Not so much. It was dry and made from a boxed mix. Now as a mom and busy adult, I get the cutting corners and at the time I'm sure it was very en vogue to not cook from scratch all the time. Though I'll add I'm a from-scratch dressing (I don't cook it in the bird as they used to) girl.
I like cranberry sauce. I like it a lot actually. And Thanksgiving never wouldn't be the same without it. However, it never is in the direct limelight, it's more like the relative who gets along with everyone; not the star of the event but mixes well with the other guests. Cranberry sauce goes with every other Thanksgiving dish, and makes it better if you ask me. Its sweet, tangy flavor is a signature of the season.
As a child, I was fascinated by the tube of cranberry jelly served at the Thanksgiving table. I could not figure out how the perfect lines were made going around it not realizing it was from a can. Slicing off a serving and hoping it wouldn't fall off my fork was always a bit stressful. I did not want to be the one to stain the tidy white tablecloth.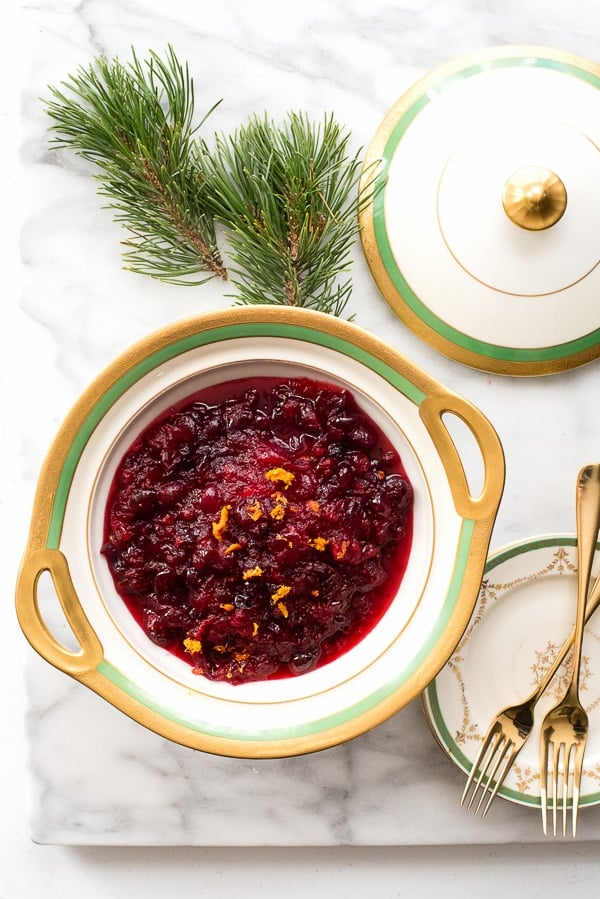 Though as an adult I'm sort of fascinated to go back and try that canned cranberry jelly, I always make cranberry sauce from scratch. I was astonished when I attempted my first Thanksgiving to learn it is by far the easiest and fastest recipe on the menu.
I've shared a few cranberry sauce recipes on Boulder Locavore. Slow Cooker Cranberry-Pear Sauce and Spicy Honey Cranberry Sauce and two fun versions. But the simplest is one a friend's mother gave me when I was just out of college. Her version was molded into a mold; my spin on it is more free form. Fresh Cranberry Orange Sauce is a mix of three ingredients: fresh cranberries, orange juice (I prefer freshly squeezed), some of the zest and sugar. It's all combined in a saucepan and boiled until the cranberries burst; about 5 minutes. Left to cool it thickens and becomes a textured sauce that goes with everything (including those Thanksgiving Leftovers Bacon Provolone Pita Pockets I shared).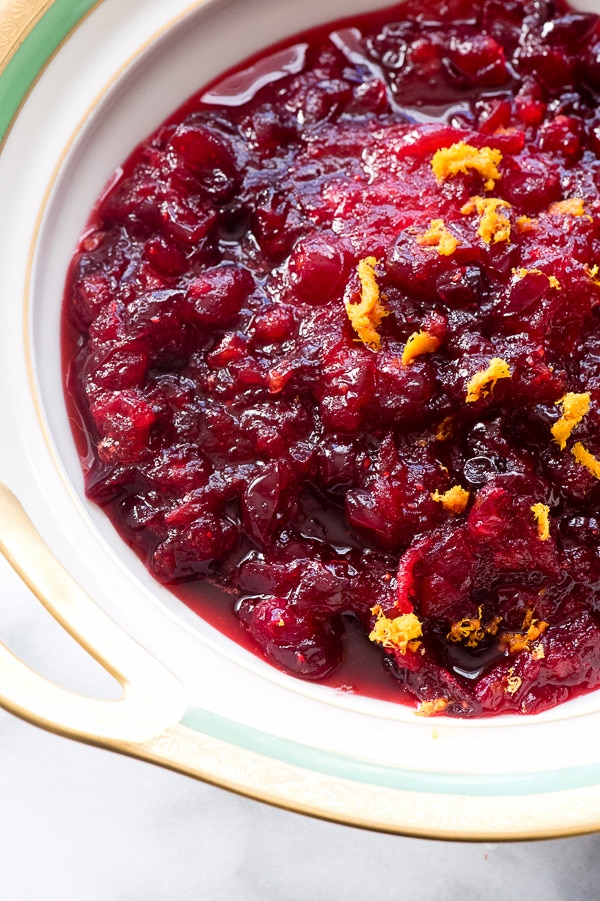 I think you'll love this Cranberry Orange Sauce and I know you'll love how little time it takes! It can be made the day before Thanksgiving so it's off your cooking roster on feast day.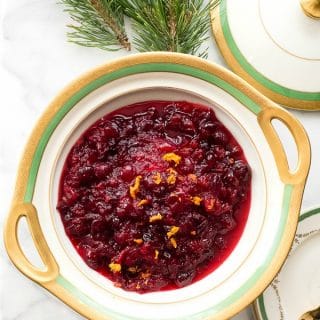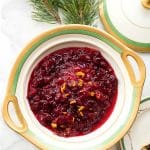 Fresh Cranberry Orange Sauce
This easy cranberry sauce is made with wholesome ingredients with bright flavors. Sure to be the hit of the dinner table.
Servings
8
1/4 cup servings (makes 2 cups)
Ingredients
12

ounces

fresh Cranberries

, rinsed

1

cup

Granulated Sugar

2/3

cup

freshly squeezed Orange Juice

Zest of 1 medium Orange
Instructions
Combine all ingredients in medium saucepan over medium high heat. Stir to dissolve the sugar and bring to a boil. Boil, stirring periodically, until all the cranberries burst (about 5 minutes).

Remove from heat and allow to fully cool. Note: the sauce will thicken as it cools.
Nutrition Facts
Fresh Cranberry Orange Sauce
Amount Per Serving
Calories 125
% Daily Value*
Fat 0g0%
Cholesterol 0mg0%
Sodium 1mg0%
Potassium 77mg2%
Carbohydrates 32g11%
Protein 0g0%
Vitamin A 65IU1%
Vitamin C 16mg19%
Calcium 6mg1%
Iron 0.1mg1%
* Percent Daily Values are based on a 2000 calorie diet.