This elegant, taste-of-fall Baked Brie could not be a more simple or fantastic appetizer! Keep a secret? It can be whipped up in about 20 minutes. No one will ever know how easy it is!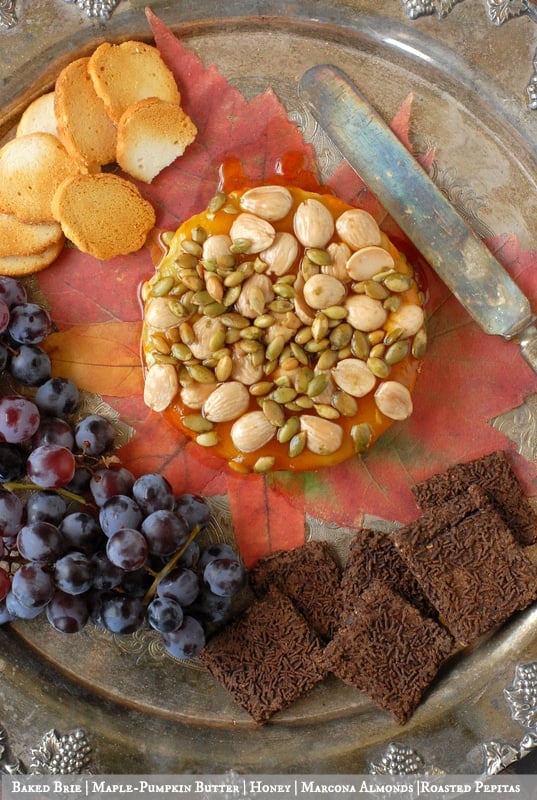 Along with cooler weather comes more entertaining. Casual gatherings, dinner parties, holiday parties all prompt the need for innovative recipes featuring flavors of the season. Can I share a secret with you? The recipe I'm sharing today is THE easiest recipe you'll find and delivers a big bang when entertaining: Baked Brie with Maple-Pumpkin Butter, Honey, Marcona Almonds and Roasted Pepitas.
If you were to look for 'baked brie' recipes you'll find two types: baked brie 'en croute' and baked brie. The former wraps the brie in puff pastry, or another pastry type wrapper when baking. The recipe I'm making today is the latter style, which bakes the cheese with toppings and no wrapper.
Baked brie has to be one of the most versatile appetizer options available. It can be topped with any type of preserves and the flavors transform for the occasion. In this case I wanted something perfect for fall, which could be served anywhere from a Halloween party to a cocktail party.
The hardest part of the recipe? Carefully slicing off the top of the brie. Use a sharp knife and watch your fingers. The top of the cheese is not totally flat so go slowly and be sure to get the entire top layer removed. Other than that it's a breeze.
Pumpkin Butter is a soul-warming treat in the fall and this version folds in dark brown sugar, applesauce and maple sugar making it deep with flavor and perfect for everything from topping pancakes to spreading on toast. There is plenty leftover to use on other dishes (maybe oatmeal with pecans?). Adding to the baked brie brought a taste of autumn into the dish.
A quick note on Marcona Almonds in case you are not familiar with them. They are imported from Spain and a different variety than the traditional almonds those in the U.S. are accustomed too. Marcona almonds are light in color, skinless when found in stores, bearing a flatter visual appearance, sweeter flavor and more delicate texture. They generally are purchased in oil and have a fantastic flavor perfect to combine with a dish such as this baked brie.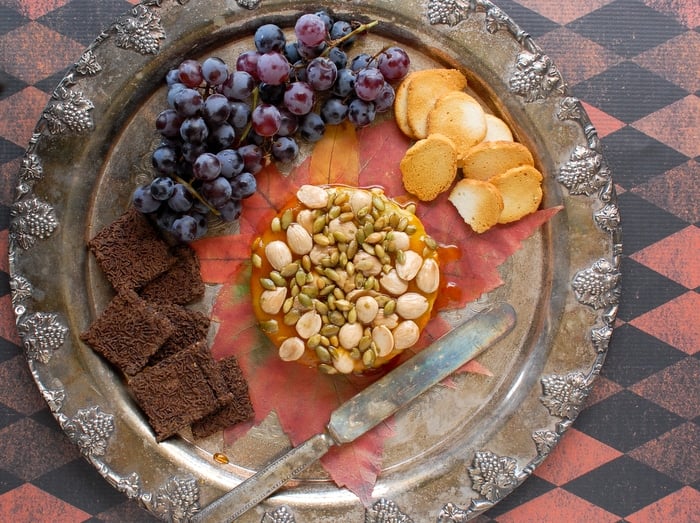 I'm sure once you try this recipe you'll think of a thousand ways to change it up for the season!