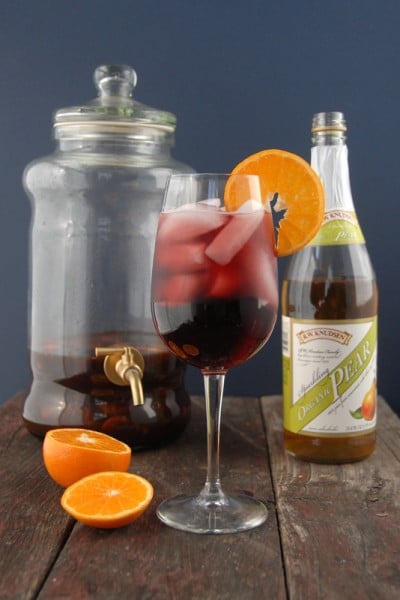 Last weekend when I was in Snowmass Colorado for the Snowmass Wine Festival I enjoyed a 4 course paired dinner featuring Spanish wines. During the mixer hour, Tapas and Sangria were served bringing back fond memories of a week spent in Barcelona. While there I took very descriptive notes, originally for the purpose of my daughter's scrapbook who was 3 at the time, risking no memory of our adventure, though the travelogue has served as guidance for friends many times since. I had recorded everywhere we went and everything we ate and drank, having enjoyed every morsel!
Like me, my husband loves food and wine. He also is an incredible source of information, invoking things he's read from myriad sources with uncanny recall. Thanks to the breadth and depth of his interest, our week on the Northeast coast of the Iberian Peninsula was dense with discovery and fabulous food. Relying on his high school Spanish (with much more impressive command than what is left of my high school French) we wound through back alleys to discrete shops cited in old issues of Saveur magazine to amass supplies to make traditional Spanish dishes including paella at home; ceramic pans, black truffles, Arborio rice, Marcona almonds still glistening from roasting in olive oil.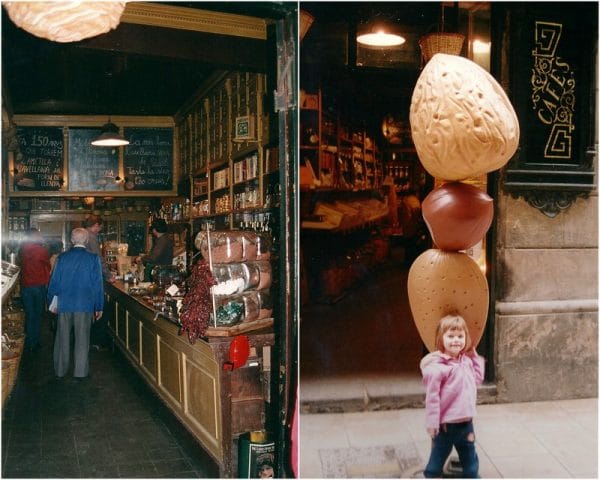 We enjoyed good food and wine everywhere we went in every price point. I loved dining on Tapas, being one who likes 'choices', having a sampling of many things spoke to my explorative nature. My husband's Spanish did us well with only one slip. At a lovely outdoor café in Barceloneta, Café En Mamel, known for its exceptional paella he ordered what he thought was a chicken dish for our daughter. With only one letter difference from a calamari dish, we ended up with a heaping plate of (delicious) squid. After 30 minutes of being told it was 'Spanish chicken' our daughter wasn't buying it so we happily ate it and took her next door to the Gelataria for ice cream instead.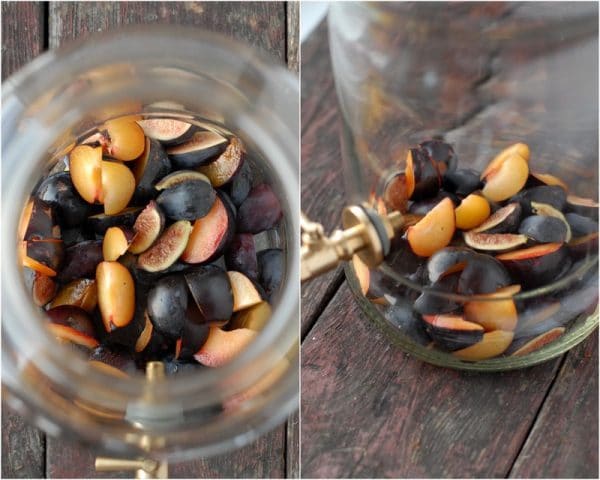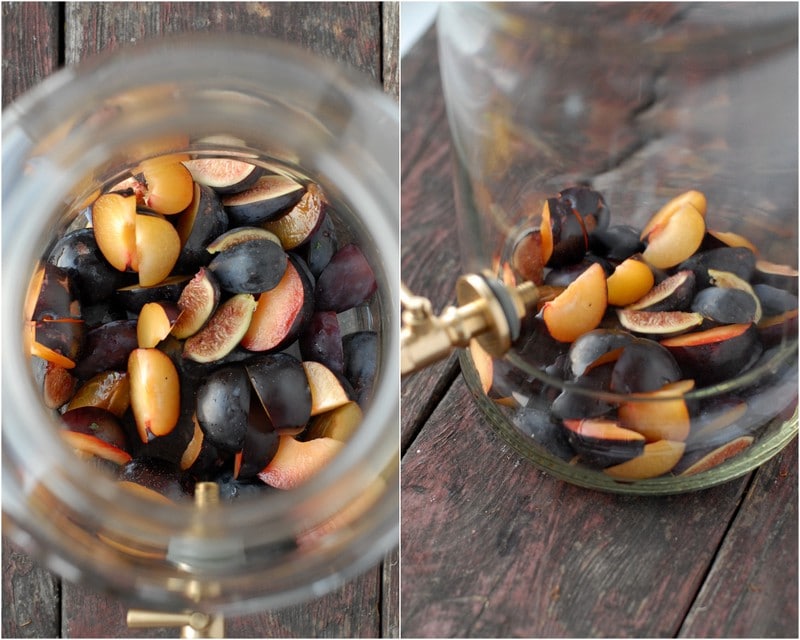 In addition to the beautiful Spanish wines we drank Sangria, the fruit and wine punch with long roots back in the Spanish culture. Sangria is a chilled drink having allowed select fruits to sit for some time in red wine before serving, infusing their flavors into the wine. Traditionally it is strained using a Spanish Sangria pitcher with a pinched spout and then embellished with sparkling wine, sparkling juice or sparkling water and sometimes also with brandy. There are many different recipes from those featuring summer fruits (click here for one of my warm weather favorites), to all white versions.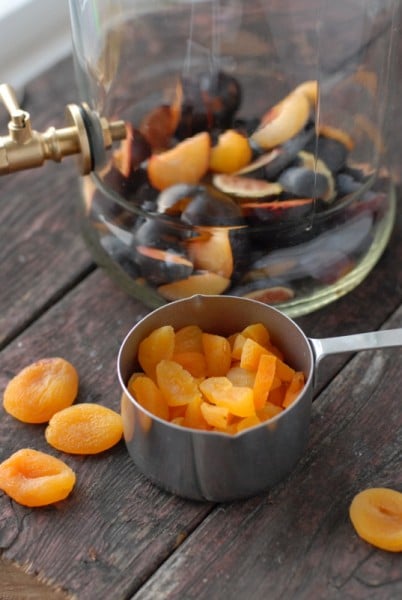 They say there is nothing worse than listening to someone else's vacation! The least I could offer after toting you along on my flashback would be some sangria you can make yourself! This version really features the fruits of early autumn, made effervescent with Sparkling Pear Juice.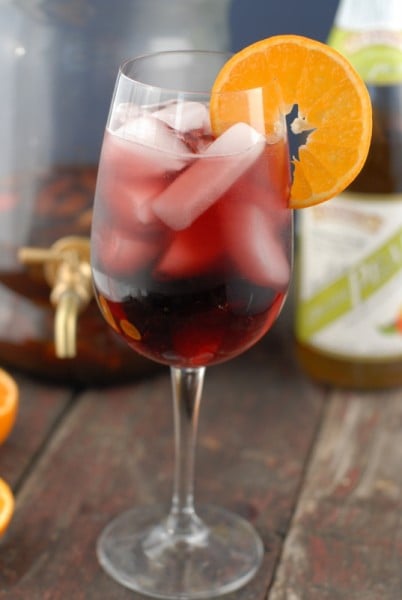 Recipe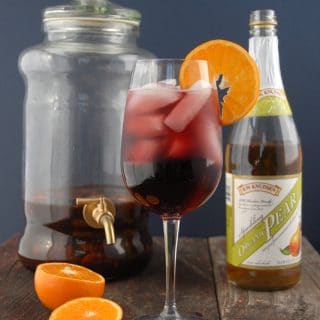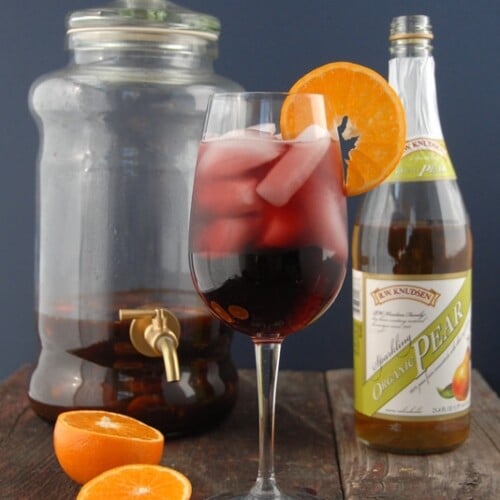 Autumn Sangria
This festive, fall version of Sangria celebrates early fall fruit and is made all the more unique by the addition of Sparkling Pear Juice. It is simple to prepare with the bulk of the time duration being the infusion of the fruit into the wine.
Print
Save Recipe
Recipe Saved!
Pin
Rate
Ingredients
4

fresh figs

, quartered

6

small

(or 3-4 large) plums, pitted and cut into wedges

¾

cup

of dried apricots

, sliced

2

ripe but firm pears

, cored and cut into wedges

1 750

ml

bottle of Pinot Noir

(or other light red wine such as Gamay)

1 750

ml

bottle of Sparkling Pear juice

(or sparkling apple cider if pear is unavailable)

Orange slices for garnish
Instructions
In a 3 quart glass jar or container add all the fruit and red wine. Seal or cover and chill for 24 hours (or longer).

If serving a large group, strain the sangria into a serving bowl and add the bottle of sparkling pear juice. Fill glasses with ice, pour in sangria and garnish with an orange slice. If preparing single servings (not using the entire batch of sangria), add equal parts of sangria and sparkling pear juice to ice filled glasses; garnish with orange slice.
Nutrition
Calories:
217
kcal
|
Carbohydrates:
38
g
|
Protein:
1
g
|
Fat:
0
g
|
Saturated Fat:
0
g
|
Cholesterol:
0
mg
|
Sodium:
9
mg
|
Potassium:
450
mg
|
Fiber:
3
g
|
Sugar:
26
g
|
Vitamin A:
655
IU
|
Vitamin C:
38.9
mg
|
Calcium:
34
mg
|
Iron:
0.6
mg