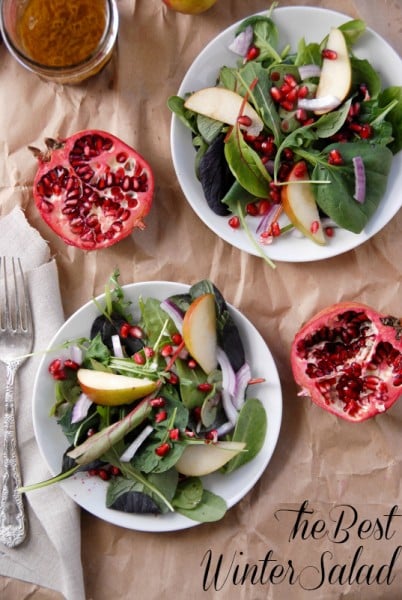 Did you ever see the movie 'Willy Wonka'? Do you remember the scene when the contestants and their accompanying parent made it through the madcap start of their journey to arrive in the Wonka inner sanctum with the chocolate river, edible foliage and Oompa Loompas? Willy Wonka told them they could eat anything they chose and most dove in as though they'd been on a hunger strike before coming.
Augustus Gloop, the rotund, gluttonous German boy, shoved the candy edibles in his mouth so spastically it was uncomfortable to watch. It seemed to expose some deep-seated inner issue. Though not quite as ferocious, that is how I am with salad once the New Year arrives. I don't embarrass myself in front of fellow diners but am ravenous for salad. But for winter salad. There is something digital about the end of December, leaving me crawling figuratively on hands and knees, from the Land of Sweets into a healthier food phase. It's not even conscious, and it's not about trying to lose weight or get healthier (which is a great side effect); it's a bit like having been lost in a desert, emerging parched and desperate for water. Only it's greens I seek.
I am currently obsessed with a particular winter salad. Cold weather baby greens adorned with slices of red onion, Seckel pears and pomegranate seeds with a drizzle of Apple Cider Vinaigrette. The variety of heartier greens are loaded with flavor and visual presence; arugula, baby red chard, and spinach. The young varieties of these greens are soft and dense with nutrition as well. The pomegranate (full of antioxidants) gives some sweetness but it's really their crunch which I love. The onions add a spice and full flavor. The diminutive Seckel pears also contribute sweetness with crunch. I love everything about it; the unkempt look of it, the smell, the flavors, its variety and balance. Because it's made with cold weather greens it slips naturally into our daily seasonally-inspired meals. (Kids love it too!)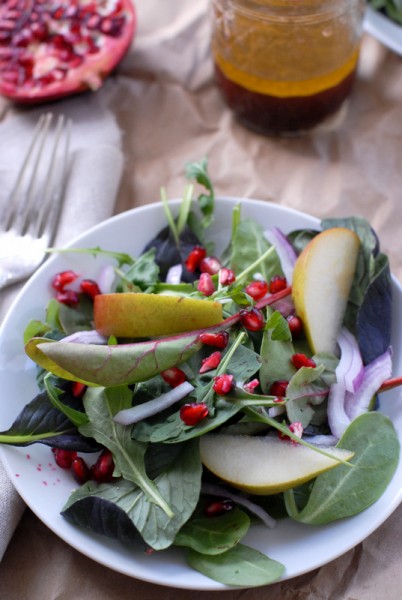 I've included a basic Apple Cider Vinaigrette recipe but two others that are also delicious and perfect for Winter Salads: Tangerine Balsamic Vinaigrette and Apple Cider Beet Vinaigrette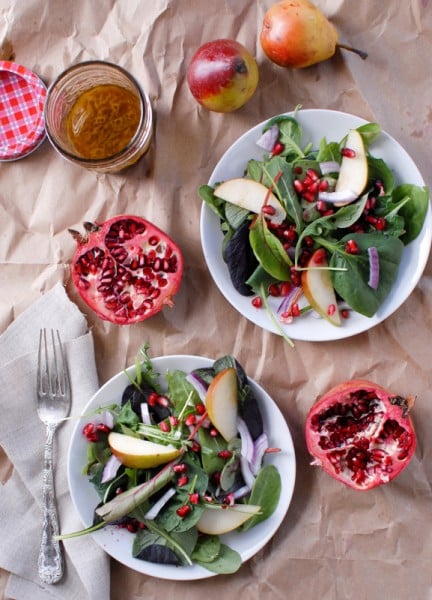 In the spirit of a delicious and healthy start to the year I'm sharing some more recipes that might be of interest. To be clear, it has to taste good for me to be interested. I'm as keen on healthy eating as the next girl but not unless it's a visual and flavorful celebration!
SOUPS and SALADS
Split Pea Soup with Red Wine and Ham
Roasted Pumpkin and Cannellini Bean soup
Anasazi Bean and Roasted Chile soup
Spicy Mustard Mint Mizuna salad with Tangerine-Balsamic
Arugula Apple-Beet Candied Pecan Salad
SIDES and DESSERT
Homemade Applesauce (no sugar)
Three ingredient No Bake Berry Tart (any berries can be used)
MAIN DISHES
Peanut Encrusted Pork Tenderloin
Walnut Meyer Lemon Pesto with Brown Rice Penne
Costa Rican Gallo Pinto (beans and Rice)
Toasted Pistachio Arugula Pesto with Brown Rice Fusili Pasta
WATER, WATER, WATER!
We hear it all the time 'Drink More Water!' but do you? Living at altitude we especially notice when we don't hydrate adequately. One trick to make it easier is to infuse your water with herbs, fruits and/or vegetables. In addition to Mint Water which I make all the time in the summer, I found a fabulous post about Infusing Coconut Water on Fuss Free Cooking. Coconut Water is super hydrating, and who could pass up these gorgeous infusions?!
For more delicious suggestions, check out my Pinterest Board 'Healthy Goodness' for no-compromise, beautiful food with big flavor!