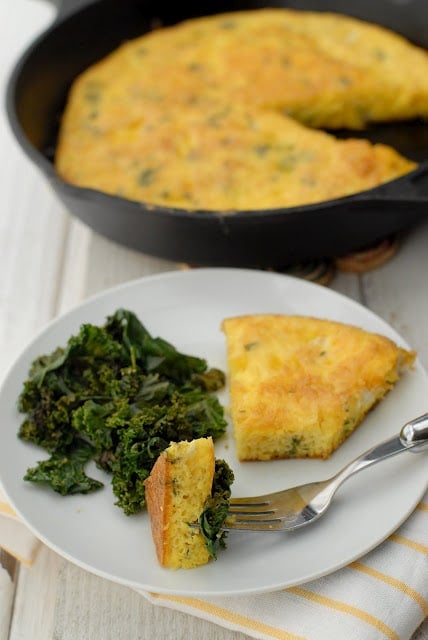 I discovered duck eggs two or three years ago at my CSA farm, Cure Organic Farm, and it was an instant love affair for me. I was immediately enchanted by their different colors, their larger size and of course the seeming novelty about them. I bought a dozen during my winter CSA share, with no idea what to do with them, and Anne Cure (farmer) suggested they are great in baking so I baked.
Throughout the late fall I used them in more and more dishes and was officially addicted by mid December when my winter share ended. I parted, with one last dozen, and confessed to Paul Cure I felt sure I'd need a 12 step program for duck eggs by mid January (he sweetly assured me if I was ever unable to 'take it' I could call them and they rustle me up a dozen). I did make it over the winter but will admit thinking of them often!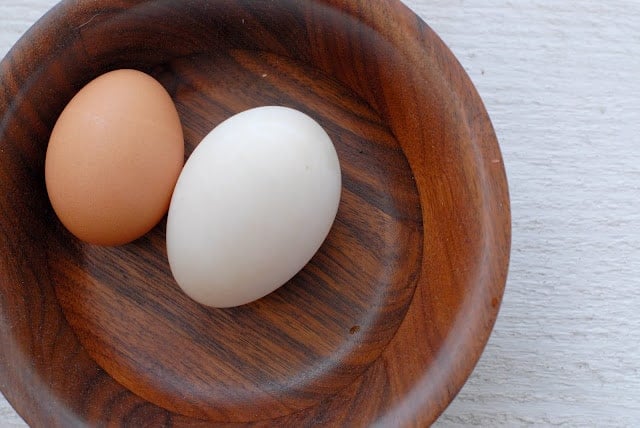 Duck eggs are larger than chicken eggs, sometimes almost double in size. A large part of their volume is in the deep golden yolk, which also can be almost double the size of a chicken egg yolk and is full of rich, fats and nutrients. Overall the duck egg has more nutrients than a chicken egg including more protein in the white.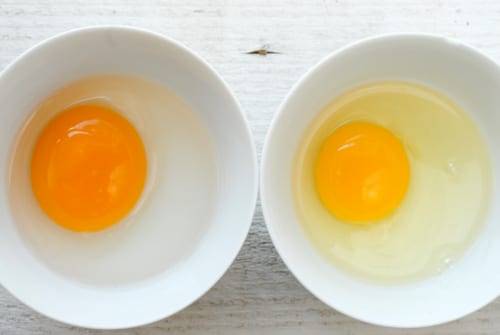 The duck egg is on the left, the chicken egg on the right
Duck eggs are more expensive (usually double chicken eggs) which has to do with ducks' egg laying habits. A duck's output is less than a chicken's; they lay maybe every other day unlike a chicken which will lay eggs daily. This makes the eggs more expensive with regard to the cost/egg for a duck versus a chicken. Ducks also will bury their eggs making it more like a scavenger hunt to find them at times than the straight forward task of gathering chicken eggs from a coop. When the ducks at Cure Organic Farm moved from sharing ample dry land quarters with the farm chickens to a spot I refer to as 'the resort' (a great pond with adjoining shelter) the availability of eggs dropped significantly as many of the duck eggs were ending up on the bottom of the pond.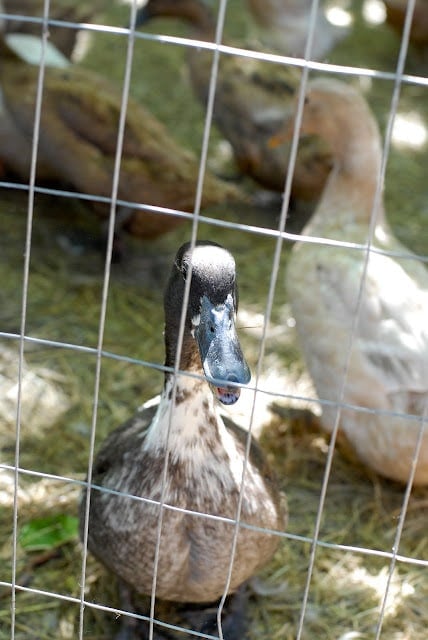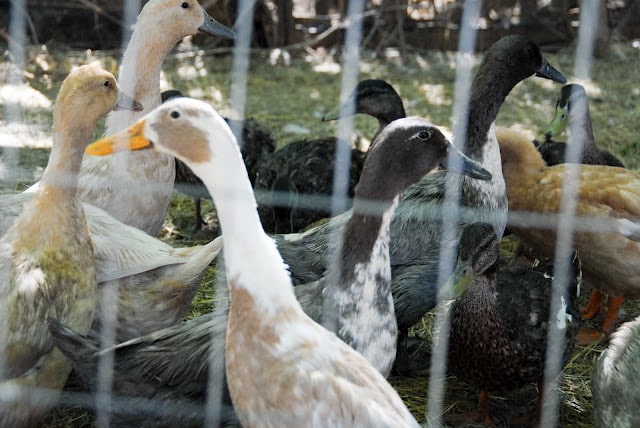 The ducks at Cure Organic Farm are varied in species, all producing slightly different color eggs.

Their diet is rich in organic matter which undoubtedly improves the quality and taste of the eggs.

CSA member often spare their fresh, organic carrot tops for the delight of listening to the chattering ducks flock to devour them.
At any time of year I appreciate some quick meal ideas but especially still suffering the summer heat, a Frittata is a favorite of mine. It's quick and simple as well as offers unlimited options to dress it up or pair it with delicious seasonal toppings. I've used both duck and chicken eggs in the following frittata but you can certainly use chicken eggs solely if that is what is available to you.

FRITTATA with GARLIC KALE
STEP 1: Preheat the oven to 400 degrees.
STEP 2: In a large bowl beat the eggs with some salt and pepper and stir in the basil and the Parmesan cheese.
STEP 3: Place olive oil in a heavy, oven proof skillet at medium-high heat. Pour in egg mixture and lower the heat to medium-low. Cook, without touching/stirring, until the bottom is firm; about 10-15 minutes.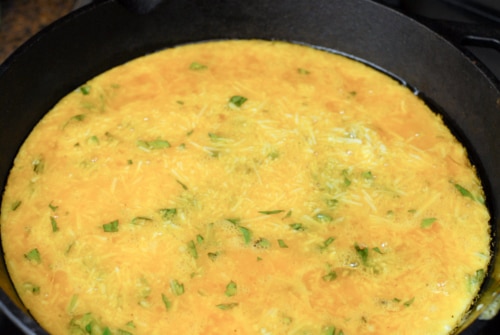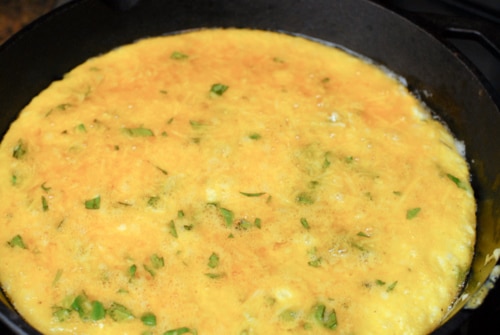 Frittata after 5 minutes cooking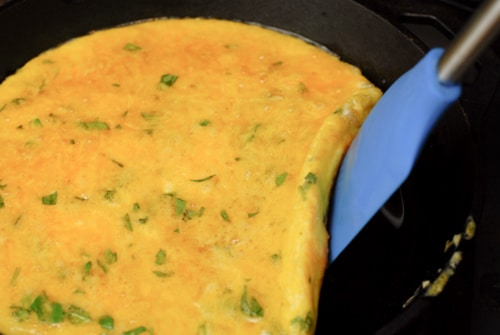 Frittata after 8-10 minutes cooking
STEP 4: 4. Place in the heated oven to allow the top to complete cooking to a golden brown, an additional 10 minutes. Serve hot or at room temperature.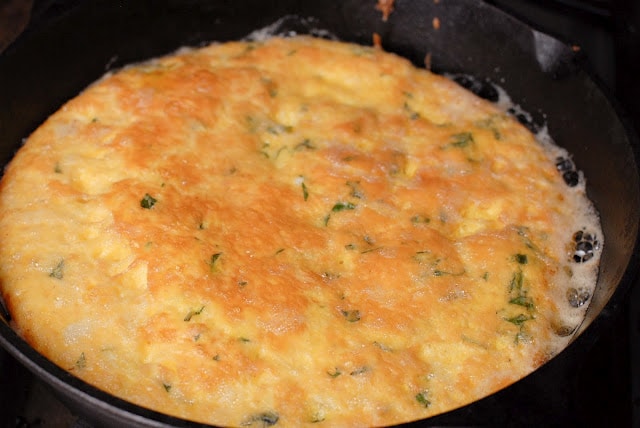 1.
Wash and strip kale from center stem.

This is easily done by starting at the bottom of the leaf at the stem and pulling toward the top of the leaf along the stem; it will pull right off the stem in large pieces.

Roughly chop the kale into large bite-size pieces (it will wilt some).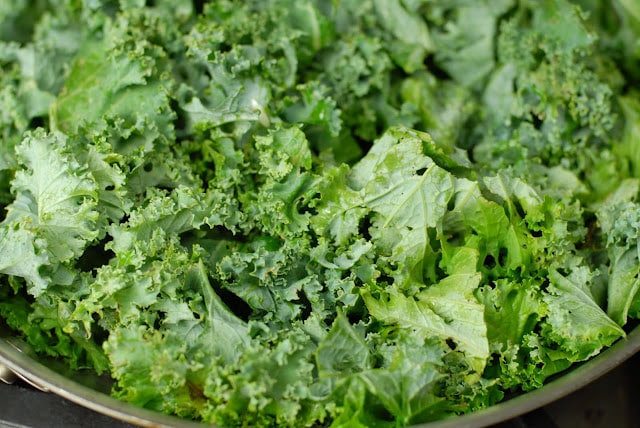 2.
Heat the olive oil in a large, heavy skilled on medium heat.

Add the minced garlic and sauté 2-3 minutes until fragrant.
3.
Add the kale and cook, stirring occasionally on medium heat for about 10 minutes when the kale has begun to wilt.

Note:

with Curly Kale it will not wilt completely like softer greens.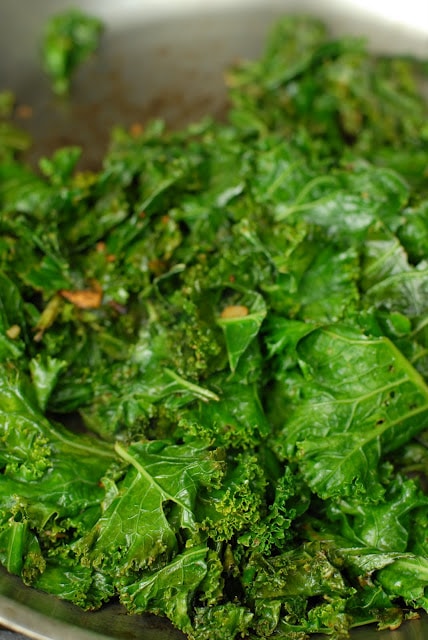 As mentioned before the combinations for this dish are endless. You can put different herbs in the frittata. Mexican toppings would be great (Gallo Pinto, salsa, a tomato based sauce). Other sautéed seasonal vegetables. It's like a polenta in its flexibility and can't be beat for a fast delicious meal.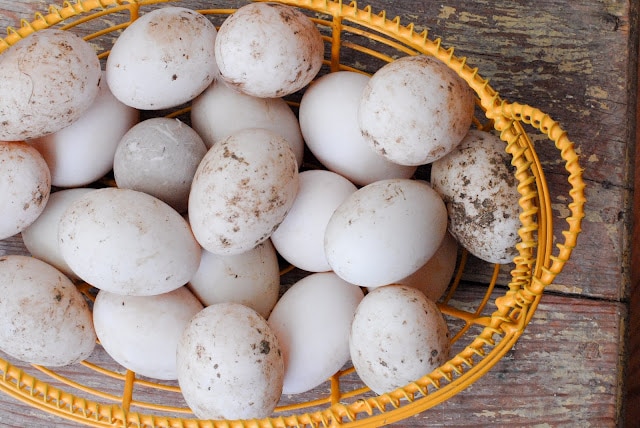 WHERE TO BUY DUCK EGGS: In the Boulder Colorado area Cure Organic Farm and Grant Family Farm (Wellington CO) both have them though I'd inquire first. Supply is often not predictable and Cure Organic Farm also supplies them to local restaurants.
I also noted a national supply available to ship online at extremely high cost. I suggest asking local farmers, at your local Farmer's Market, doing a Google search. I find my relentless pursuit when I want to find such a thing always surfaces a surprising source! Please post in the comments below if you have leads to share with other readers too!