Roasted Potatoes are an easy to make comfort food recipe that is a perfect side dish any time. This version includes dried lavender for a taste of France!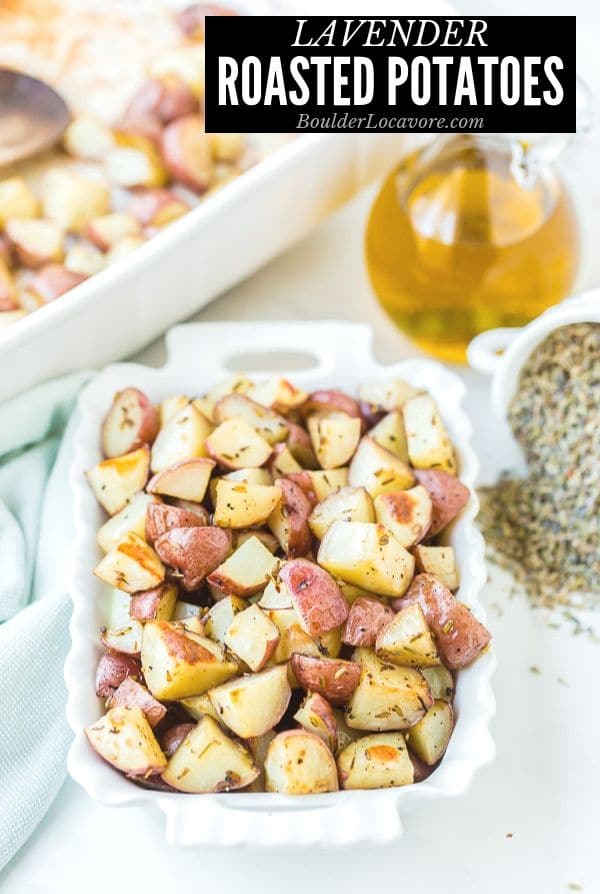 Roasted potatoes are a classic comfort food. The homey flavor. Wonderful satisfying textures.
They are an easy side dish that taste like they took much more effort than they did!
Jump to:
Roasted Potatoes
Roasted potatoes are a classic comfort food recipe. Easy to prepare and they go with any main dish at any time of the year.
They are easy to make. Potatoes are cut into pieces, tossed with oil and spices (if desired) then cooked in the oven for 30-45 minutes.
The roasted potatoes have a wonderful crisp outer skin with a soft middle. They are truly irresistible.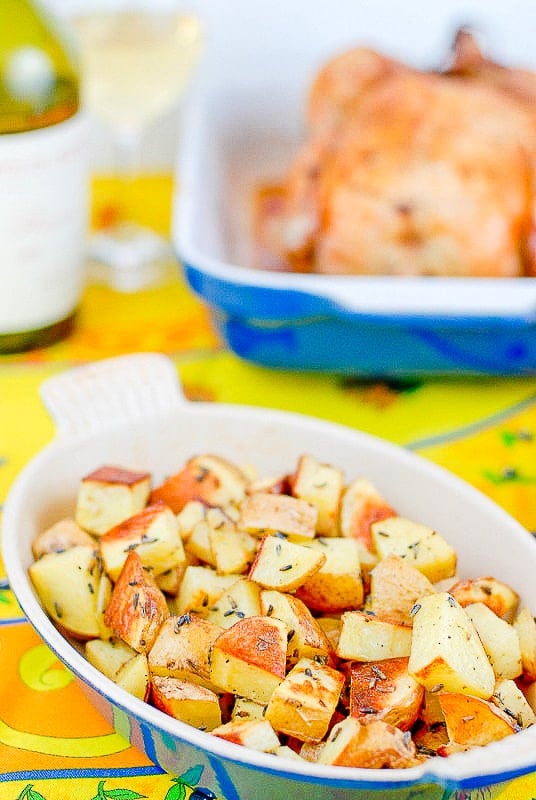 This recipes was originally a delicious experiment that have become a family favorite recipe all year long.
Adding fragrant dried culinary lavender gives the comforting roasted potatoes and wonderful distinct flavor that pairs will with any meats or poultry.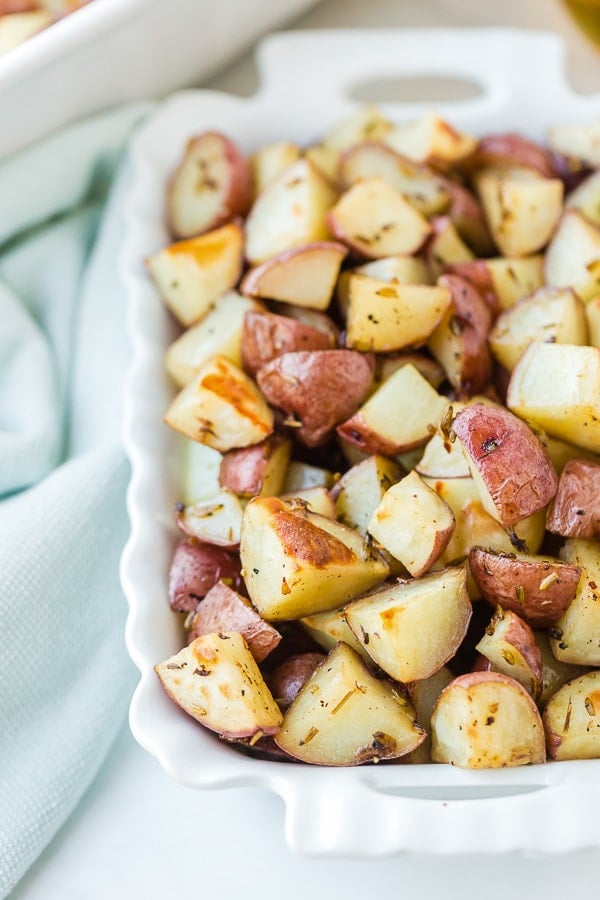 Roasted Potatoes with Lavender – Ingredients
Roasted Potato recipes are made with simple ingredient usually already on hand. This recipe is no exception:
Potatoes (thin-skinned varieties like New Potatoes or Red Potatoes)
Olive Oil
Kosher Salt
Freshly ground Black Pepper
Dried Lavender (culinary grade)
What Type of Potatoes to Use for Roasted Potatoes
Though any type of potato can be used for oven roasted potatoes I prefer thin-skinned potatoes.
They do not have to peeled (only scrubbed). This saves time, adds more flavor and color to the recipe.
Pro Tip – Potato Size
This recipe calls for bite-sized potato pieces. If you prefer them larger or smaller the cooking time will need to be adjusted.
Large potato pieces: cook longer
Smaller potato pieces: cook for less time.
Use the texture guide for determining doneness. The potatoes will be lightly browned with a crisp outside. And when biting, the inside will be soft.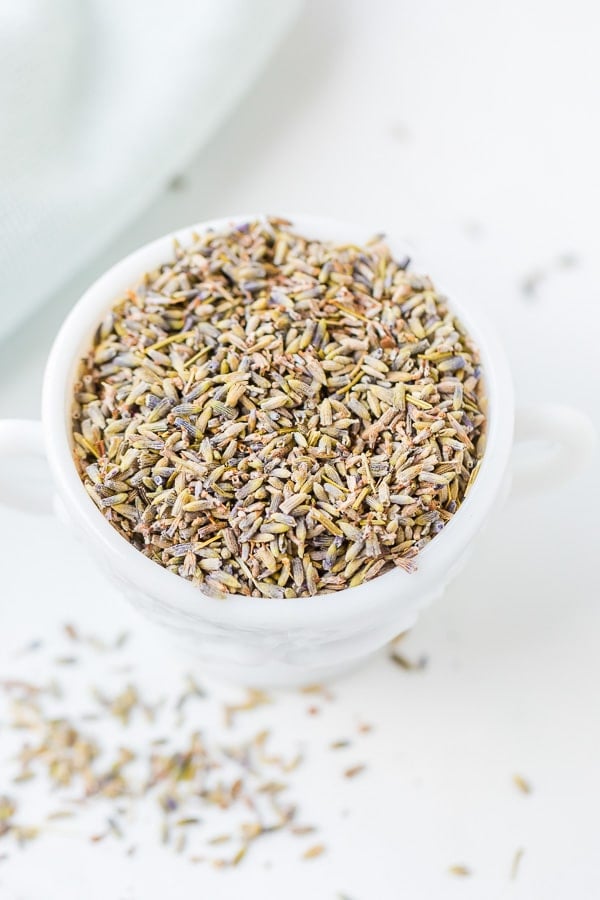 Using Culinary Lavender
It's very important when cooking with lavender to be sure to use 'culinary lavender'.
This means the lavender has been raised and processed for the purposes of eating it.
Lavender is also available for potpourri but has been treated with chemicals and cannot be eaten.
The appearance of the culinary lavender can vary in color from a vibrant purple as seen in the original photos here, to a heather gray.
As long as it is designated for edible use, the color does not matter.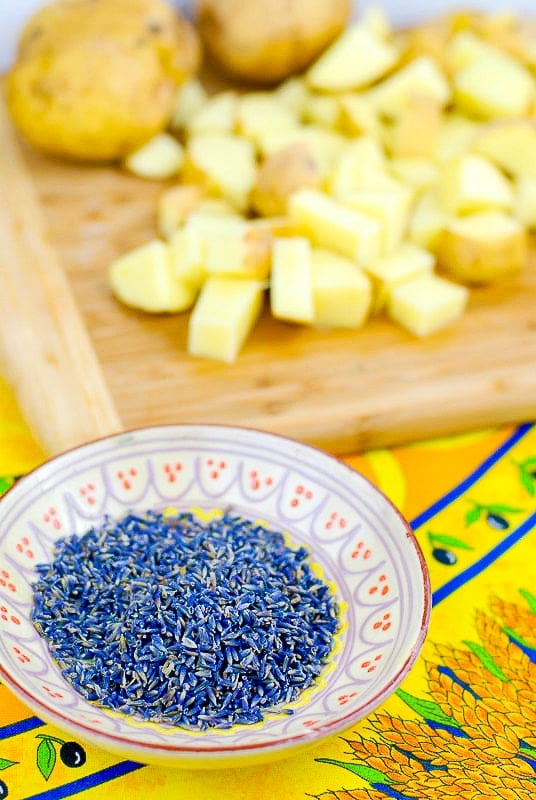 Where to Buy Culinary Lavender
Culinary lavender may be purchased at well stocked grocery stores, herb/spice stores or apothecaries.
It can be grown in a pot or home garden for picking and drying too.
With a small amount added to many recipes, a ho-hum dish can be elevated to having international flair!
Making Roasted Potatoes with Lavender – Step by Step
For a detailed printable recipe please refer to the recipe card at the end of the blog post.
STEP 1. PreaprationPreheat the oven to 350 degrees. Cut scrubbed potatoes into bite-sized pieces. Do not peel.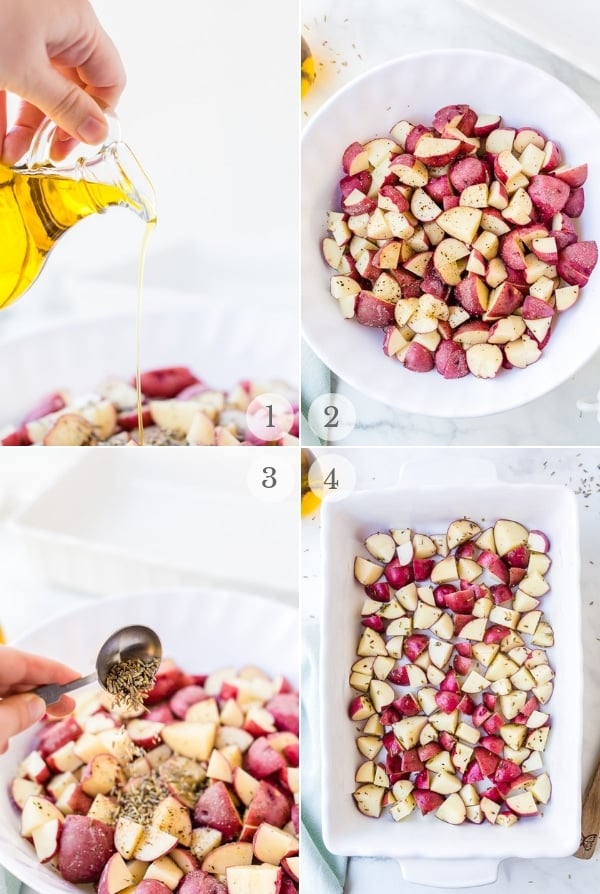 In a large bowl toss the potatoes with olive oil (photo 1).
When coated add salt, pepper (photo 2) and dried lavender (photo 3). Toss to fully coat the potatoes.
STEP 2. Roast
Spread in a single layer in a rimmed baking sheet or roasting pan (photo 4).
Cook for 30 minutes, stirring part way through to ensure even browning.
Potatoes are done when the inside is soft to the bite.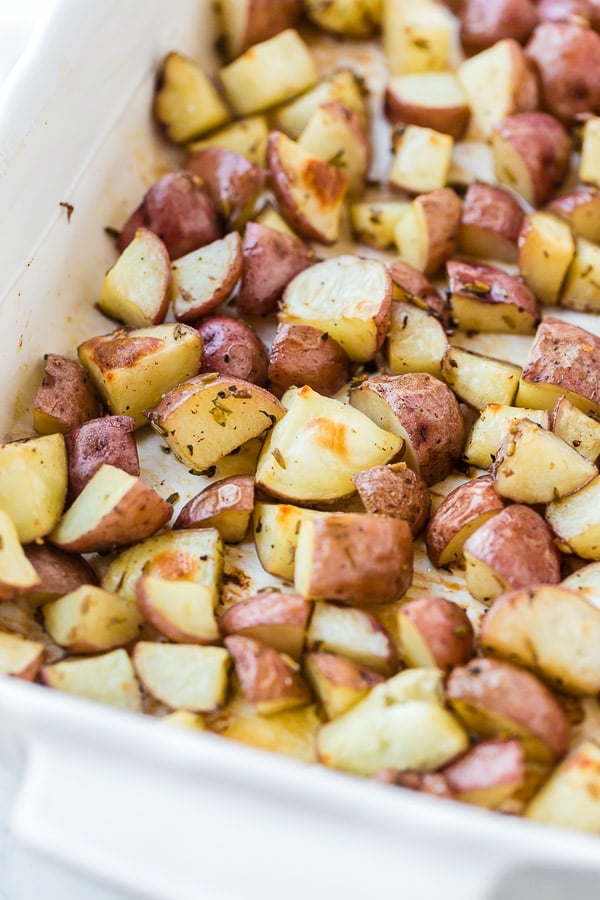 Temperature Adjustment if Cooking With Other Dishes
I often cook these roasted potatoes at the same time as a roast chicken. The temperature for cooking roasted potatoes can be increased up to 400 degrees.
Cooking time will be shorter when increasing the temperature. Check the potatoes more often to ensure they do not overcook if increasing the temperature. Remove when the potatoes have turned golden outside and are soft to bite.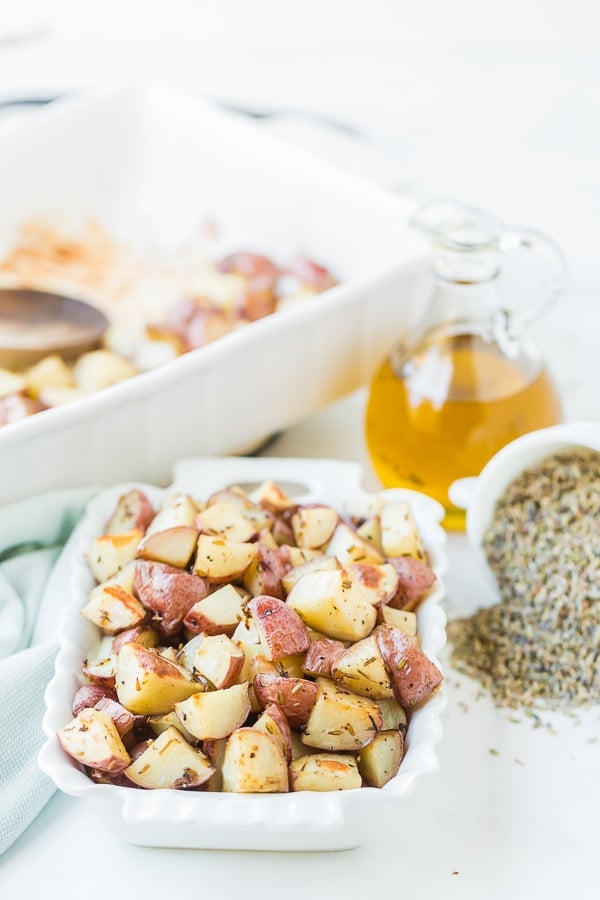 More Delicious Recipes to Try
Recipe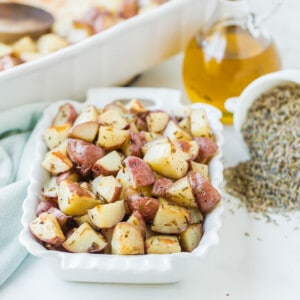 Lavender Roasted Potatoes
This simple roast potato recipe is transporting with the flavor or lavender conjuring flavors of Provence. It's sure to freshen up any meal.
Print
Save Recipe
Recipe Saved!
Pin
Rate
Ingredients
2-2 ½

pounds

(about 4 large) thin skinned Potatoes (New, Red, etc)

2

tablespoon

Olive Oil

1 ½

tablespoon

dried Lavender designated for culinary use

Salt and Pepper to taste
Instructions
Preheat oven to 350 degrees*.

Scrub potatoes, cut out any bad spots and cut into bite-sized pieces. Do not peel.

Toss in a bowl with olive oil. When coated with the olive oil, add lavender, salt and pepper.

Spread into a single layer in a roasting pan or on a baking sheet. Place in the oven for 30 minutes, stirring part way through to ensure even browning. Potatoes are done then soft inside to the bite.
Notes
I have varied the oven temperature up to 400 degrees to allow the potatoes to cook at the same time as a chicken roasting. When doing so, I check more often to ensure browning is happening evenly and they do not overcook. Cooking time is reduced at a higher temperature so keep checking!
Nutrition
Calories:
229
kcal
|
Carbohydrates:
35
g
|
Protein:
7
g
|
Fat:
7
g
|
Saturated Fat:
1
g
|
Cholesterol:
0
mg
|
Sodium:
28
mg
|
Potassium:
1170
mg
|
Fiber:
7
g
|
Sugar:
0
g
|
Vitamin A:
15
IU
|
Vitamin C:
33
mg
|
Calcium:
97
mg
|
Iron:
9.3
mg
Originally published: March 2, 2011