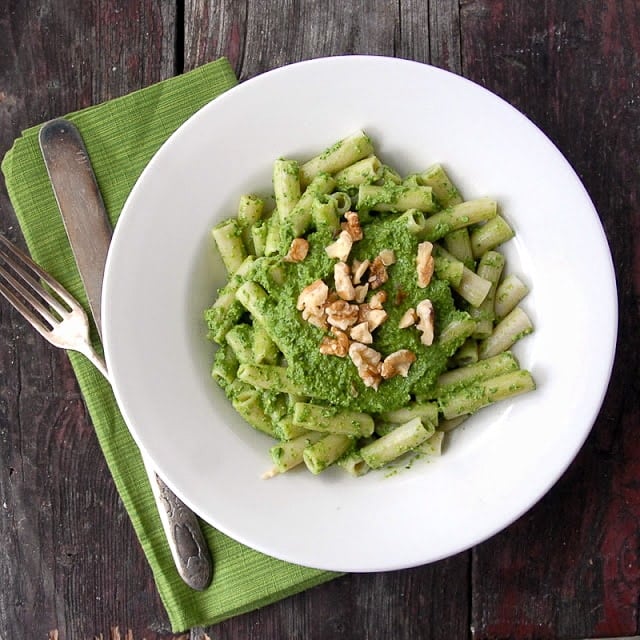 When I began eating as a locavore it highlighted an eating pattern I've held my whole life. I would select a recipe then go find the ingredients regardless of their seasonality or origin. Eating seasonal, locally grown produce requires me to first procure the produce then figure out what to do with it! That may sound like a 'so what?' point, but it demands much more thinking or it did for me unless I want to eat as I did in college (with zero panache).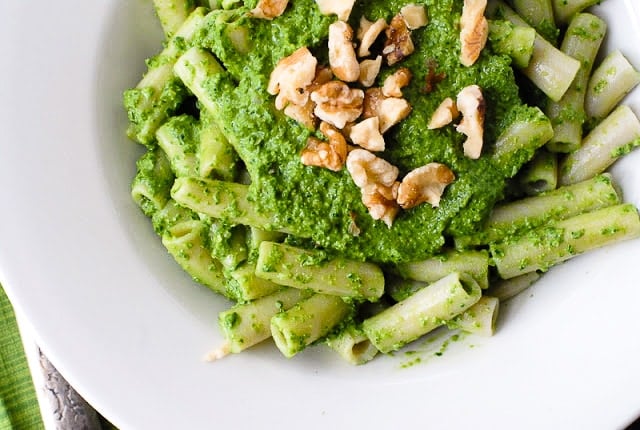 It took me awhile to adjust to an ingredient-driven culinary approach from a recipe-driven tactic but in the process I learned a lot. I have a curious nature and my natural proclivity is to research like a fiend; I'm a self-professed "infomaniac". Part of that included stocking up on some key cookbooks that chronicle recipes by their primary ingredient or in my case vegetable or fruit. My faves? Mark Bittman's How to Cook Everything Vegetarian (I actually have all of his books but when eating seasonally this one is perfect), as well as Deborah Madison's Local Flavors: Cooking and Eating from America's Farmer's Markets, Vegetarian Suppers from Deborah Madison's Kitchen and Seasonal Fruit Desserts from Orchard, Farm and Market.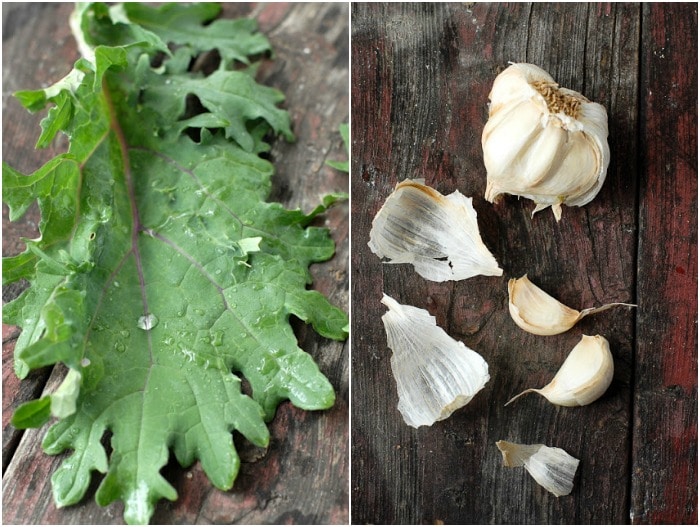 What I've grown to love is the easy preparation and flavorful results of simple dishes from my CSA farm proceeds or my own home garden. Pesto is a true favorite due to its versatility (suits my capricious tendencies) and the robustness of flavor. Less than a handful of ingredients and 10 minutes time will yield this beautiful sauce perfect for topping pasta or pizza, saucing a meat or vegetarian dish, adding to a sandwich or tossing into a salad. It is easily frozen for use in the cold weather months too. I own a Foodsaver machine and at the end of summer make loads of sealed packets of one meal-worth of pesto to freeze and enjoy all winter long.
Though basil pesto is what is most recognized, pesto can be made with any greens. Arugula pesto is one of my favorites. Today I decided to make Kale Pesto using some kale that I rescued from a compost pile fate from a community garden being readied for new crops. Transplanted into my garden it has thrived however with hotter temps afoot, it's time to dine!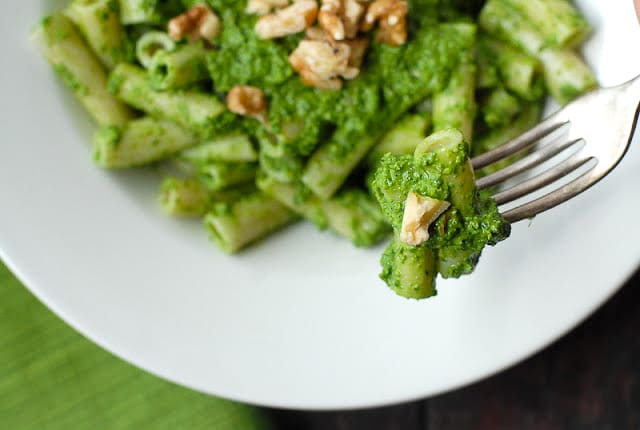 Instead of pine nuts I've substituted walnuts (toasted) and added some Meyer Lemon Olive Oil to the regular olive oil. I am gluten-free so brown rice pasta is a staple of my GF pasta regime and it has a lovely flavor and texture. My husband is not gluten free and enjoys it also, feeling it demonstrates the best structure for non-gluten pastas (this coming from an excellent cook and gluten-filled pasta lover).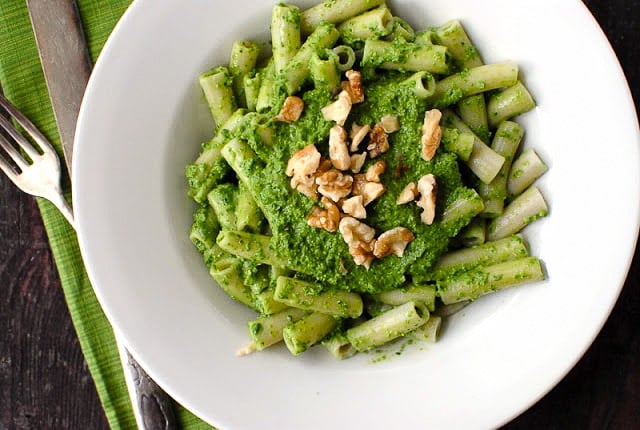 Recipe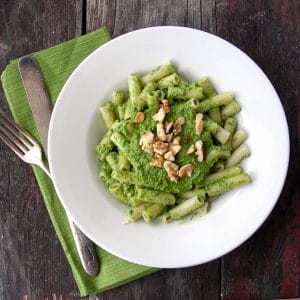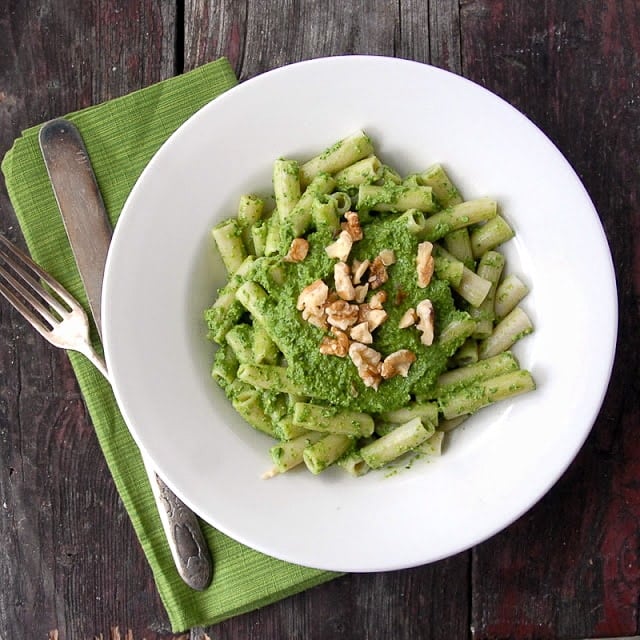 Kale Walnut Meyer Lemon Pesto with Brown Rice Penne
Meyer Lemon olive oil adds a special touch to this kale walnut pesto pasta. Can be used on warm pasta or tossed into a cold pasta salad. There is no Parmesan cheese in this pesto; if desired you can add some or add to the final dish as a topping. If freezing pesto omit the cheese.
Print
Save Recipe
Recipe Saved!
Pin
Rate
Ingredients
5

heaping cups of kale

, rinsed with heavier stems trimmed and discarded

1

large clove of garlic

¼

cup

plus 2 tablespoons walnuts

, roughly chopped

2

tablespoons

extra virgin olive oil

2

tablespoons

Meyer Lemon olive oil

Salt and pepper to taste

Prepared Brown Rice Penne

(I used Tinkyada which is gluten-free)
Instructions
In a small, dry sauté pan at high heat, place walnut pieces and stirring constantly allow to lightly toast. Watch for color darkening; about 5 minutes. Set aside.

Combine the olive oils (or if you choose, just use ¼ cup of extra virgin olive oil).

In the bowl of a food processor, place kale, garlic clove and walnuts. Pulse to begin to break down the kale. As food processor is running, drizzle olive oil into the food processor bowl stopping to scrape down sides if needed.

Season with salt and pepper to taste.

Serve on hot or cold pasta of your choosing.
Nutrition
Calories:
830
kcal
|
Carbohydrates:
29
g
|
Protein:
16
g
|
Fat:
77
g
|
Saturated Fat:
9
g
|
Cholesterol:
0
mg
|
Sodium:
110
mg
|
Potassium:
1528
mg
|
Fiber:
1
g
|
Sugar:
0
g
|
Vitamin A:
28470
IU
|
Vitamin C:
343
mg
|
Calcium:
456
mg
|
Iron:
5
mg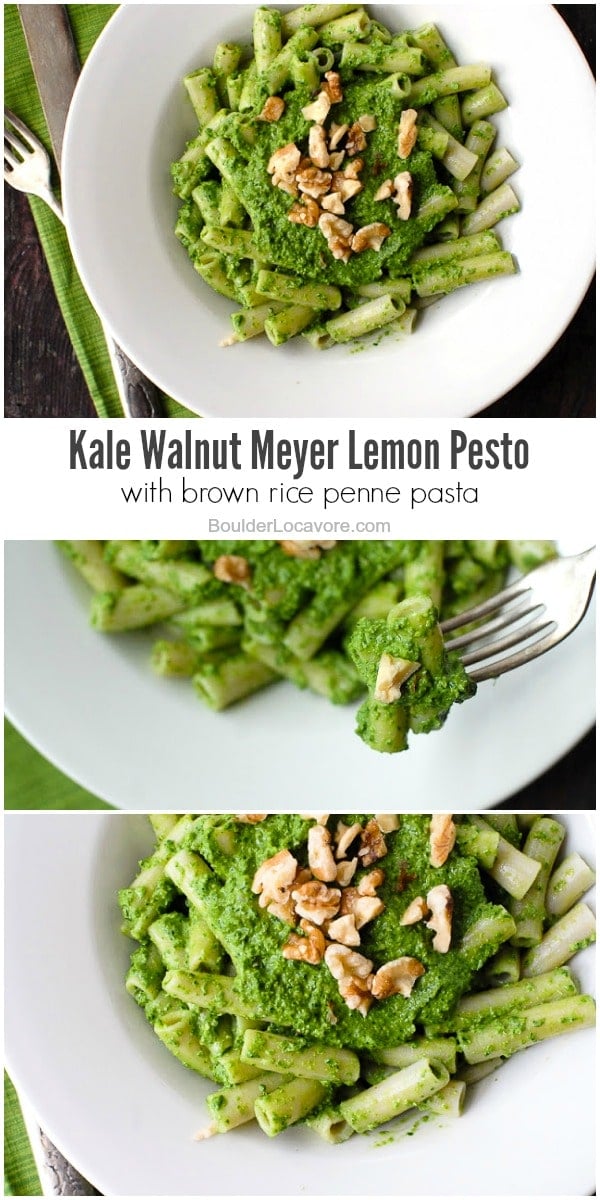 Disclosure: This post may contain affiliate links. To learn more check my Disclosure page.