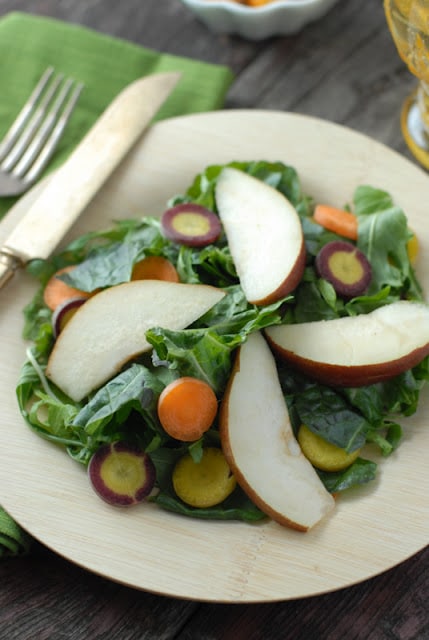 Normally salad does not pop to mind much for me during the winter.

I think we naturally begin to eat from seasonal cues and hearty, warm foods are what most appeal.

However I've been craving the robust flavors and textures of cool weather greens.
When I took my first trip of 2012 to Jay Hill Farm January 4th, I was bowled over by the heady aroma of the herbs when opening the outdoor fridge where they are kept for pickup.

A good nose full of dill, basil, and mint was just what the doctor ordered for post-holiday binge recovery and gave way to inspiration for some new salad ideas.
The greens I have access to right now are not lettuce (though I did find some last week and used the dressing from the Arugula Apple-Beet Candied Pecan salad I made last week which was great) and I'm determined to come up with new combinations other than cooking them.

Out of that sentiment I now

have

my new

favorite winter salad:

Spicy Mustard Mint Mizuna salad.

A mouthful of 'M's' to say but a mouthful of flavor unrivaled.
I love arugula and mustard bears the same spicy bite as arugula.

Jay Hill's farmer, Rowan Rozanski shared the variety of mustard I used from her farm is called Osaka Purple Mustard but that the flavor of mustard is fairly consistent across all the different varieties.
As I was making this and writing it down for print, I wondered, do you taste your food as you are preparing it?
I think that is essential especially for raw foods.
A mixed salad like this may play out differently to different taste buds and can be altered accordingly.
I'm a big believer in making food your own so be sure to taste your greens and mix up the proportions how it suits you.
Same goes for salad dressing.