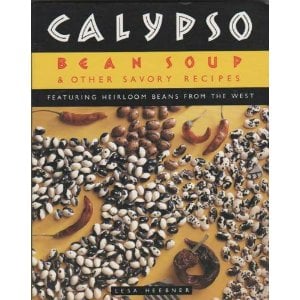 Last fall I introduced you to cookbook author, Lesa Heebner (click here for more info).

In a nutshell she lives in Southern California and was leading small cooking classes in her home featuring fresh, local, seasonal ingredients long before people were sporting t-shirt with slogans encouraging the same behavior.

She'd travel out to different farms to retrieve the freshest ingredients for her classes.
A friend introduced me to Lesa's cookbooks about 5 years ago and it was my first overt exposure to thinking seasonally and locally about my food.

Such a simple concept but I did not focus on it as I do today.

During her time of cooking Lesa published two cookbooks.

One, Cooking with the Seasons, is organized by season and meal combinations.

The second, Calypso Bean Soup: And Other Savory Recipes Featuring Heirloom Beans from the West, is a wonderland of heirloom bean based dishes, many varieties I'd never heard of.

Rattlesnake beans, Hopi Woman beans, Buckskin beans, Appaloosa beans.

Do you not love it?

My very favorite part of this cookbook is that she shares the background of the beans in each recipe.

It's enchanting!

I feel I'm eating a lineage knowing the background of each bean.
I love beans in the winter.

They are such a filling protein and perfect alternative to meat.

Lesa also supplies a worth-the-price-of-admission tip with regard to the digestive 'distress' beans can introduce (in fact she has a few pages on making beans 'friendly').

She puts a strip of kombu seaweed in each bean recipe, which is removed before eating.

Who knew?

I have practiced this faithfully since my first reading.
GIVEAWAY:
Sadly Lesa's cookbooks are now out of print.

However I have a copy to give away today!

If you'd like a copy, please leave a comment below (make sure your email address is part of the comment or linked to your name).

I will collect entries through noon Sunday February 6 (Mountain Time) and will post the winner in the top right corner of my blog Sunday evening.

This is an off the beaten path cookbook that really has some great recipes and history you will not find in one place I feel sure.
I had the pleasure of corresponding with Lesa Heebner in my quest to gain her permission to print some of her recipes.

She has moved on from professional culinary teaching to cooking for her own enjoyment coupled with a successful career in local politics (keeping up her commitment to preserving local resources just through different means).

Her recipes are timeless and delicious.

I'm happy to share one with you here.

I've always loved the flavor profiles emanating from the Southwest.

There is nothing like it.

This recipe totally delivers with layers of flavor and heat!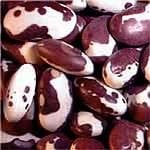 Anasazi Bean and Roasted Chile Soup
"Oh, what a story this pretty burgundy bean has!

Seems a few years ago an Anasazi bean was found at Mesa Verde, Arizona, near the cliff dwellings of the ancient tribe of Anasazi Indians.

(No one knows what these Indians called themselves – Anasazi is a Navajo word that means 'ancient ones').

Although said to be close to eight hundred years old, the story goes, when planted, this bean grew.

Most scientists say this is impossible, but perhaps not.

Many seeds used to have a coating that protected them from sprouting for many years, such as the locust plant seed, which waited as long as 460 years to pop up in ideal conditions.

Nowadays, though, bean seeds have lost that coating, and rely on humans to plant them each year.

The Anasazi bean was registered in the late 1980's by Adobe Milling in Dove Creek, Colorado. I can't think of another natural seed with a registered name, but Adobe Milling knew the appeal of a good romantic story when they heard one, and have done a great job popularizing this nutritious bean.
The Anasazi bean is also sold under the names of Aztec bean, cave bean, New Mexico appaloosa, and Jacob's cattle bean.

Interestingly enough, the Jacob's cattle bean is known to have been in the Southwest in prehistoric times, but somehow it became a traditional bean of New England.
By whatever name it's known, this widely discussed bean has a sweeter taste than most beans of its size, and it has four times fewer complex sugars of gastric distress fame.

It also cooks faster than comparable beans, such as the pinto.

And if that isn't enough, it makes fabulous soup."
·
2 cups dried Anasazi beans, soaked* and drained
·
1-6 inch strip kombu seaweed
·
1 large yellow onion, diced
·
6 cloves garlic, finely minced
·
1 large red bell pepper
·
3 anaheim (mild) , or poblano (hot) chilies
·
8 whole garlic cloves, skins on
·
1-15 ounce can diced tomatoes, plus juices
·
4 teaspoons pasilla or ancho chile powder
·
1 teaspoon ground cumin
·
½ teaspoon ground thyme
·
¼ teaspoon ground coriander
·
½ teaspoon black pepper
·
1 tablespoon low-sodium soy sauce for garnish
·
Chopped fresh cilantro (optional)
1.
Put the beans in an 8 quart Dutch oven.

Add the kombu, bay leaf, celery, carrot, onion, garlic and fresh water.

Cook for 1 hour and discard the kombu.

Cook for 30 to 60 more minutes, or until the beans are tender.
2.
Meanwhile, preheat the oven to Broil.

Roast the red bell pepper and chilies (or use jarred roasted red bells and canned mild green Ortega chilies).

When done, set aside.
3.
Roast the garlic cloves in the skin: preheat oven to 350 degrees F.

Put individual garlic cloves, skins on, on a baking sheet and bake for twenty to thirty minutes, or until soft.

When cool enough to handle, remove and discard the skins from the garlic.
4.
Meanwhile, add the tomatoes, plus juices, beer, pasilla or ancho chile powder, cumin, thyme, coriander, salt, black pepper, and soy sauce to the soup.

Cook at least 10 minutes longer.
5.
Put the peppers/chilies and roasted garlic in the work bowl of a food processor.

Add the soup in batches and puree the peppers/chilies/garlic and two-thirds of the soup.

NOTE:

I have personally had leakage issues when adding soup to my food processor and would opt for an immersion blender in the soup pot if you have one.

Return to the pot and simmer for about 5 minutes more.

Taste, and adjust seasonings, if needed.

Serve hot, garnish with chopped cilantro.
*Long soak:

put them in a bowl, cover them with water and soak 8 hours or overnight.

Quick soak: Put in a pot, cover with water, plus a few extra inches of water, cover.

Bring to a boil, turn off heat and allow to sit covered between 1 ½ to 4 hours.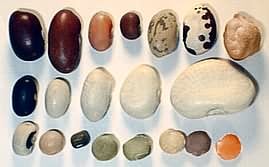 I ran across this website about beans online.

Gives some background about the history of different varieties.

Also a great online source of heirloom varieties I feel sure you have not heard of is Purcell Mountain Beans in Idaho.

They ship within Northern America!