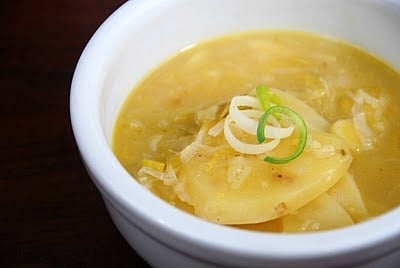 I don't know about you but I'm one sugar cookie away from a sucrose coma at this point.

 
This is one of those weeks that can feel like a gun at your head.

 

The last minute holiday preparations, shopping, celebrations, baking (ug; the baking).

  

Also as a locavore I now have substantial stores of root vegetables and winter squash.

 

I turn my sites toward recipes that will use them.
It's no mistake my cookbook 'A Passion for Potatoes' (an ancient purchase to tease Irish friends) pulls into heavy rotation.

 

Having just gotten some fresh leeks in our winter CSA pick up from Grant Family Farms this week inspired me to find a good potato leek soup recipe.

 

The following recipe is incredibly delicious, easy, quick and will allow you to whip up a flavorful meal with little effort in a week that demands that.
Adapted from A Passion For Potatoes (Harper Collins Books, 1992)
·        
4 tablespoons (1/2 stick) unsalted butter
·        
4 leeks with green leaves removed, sliced (4 cups)
·        
1 ½ pounds russet potatoes, peeled and sliced (sliced)
·        
6 cups unsalted chicken stock
·        
1 tablespoon salt
1.
Melt butter in heavy pan.

 

Add leeks and potatoes and sauté for approximately 5 minutes.
2.
Add the chicken stock and salt, bring to a boil, reduce to simmer, cover and cook 35 minutes.
To be candid, I was unsure I'd like the soup when it was cooking.

 

I felt the slices of potato, which I did on a mandolin, were too big to eat easily with ease.

 

I thought it might taste a bit watery.

 

I was very wrong!

 

As the potato cooks it become easy to break apart when taking a spoonful of the finished soup.

 

The taste is very rich, delicious and filling. Might already be a staple for the French; it's now a staple for me!