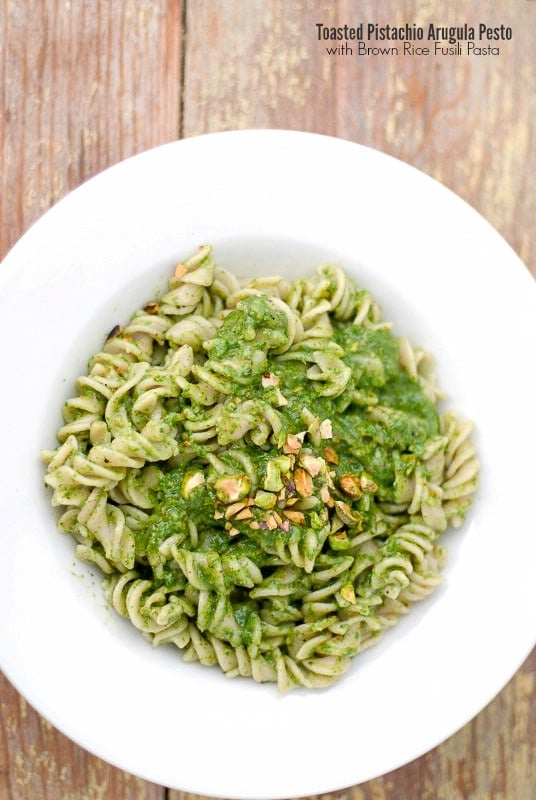 Arugula, also known as 'roquette' (pronounced 'rocket'), is my all time favorite green. Its peppery bite and tender texture is something I can't ever get enough of.
An obvious use for arugula is in salads. I also love it on pizza too! However last year when making massive batches of pesto at the end of August to freeze for winter, I began to experiment with arugula pesto with great success. Celebrating the first of the season from our local Farmer's Market, I decided to glorify it further by using pistachio nuts from my recent road trip to New Mexico in the place of pine nuts. The results were fabulous AND fast; this entire pesto pasta dish is ready in less than 30 minutes!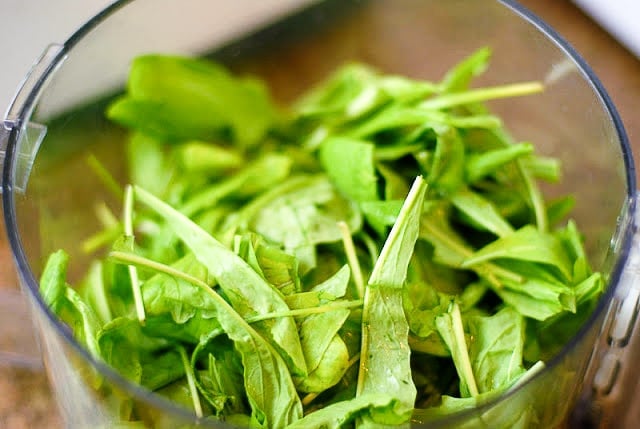 Traditional pesto is made with basil, olive oil, pine nuts, garlic and Parmesan cheese. It is a very fast and fresh way to dress pasta, as a sauce for chicken or fish, or a sauce for vegetables. Once you begin to make it you'll realize the possibilities are endless and it's such an easy thing to whip up! I've provided my base pesto recipe but you can make it more peppery with more arugula or garlic. Season to your own preference!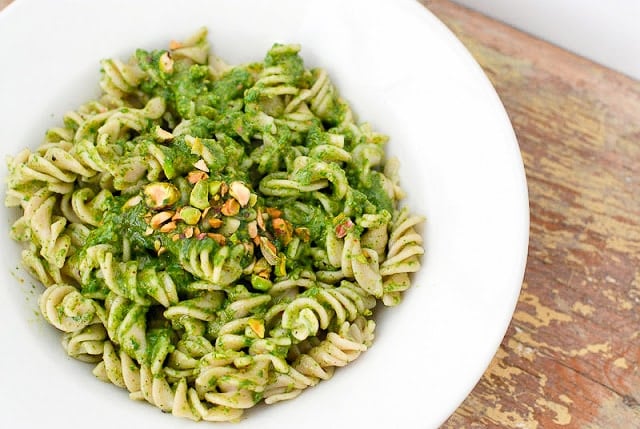 Pasta is very popular in my household. Being gluten-free has introduced us to new varieties of pasta we might not ever had tried on our own. Loving shapes and textures in my food, I used a brown rice fusili pasta to pair with the Toasted Pistachio Arugula Pesto. Finding a sturdy non-wheat pasta can be tricky. Often the taste or structure do not compare to regular pasta with gluten. Through our experimentation we've found Tinkyada brand brown rice pastas in my opinion have great flavor as well as structure that is more like regular wheat flour pasta. It also comes in a variety of traditional shapes (spaghetti, linguine, penne, etc) making adaptation of traditional gluten-based pasta recipes very easy!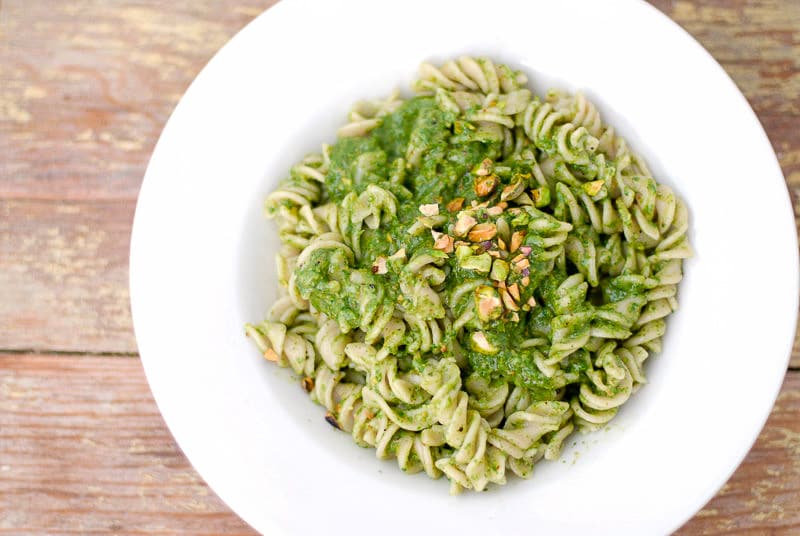 Recipe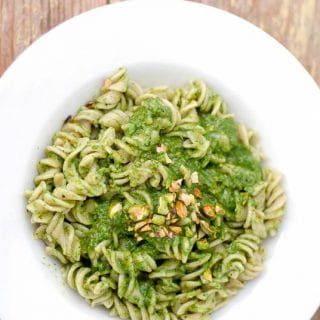 Ingredients
4-5

cups

arugula

, washed, long stems removed

1

large garlic clove

¼

cup

extra virgin olive oil

¼

cup

pistachio nuts

, shelled

Salt and Pepper to taste

1

package

prepared Brown Rice Fusili Pasta
Instructions
Heat a small, dry skillet over medium heat until warm. Add the pistachio nuts, stirring frequently until they begin to toast and become lightly brown (about 3-4 minutes). Be careful to not allow them to burn.

In the bowl of a food processor, place 4 cups arugula, garlic clove, toasted pistachio nuts and olive oil. Process until liquefied, scraping sides of the bowl as necessary. Add salt and pepper to taste. Note: If thinner pesto is desired, add more olive oil.

Serve over freshly made pasta with some chopped pistachio nuts for garnish.
Nutrition
Calories:
390
kcal
|
Carbohydrates:
58
g
|
Protein:
11
g
|
Fat:
12
g
|
Saturated Fat:
1
g
|
Cholesterol:
0
mg
|
Sodium:
8
mg
|
Potassium:
268
mg
|
Fiber:
3
g
|
Sugar:
2
g
|
Vitamin A:
340
IU
|
Vitamin C:
2.5
mg
|
Calcium:
42
mg
|
Iron:
1.4
mg