Perhaps my favorite cold-weather soup, Roasted Pumpkin and Cannellini Bean Soup is very easy to make and has wonderful warming flavors.  It's a smooth blended soup with a creamy consistency without any dairy ingredients.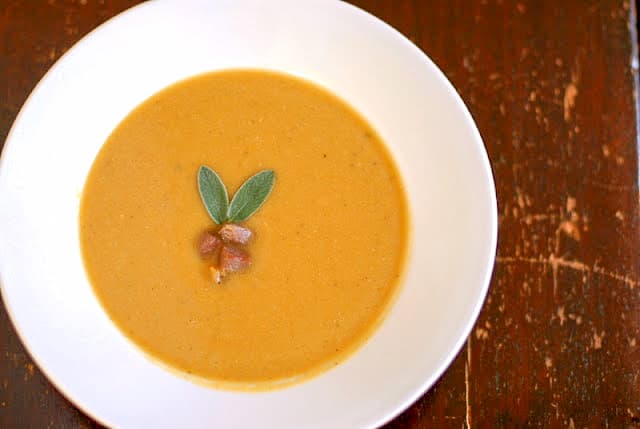 Sometime after I attended college in California I came upon a walking magazine.  It's hard to imagine a magazine about walking could be very interesting, but it was.  I loved the tips about walking for exercise, walking locations around the U.S. that captured the beauty of the different seasons, walking gear and periodic recipes.  One issue in particular featured a simple cold weather soup packed with protein from cannellini beans pureed with pumpkin.
I carried the recipe around for years and finally tossed it out with a magazine clean out.  I think I imagined I would be able to remember how to make it if needed.  I found myself hunting for it years later to no avail.  I loved the pureed beans and how creamy they made the soup without adding rich, fatty calories.  Eventually I remade the recipe myself as closely as I could remember it.  It was one of the first recipes I shared on Boulder Locavore, mainly because of its simple and seasonal nature.  Being the start of a new year, it seemed good to share it again with a bit of a spruce up.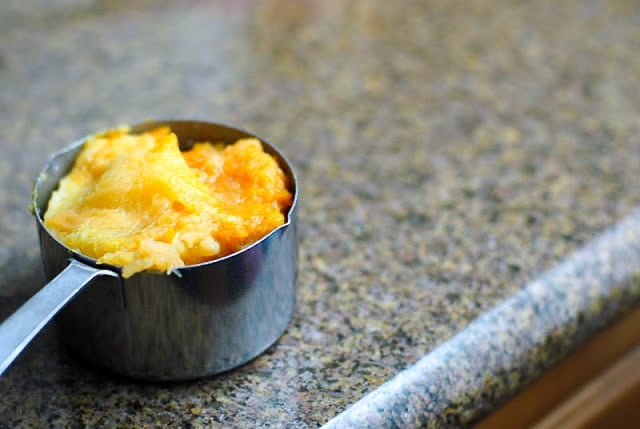 They say you have to introduce a new food to a toddler approximately 20 times before they'll take a liking to it.  I find adults no different when it comes to shifting their palate.  What I mean by this is once you've taken to eating a lot of the same kind of food (e.g. holiday sweets) integrating something different (e.g. healthy, non-sugary food) can be challenging.  I know for me if I've been on a sugar jag I can have a fridge full of delicious fresh produce and I stare at it blankly just wanting more chocolate.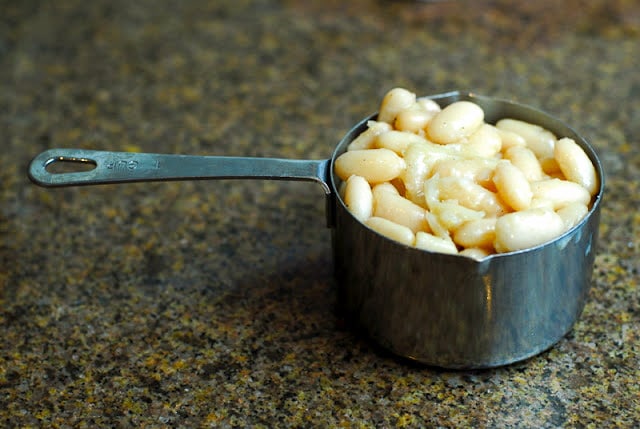 Persuaded by the bitter cold, I decided to whip up this rustic, healthy, flavorful soup that is a true favorite recipe: Roasted Pumpkin Cannellini Bean Soup.  My hope is to move away from the sugar den we've all been living in for the past weeks, and back into more wholesome, seasonal eating.  Though I love to tinker in the kitchen when I have the time, I also appreciate recipes that are simple and quick.  Five ingredients, all of which are whole foods (in their whole, unprocessed state without additives or preservatives), make this soup not only easy but perfect to get back on a good eating track after lavish holiday foods.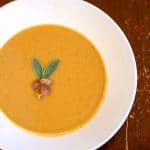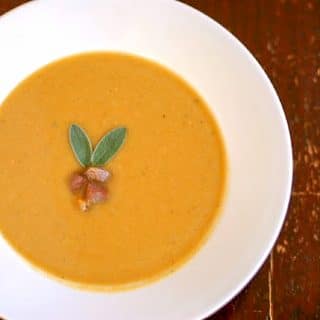 Roasted Pumpkin and Cannellini Bean soup
This simple soup is sure to become a cold weather favorite. Five simple ingredients create a thick creamy soup thanks to the pureed cannellini beans; no cream is included! It's packed with protein and fiber, along with great taste.The soup will be blended at the end so no need to be fussy about how you cut up the pumpkin. Cooking time for roasting pumpkin will vary depending on its size; between 45-90 minutes. Be sure not to puree the pumpkin after roasting it. Any excess roasted pumpkin may be
pureed
and frozen or used in other recipes.
Servings
6
-8 servings (about 9 cups total)
Ingredients
2

teaspoons

Olive Oil

1

medium Yellow Onion

, peeled and chopped

1

tablespoon

fresh Sage

, diced

2 ½

cups

cooked Cannellini Beans

(or canned cannellini beans)

2

cups

roasted Pumpkin

(click here for directions on roasting a pumpkin; stop after roasting to cut pumpkin into chunks and do not puree)

5

cups

low sodium Chicken Broth

Kosher Salt

(gluten-free Tamari sauce or Soy Sauce, gluten, also may be used) and Black Pepper to taste

Suggested garnish: Diced

, sautéed pancetta and sage leaves
Instructions
Warm olive oil in a large pan or soup pot. Add chopped onion and sage; sauté over medium-high heat until onions are translucent and beginning to brown (about 4 minutes).

Add cannellini beans and pumpkin and stir to combine. Continue to cook for 2 minutes to allow the flavors to meld together.

Add chicken broth and bring to a boil. Reduce heat, cover and simmer for 25 minutes.

Let cool slightly and either pour into a blender or use an

immersion blender

and blend to a smooth consistency.

Season to taste with salt and pepper. If preferred, substitute salt for Tamari sauce (gluten-free) or Soy Sauce (gluten).
Disclosure: This post may contain affiliate links. To learn more check my Disclosure page.