The start of the school year feels like moving to another planet to me. It demands military type precision to keep my household fluid and well fed. The meal protocol includes school lunches for two kids, lunch for one working husband, substantial snacks to interleave between school and multiple athletic activities, as well as dinner that has to be ready pretty promptly once we cross the threshold home. It always seems to demand my best professional project management skills coupled with high level culinary strategic planning.
Creative inspiration does not always step up to meet the tactics so when I was asked to contribute to a Back to School Cookbook for Foodie.com, I was thrilled. To be a contributor yes, but selfishly to have access to a bevy of fabulous recipes from handpicked, proven food bloggers from all dining genres. Our mission was to develop two original recipes that could be prepared in less than an hour, containing no more than 10 ingredients; exactly how I like to cook myself on a school night.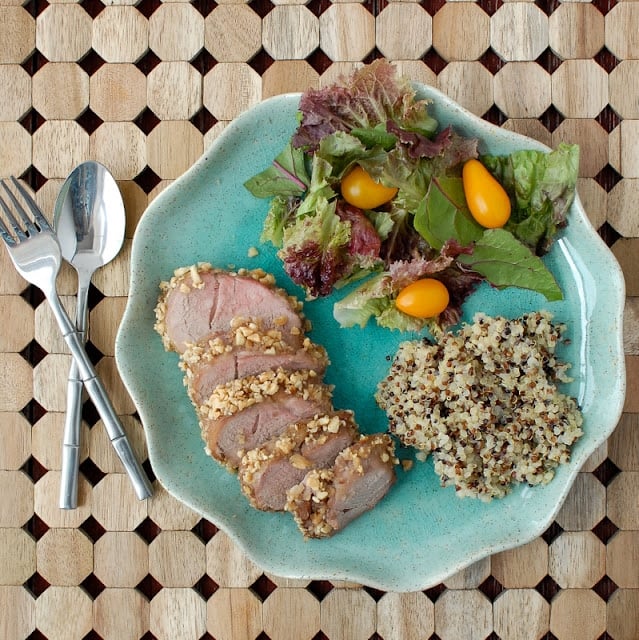 A quick note about side dishes.

Quinoa is a highly underused grain.

It cooks in about 20 minutes and is a complete protein.

The taste is mild and the texture soft like rice when cooked.

It is very easy to cook while the pork tenderloin is baking.

Add a simple seasonal salad and you have a beautiful, well balanced, delicious plate.
I need simple, healthy flavorful recipes I can prepare under the highly distracted conditions of running after school interference and answering homework questions on the fly. Pork Tenderloin is always a sure bet; it's easy to set into a marinade the night before, and then bake quickly and effortlessly for dinner when needed.
The recipe I developed for Peanut-Encrusted Asian Pork Tenderloin is marinated over night, rolled in peanuts and baked for a unique and delicious twist both kids and adults love!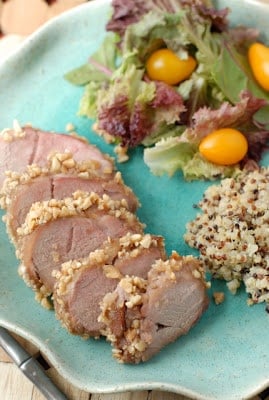 PEANUT-ENCRUSTED ASIAN PORK TENDERLOIN
If making this recipe with Tamari instead of soy sauce it becomes gluten free as well as soy free. If you wish to make a larger meal Boneless Pork Roast can be substituted for 2-3 tenderloins; adjust baking time for the roast's weight accordingly to reach and internal temperature of 160 degrees.
Serves: 4-6
Time: Prep: 15 minutes Marinate: overnight Cook: 35 minutes
Ingredients:
1 shallot, peeled and rough chopped
1 garlic clove (large), peeled and rough chopped
1-1inch piece of ginger, peeled and rough chopped
2 tablespoons Tamari or Soy Sauce
¼ cup brown sugar
1/3 cup vegetable oil
2 medium Pork Tenderloins
1 ½ cup roasted unsalted peanuts
The night prior to cooking, combine the shallot, garlic, ginger, tamari or soy sauce brown sugar and vegetable oil in a small bowl. Whisk to combine. Pour into a gallon size zip top plastic bag.
Add the pork tenderloins to the marinade; seal the zip top bag squeezing most of the air out before fully sealing. Move and massage the storage bag to ensure the pork is fully covered by the marinade. Place in the refrigerator overnight.
When ready to cook, preheat oven to 350 degrees and select a shallow baking dish that will fit the two pork tenderloins.
Place peanuts into a food processor, electric chopper or blender, and process until the peanuts are chopped into small bits. If too small they do not add the crunchy texture and too large they won't adhere well to the pork (refer to preparation photo).
On a baking sheet, pour a lengthwise strip of peanuts. Remove the pork tenderloin from marinade (leaving any garlic, ginger or shallot in the bag; discard the marindade) and place onto the peanuts. Gently roll the pork in the peanuts to fully cover. Discard any remaining peanuts used in the rolling.
Place the pork tenderloins into the baking dish and bake for 30-35 minutes or until a meat thermometer reads 160 degrees internally. The pork will continue to cook once removed from the oven so remove by 35 minutes and check temperature. Let the meat rest for 15 minutes before slicing and serving.
You must check out the cookbook in total (click here)! It is a beautifully done, online cookbook capturing wonderful recipes for Main dishes, Side dishes, Snacks and Desserts. I feel certain you'll love looking at it as well as the fantastic quick, simple recipes!