A great Dry Rub for Ribs is a must have in your spice collection. It turns ho hum meat into a superstar event. This smoky, spicy, sweet spice rub will make you a dinner table hero!

A great spice blend is the easiest way to turn regular meat into an exciting main dish.
This dry rub mixture will take you 5 minutes to put together and is bursting bold flavors!
Turn any pork dish into a new family favorite with this easy spice blend.
It doesn't stop there. You can use it on chicken, fish and beef too.
What is a Dry Rub?
An easy and fantastic way to get the most flavor out of pork and other grilled meats is with a dry rub.
It's a blend of herbs, spices and usually sugar and salt that bring out the best flavors in the meat when cooked.
What's great about rubs is that they can be changed up with your favorite flavors.
This rub recipe has a delicious blend of smoky, sweet and spicy ingredients that will make your ribs the best!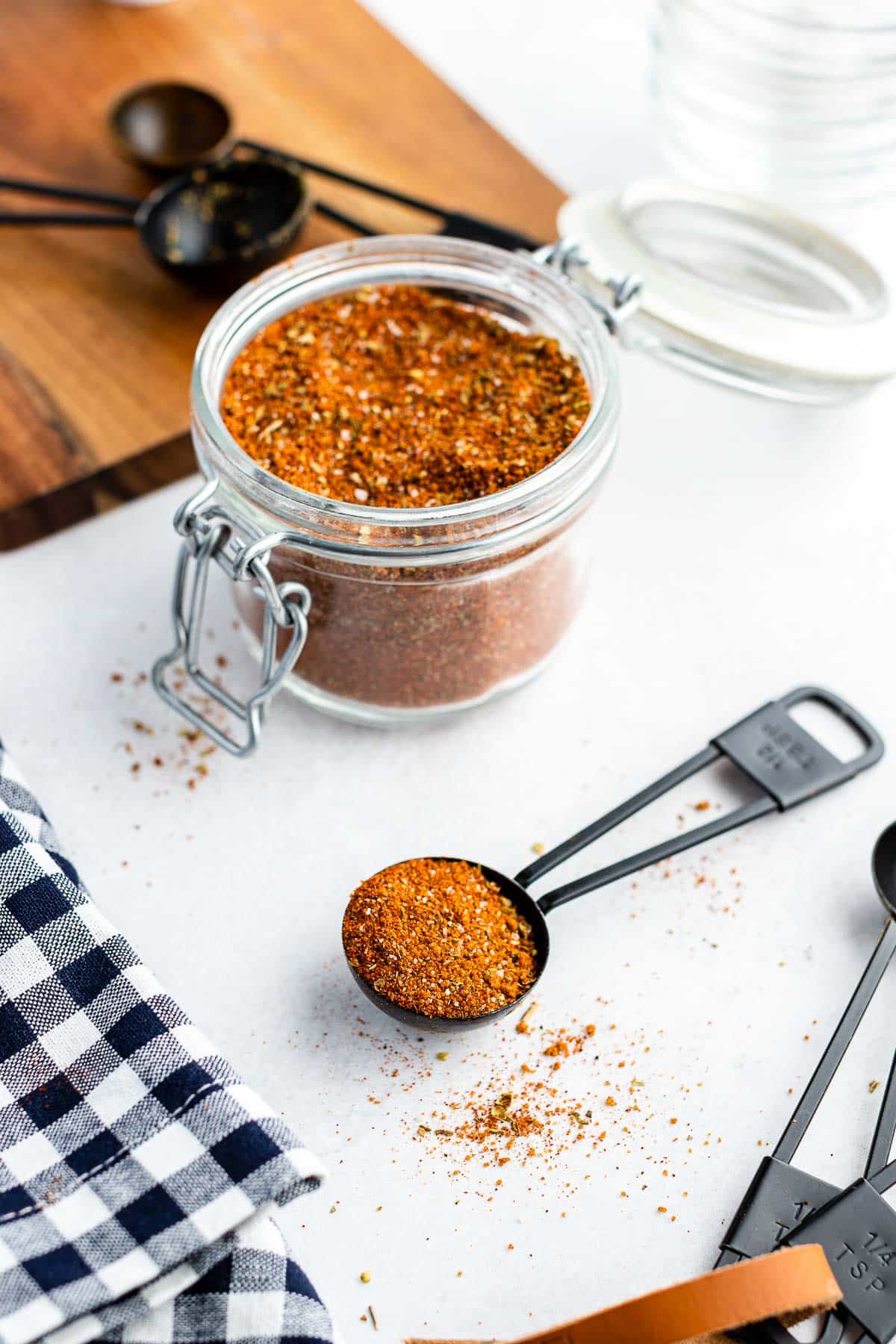 Recipe Ingredients
Smoked paprika
Brown sugar
ground Cumin
Chili powder
dried Oregano
Kosher Salt
ground Black Pepper
Cayenne Pepper

What Type of Paprika to Use?
I love using Smoked Paprika. It has an deep earthy, smoky flavor that is a great flavor partner to meat.
There are two versions of smoked paprika: regular and hot smoked paprika.
Because of the other 'hot' spices added to this dry rub I recommend regular smoked paprika (NOT hot).
Note: Smoked Paprika is not the same as regular 'paprika' which has a very mild flavor.
Why Use Kosher Salt?
The main reason many recipes recommend Kosher Salt is due to the size of the flakes.
This makes it easier to evenly distribute it when sprinkling it onto or into a recipe.
This the TV Chef who sprinkles salt onto a recipe from 2 feet above.
The reason I recommend it for this recipe is that it tastes better than regular iodized salt.
It has a more pure flavor and is less intensely salty tasting.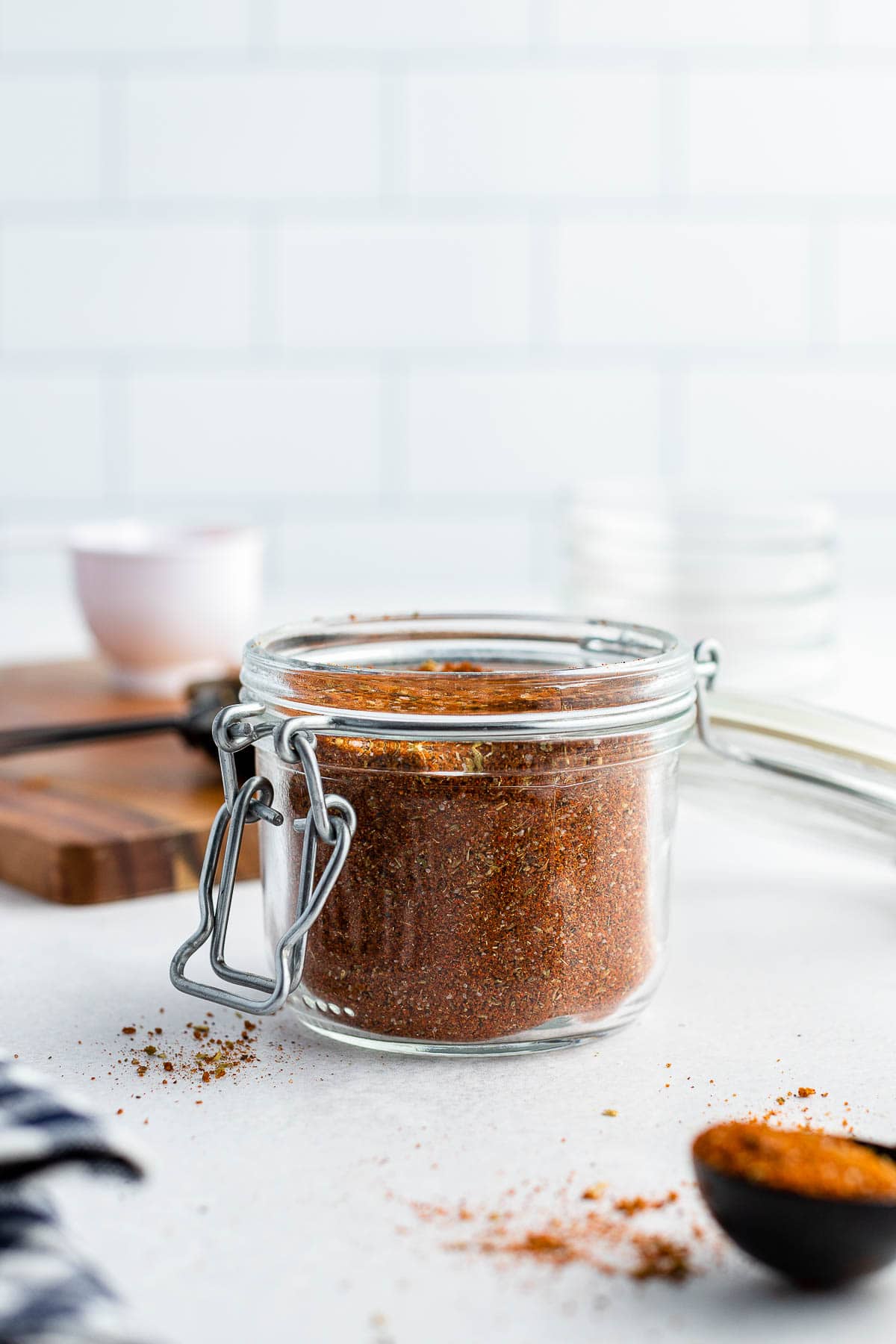 How to Make it – Step-by-Step
This recipe takes 5 minutes max!
Combine all ingredients in a bowl. Mix well.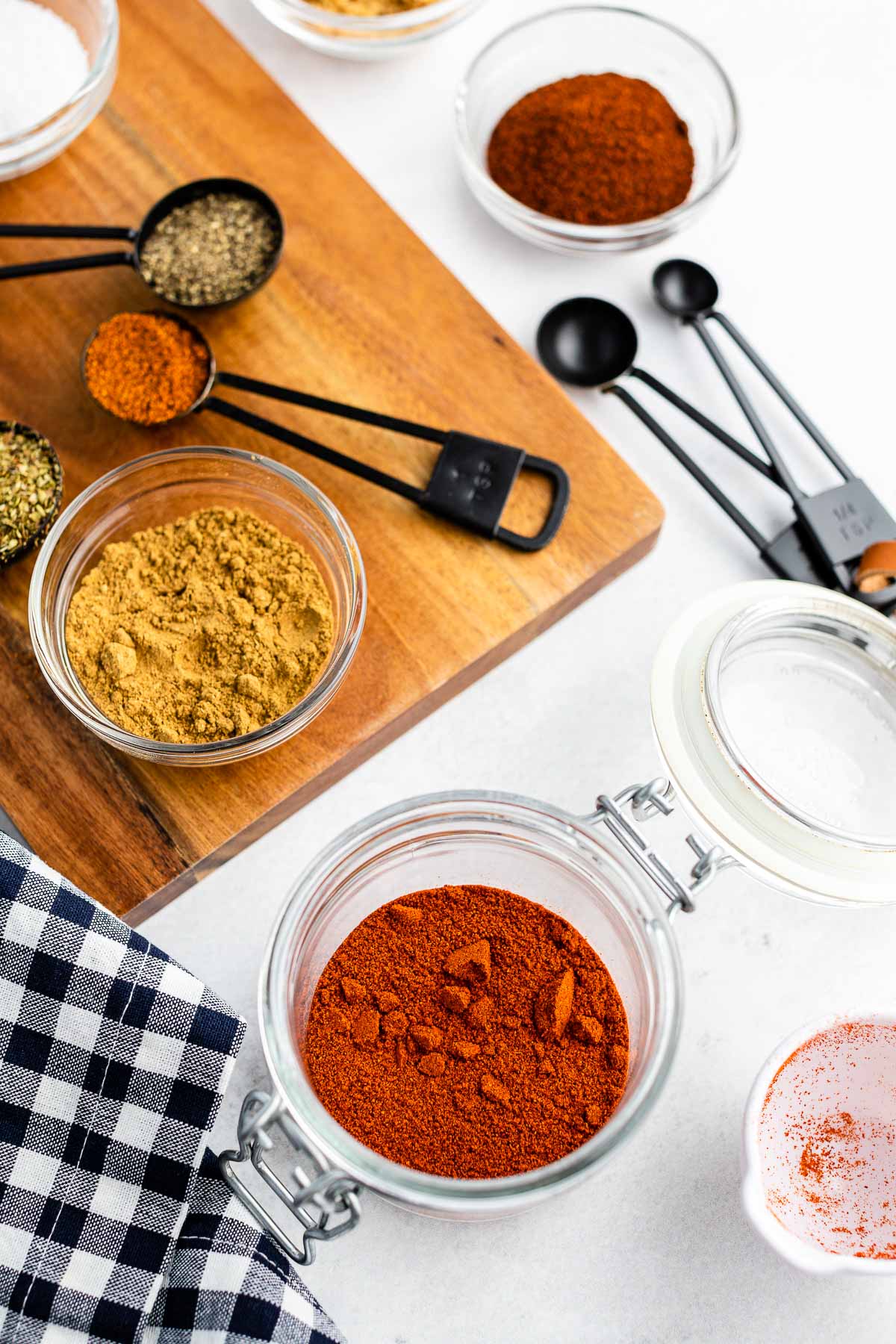 Place in a jar and seal.
Time Saving Tip: Mix everything in the jar directly!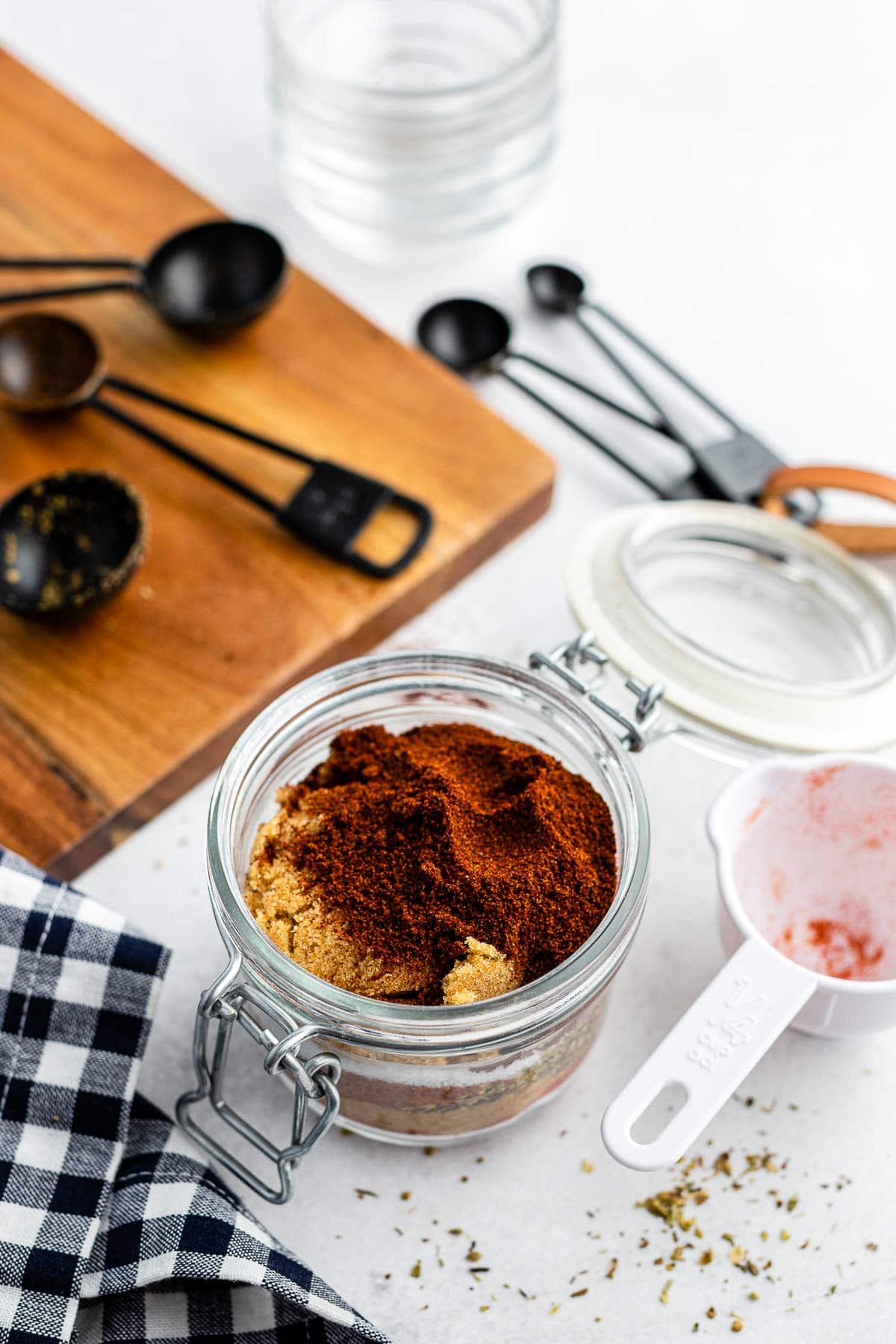 Variations
Try Sweet Paprika. Sweet Paprika has a totally different flavor than smoked paprika. Change up the rub by trying some.
Add some dry Mustard. This is a classic flavor in may BBQ sauce recipes.
Try some Onion Powder or Garlic Powder (or both). They both build out great flavor in a spice rub.
Pro Tip
Use Fresh Spices
Spices can sit in the pantry longer than we realize. When they become older they lose their potency or vibrant flavor.
Always check the expiration date on spice bottles (usually on the bottom).
Check the flavor and smell too. If it's not very strong, the spice or herb probably needs to be replaced.
Starting with the freshest spices will make the best dry rub.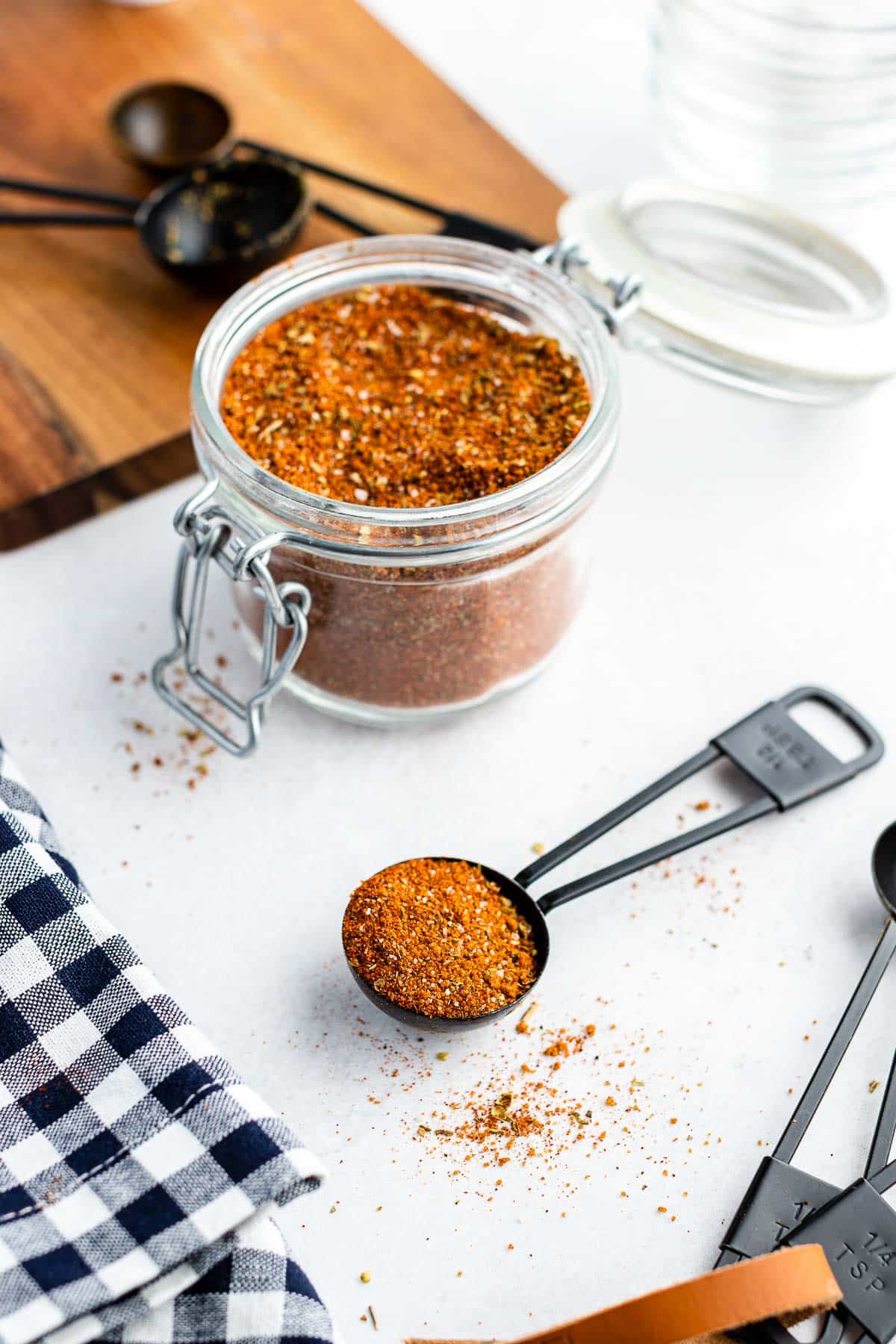 How Long to Leave it On before Cooking
After applying the dry rub you can cook the meat immediately or allow it to sit up to overnight as your recipe suggests.
Though the rub has a perfect spicy-sweet combination to go with pork, it's great on other meats too.
A Favorite Method
Dab any excess moisture from the pork or chicken with paper towels.
Rub a light coating of olive oil or Dijon mustard onto the meat (use olive oil only for chicken).
Coat the meat thoroughly by hand with the rub.
The rule of thumb is the amount that sticks to the meat is how much you need.
Let the meat sit for an hour before grilling or cooking.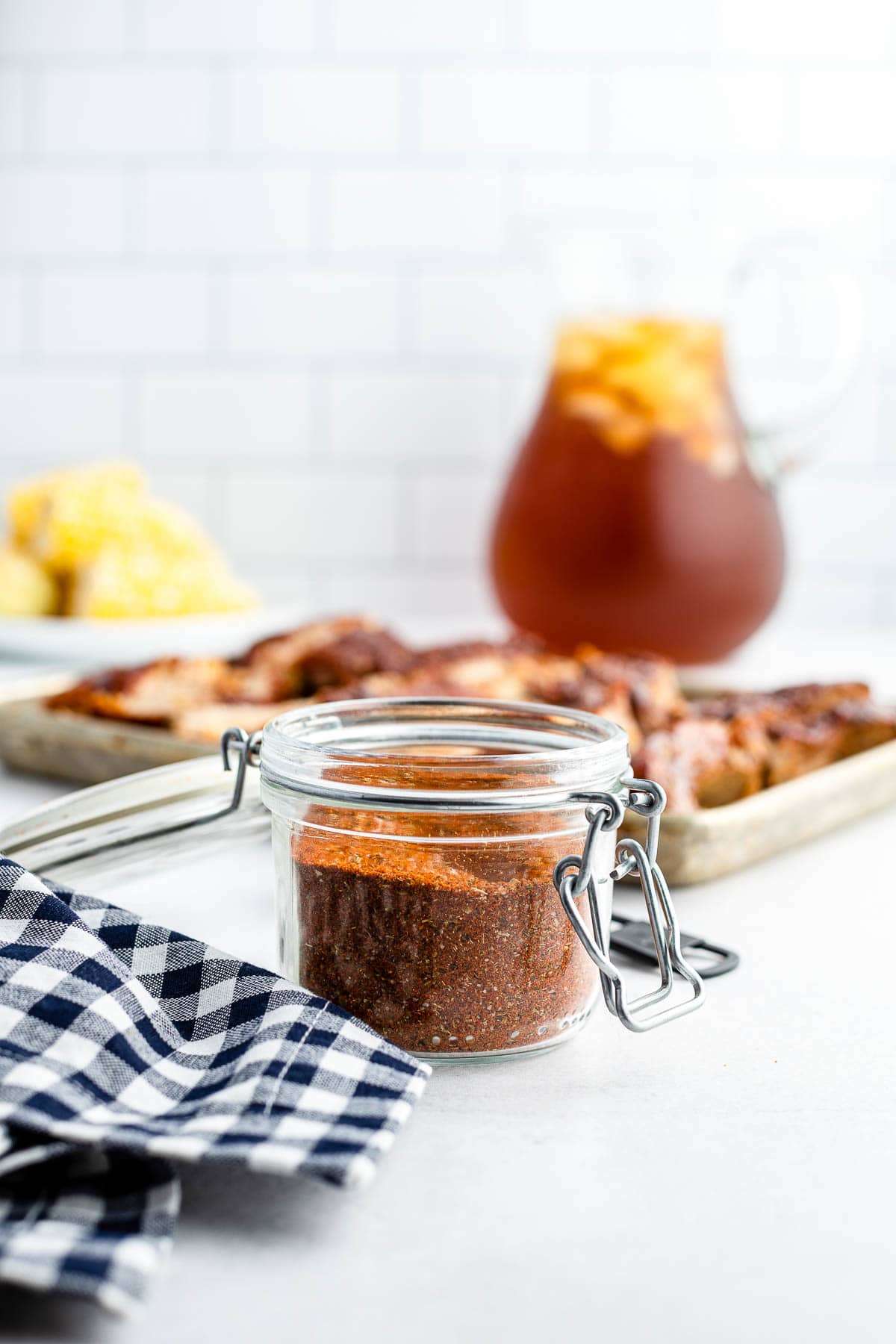 How to Use It
Ribs
It's an easy way to pack loads of flavor into slow cooker ribs, oven baked ribs or grilled ribs.
Pork Shoulder or Pork Butt
Pork Shoulder or Pork Butt are used often for recipes like pulled pork or stews. Adding a rub is a delicious way to heighten the natural flavor of the pork.
Try it in the slow cooker pulled pork, Instant Pot pulled pork or Carnitas!
Pork Tenderloin
Try it on a fast-cooking pork tenderloin.
Pork Chops
A spice rub is a great way to perk up pork chops before cooking. This Spicy Baked Pork Chops sheet pan recipe is a family favorite.
Try it with Other Meats
Roasted Chicken, beef or lamb recipes.
How Long Will it Last?
Keep it in an airtight sealed jar in a cool, dark location for up to 6 months.
A well-sealed jar is key so the brown sugar doesn't dry out.
It may stay fresh even longer than 6 months.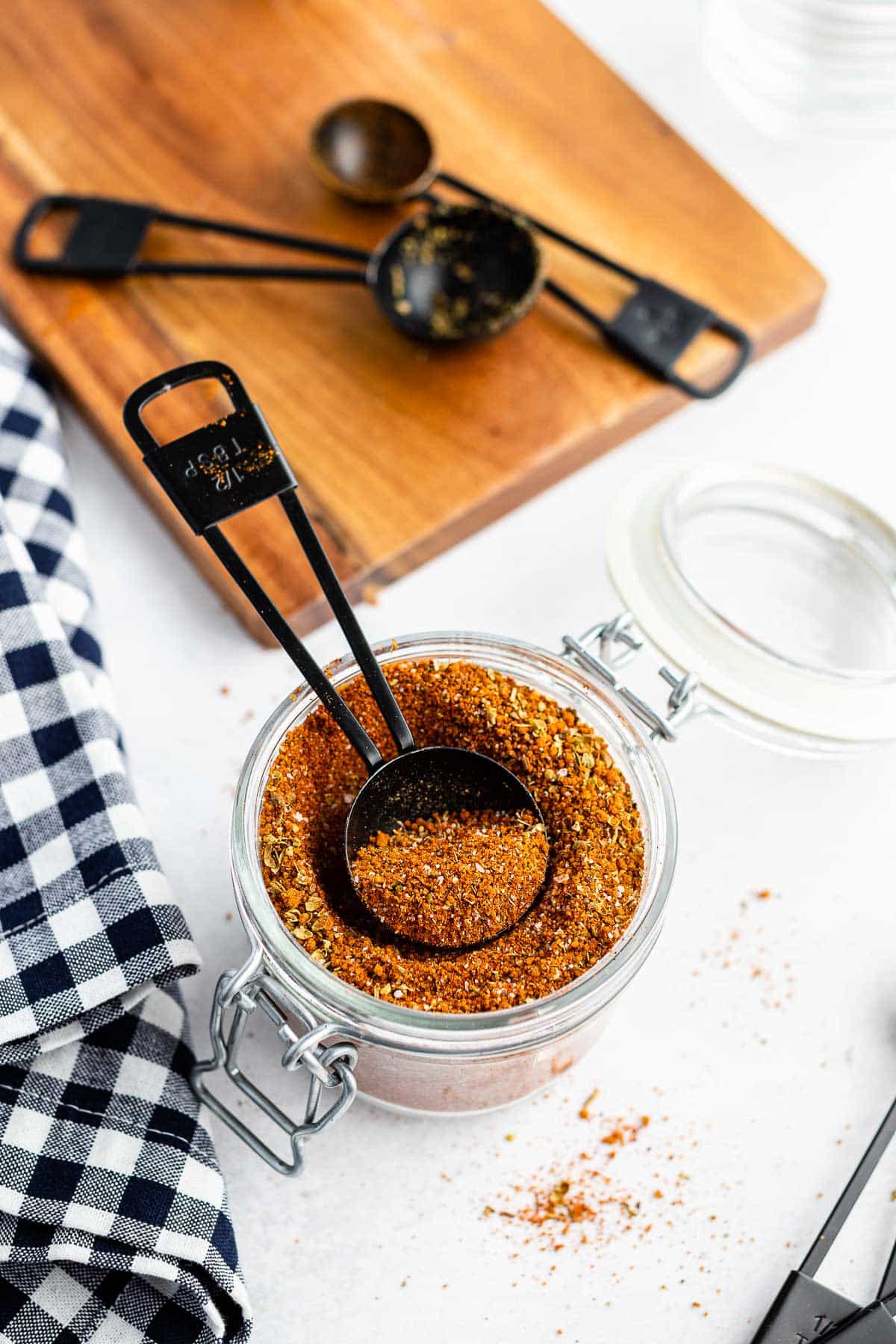 More Recipes You'll Love!
Did you make it? Please RATE THE RECIPE below!
Please SUBSCRIBE and FOLLOW ME on FACEBOOK , TWITTER , INSTAGRAM and PINTEREST !
Recipe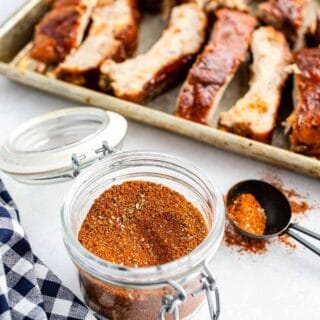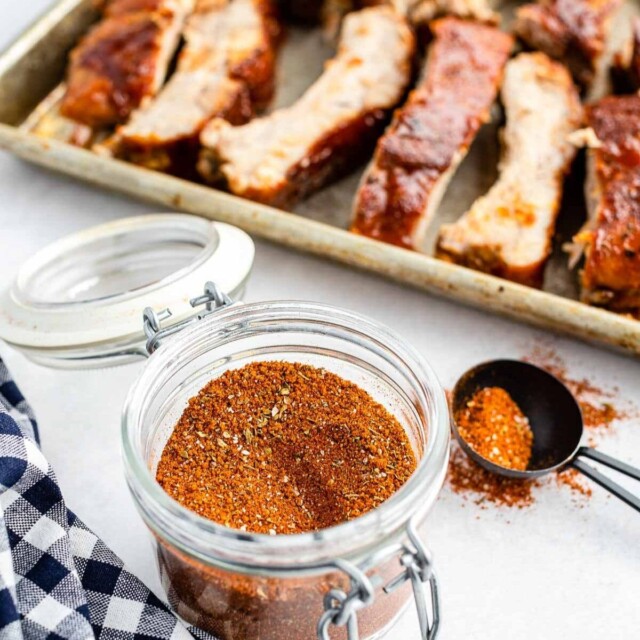 Dry Rub for Ribs
With a hint of sweetness and a touch of heat, this rub is good on just about anything, even salmon. Use on ribs all by itself or top with BBQ sauce. In a sealed container, it will last several months.
Print
Save Recipe
Recipe Saved!
Pin
Rate
Servings:
1
cup total yield
Ingredients
¼

cup

Smoked Paprika

3

tablespoons

Brown Sugar

2

tablespoons

ground Cumin

2

tablespoons

Chili Powder

1

tablespoon

dried Oregano

1

tablespoons

Kosher salt

1 ½

teaspoons

ground Pepper

1

teaspoon

Cayenne Pepper
Instructions
Place all ingredients in a bowl, stir until well mixed.
To Use Immediately
Pat the rack of ribs with paper towels to remove any excess moisture.

Rub an ample amount of the rib rub into the ribs on all sides. The amount that sticks on the ribs will determine how much is needed (vs. a specific measurement).

Cook ribs as your recipe indicates.
To Store it
Store in a sealed container in a cool, dark location for up to 6 months.
Nutrition
Calories:
333
kcal
|
Carbohydrates:
70
g
|
Protein:
9
g
|
Fat:
9
g
|
Saturated Fat:
1
g
|
Sodium:
10778
mg
|
Potassium:
1353
mg
|
Fiber:
20
g
|
Sugar:
40
g
|
Vitamin A:
19528
IU
|
Vitamin C:
3
mg
|
Calcium:
349
mg
|
Iron:
19
mg