Green Chile Stew is a cold weather staple in our house. This New Mexico comfort food is simple, rustic and satisfying!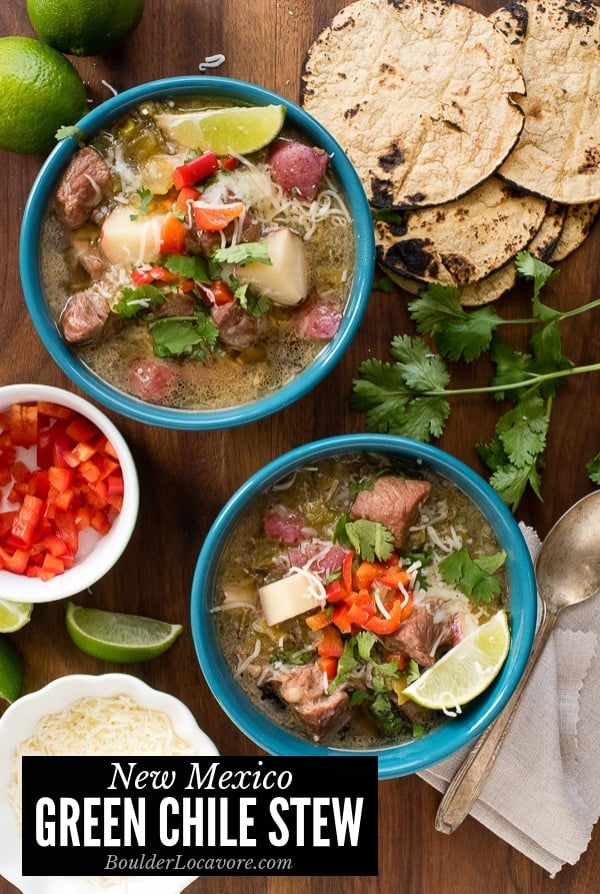 I love any and all New Mexican cuisine and never miss a chance to hop down to Santa Fe to eat.
There is nothing like Northern New Mexican food for spicy, earthy comfort food.
I simply can't get enough of it!
Winter temps are perfect for hearty soups and stews. This Green Chile Stew recipe will fit right in with your cold weather favorites.
What is Green Chile Stew?
Green Chile Stew is a humble dish. Seared chunks of pork, potatoes, onions, garlic, broth and of course green chilies.
It has the distinct flavor of green chilies however isn't necessarily spicy unless it has been made with fresh chilies which can vary in heat.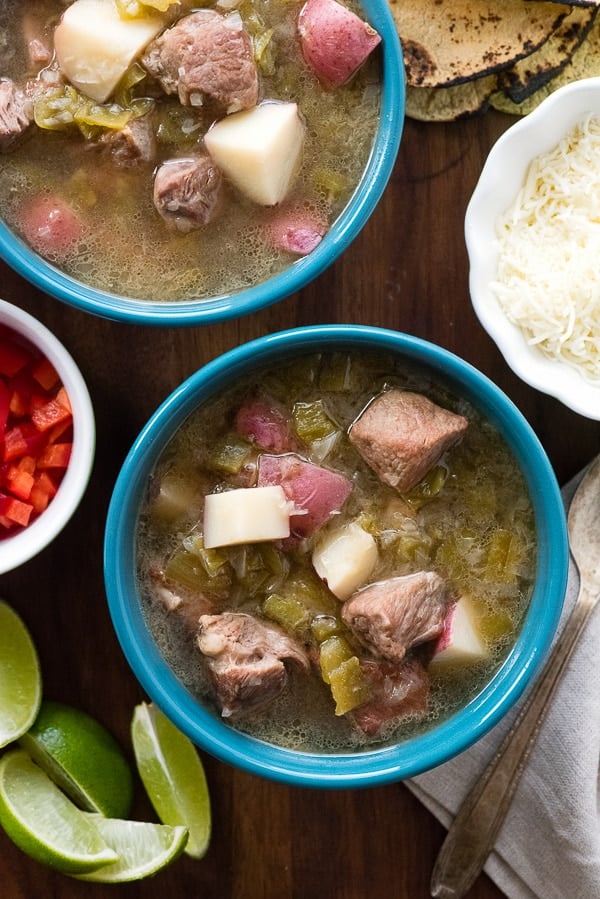 New Mexican Green Chile Stew
I always tread lightly when sharing an authentic regional recipe.
I respect the traditions of those who have made these recipes for generations and even if I'm tempted to take a spin on the basic recipe I usually don't.
New Mexicans are fiercely protective of their recipes and cuisine (with good reason), and quick to clarify when an adaptation doesn't fall in line with what they've always known to be the traditional way to make something.
Normally I love making this during Hatch chile season in the fall. We get a bumper crop shipped to Colorado from New Mexico.
Whether at Farmer's Markets or grocery stores, the distinct, pungent aroma of the chilies being roasted fills the air.
No matter what time of year it's made, this pork stew is a favorite.
Ingredients in Green Chile Stew
The recipe ingredients are simple and an example of the right wholesome ingredients combining to make an irresistible end result!
This recipe has been adapted to use canned green chilies which are available all year round and in most locations.
Should you have access to fresh chilies, Hatch green chilies in particular, you will find instructions on roasting them below.
Canola or Vegetable Oil (olive oil could also be substituted)
Pork Butt
Red Onion
Garlic Cloves
Low-Sodium Chicken Stock
Red New Potatoes
Kosher Salt
canned diced Mild Green Chilies
Garnish: chopped red pepper, torn cilantro leaves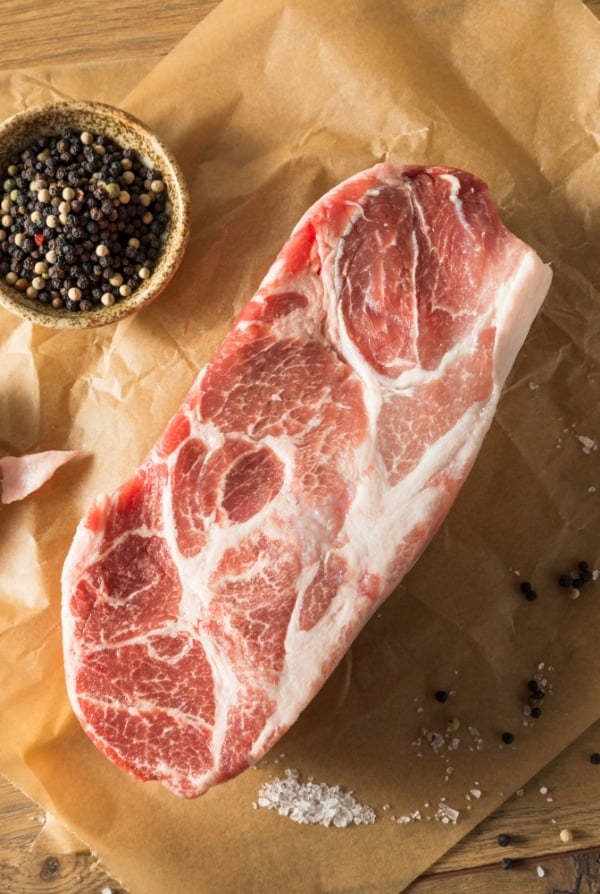 What is Pork Butt?
Pork Butt, also called 'Boston Butt' is a shoulder cut of pork.
It's nicely marbled with fat (good for flavor) and perfect for simmering recipes like this Green Chile Stew.
Pork Shoulder is yet a different lower cut of pork. The terms 'pork butt' and 'pork shoulder' are often used interchangeably.
Though they are NOT actually the same cut of meat, pork shoulder can be substituted in this recipe for pork butt.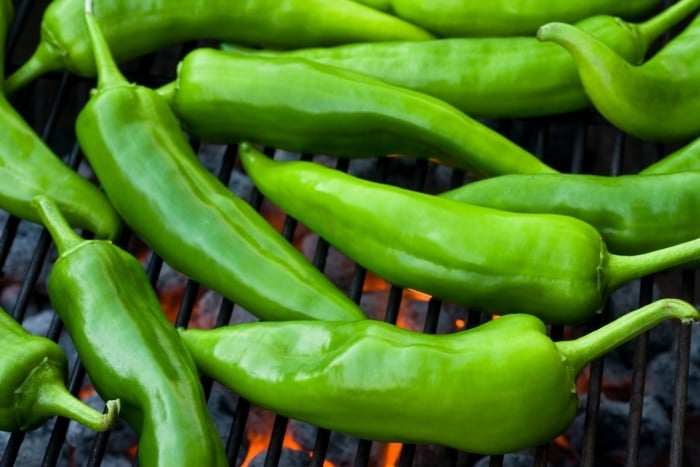 If Using Fresh Chilies, What Kind of Chilies?
Hatch chilies are fantastic though not available year-round or everywhere.
The next best chile would be Anaheim chilies which are easy to find. They are a milder chile for spiciness to.
How to Roast Fresh Chilies for Green Chile Stew
Fresh chilies are not available everywhere and certainly not year-round.
For those in New Mexico they pack their freezers with chilies to enjoy their favorite recipes all year round.
I've amended this recipe to use canned green chilies so everyone can enjoy it anytime.
However, should you have access to fresh green chilies and want to spend a bit of extra time to roast them here's how to roast green chilies:
Put chilies over a gas flame or grill and allow to char on all sides by turning with tongs.
Place them in a bowl covered with plastic wrap or a sealed plastic bag for about 20 minutes.
Rub the charred outer skins off then proceed with seeding and chopping them.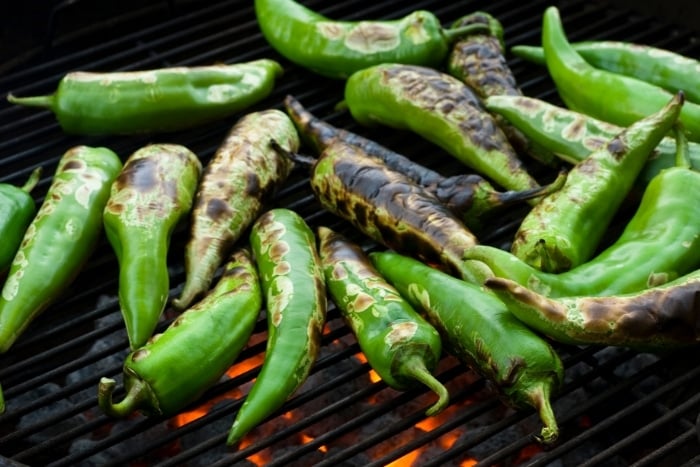 Substituting Fresh Roasted Chilies for Canned Chilies
Plan to use 3 cups of freshly roasted chilies if replacing the canned chilies.
Tip for Spicier Pork Stew
This stew type is not naturally overly spicy. If desiring some spicy heat, substitute one of the cans for Hot Green Chilies.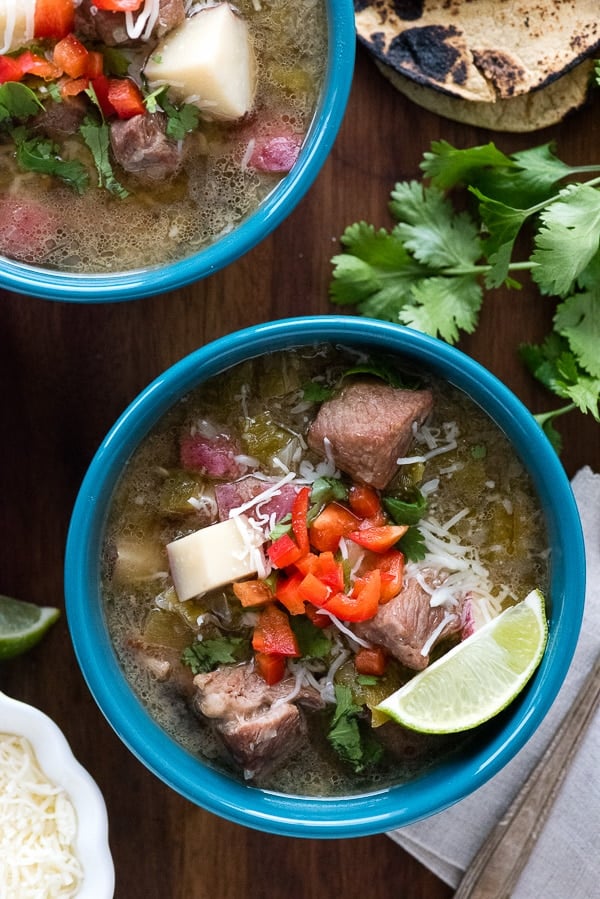 Is Green Chile Stew Gluten-Free?
Yes, this recipe is!
Not all Green Chile Recipes are gluten-free; some contain flour as a thickener.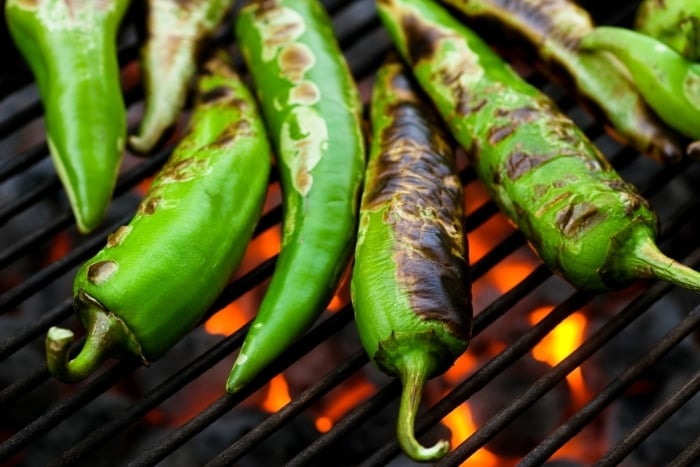 How to Make it
Green Chile Pork Stew is an easy recipe!
In a large Dutch oven or heavy stock pot, heat the oil over medium-high temperature.
When the top of the oil is shimmering, add half of the pork. Allow it to sit in the hot pan to develop a sear before stirring; allow to brown.
Remove from pan to a plate. Repeat for the second half of the pork.
Add the onions to the pan and sauté until softened (2-3 minutes).
Add the garlic and stir together.
Return the meat (and any accumulated juices on the plate) to the pan along with the chicken stock, potatoes, salt and green chilies.
Bring to a boil, reduce temperature to allow stew to simmer for 1 hour.
Serve garnished with torn cilantro leaves, diced red pepper and a bit of grated cheese if desired.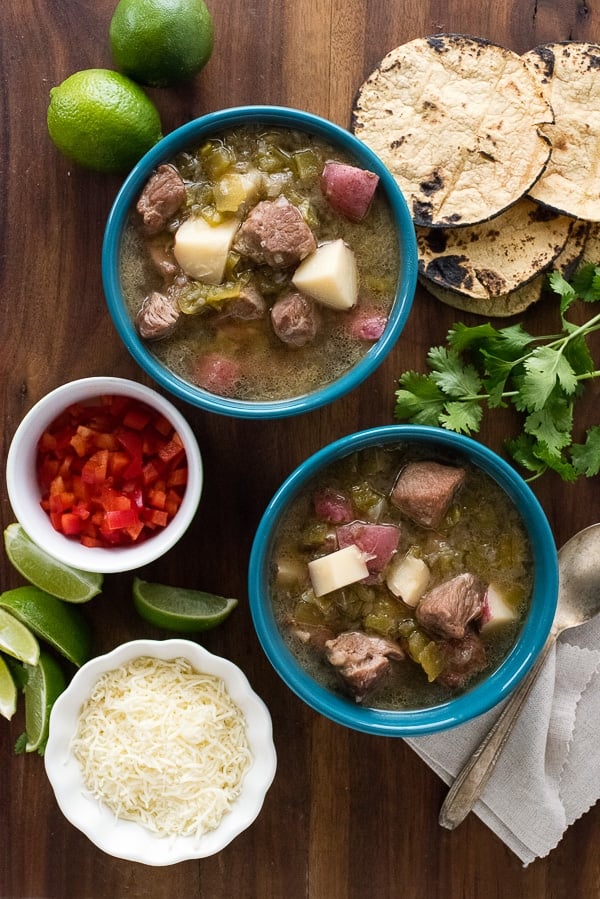 How to Freeze it
Freeze prepared and cooled Green Chile Stew in a freezer-safe container allowing ½-inch head space on top for expansion.
Thaw and eat within 3 months.
A Note on the Look of Green Chile Stew
As much as I love this stew it doesn't bear the most eye-catching palette.
I'd go so far to say it's a bit dingy even.
I like to use red new potatoes to add some color, as well as garnish with diced red sweet pepper and torn cilantro leaves.
They add nice flavor and brighten up the complexion of the stew!
A nice dollop of sour cream on the top adds appeal too though not traditional to the recipe.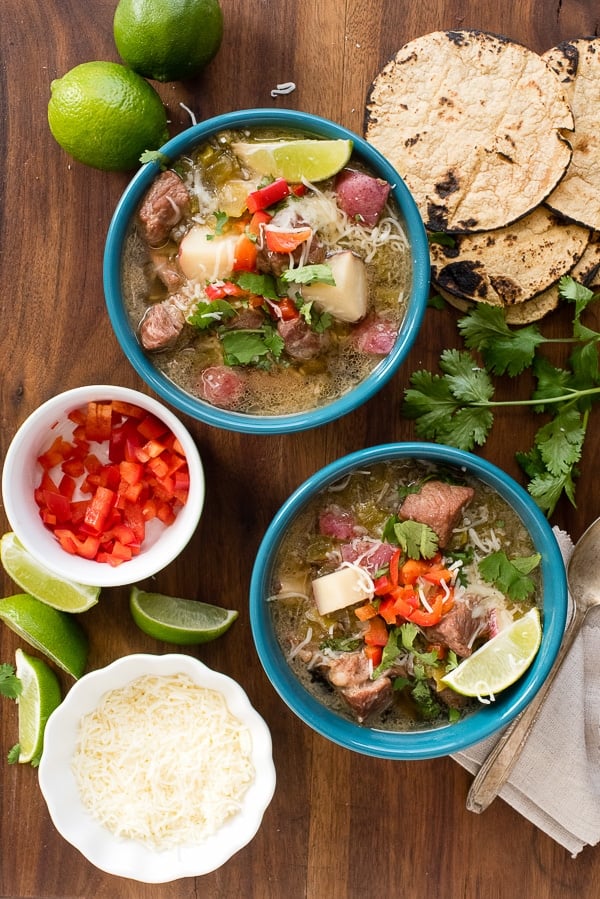 More Stew Recipes You'll Love:
Did you make it? Please RATE THE RECIPE below!
Please SUBSCRIBE and FOLLOW ME on FACEBOOK , TWITTER , INSTAGRAM and PINTEREST !
This delicious recipe was originally published in February 2011.