Colder temperatures call for simple, rustic food at my dinner table.  New Mexico Green Chile Stew is a taste of the Southwest that is easy to make!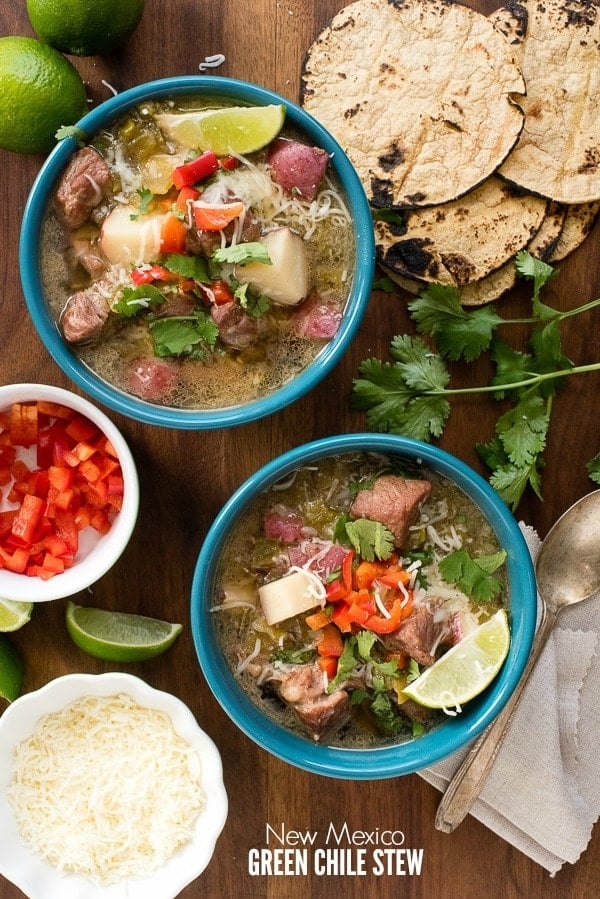 One of my favorite first recipes I shared on Boulder Locavore was for New Mexico Green Chile Stew.  I love any and all New Mexican cuisine and never miss a chance to hop down to Santa Fe to eat.  Maybe that sounds weird but there is nothing like Northern New Mexican food and I simply can't get enough of it!
Since the original posting of New Mexico Green Chile Stew, I've iterated the recipe and now that I have more than 3.4 followers it seemed a great time to share it again in updated form!  Winter temps are perfect for hearty soups and stews and I think you'll agree this recipe will fit right in with your cold weather favorites.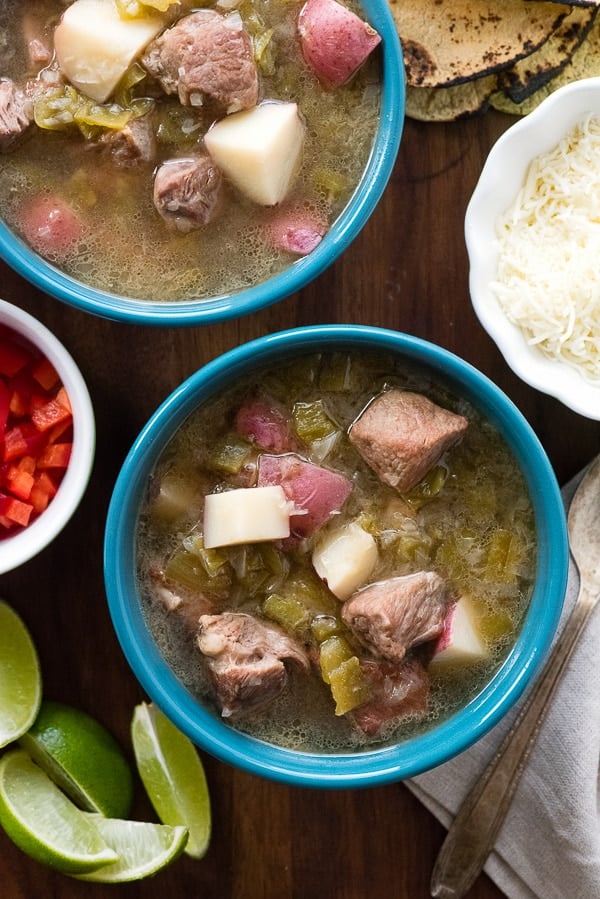 I love a good rustic stew.  One that is hearty with chunky textures, easy and quick to prepare.  With most of the U.S. suffering from cold, sharing this authentic recipe feels to be perfectly timed.  Normally I love making this during Hatch chile season in the fall.  We get a bumper crop shipped up here and whether at Farmer's Markets or grocery stores, the distinct, pungent aroma of the chilies being roasted fills the air.  It is a Pavolvian thing for me.  My mouth instantly starts to water!
I'll include instructions for roasting fresh chilies for this recipe but it struck me that fresh chilies are not available everywhere and certainly not year-round.  For those in New Mexico they pack their freezers with chilies to enjoy their favorite recipes all year round.  I've amended this recipe to use canned green chilies so everyone can enjoy it anytime.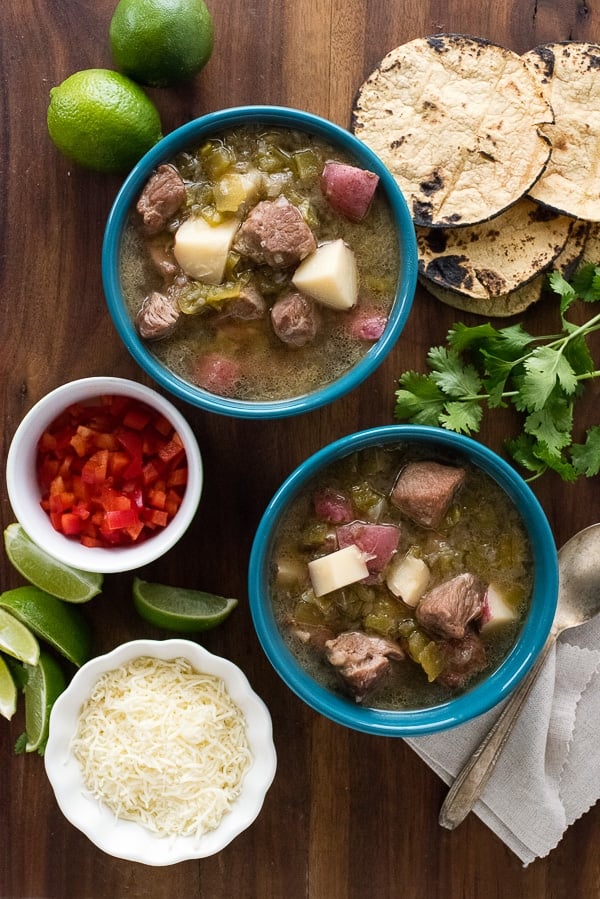 I always tread lightly when sharing an authentic regional recipe.  I respect the traditions of those who have made these recipes for generations and even if I'm tempted to take a spin on the basic recipe I usually don't.  New Mexicans are fiercely protective of their recipes and cuisine (with good reason), and quick to clarify when an adaptation doesn't fall in line with what they've always known to be the traditional way to make something.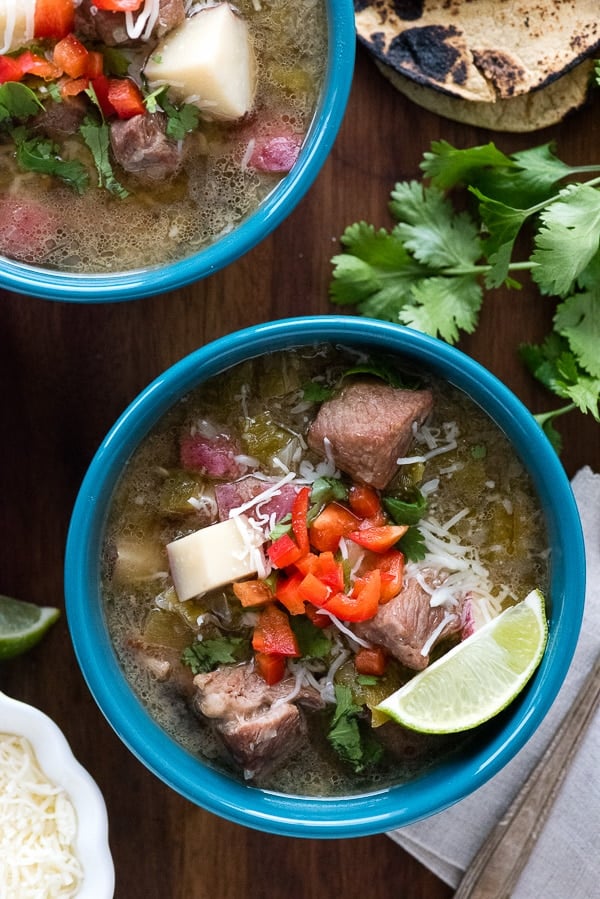 New Mexico Green Chile Stew is a humble dish really.  Seared chunks of pork, potatoes, onions, garlic, broth and of course green chilies.  It has the distinct flavor of green chilies however isn't necessarily spicy unless it has been made with fresh chilies which can vary in heat.  If you like spicier recipes you can swap one of the cans of mild chilies with hot green chilies to perk it up.
As much as I love this stew it doesn't bear the most eye-catching palette.  I'd go so far to say it's a bit dingy even.  I like to use red new potatoes to add some color, as well as garnish with diced red sweet pepper and torn cilantro leaves.  They add nice flavor and brighten up the complexion of the stew!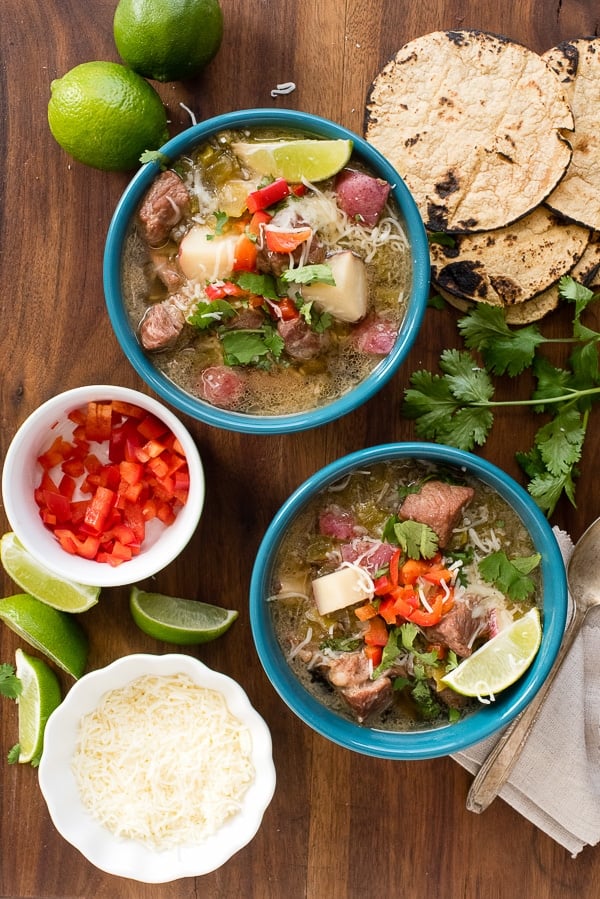 I want to connect with you! Leave a comment and follow me on Facebook, Twitter, Pinterest & Instagram!


This delicious recipe was originally published in February 2011 and has been updated in 2016.