Tangy-sweet pickled red onions are an irresistible topping for everything from street tacos to curry. Make this easy recipe in about 5 minutes and enjoy as soon as 30 minutes later! No canning required.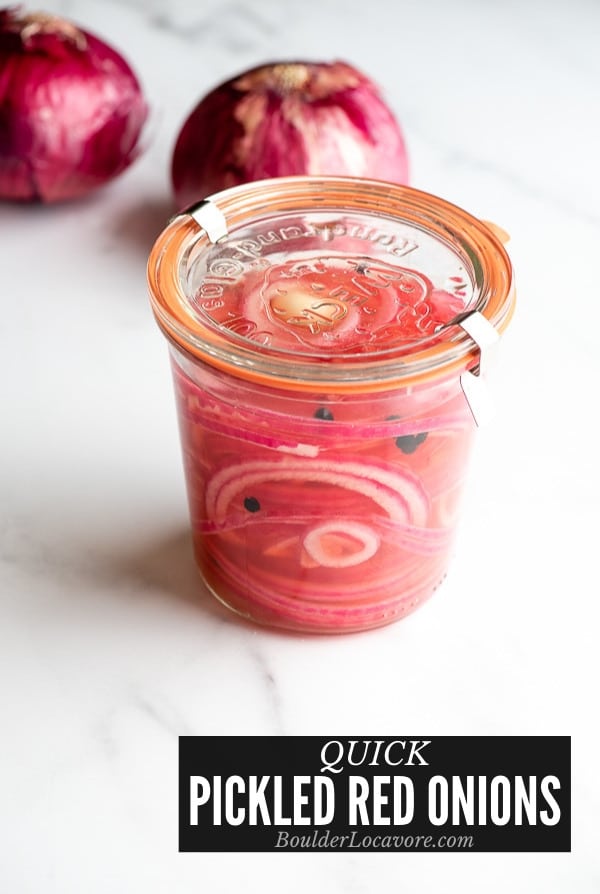 If you've eaten street tacos you've noticed bright pink onions (or maybe you didn't even know they were onions) topping them.
I'm sure they caught your attention because they add a wonderful flavor and bite to whatever they are eaten on along with that beautiful eye-catching color.
The great thing about these little pink gems is they are VERY easy to make at home!
Keep a jar in your refrigerator on the ready for homemade street tacos, burgers, pulled pork sandwiches, hot dogs, salads and on ethnic dishes like curries.
There are many exciting things about this quick pickle recipe.
It's easy, fast and something you'll find many uses for once you've made them the first time.
My kids beg me to keep a jar on the ready in the fridge for all sorts of uses.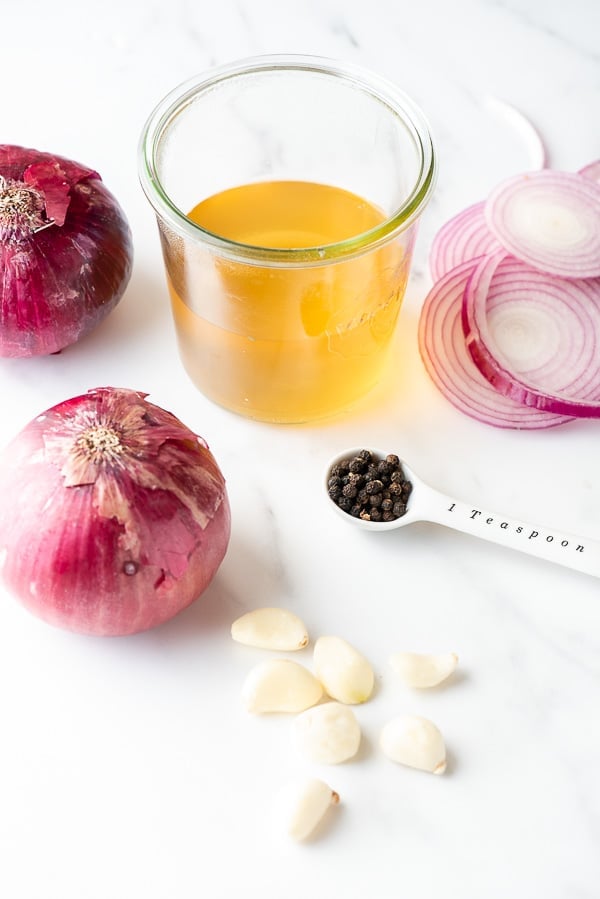 Making Refrigerator Pickles
A reason this recipe is quick is it does not use a traditional pressure canner or water bath canning method.
Those are reserved for longer term canned goods that are shelf stable.
Refrigerator pickles combine a brine with a fruit or vegetable to take on the tangy flavor of the liquid they are soaking in while in the refrigerator.
This both gives flexibility to whip them up quickly and removes the concerns about food safety in traditional canning recipes.
It can be done with any fruits or vegetables such as the beets in this Arugula Apple-Beet Candied Pecan Salad recipe.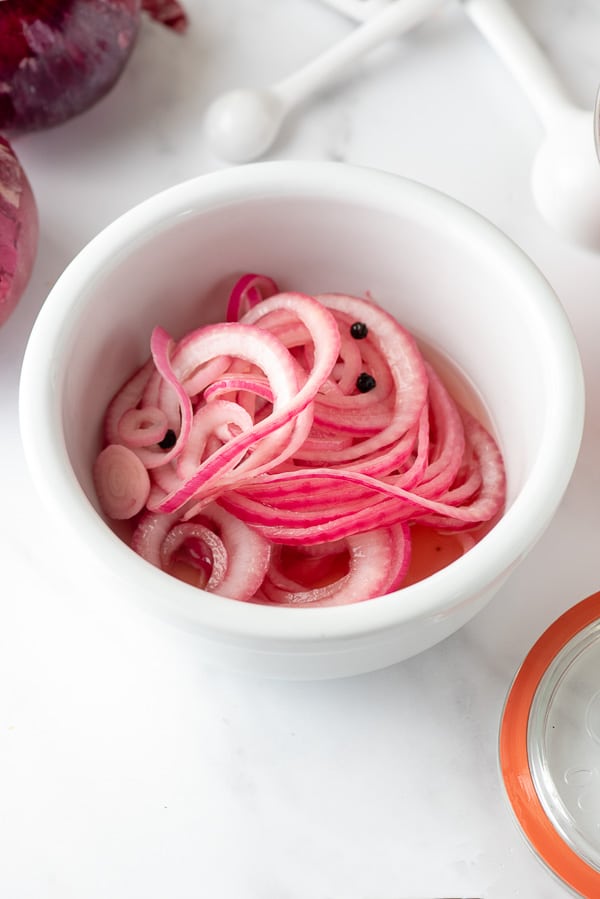 What Do Pickled Red Onions Taste Like?
Thinly sliced red onions soak in sweet and lightly salty flavors.
The end result? A wonderful sweet-tangy flavor.
Ingredients
Just a handful of simple ingredients go into making these delicious pickled onions!
You may have everything you need in your pantry right now.
Red Onions
Apple Cider Vinegar
Kosher Salt
Granulated Sugar
Garlic Cloves
Whole Black Peppercorns
What Type of Vinegar to Use
The type of vinegar used in the recipe affects the flavor.
I used apple cider vinegar for this recipe but it could be changed up to use rice vinegar, white vinegar or red wine vinegar too.
White distilled vinegar has a stronger flavor; it also can be used but may be too tangy for some.
The flavor can be changed even further by adding different spices or herbs to the pickling mixture.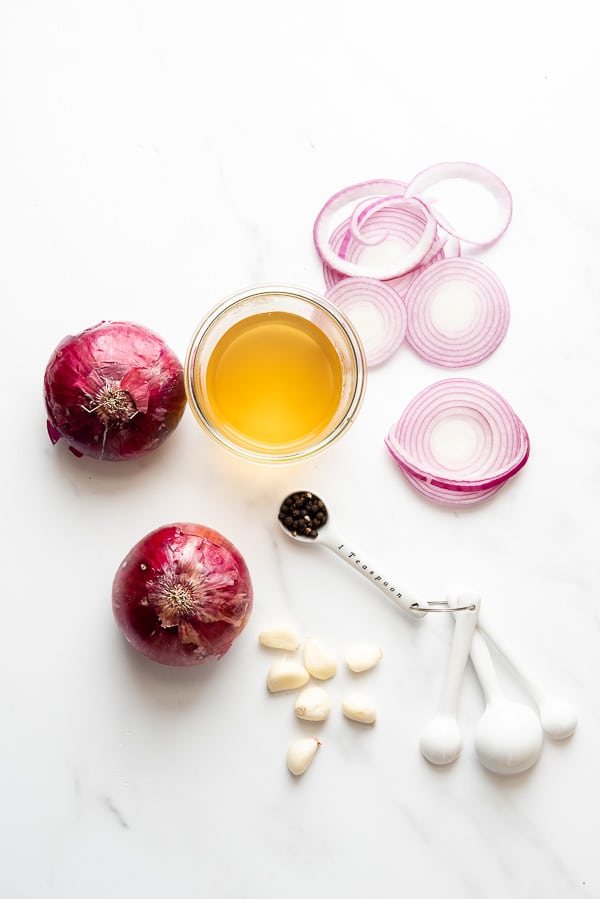 How to Make this Pickled Red Onions – Step-by-Step
The recipe is very easy.
STEP 1: Thinly slice the red onions across the onion.
STEP 2: In a small saucepan over medium heat, combine the vinegar, salt and sugar to make a brine. Stir just until the sugar and salt have dissolved; remove from heat. Add the garlic and whole peppercorns.
STEP 3: Cool to room temperature then place in the refrigerator. Chill for at least 30 minutes before eating.
How Long to Soak the Red Onions?
These pickled onions taste best if allowed to soak for a few hours.
They become pliable though still have a crunch.
TIP: When the pickles are done, use the brine in homemade salad dressing!
PRO TIP: Slicing the Red Onions
You can choose the thickness desired of the red onion slices for pickling.
They can be paper thin up to approximately ¼-inch thick to allow them to soften and become pliable.
For this quick pickled red onion recipe, you can use a heavy knife or a mandoline (recommended).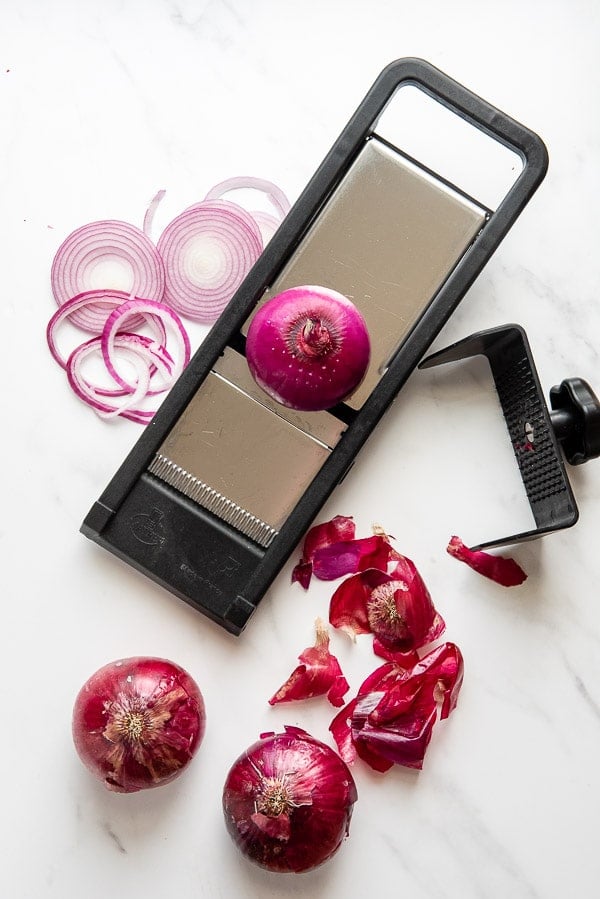 Use a Mandoline for Slicing
If you don't have a mandoline, this recipe is a perfect use for one.
A mandoline is a slicer that can be set to slice vegetables to any thickness.
All slices will be identically thick which is harder to do with a knife by hand.
The advantage of a mandoline for this recipe is that you can make the slices uniformly thick, and whatever thickness you choose.
Once the mandoline is set up, the slicing takes mere minutes to complete an entire onion.
Mandolines are available at most cooking stores, department stores, and Asian grocery stores.
TIP: Buy a mandoline that has a guard that goes over the item being sliced which will protect your fingers from the sharp cutting blade.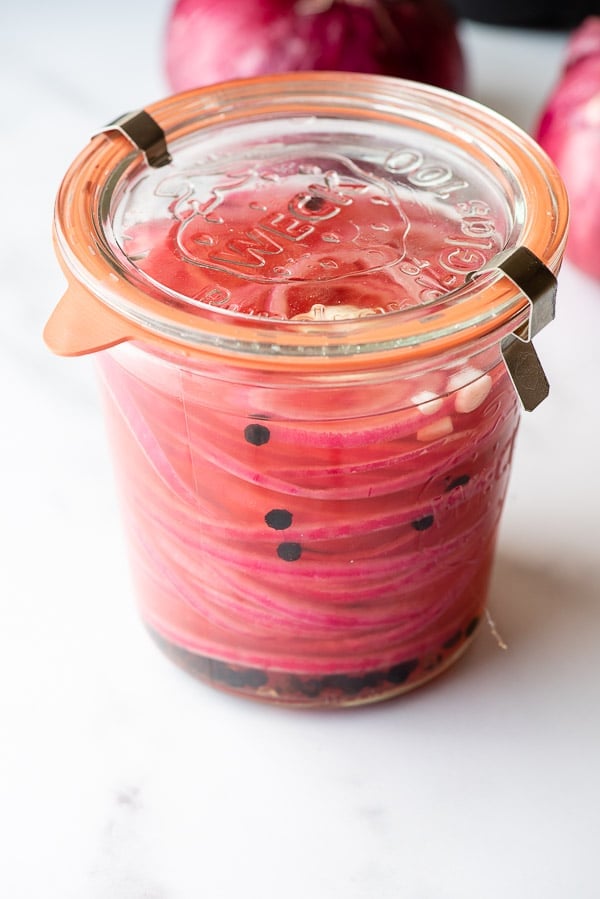 How Long Do Pickled Red Onions Last?
They can keep, sealed, in the refrigerator for up to 2 weeks.
They taste best and have the best texture 1 week after making them.
What Jar to Use
The most important thing is to use a glass container.
The acidity in vinegar can have a chemical reaction with metal or other container materials.
Using a jar with a sealing lid is necessary.
You can repurpose a jar you have, use Mason jars or I like Weck jars.
Weck jars stack easily and they look cool (shown in the photos).
They come with glass lids, a seal and clips for closure. Plastic lids are also available for the jars.
Try These Recipes too!
Did you make it? Please RATE THE RECIPE below!
Please SUBSCRIBE and FOLLOW ME on FACEBOOK , TWITTER , INSTAGRAM and PINTEREST !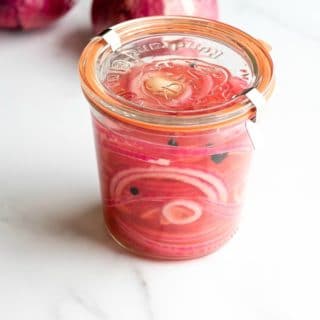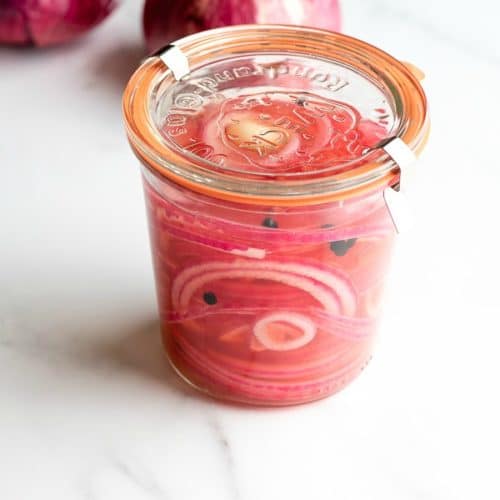 Quick Pickled Red Onions
Pickled red onions add a sweet tangy bite to any foods they top as well as a beautiful pink color. These refridgerator pickles are fast to make and can be eaten as early as 30 minutes after making!
The longer the onions soak the more flavorful they become as well as softer.
Print
Save Recipe
Recipe Saved!
Pin
Rate
Ingredients
1

medium

Red Onion

1

cup

Apple Cider Vinegar

1 ½

teaspoon

Kosher Salt

1

tablespoon

Granulated Sugar

1

Garlic Clove

1

teaspoon

Black Peppercorns

1

16-ounce (.5 liter)

Glass Jar with lid
Instructions
Peel and slice the onion (across the onion) with a knife or mandoline. Slice thickness may be paper thin to 1/4-inch thick based on preference.

In a small sauce pan over medium heat, combine the vinegar, salt and sugar, stirring just until the salt and sugar dissolve (1-2 minutes). Remove from heat and add the garlic clove and peppercorns.

Place sliced onions in a glass jar, pour brine over the onions, seal and place in the refrigerator for minimum 30 minutes before eating. The onions may be stored in the refridgerator, sealed, up to several weeks.
Nutrition
Calories:
14
kcal
|
Carbohydrates:
2
g
|
Protein:
0
g
|
Fat:
0
g
|
Saturated Fat:
0
g
|
Cholesterol:
0
mg
|
Sodium:
437
mg
|
Potassium:
29
mg
|
Fiber:
0
g
|
Sugar:
1
g
|
Vitamin C:
0.1
mg
|
Calcium:
5
mg
|
Iron:
0.1
mg
Originally published: April 19, 2018