Homemade barbecue sauce made with whiskey and blueberries is spicy, tangy, sweet, and delicious! This Blueberry Whiskey Barbecue Sauce recipe has a secret ingredient that makes it the best barbecue sauce you'll ever taste! I was compensated by Nielsen-Massey Vanillas for my time in developing this homemade barbecue sauce recipe post. All opinions are my own.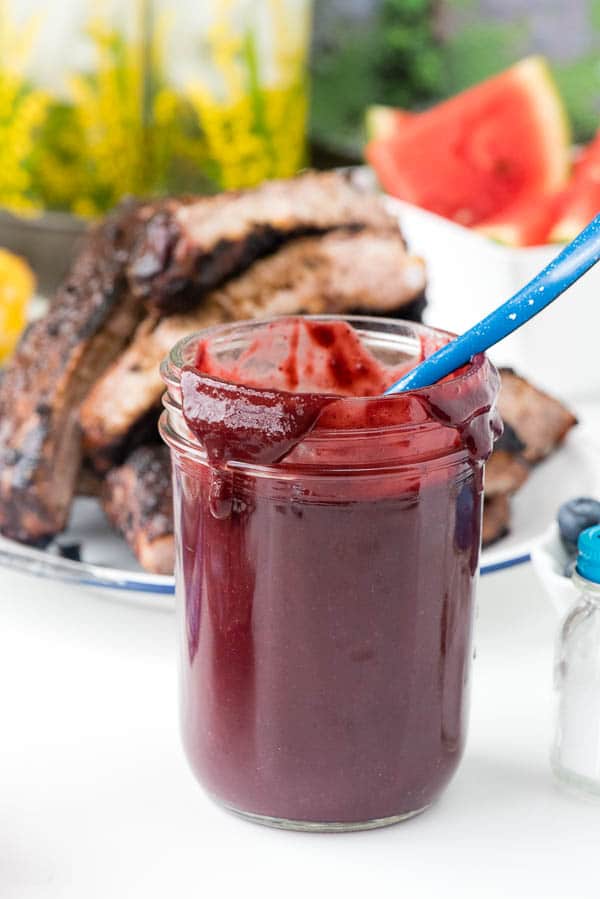 Colorado's weather continues its manic tug of war to see when spring will finally arrive. Between you and me, I have my money on spring. Our last snow storm a few weeks ago was cozy, but anything other than threatening. I applauded the effort but ignored it knowing it would melt within 48 hours.
The sun was out full throttle last weekend and the need to grill was in the air. My lifelong desire to master grilling kicked into high gear last year when I took a three-day intensive hands-on grilling course with grilling luminary Steven Raichlen, author of the Barbecue Bible (and many more books), who also currently stars the in PBS series, Project Smoke. I grilled every day last summer and realized I'm never happier than when I smell like a campfire from head to toe.
Grilling Requirements: Homemade Barbecue Sauce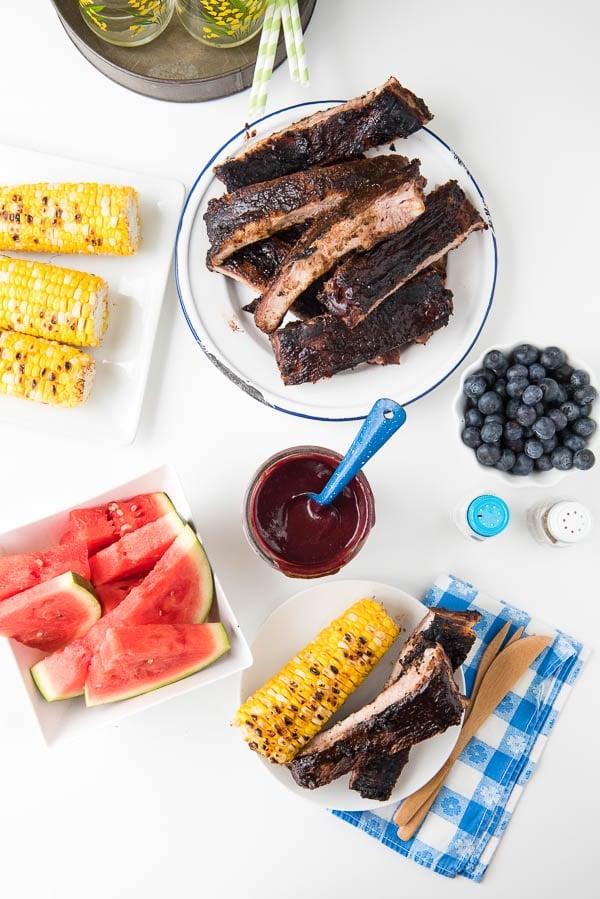 In this spirit, I kicked off this grilling season by smoking a whole turkey, grilling shish kabobs and making a homemade barbecue sauce recipe that's been dancing in my head since last summer:  Blueberry Whiskey Barbecue Sauce.  Who wouldn't love a homemade barbecue sauce that's spicy, tangy, loaded with antioxidants and some whiskey to boot?
The sauce turned out fantastic! It has the strong tang I love in a BBQ sauce, mixed with the sweetness from the blueberries and some brown sugar, as well as the whiskey. The whiskey is added to deglaze the pan so the alcohol really burns off leaving its sweet flavor that's perfect with this sauce.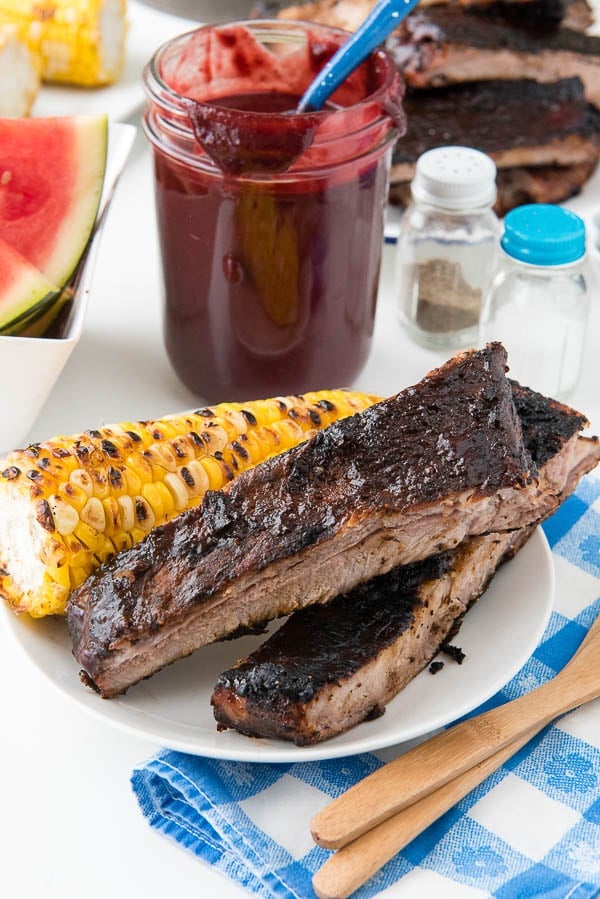 I also added a secret ingredient to my homemade barbecue sauce. It's not usually found in barbecue sauce recipes, but I've been loving it in my kitchen recently: Madagascar Bourbon Pure Vanilla Extract from Nielsen-Massey. It is a full bodied vanilla that's creamy and mellow in flavor but delivers a pure vanilla flavor great both for sweet and savory dishes. If you thought all vanilla extract is created equal, it's not. One taste of this and you'll agree. I also love that their products are certified gluten-free, certified Kosher, allergen-free and GMO-free (and there is an expanding line of certified organic products too).
I've used Nielsen-Massey vanilla for years and it's probably what is in your pantry right now too. To learn more about why Nielsen-Massey is the vanilla to choose and follow Nielsen-Massey on Instagram for more great recipe ideas too!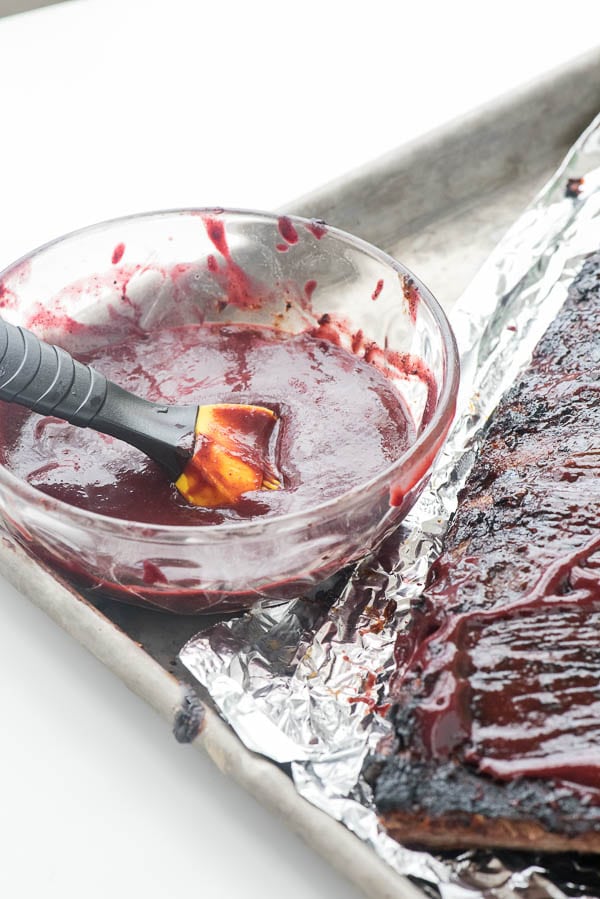 Homemade Barbecue Sauce Recipe Ideas
The barbecue sauce may be used on produce or meats when grilling, to finish the meat or as you'd use a tasty barbecue sauce not actually on the grill. To give it a test run, I whipped up a rack of St. Louis style ribs. Normally ribs should be cooked for 3-4 hours, low and slow, but I used a quicker version inspired by Julia Child.
The ribs are salt and peppered, slathered with the whiskey barbecue sauce, then placed in a 375 degree oven for 20 minutes on each side. After another coating of the sauce, the ribs are finished on a medium temperature grill (350 degrees), charcoal or gas, for about 15 minutes. They should be turned frequently and I grill mine with the lid on/closed. Watch for any flare ups but with the ribs having cooked first in the oven most of the fat will have rendered.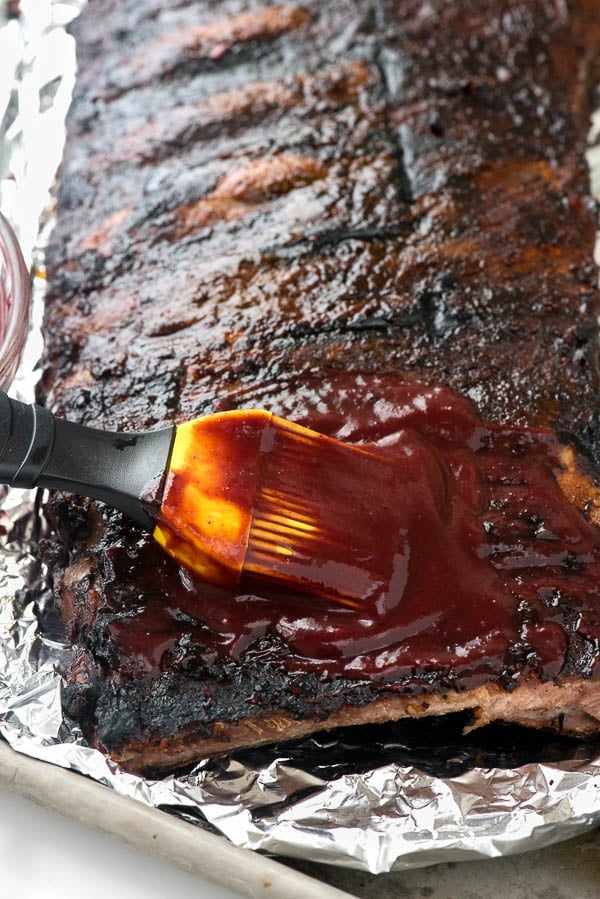 Serve your dinner with sides of potato salad, corn on the cob, potatoes or fries, and a condiment bottle filled with homemade barbecue sauce for dipping.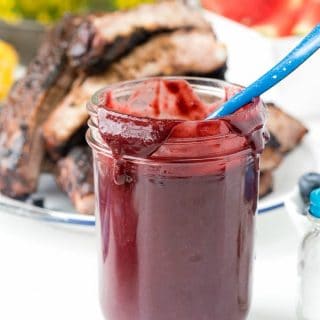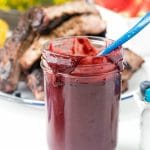 Blueberry Whiskey Barbecue Sauce
This sweet spicy barbecue sauce is great for basting or adding before serving.
Ingredients
1

tablespoon

Canola Oil

½

large Red Onion

, peeled and chopped

3

large Garlic Cloves

, peeled and diced

1

large Jalapeno Chile Pepper

, stem and seeds removed, diced

½

cup

Tennessee Sour Mash Whiskey or Bourbon Whiskey

½

cup

Ketchup

, homemade or purchased

1/3

cup

Worcestershire Sauce

1/3

cup

Apple Cider Vinegar

½

teaspoon

Hot Smoked Paprika

¼

Dark Brown Sugar

3

cups

fresh Blueberries

(frozen, thawed blueberries may be substituted)

1

teaspoon

Nielsen-Massey Madagascar Bourbon Pure Vanilla Extract
Instructions
In a large saucepan over medium-high heat, add the canola oil. Warm until ripples are visible on the oil's surface then add the onion. Sauté until the onion is softened and the color has lightened (about 3-4 minutes).

Add the garlic and jalapeno. Sauté for 2 minutes.

Carefully pour in the whiskey (it will splatter) and stir quickly to deglaze the pan. Add the remaining ingredients EXCEPT the vanilla extract. Stir to fully combine.

Lower the heat to medium or medium-low to allow a low simmer of the sauce. Simmer for 30 minutes, periodically pressing on the blueberries with the back of a heavy cooking spoon or potato masher to smash them.

Remove from heat and allow to sit 5 minutes. Stir in the vanilla extract. Process in batches through a blender or using an immersion (stick) blender, puree the sauce until smooth. Allow to cool slightly then place in a glass jar with lid and refrigerate until fully chilled. May be used for up to two weeks if kept sealed in the refrigerator.
Nutrition Facts
Blueberry Whiskey Barbecue Sauce
Amount Per Serving
Calories 158
Calories from Fat 18
% Daily Value*
Fat 2g3%
Cholesterol 0mg0%
Sodium 333mg14%
Potassium 271mg8%
Carbohydrates 20g7%
Protein 1g2%
Vitamin A 260IU5%
Vitamin C 13.9mg17%
Calcium 29mg3%
Iron 1.1mg6%
* Percent Daily Values are based on a 2000 calorie diet.