St. Louis Ribs are a favorite during grilling season. This shortcut method takes hours out of the process too! Slathered with Homemade barbecue sauce made with whiskey and blueberries that's spicy, tangy, sweet, and delicious!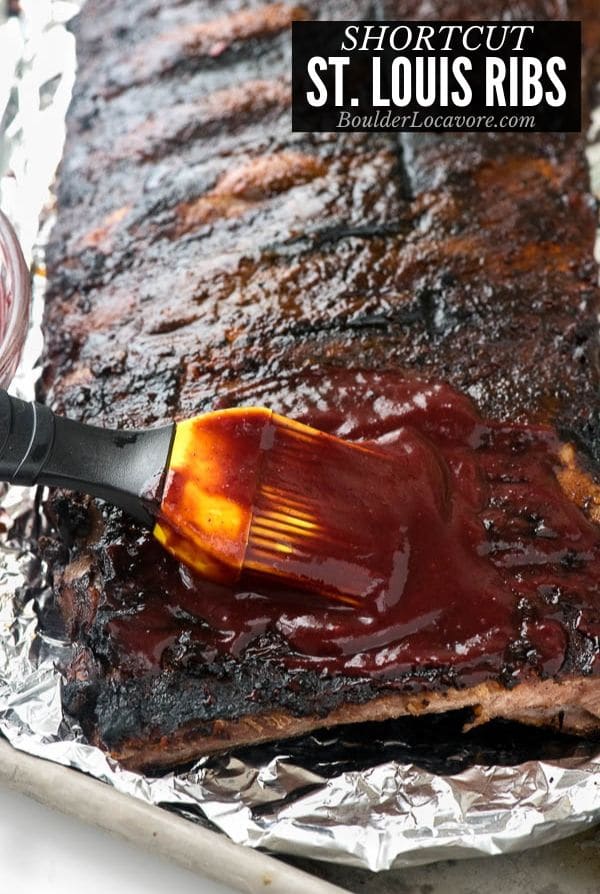 Ribs are always a favorite during grilling season.
St. Louis Style Ribs are packed with flavor and wonderful texture.
Normally they take 3-4 hours to make but this Shortcut Method has them on the table in about 60 minutes!
Add some homemade Blueberry Whiskey Barbecue Sauce for a complete WOW!
Jump to:
What are St. Louis Ribs?
St. Louis-Style Ribs are a pork spareribs that are trimmed to be rectangular removing any excess cartilage.
They are flatter than baby back ribs which makes them easy to brown.
There is also less meat but higher fat so the flavor is fantastic!
St. Louis Ribs are more affordable rib than baby back ribs too.
One rack is around $10-$12.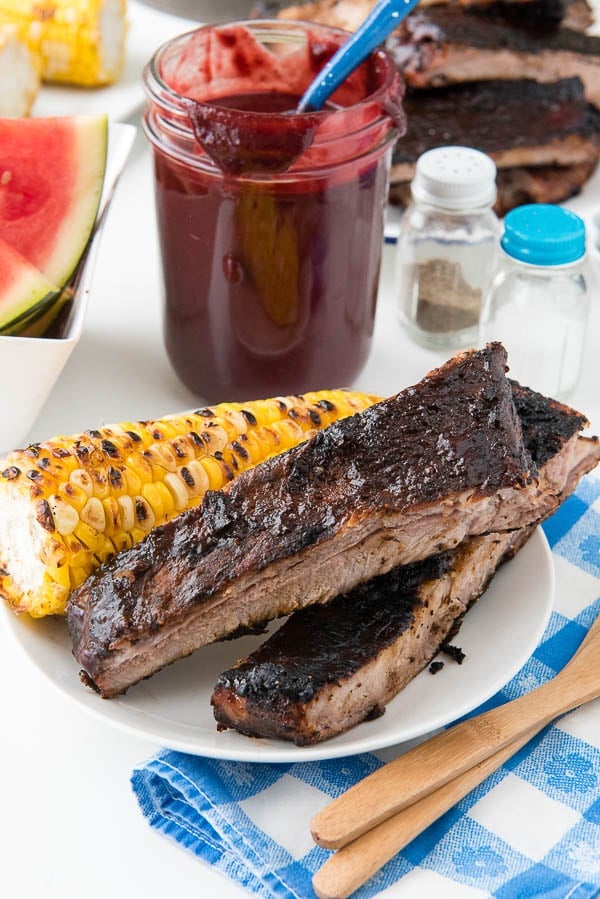 What is a 'Rack' of Ribs?
A 'rack' of ribs is a group of ribs still attached to each other.
Ribs are cooked in a rack then sliced into separate ribs for serving.
How Many People Does a Rack of Ribs Feed?
St. Louis Ribs are usually around 2 1/5 pounds per rack.
One rack serves between 3-4 people.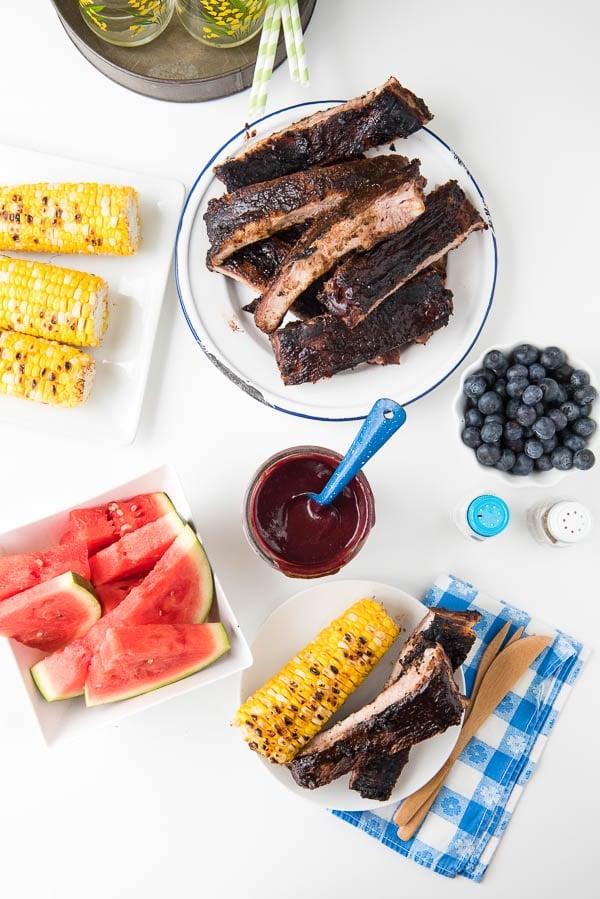 How to Cook St. Louis Ribs – the Shortcut
Typically ribs should be cooked for 3-4 hours, low and slow, but I used a quicker version inspired by Julia Child.
If you want to try a traditional longer method without a sauce try this St. Louis-Style Ribs recipe.
STEP 1: The ribs are salt and peppered, slathered with the whiskey barbecue sauce, then placed in a 375 degree oven for 20 minutes on each side.
STEP 2: After another coating of the sauce, the ribs are finished on a medium temperature grill (350 degrees), charcoal or gas, for about 15 minutes.
Using the Broiler Instead of the Grill
Another way to finish the ribs after they cook in the oven is under the broiler.
The broiler temperature should be set to medium and the ribs NOT immediately below them.
Move the top oven rack down a place or two.
The ribs need to be monitored, turned often and basted with barbecue sauce often.

PRO TIPS for Preparing the Ribs
The ribs should be turned frequently once on the grill.
I grill mine with the lid on/closed.
Watch for any flare ups. Keeping a clean food-safe spray bottle of water near the grill for flare ups helps keep any under control.
Make Ahead. The ribs can be basted with the barbecue sauce, covered and refrigerated for up to 24 hours before cooking. This allows the sauce to soak into the meat.
NOTE: since the ribs having cooked first in the oven most of the fat will have rendered already. It's the dripping fat that causes flare ups when grilling.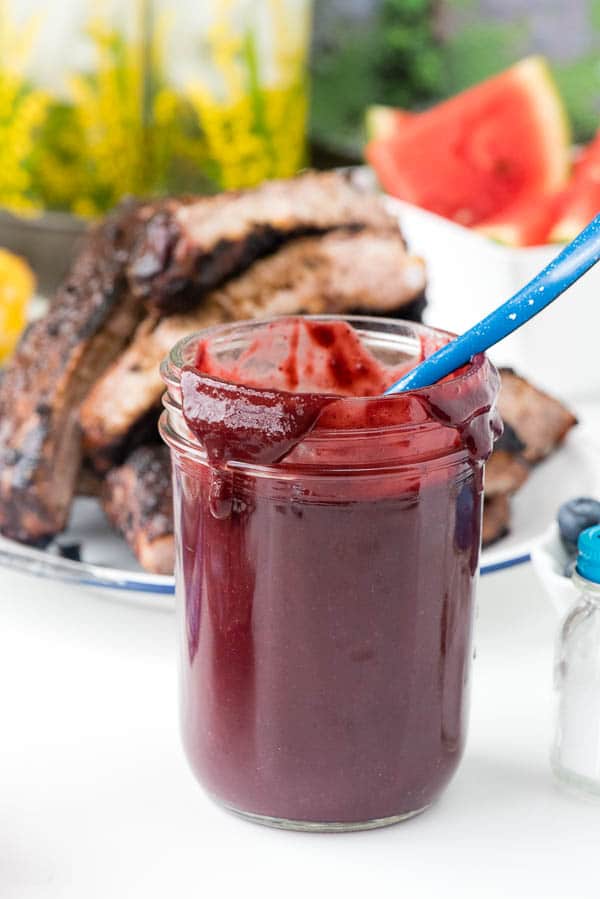 Homemade Blueberry Whiskey Barbecue Sauce
Homemade barbecue sauce is fast and easy to make.
Who wouldn't love a homemade barbecue sauce that's sweet, spicy, tangy, loaded with antioxidants and some whiskey to boot?
Barbecue Sauce Ingredients
Vegetable or Canola Oil
Red Onion
Garlic Cloves
Jalapeno Chile Pepper
Tennessee Sour Mash Whiskey or Bourbon Whiskey
Ketchup
Worcestershire Sauce
Apple Cider Vinegar
Hot Smoked Paprika
Dark Brown Sugar
fresh Blueberries (frozen, thawed blueberries may be substituted)
Pure Vanilla Extract
The sauce has the strong tang you'll love in a BBQ sauce, mixed with the sweetness from the blueberries and some brown sugar, as well as the whiskey.
The whiskey is added to deglaze the pan so the alcohol really burns off leaving its sweet flavor that's perfect with this sauce.
OR try regular Homemade Barbecue Sauce.
How to Use the Barbecue Sauce
The barbecue sauce may be used on produce or meats:
when grilling
to finish the meat, or
as you'd use a tasty barbecue sauce not actually on the grill.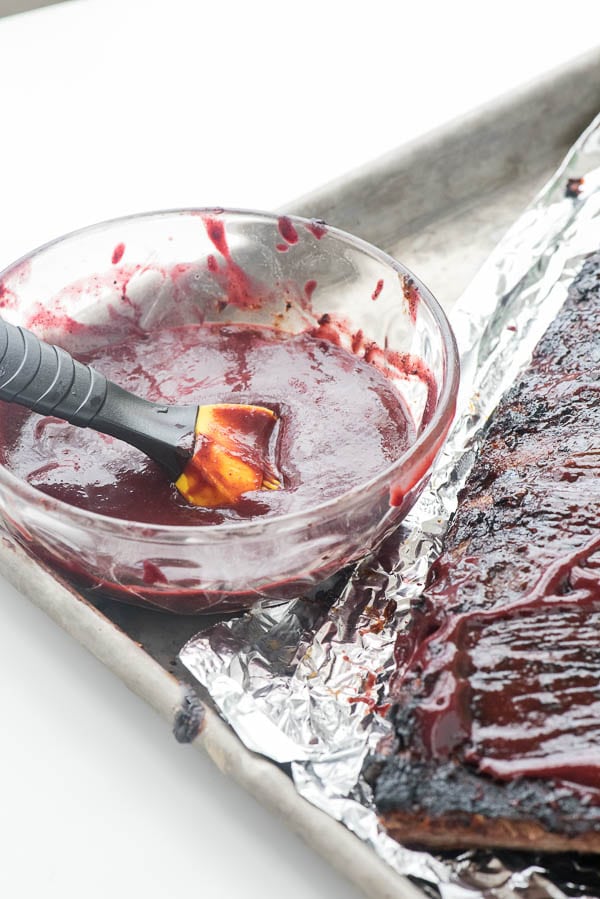 Make it a Meal!
Almost anything goes for side dish recipes with this winning main dish combo! Here are some favorite recipes: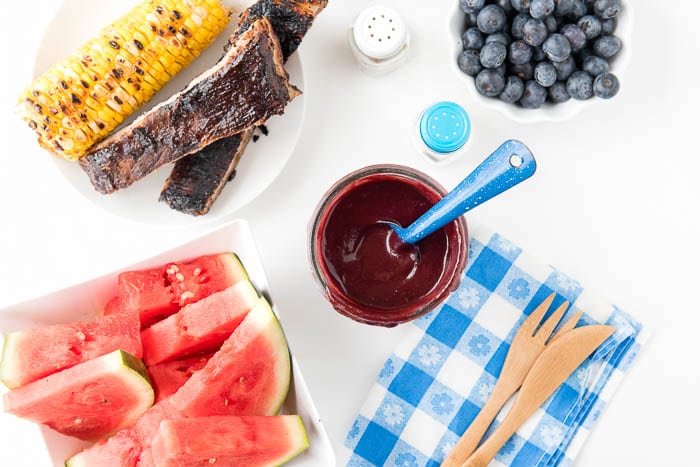 Did you make it? Please RATE THE RECIPE below!
Please
SUBSCRIBE
and
FOLLOW ME
on
FACEBOOK
,
TWITTER
,
INSTAGRAM
and
PINTEREST
!
Recipe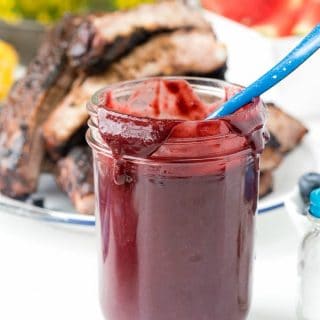 Ingredients
1

tablespoon

Canola Oil

½

large

Red Onion

, peeled and chopped

3

large

Garlic Cloves

, peeled and diced

1

large

Jalapeno Chile Pepper

, stem and seeds removed, diced

½

cup

Tennessee Sour Mash Whiskey or Bourbon Whiskey

½

cup

Ketchup

, homemade or purchased

1/3

cup

Worcestershire Sauce

1/3

cup

Apple Cider Vinegar

½

teaspoon

Hot Smoked Paprika

¼

cup

Dark Brown Sugar

3

cups

fresh Blueberries

(frozen, thawed blueberries may be substituted)

1

teaspoon

Pure Vanilla Extract
Instructions
In a large saucepan over medium-high heat, add the canola oil. Warm until ripples are visible on the oil's surface then add the onion. Sauté until the onion is softened and the color has lightened (about 3-4 minutes).

Add the garlic and jalapeno. Sauté for 2 minutes.

Carefully pour in the whiskey (it will splatter) and stir quickly to deglaze the pan. Add the remaining ingredients EXCEPT the vanilla extract. Stir to fully combine.

Lower the heat to medium or medium-low to allow a low simmer of the sauce. Simmer for 30 minutes, periodically pressing on the blueberries with the back of a heavy cooking spoon or potato masher to smash them.

Remove from heat and allow to sit 5 minutes. Stir in the vanilla extract. Process in batches through a blender or using an immersion (stick) blender, puree the sauce until smooth. Allow to cool slightly then place in a glass jar with lid and refrigerate until fully chilled. May be used for up to two weeks if kept sealed in the refrigerator.
Nutrition
Calories:
158
kcal
|
Carbohydrates:
20
g
|
Protein:
1
g
|
Fat:
2
g
|
Saturated Fat:
0
g
|
Cholesterol:
0
mg
|
Sodium:
333
mg
|
Potassium:
271
mg
|
Fiber:
2
g
|
Sugar:
13
g
|
Vitamin A:
260
IU
|
Vitamin C:
13.9
mg
|
Calcium:
29
mg
|
Iron:
1.1
mg
Originally published: April 27, 2016
The barbecue sauce recipe was originally developed in partnership with Nielsen-Massey.