Pinepple Citrus Slow Cooker Carnitas are packed with flavor with moist meat and perfectly crisped edges great for any Mexican food recipes, sandwiches and more. Simple Carnitas Tacos are an easy, delicious way to use them for any meal! Great for gatherings and Cinco de Mayo.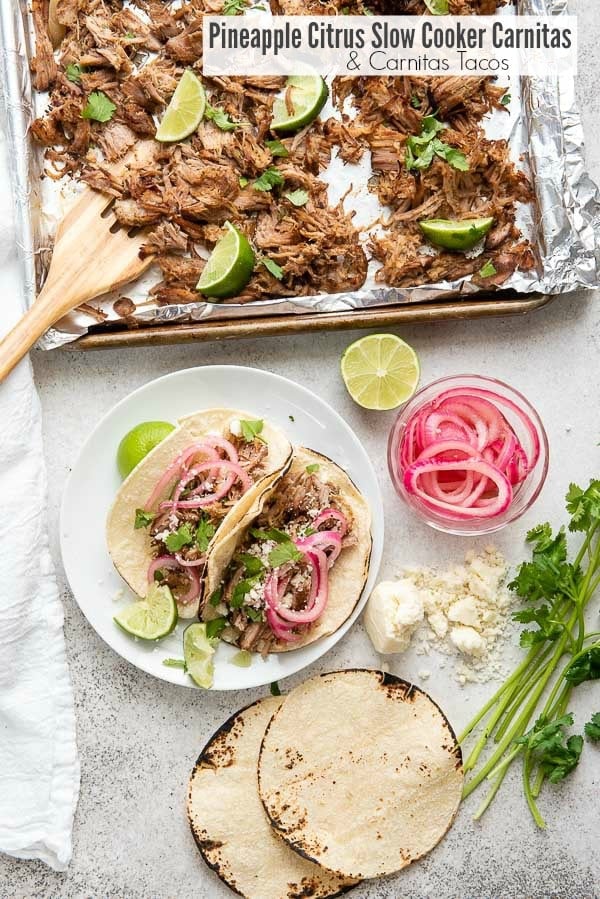 I have been on a complete street taco kick lately. If you are following my Instagram Stories you probably wonder if I am eating them daily (and I was about a week ago).
There is a divey Mexican food restaurant close to our house that has a semi-covered outside patio as well as indoor dining. We've been going there since we moved here over a decade ago.
There is something about the mis-matched furnishings and imperfect décor that feels 'real' to me. No pretense, just a place to kick back and enjoy some good food, good company and margaritas!
We headed over last week for a Happy Hour meal and I had the Carnitas Street Tacos. As I ate them I wondered why I don't make Carnitas more often at home! Easy to make in a slow cooker, carnitas can be used in many dishes and are great to have on hand.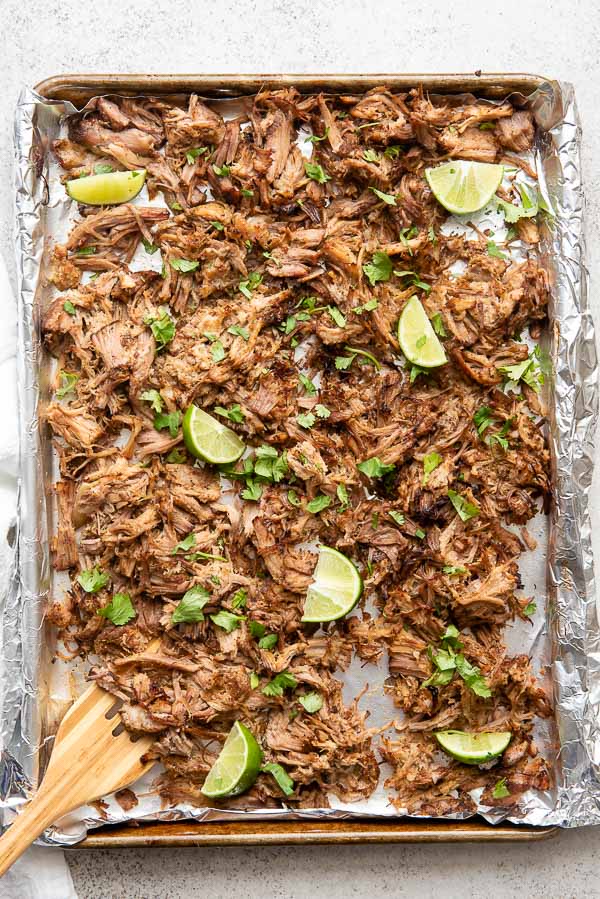 What are Carnitas?
Carnitas (translated to be 'little pieces of meat') are braised or roasted pork that is shredded and usually broiled to create mouthwatering crisp edges.
I use pork shoulder or pork butt (also from the shoulder despite the name) which has some marbling of fat adding wonderful flavor. It's great for shredding and is the cut used most often for shredded pork for pulled pork sandwiches.
How to make Slow Cooker Carnitas
This recipe is an easy one. A combination of fragrant spices is combined to make a rub to cover a lightly (fat) trimmed pork shoulder. A bed of onion wedges lines the bottom of a slow cookerand the pork is placed on top.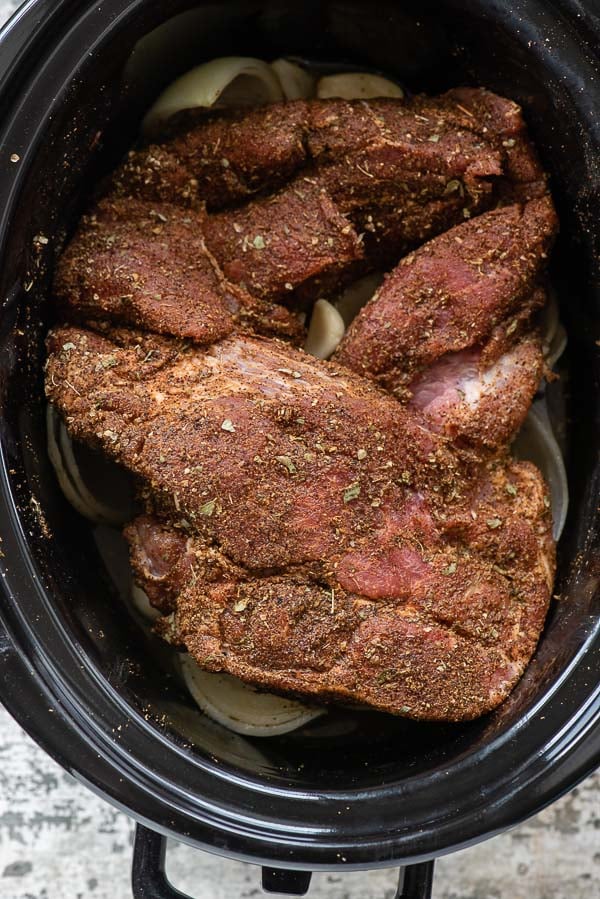 A combination of pineapple juice, orange juice and lime juice are poured into the slow cooker, around the pork to avoid removing the rub. The pork is cooked 8 hours on low to become tender and fully saturated with wonderful flavor.
INSIDER TIP: the addition of a bit of cinnamon to the rub and the sweet pineapple juice, deepens the flavor of the slow cooker carnitas with a touch of sweetness.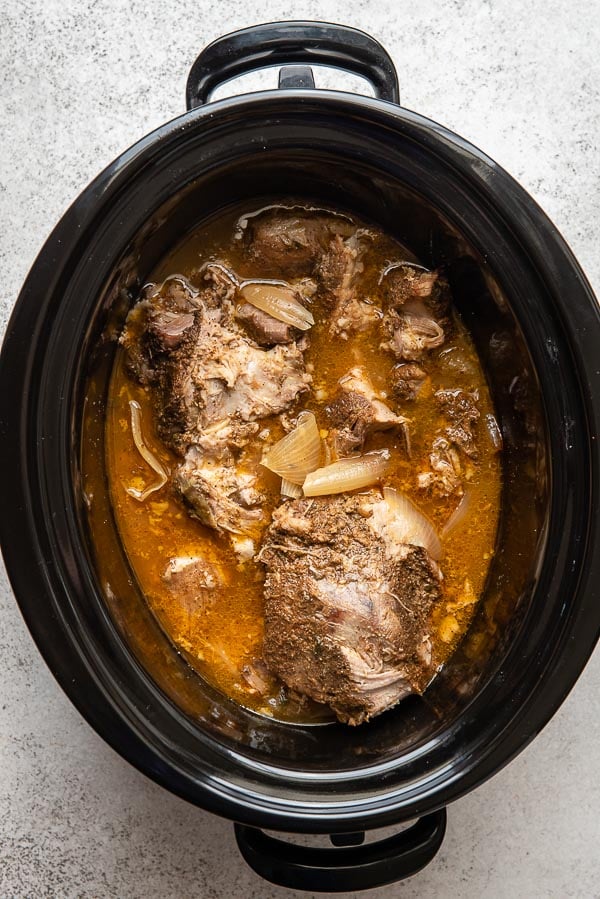 After the pork is done, it is removed and shredded using two dining forks. It is so tender the shredding only takes a few minutes.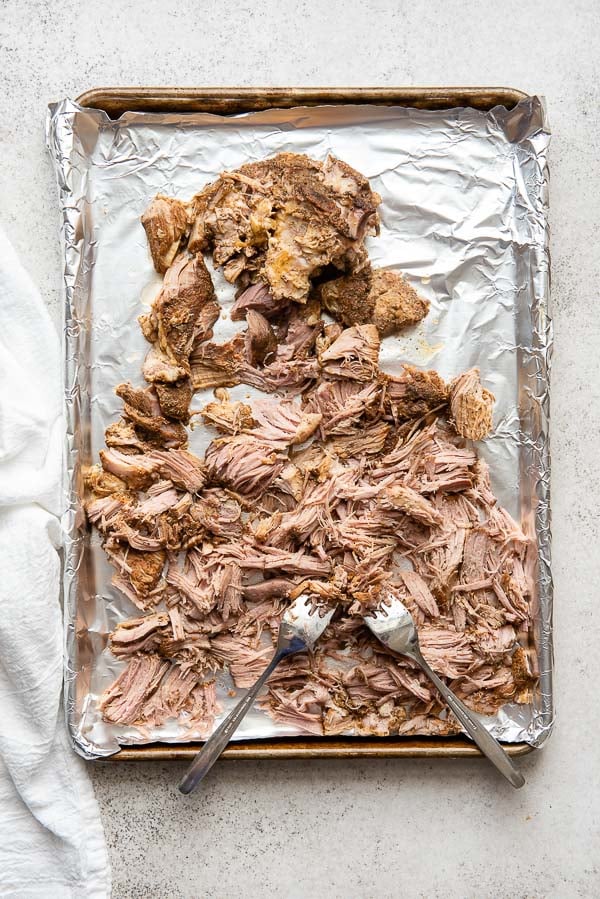 The carnitas are then spread into one layer on a rimmed baking sheet to broil for a few minutes to crisp up the edges.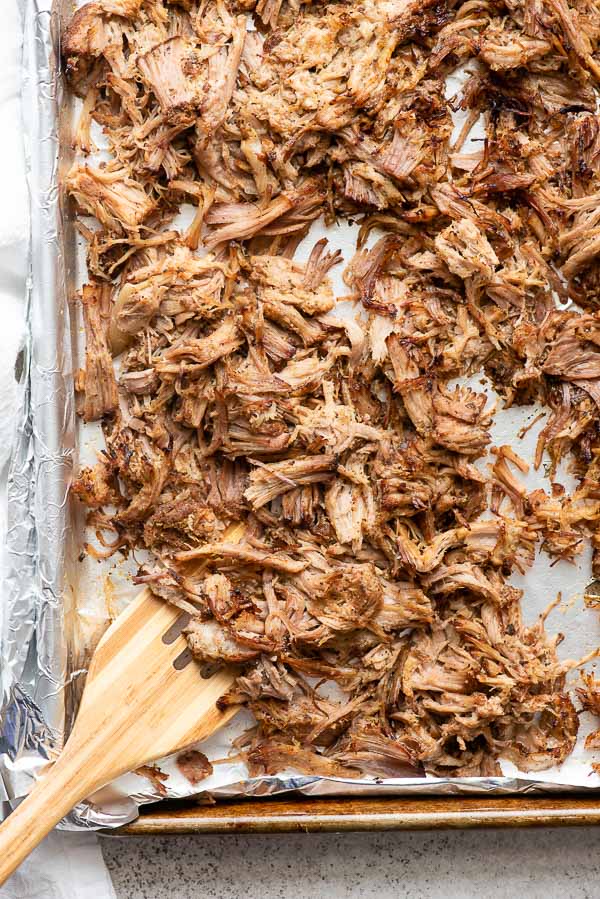 A Note on Trimming Fat on Pork Shoulder
There usually is some 'marbling', thin lines of fat running through the pork shoulder. This is good for flavor and to keep the pork moist since it is a leaner meat.
If there is large external pieces of fat on the pork shoulder, these can be trimmed or cut off after the pork shoulder has cooked. I separates easily when shredding the meat.
Rewarm the pork and liquids in the slow cooker over low temperature until warmed through. Then proceed with the shredding and broiling the slow cooker carnitas as directed in the recipe.
What Recipes Use Carnitas?
Much like Slow Cooker Chicken Taco meat, a big batch of carnitas can be used for many recipes. Burritos, tostadas, with rice and beans, in sandwiches, on salads, in soups. You get the drift. Anywhere you'd add shredded meat, carnitas add a wonderful flavor and texture.
My all time favorite use is in tacos!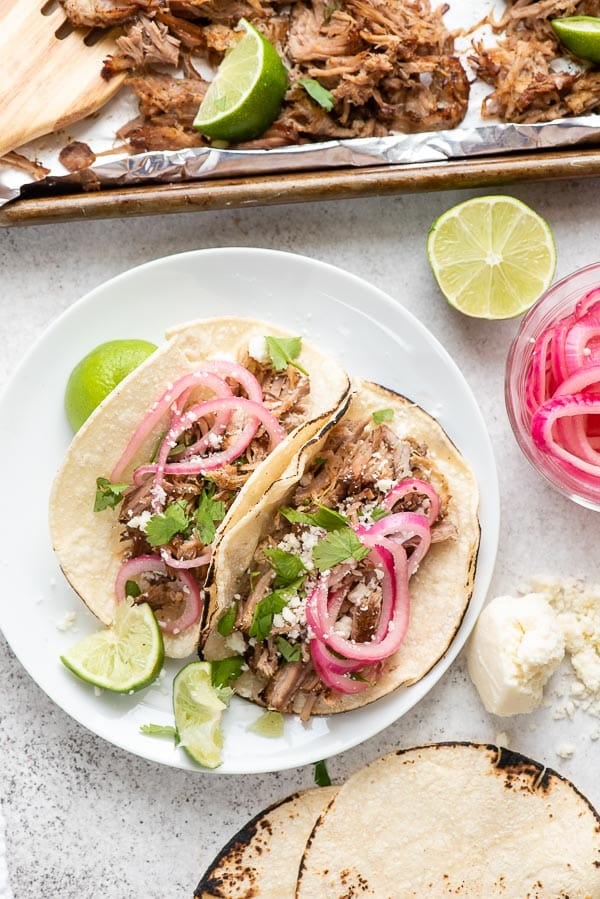 How to Make Carnitas Tacos
Tasty carnitas make great tacos but are my favorite in street tacos.
The Difference Between STREET TACOS and regular Tacos
Most people think of the crispy U-shaped shell filled with meat, vegetables and toppings when they think of a taco.
Street tacos are simple using soft corn tortillas, grilled meat and usually only a few other ingredients or toppings.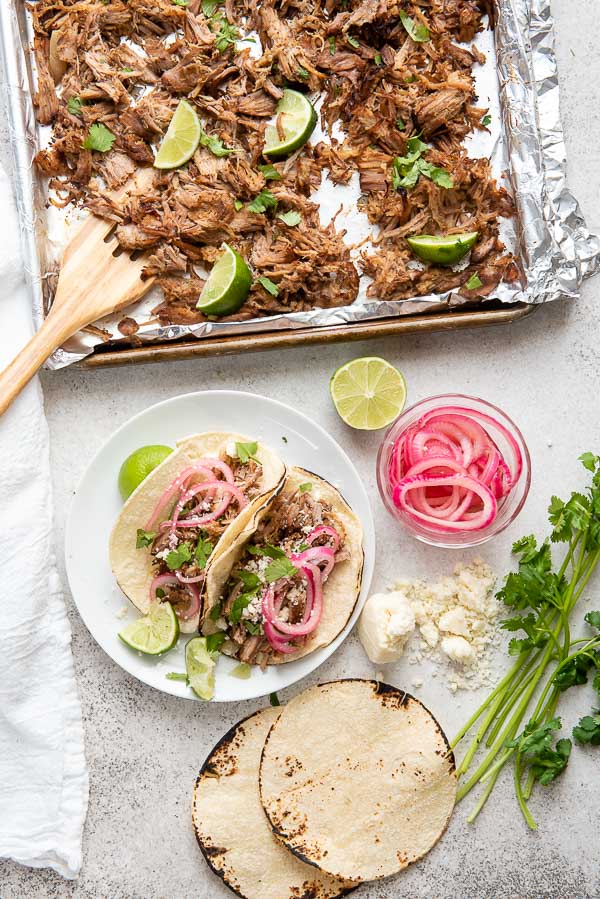 Easy Street-Style Carnitas Tacos
My favorite with these Pineapple Citrus Slow Cooker Carnitas is a carnitas taco with a corn tortilla, some of the carnitas, pickled red onion (I make them using this Quick Pickled Red Onion recipe) and a sprinkling of crumbled Cotija cheese which is a salty Mexican cheese. Torn cilantro leaves on top finish it off! My kids throw in diced pineapple too.
You can even find 'street taco' tortillas at the store that are a smaller size to make tacos with just a few bites!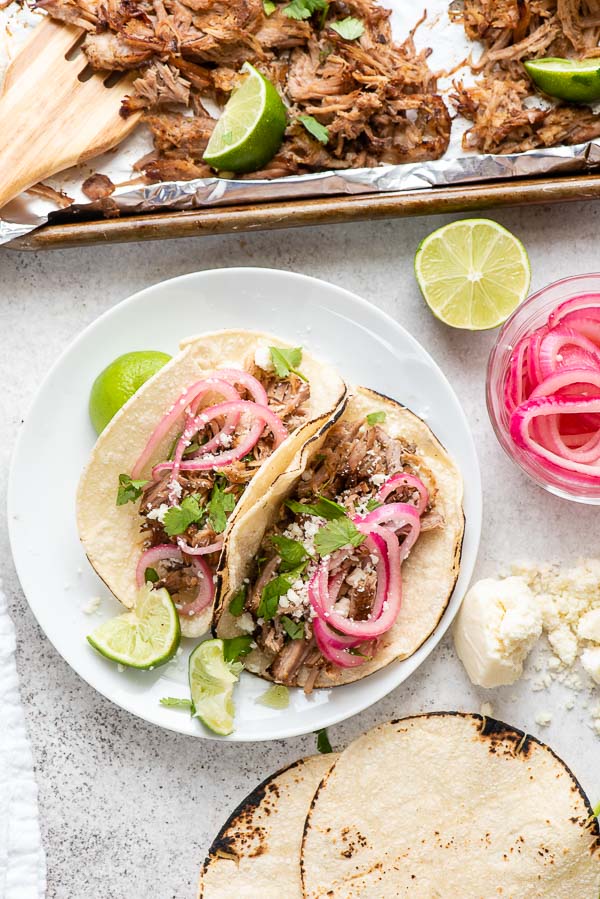 More Slow Cooker Mexican recipes You'll Love:
If you've tried this Pineapple Citrus Slow Cooker Carnitas recipe or any other recipe on BoulderLocavore.com please don't forget to rate the recipe and let me know where you found it in the comments below, I love hearing from you!
Please SUBSCRIBE and FOLLOW ME on FACEBOOK, TWITTER, INSTAGRAM and PINTERST to see more delicious food, travel and what I'm up to!
How to make Pineapple Citrus Slow Cooker Carnitas – Step by Step: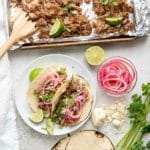 Pineapple Citrus Slow Cooker Carnitas & Carnitas Tacos
This easy recipes for slow cooker carnitas is always a win. Robust spices rubbed into the meat create incredible flavor as the meat slow cooks over several hours. The resulting meat can be used in many dishes including Carnitas Tacos.
Total Time
8
hours
10
minutes
Servings
24
1/3 cup servings (Makes 8 cups total)
Ingredients
1

large

Yellow Onion

peeled, quartered and layers separated

4

Garlic Cloves

peeled

1

tablespoon

ground Cumin

2

teaspoons

Chili Powder

2

teaspoons

Oregano

2

teaspoons

Kosher Salt

1

teaspoon

ground Black Pepper

½

teaspoon

ground Cinnamon

3

pounds

Pork Butt or Pork Shoulder

large pieces of fat removed

1

cup

Pineapple Juice

½

cup

Orange Juice

¼

cup

Lime Juice
Instructions
Line the bottom of a 6 quart or larger slow cooker insert with the onions. Add the garlic cloves.

In a small mixing bowl combine the cumin, chili powder, oregano, salt, pepper and cinnamon. Rub to cover the pork shoulder and place on top of the onions in the slow cooker.

Pour the pineapple juice, orange juice and lime juice into the slow cooker avoiding pouring it onto the pork and displacing the rub. Cover and cook for 8 hours on LOW.

Line a large rimmed baking sheet with foil and preheat the broiler. Move the top oven rack to the second rack position.

Remove meat from the slow cooker (reserve liquids) and place on a cutting board. Using two forks shred the meat. Put the shredded meat onto the prepared baking sheet evenly spreading it into one layer.

Broil for 2 minutes, flip the meat and broil another 2 minutes. Drizzle with ¼ cup of the cooking liquids, toss and broil for a final 2 minutes.

Serve hot. Leftovers can be stored sealed in the refrigerator and are best broiled again for 2 minutes before serving.
Nutrition Facts
Pineapple Citrus Slow Cooker Carnitas & Carnitas Tacos
Amount Per Serving
Calories 64
Calories from Fat 18
% Daily Value*
Total Fat 2g 3%
Cholesterol 23mg 8%
Sodium 223mg 9%
Potassium 164mg 5%
Total Carbohydrates 3g 1%
Protein 7g 14%
* Percent Daily Values are based on a 2000 calorie diet.