Shakshuka gets everyone to the breakfast table, usually for seconds! This easy hearty breakfast recipe is easy to make, packed with flavor and starts the day with a bang!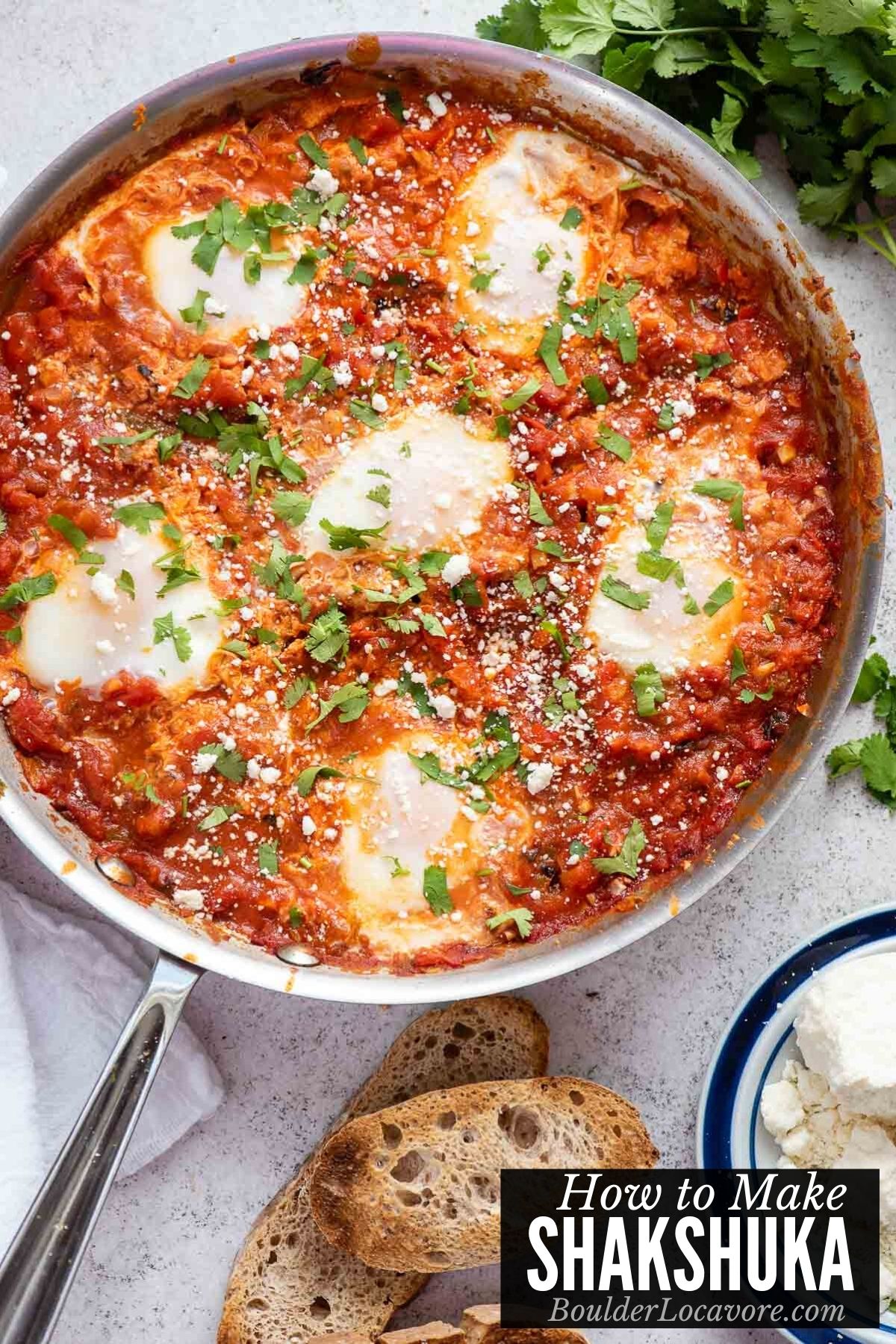 This recipe will break you out of a breakfast rut AND be the star of any brunch.
Don't let the exotic name scare you! It's an easy, homey recipe for a protein-packed breakfast you'll love.
Jump to:
What is Shakshuka?
Shakshuka is a poached eggs recipe cooked in a thick, rustic homemade spicy tomato-vegetable sauce.
Indentations in the sauce allow the eggs cook IN the sauce rather than being added before serving.
A large scoop of the sauce is served with one or two of the eggs. My teen son came back for a total of three helpings!
Not Just for Breakfast
Add some crusty bread for dipping and you'll have a perfect meal!
Typically this is a breakfast recipe but it's so delicious, savory and filling you'll eat it for any meal of the day.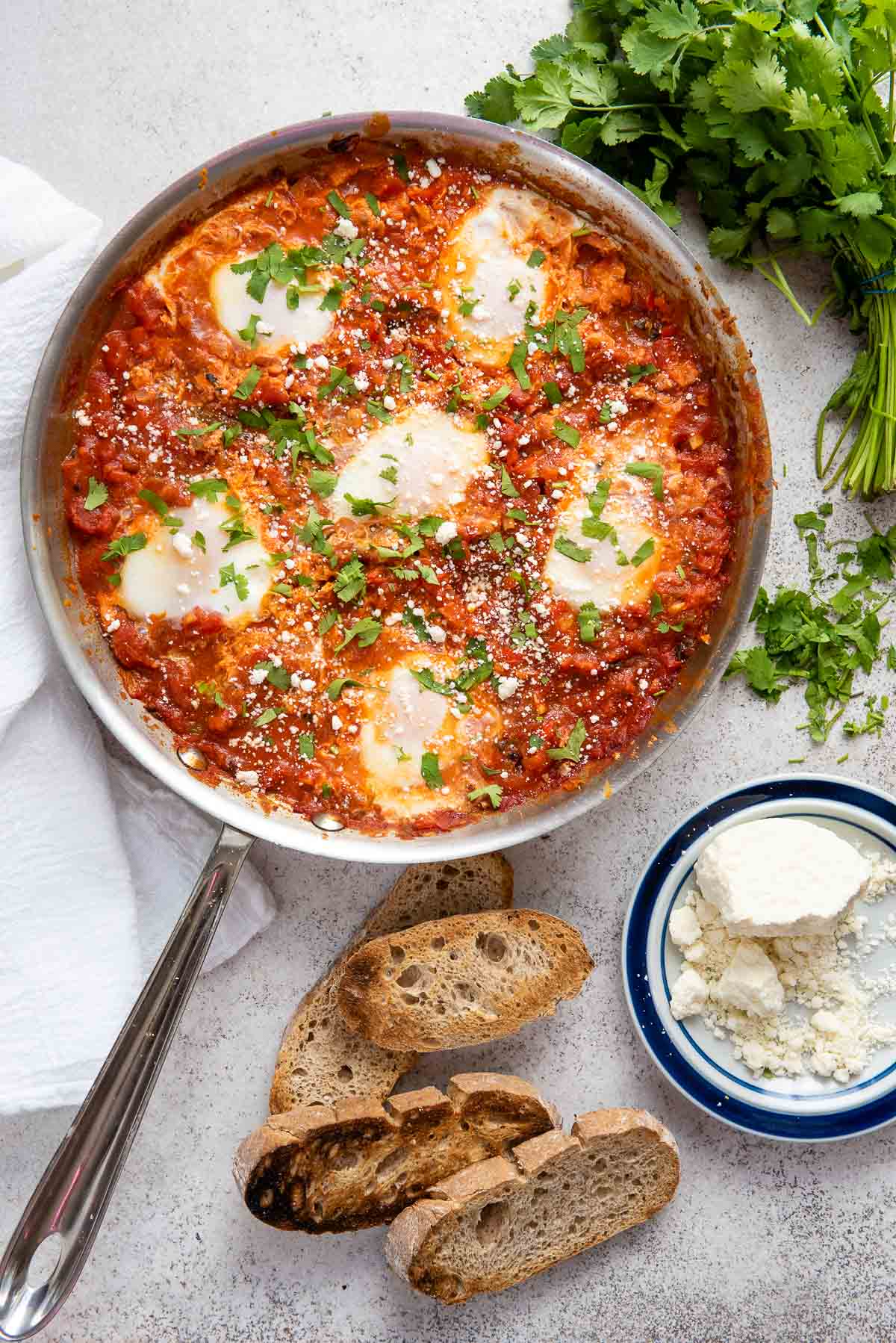 Even Tomato Haters Love This Recipe!
Tomatoes seem to be a polarizing vegetable, at least in my family.
But the combination of flavors in this recipe take care of all that.
The aromatic spices of cumin and smoked paprika seduce anyone in the kitchen from the smell alone!
Sautéed onion, sweet bell pepper and spicy jalapeno pepper pair with the sweet crushed tomatoes in the Shakshuka sauce in a way even tomato-haters love.
How Is 'Shakshuka' Pronounced?
Sounds good but how do you say it?!
'Shock-shoe-kah' or 'shack-shoe-kah' are the most common pronunciations.
Where Does It Come From?
Some believe Shakshuka came from Yemen. Others say the Ottoman Empire.
It is generally thought of as a popular Middle Eastern or North African dish.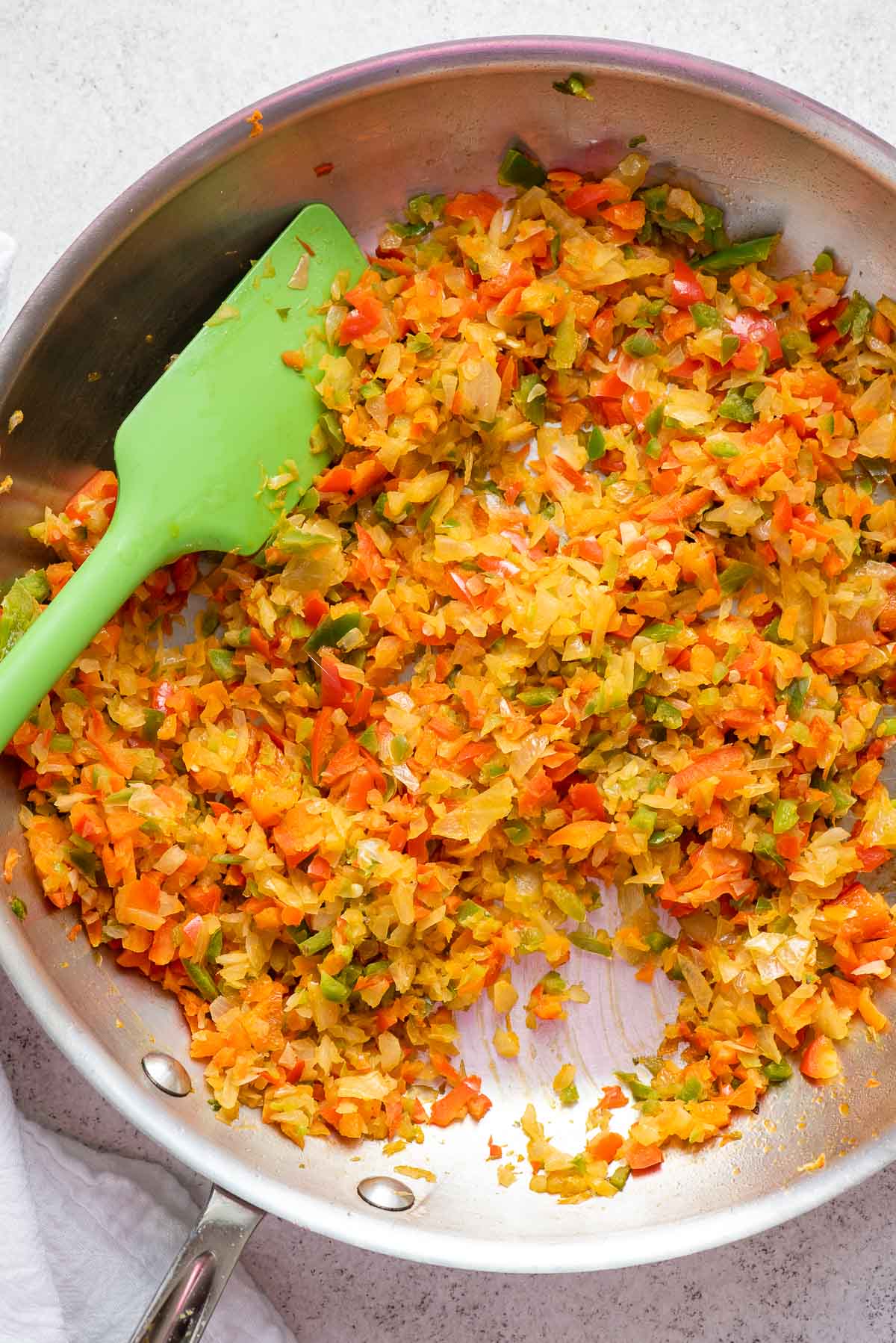 Recipe Ingredients + Notes
The ingredients are easy to find and wholesome. The spices are what gives the smoky, spicy depth of flavor!
Olive Oil. Used for sauteing the vegetables.
Yellow Onion. Finely chopped.
Jalapeno Pepper. Seeded and finely chopped. Wash hands well after chopping chile peppers and do not touch eyes or nose!
Red Bell Pepper. This will be seeded and chopped. Other colors of bell peppers can be used as well.
Garlic Cloves. Diced.
Spices: Cumin, Smoked Paprika, Cayenne Pepper. These are the heart and soul of the earthy flavor.
They add depth, smokiness and some spicy heat but not too much.
Kosher Salt. We recommend this type of salt which has a better and less in
Fire Roasted Crushed Tomatoes. These canned tomatoes have some extra flavor perfect for the shakshuka sauce. If 'fire roasted' is not available regular crushed tomatoes can be used.
Eggs. You'll use 6 eggs. They will all need to fit into the skillet as shown in the photos so select medium or large eggs depending on your skillet size.
Cotija cheese or Feta Cheese. Both of these cheeses are crumbly with big flavor. Feta cheese can be purchased in 'crumbles' or whole.
This will be sprinkled on top before serving.
Cilantro or Italian Parsley. One of these freshly chopped herbs will be sprinkled on top before serving.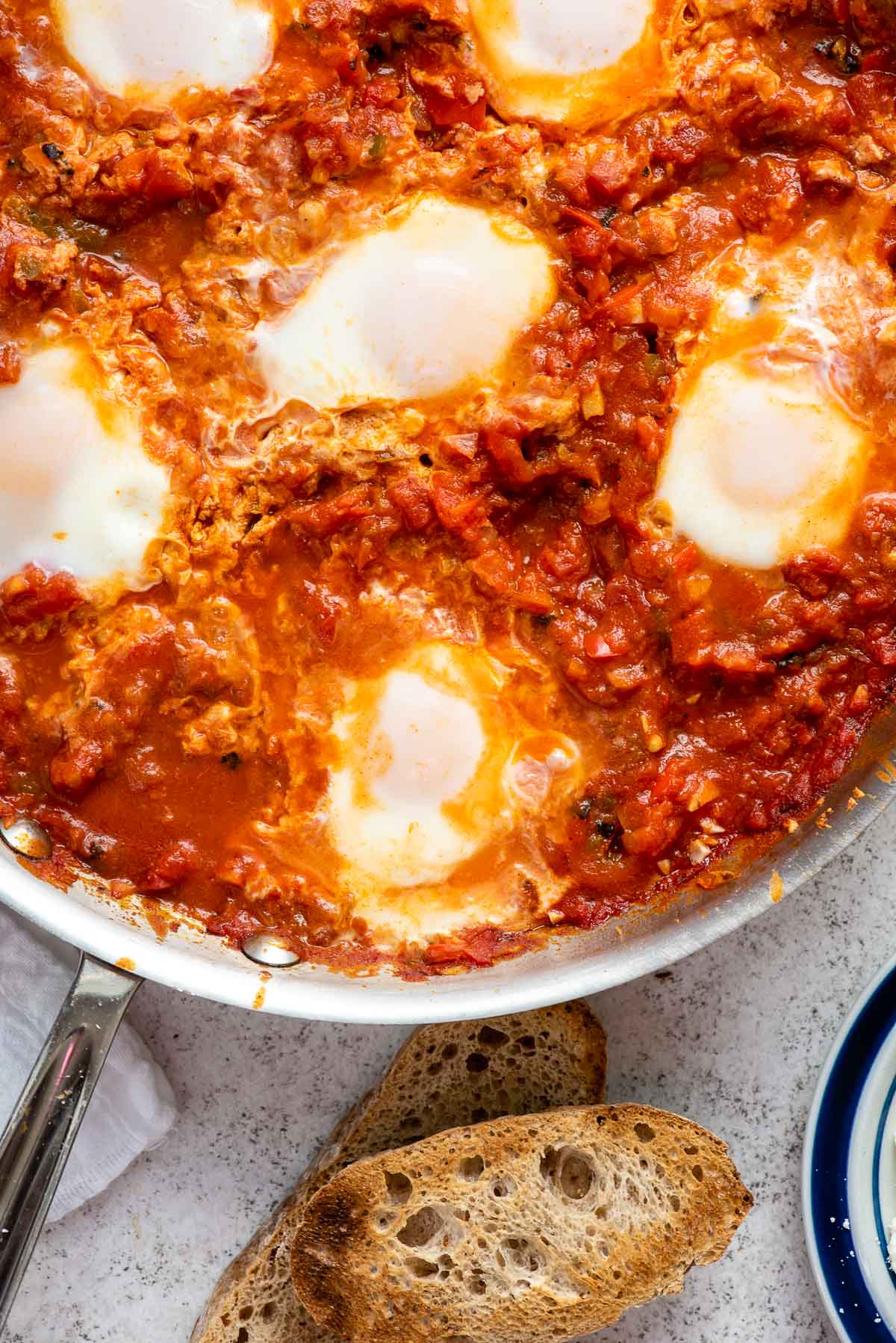 How to make this Shakshuka Recipe – Step by Step
STEP 1. Make the tomato vegetable sauce
Heat the olive oil in a large skillet over medium heat. Add the onions, bell pepper and jalapeno pepper. Cook stirring often until soft (photo 1).
Add the garlic, aromatic spices and salt; cook for 2 minutes.
Add the crushed tomatoes. Simmer for 20 minutes. The sauce will thicken as it cooks.
STEP 2. Cook the poached eggs
Create divots (indentations) in the tomato mixture with a large dining spoon, large enough to fit one egg (photo 2). Gently add the egg taking care not to break the yolk (photo 3).
Add all the rest of the eggs in this same way.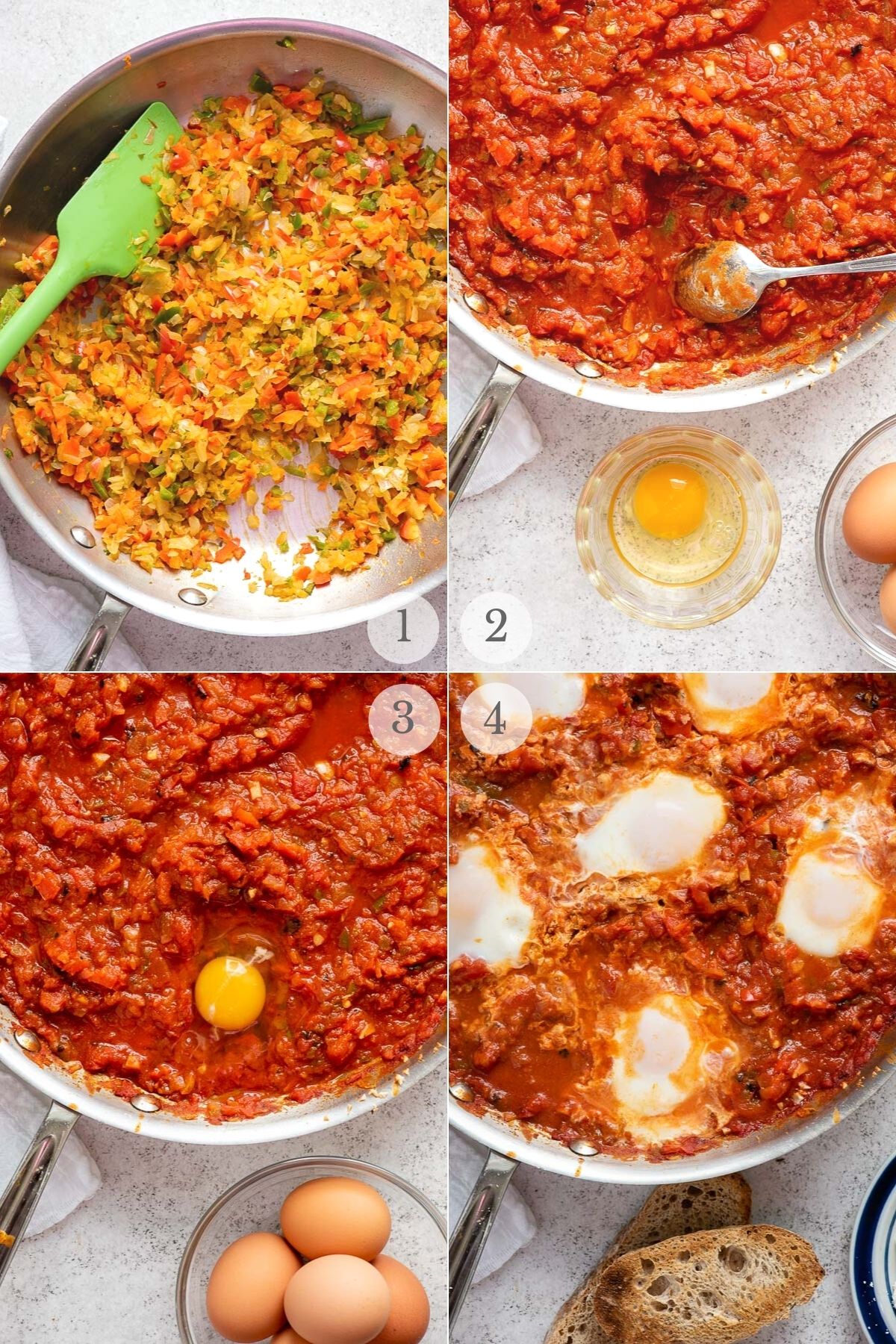 STEP 3. Cook the Shakshuka
Cover the skillet allow the eggs allowed to poach gently in the sauce for 8-10 minutes (photo 4).
Cook just until the egg whites are cooked. Then the yolks will still run when cut into.
Sprinkled with the crumbled feta cheese or cotija, and cilantro or parsley before serving. Red pepper flakes can be added for color and more spicy heat.
How to Serve it
A scoop of the sauce, an egg or two are served with crusty toasted sliced of bread!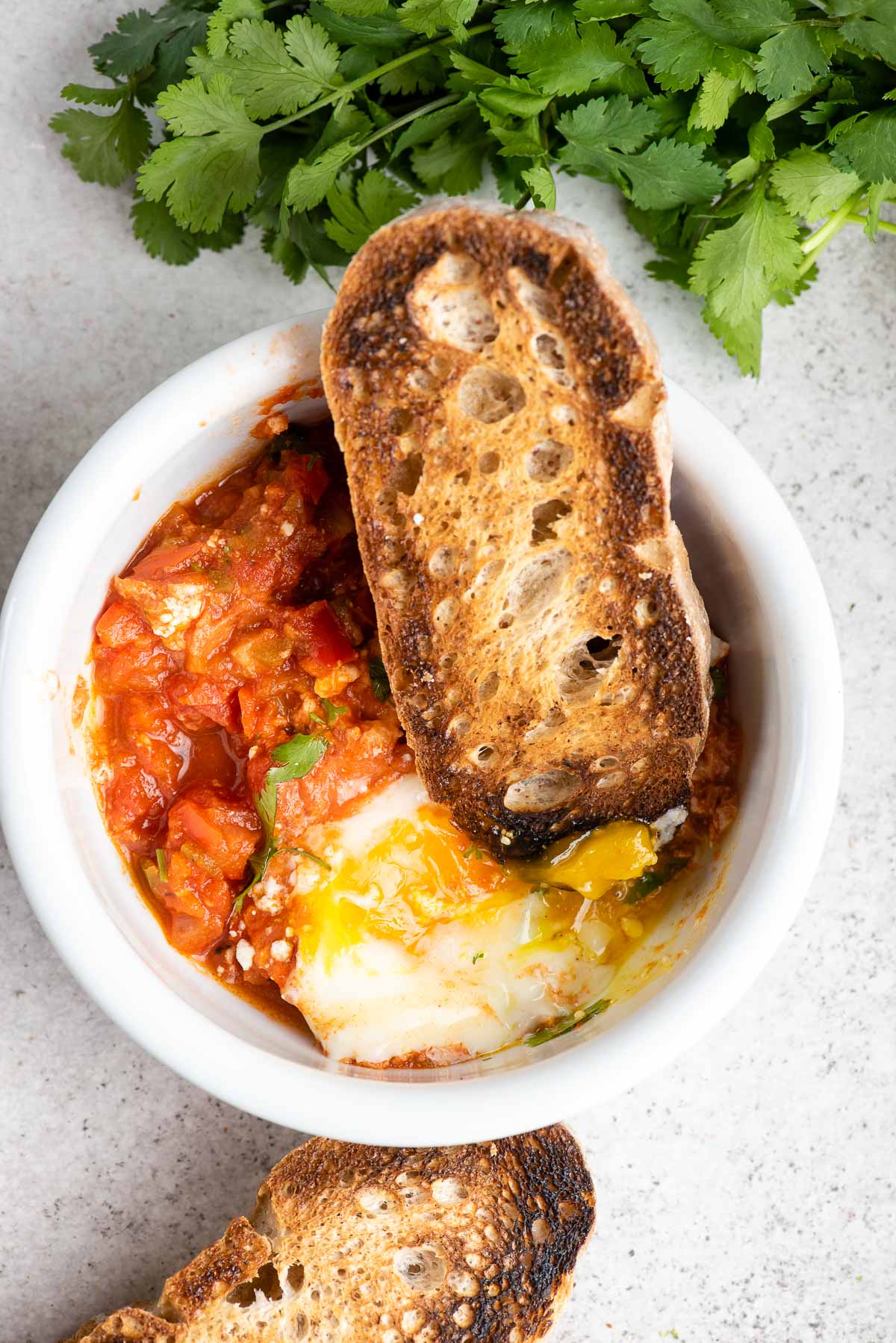 Pro Tips
Trick to not to Break the Egg Yolk
Instead of breaking the eggs directly over the Shakshuka sauce, there is a trick to get them exactly where you want them with unbroken yolks:
Gently crack the egg into a ramekin or small bowl.
Then gently slide the egg into the select spot.
This controls both the egg placement and aids in not breaking the yolk!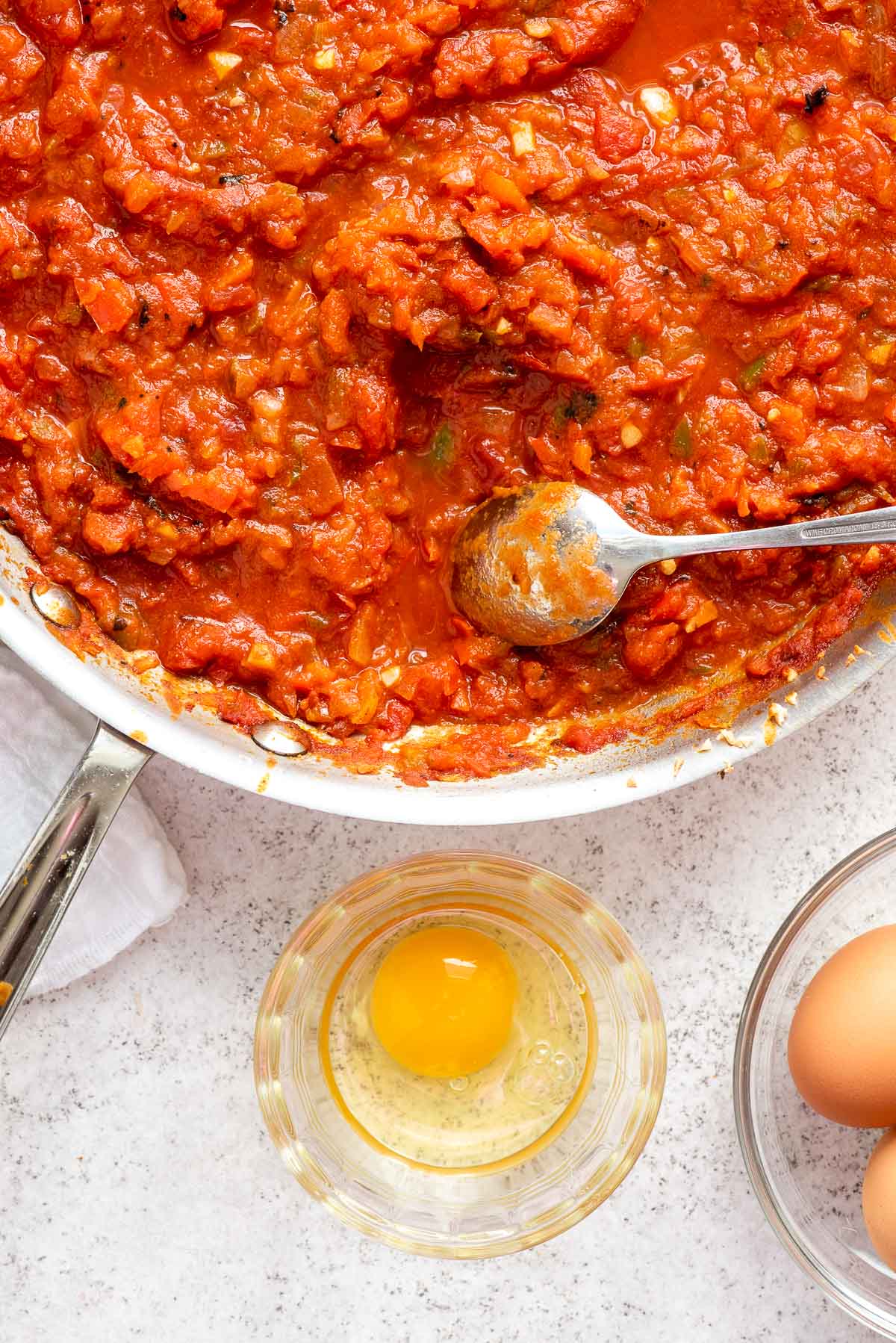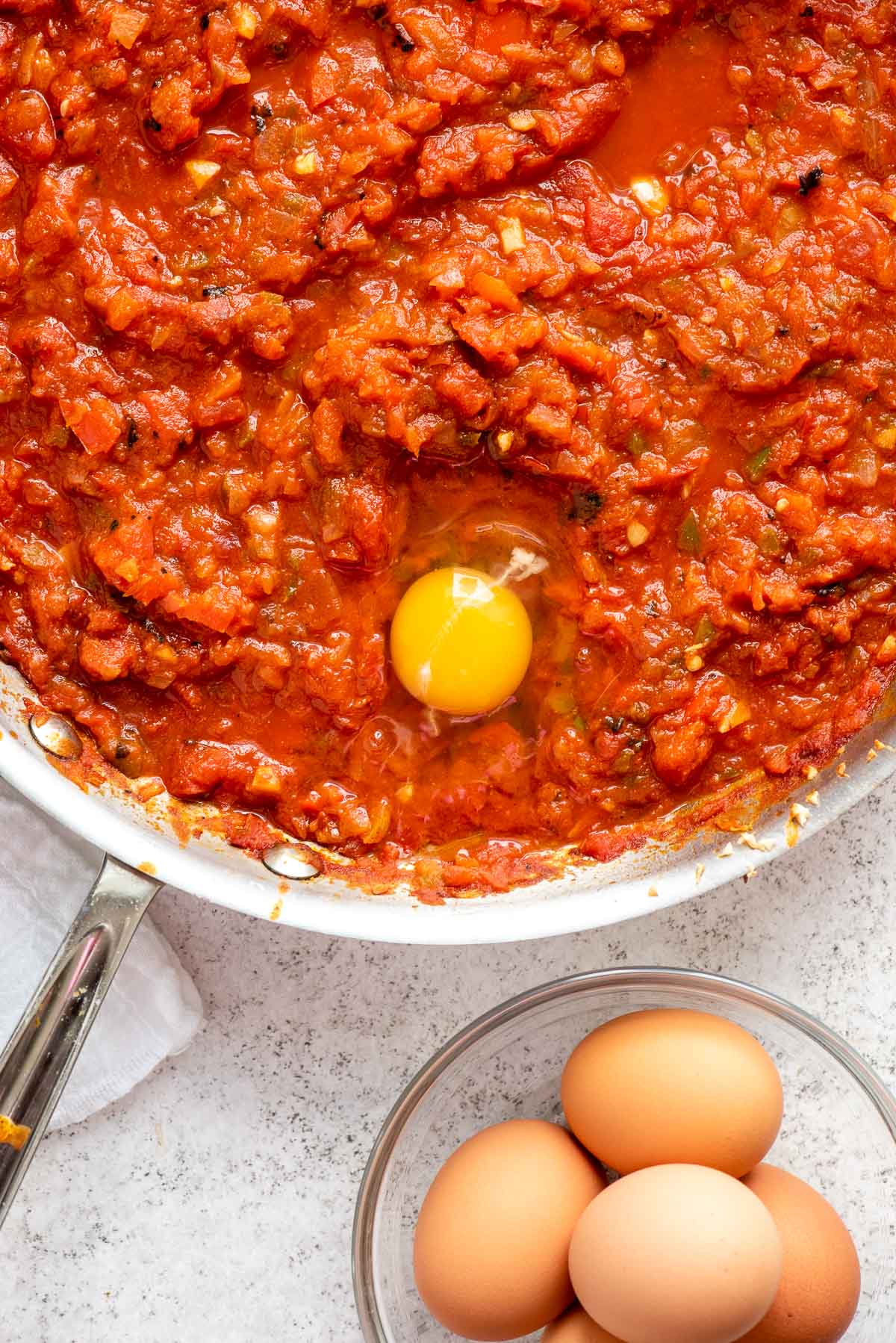 How to save time chopping the vegetables
I prep everything I can in my mini chopper. I use it to chop the onions, bell pepper, jalapeno pepper and the garlic cloves. It cuts the chopping time down significantly.
Use a non cast iron skillet. I recommend using a non cast iron skillet if possible to produce the best tasting Shakshuka. See FAQ's below for more details.
Frequently Asked Questions
Can tomatoes be safely cooked in a cast iron skillet?
What's the concern? That highly acidic foods, like citrus or tomatoes, will leach metal from the cast iron into the food.
According to America's Test Kitchen, the issue is not danger from consuming the trace amounts of metal. The concern is that you can taste it in the recipe being made. Using a well-seasoned skillet is a must.
What is a well seasoned skillet?
'Well-seasoned' means it will have a semi-glossy surface from cooking. This coats the pan in such a way that the metal from the skillet is protected.
The coating helps prevent the metal from easily leaching into the tomato-based food.
How long to cook Shakshuka?
Cook until the egg whites are cooked and the yolk will still run when cut into. Approximately 8-10 minutes.
Storing Leftovers
This is a dish best served hot and as soon as it is cooked.
Though the sauce will reheat well the eggs will not have the same consistency when reheated.
My recommendation is to eat it when it is prepared.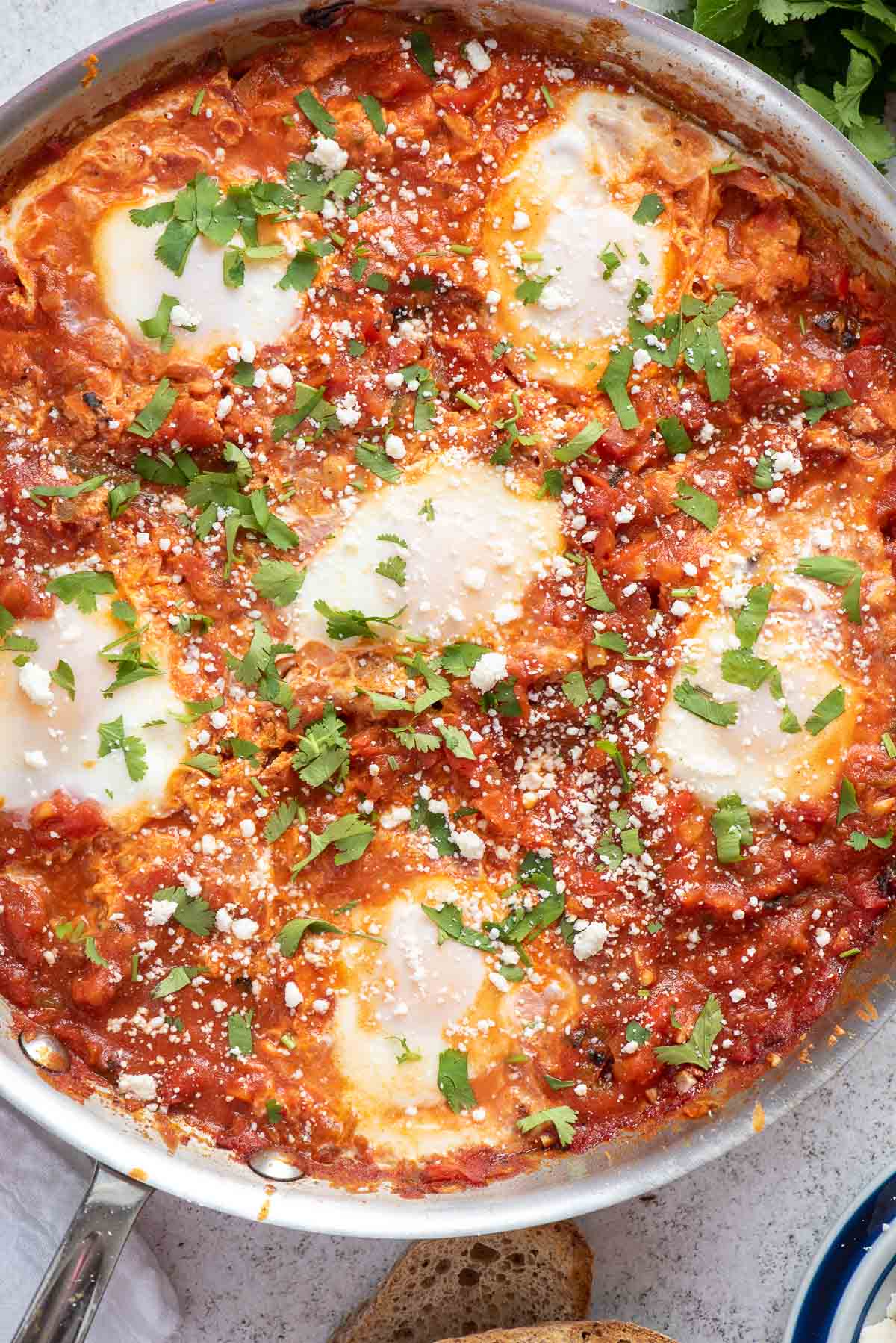 Did you make it? Please RATE THE RECIPE below!
Please
SUBSCRIBE
and
FOLLOW ME
on
FACEBOOK
,
TWITTER
,
INSTAGRAM
and
PINTEREST
!
Recipe
Originally published: May 7, 2018
Shakshuka is a hearty, wholesome breakfast recipe that's easy to make and sure to please!