If eggs poached in an easy homemade spicy tomato-vegetable sauce topped with crumbled cheese and cilantro sounds good to you, you'll love to start your day with this Shakshuka recipe! Crusty bread for dipping too.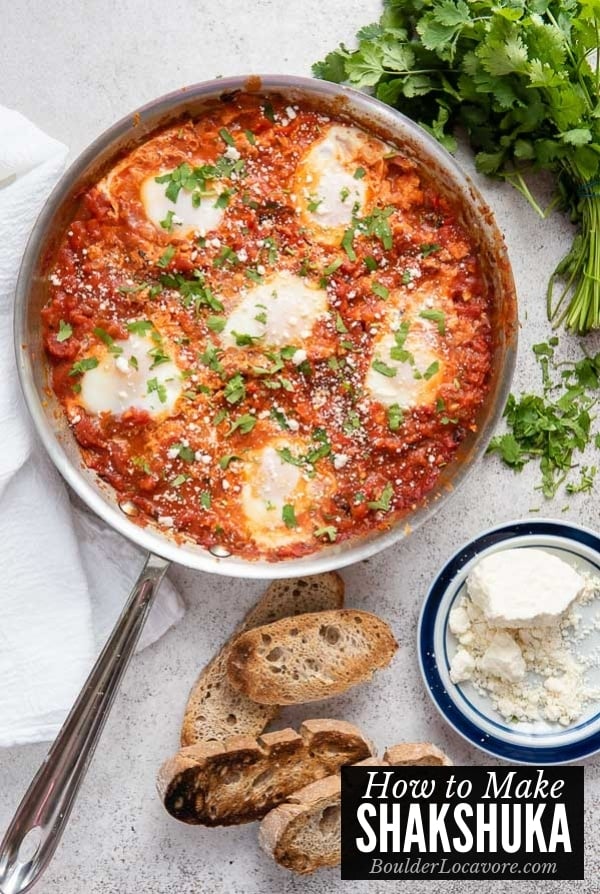 I love a spicy protein-filled breakfast especially on the weekend when I have a bit more time to cook.
Shakshuka is the perfect breakfast recipe in my book. It's a satisfying recipe that really can be eaten for any meal of the day.
Today's easy Shakshuka recipe is filling and pungent with earthy spices.
What is Shakshuka?
Shakshuka is a poached eggs recipe cooked in a thick, rustic homemade spicy tomato-vegetable sauce. It includes a fun trick of making indentations in the sauce itself so the eggs cook IN the sauce rather than being added before serving.
A healthy scoop of the sauce is served with one or two of the eggs (my teen son came back for a total of three helpings) and some crusty bread for dipping.
How Is 'Shakshuka' Pronounced?
First, you may be looking at the word 'shakshuka' wondering how to pronounce it. 'Shock-shoe-kah' or 'shack-shoe-kah' are the most common pronunciations for this Northern African dish.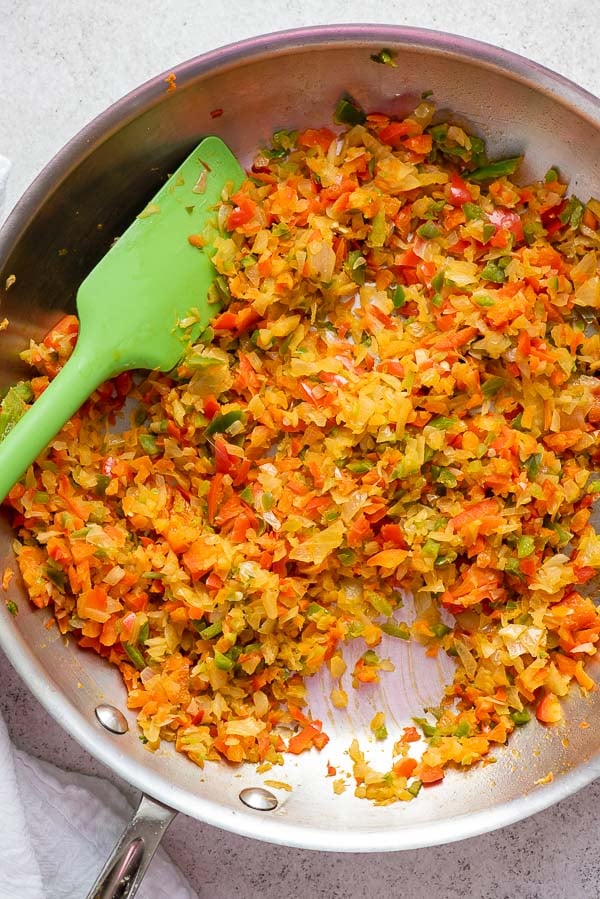 Shakshuka Recipe Ingredients
The ingredients in Shakshuka are easy to find and wholesome. The spices are what gives the smoky, spicy depth of flavor!
Olive Oil
Yellow Onion
Jalapeno Pepper
Red Bell Pepper
Garlic Cloves
Cumin
Cayenne Pepper
Kosher Salt
Fire Roasted Crushed Tomatoes
Eggs
Cotija or Feta Cheese
Cilantro or Italian Parsley
Even Tomato Haters Love This Shakshuka Recipe
Tomatoes seem to be a polarizing vegetable, at least in my family. The dislike runs more strongly in the males for some reason. Just the remark of their presence can turn some off before the first bite.
The aromatic spices of cumin and smoked paprika seduce anyone in the kitchen from the smell alone! Sautéed onion, sweet bell pepper and spicy jalapeno pepper lend a wonderful contrasting set of flavors to the sweet crushed tomatoes.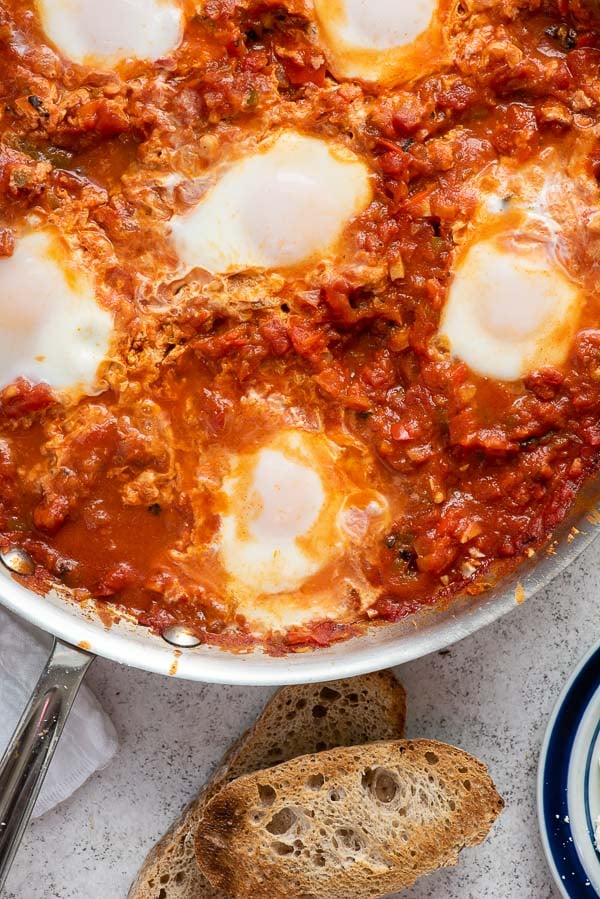 How to make this Shakshuka Recipe – Step by Step:
Olive oil is heated in a large skillet to sauté chopped onions, bell pepper and jalapeno pepper until soft.
Aromatic spices and kosher salt are added to the vegetables to cook for 2 minutes. Finally the crushed tomatoes are added and simmered for 20 minutes making a flavorful thick sauce.
Once the sauce has simmered, divots or indentations are made with a large dining spoon, large enough to fit one egg.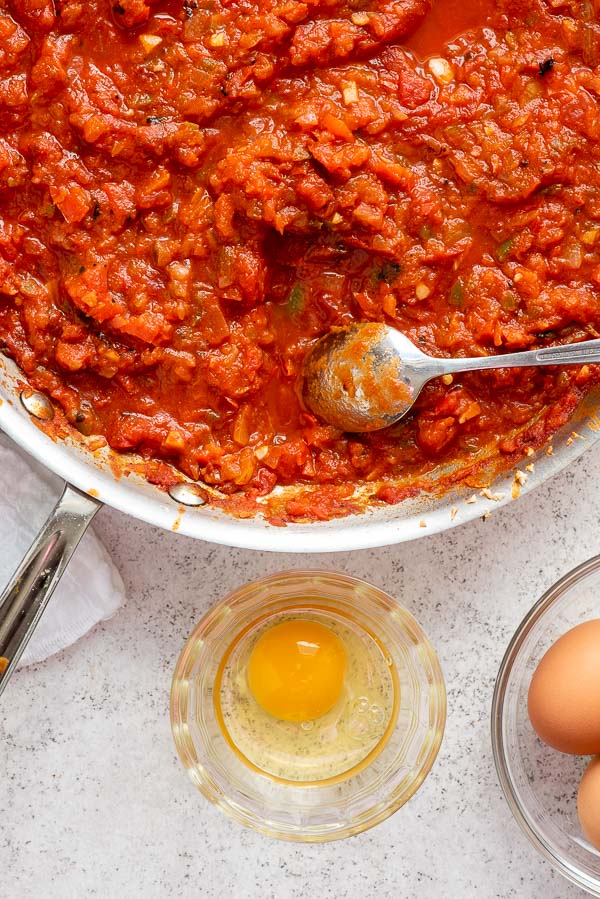 PRO TIP: instead of cracking the egg directly into the prepared indentation in the spicy tomato sauce, the egg is first cracked into a ramekin or small bowl. Then the egg is gently slid into the select spot. This controls the egg placement and aids in not breaking the yolk!
Once all the eggs are in place, the skillet is covered and the eggs allowed to poach gently in the sauce for 8-10 minutes until the whites are cooked and the yolk will still run when cut into.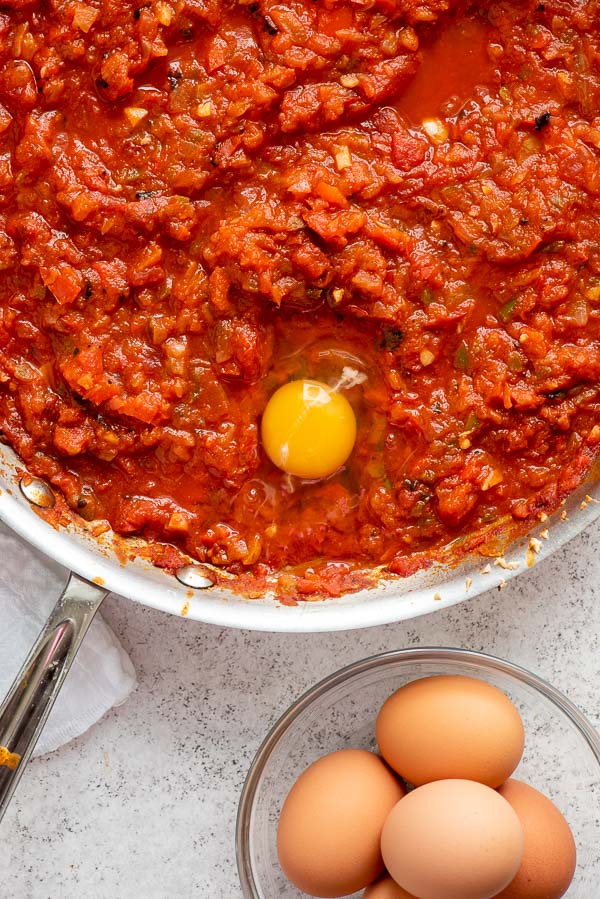 A scoop of the sauce, an egg or two are served with crusty toasted sliced of bread!
TIME SAVING PREP TIP: I prep everything I can in my mini chopper. I use it to chop the onions, bell pepper, jalapeno pepper and the garlic cloves. It is a definite time saver.
Is It OK to Cook Tomatoes in a Cast Iron Skillet: Yes or No?
I dug into the caution to NOT cook acidic food in cast iron skillets after running into tomato-based dishes in cast iron skillets all over Pinterest.
The issue or belief is that highly acidic foods like citrus or tomatoes will leach metal from the cast iron into the food.
According to America's Test Kitchen, the issue is not danger from consuming the trace amounts of metal but that you can taste it in the recipe being made.
Using a well-seasoned skillet is a must. 'Well-seasoned' meaning it will have a semi-glossy surface from cooking that coats the pan in such a way that the metal from the skillet is protected. This would aid in the metal not being easily leached into the tomato-based food.
Despite there not being consumption safety issues, I would recommend using a non cast iron skillet if possible to produce the best tasting Shakshuka.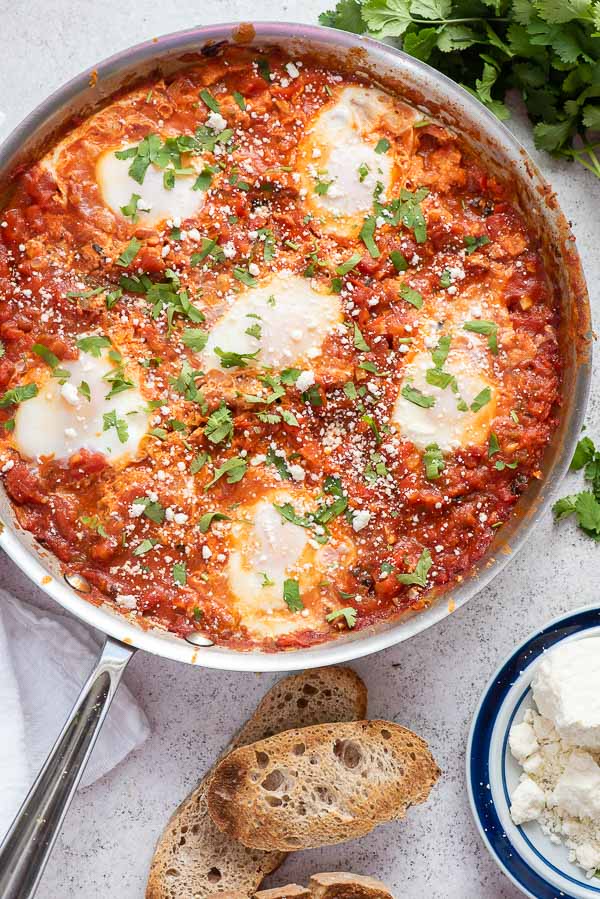 More Hearty Breakfast Recipes You'll Love:
Did you make it? Please RATE THE RECIPE below!
FOLLOW ME on FACEBOOK , TWITTER , INSTAGRAM and PINTEREST!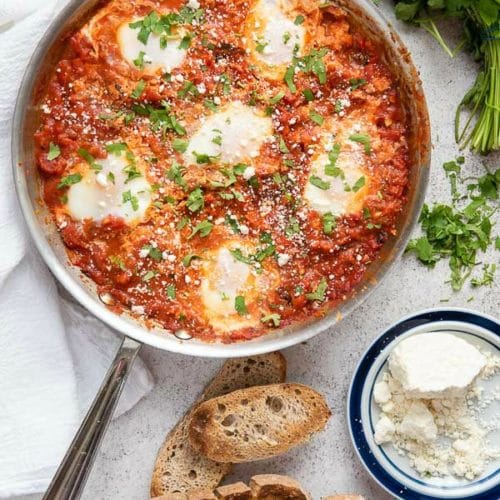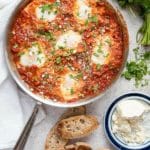 Shakshuka
Shakshuka is a delicious spicy homemade tomato-vegetable sauce which eggs are poached in. It's an easy recipe and one that always dazzles for breakfast or another time of the day!
Ingredients
2

tablespoons

Olive Oil

1

medium

Yellow Onion

peeled and chopped

1

Jalapeno Pepper

destemmed with seeds scraped out; diced

1

Red Bell Pepper

stems and seeds removed; chopped

4

Garlic Cloves

diced

1

teaspoon

Cumin

1

tablespoon

Smoked Paprika

(not hot smoked paprika)

¼

teaspoon

Cayenne Pepper

1

teaspoon

Kosher Salt

1

28-ounce can

Fire Roasted Crushed Tomatoes

6

Eggs

2

tablespoons

Crumbled Cotija or Feta Cheese

¼

cup

chopped Cilantro or Italian Parsley
Instructions
Heat the oil in a large skillet over medium-high heat. When the oil's surface ripples add the onion, red pepper and jalapeno. Cook until soft (5-7 minutes).

Add the garlic, cumin, smoked paprika, cayenne pepper and salt; cook 2 additional minutes.

Lower heat to medium or medium-low, add the tomatoes with any liquids; simmer uncovered for 20 minutes stirring periodically.

To add the eggs: crack an egg into a ramekin or small bowl. Using a larger dining spoon, make a divot or indentation in the tomato sauce large enough to fit the egg (planning out enough room for all 6 eggs with space between). Gently pour the egg into the divot and repeat for remaining eggs. Cover and cook over medium heat until whites are done but yolk is still runny; 8-10 minutes.

Serve with a scoop of the sauce, egg and crusty bread.
Recipe Video
Nutrition Facts
Shakshuka
Amount Per Serving
Calories 141
Calories from Fat 90
% Daily Value*
Fat 10g15%
Cholesterol 168mg56%
Sodium 517mg22%
Potassium 169mg5%
Carbohydrates 5g2%
Protein 7g14%
Vitamin A 1560IU31%
Vitamin C 30.3mg37%
Calcium 66mg7%
Iron 1.4mg8%
* Percent Daily Values are based on a 2000 calorie diet.