Corned Beef Brisket made in the Instant Pot is an easy, faster way to prepare tender corned beef brisket and vegetables with no work from you! Perfect for St. Patrick's Day celebrating.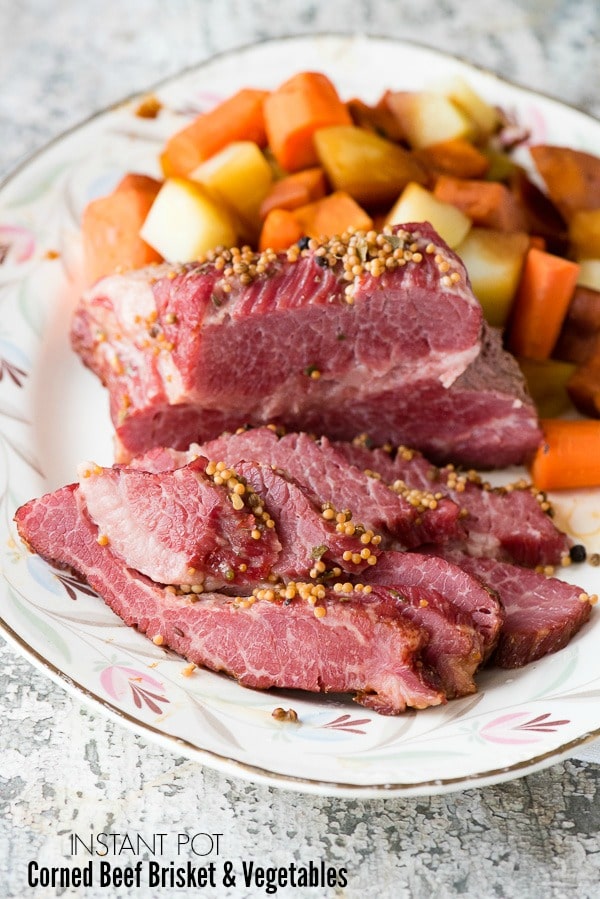 Happy Thursday! I am sharing another Instant Pot recipe today! This time for Instant Pot Corned Beef Brisket cooked in beer! With St. Patrick's Day coming corned beef brisket is available in most grocery stores. By the way, most stores do not carry it year-round so if you love it, buy extra and stick it in your freezer now!

I had so many comments, emails and posts on my Facebook Page after sharing my first Instant Pot recipe for Cuban Beef Stew (Carne con Papas) last week! I heard your request and I hope to share a new Instant Pot recipe weekly to build up that collection of my recipes.
Incidentally, do you use the Boulder Locavore Recipe Index? It's super handy. You can search by recipe type, season, holiday, or archives (if you are curious about other recipes in a certain month as far back as BoulderLocavore.com has been posting).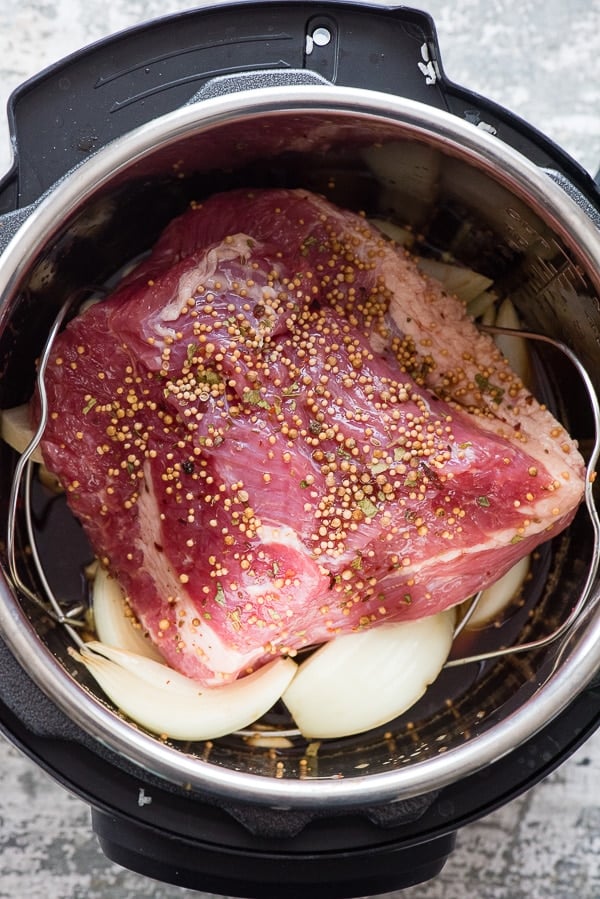 Before diving into this completely delicious and super easy recipe I have a lesson learned to pass along. Friends, ALWAYS put your sealing ring back in your Instant Pot lid before you operate it!
Maybe you are more focused than I am when I have a new 'toy' and remember all the rules. I was so excited to make this Instant Pot Corned Beef Brisket I loaded everything in the 'IP', closed the lid and went off into another room to do some work.
The house began to smell SO good! At first, I could smell the cooking onions and then the brisket. My husband came down from his home office in our loft two floors up to remark on how hungry he was getting smelling the brisket.
When it was done, I went to release the pressure and no steam came out. Seemed weird but the brisket was cooked and tasted fantastic. I took it out, loaded in the vegetables and not believing all I'd read about cooking only for a few minutes, I set the Instant Pot on 7 minutes.
I also noticed that almost all the liquid was gone. I added another cup of beer and turned it on.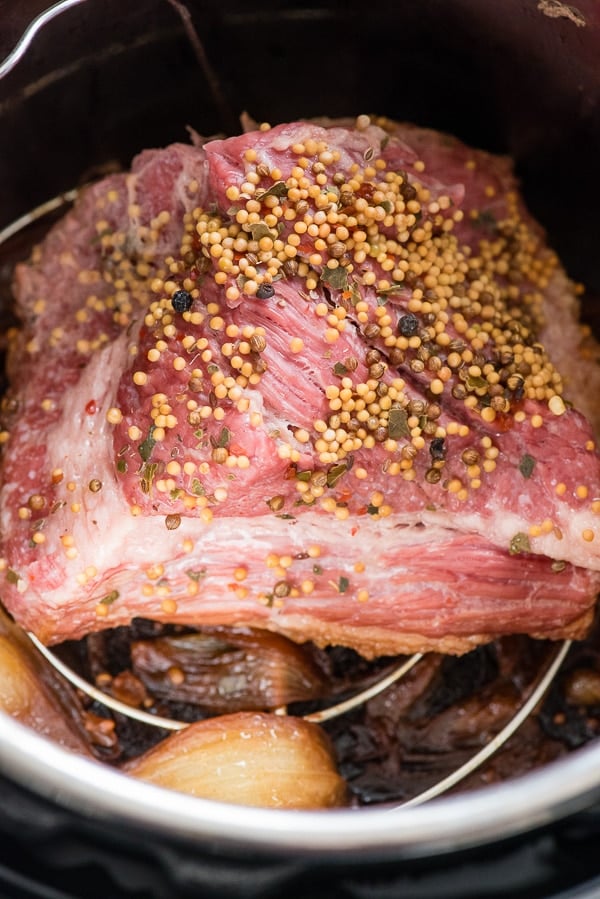 When it finished I again tried to release the pressure but very little steam released. I checked the potatoes, they were still semi-firm so I let them cook longer.
The brisket and vegetables tasted fantastic. I took photos for this post still wondering about the liquid level.
As I was cleaning up I was wiping out the lid and it looked weird. I couldn't initially tell why but it looked funny. Suddenly it hit me, THERE WAS NO SEAL IN THE LID!
I had washed it and set it aside forgetting to reinstall it. No wonder the liquid was almost gone and the potatoes did not cook.
Instant Pot Corned Beef Brisket Take Two
I went back to the store buying all the same ingredients to do it again. This time it was a whole new story. This time the Instant Pot corned beef brisket was even more tender and flavorful (note: the photos here are of the first brisket so yours will be a bit lighter in color and plumper when cooked).
The vegetables were done in 3 minutes, I even would say if you like firmer vegetables you could try 2 minutes.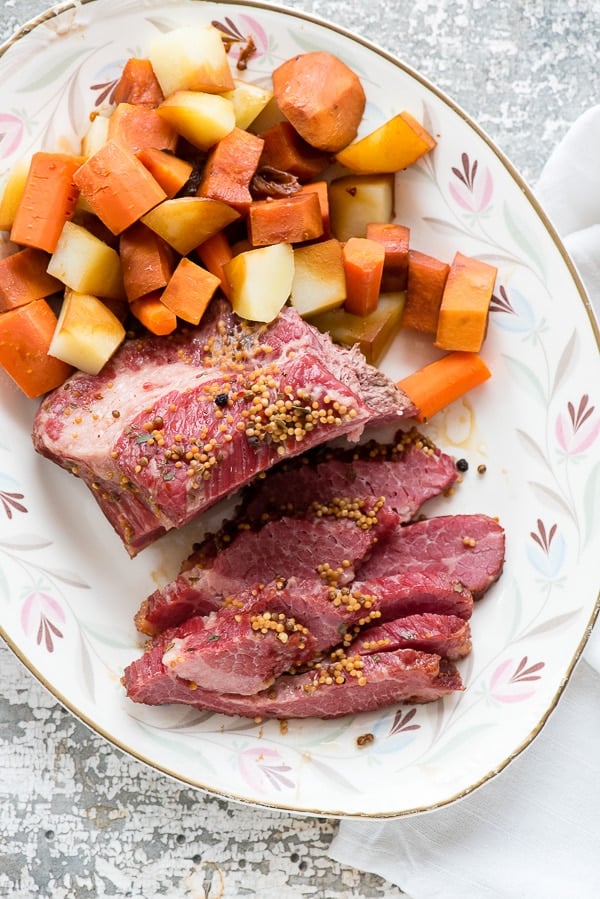 So, this is a case of Do As I Say, Not As I Do situation! From now on I will replace my seal immediately when I wash it!
Tips for Preparing Instant Pot Corned Beef Brisket
Corned beef brisket is a more salty, fatty cut of meat. When you buy it, it will have already been brined and the liquid in the package is brine as well. It should be thoroughly rinsed before cooking.
If you have a very fatty cut, you can trim the excess fat before cooking. Also place the fatty side down in the Instant Pot.
I chose to cook the brisket in beer which I have found makes it more tender and flavorful. For those of you who are not into beer it does not come out TASTING like beer so never fear.
You also can't get drunk from eating it. If you feel strongly about not using beer you can substitute water or chicken stock (beef stock is very strong tasting and I think will affect the end flavor of the brisket).
For those who have not jumped on the Instant Pot bandwagon, this Slow Cooker Beer-Simmered Corned Beef and Vegetables recipe is also fantastic and a great way to prepare it.
(Because you asked….) I use this Instant Pot!
Making Instant Pot Corned Beef Brisket is very easy and cooks the corned beef brisket to a juicy, tender consistency with fantastic flavor. A great vegetable trick ensures firm, cooked vegetables making an easy full dinner recipe!
Making Instant Pot Corned Beef Brisket is so easy and also tenderizes the brisket faster with the pressure cooking and the beer. The beer serves to add more flavor too. Though not a traditional Irish recipe to celebrate St. Patrick's Day, it is a popular American recipe for the holiday and for good reason!
Love Corned Beef Brisket? Buy it Now!
With St. Patrick's Day coming soon corned beef brisket is available in most grocery stores. Most stores do not carry it year-round so if you love it, buy extra and stick it in your freezer now!
How to make the Instant Pot Corned Beef Brisket – Step by Step:
The rack is added to the insert of a 6 quart Instant Pot and covered with onions cut into wedges and garlic. The corned beef brisket is placed fatty side down on top of the vegetables and sprinkled with the spices coming with the brisket.
Beer, gluten-free or regular, is poured around the brisket in the Instant Pot. The brisket cooks for 90 minutes. After a quick release, the brisket is removed to rest. The prepared carrots and potatoes are added to the Instant Pot and cooked on manual for three minutes. The vegetables are removed and the brisket sliced for serving!
TIP: Adding the vegetables just at the end ensures they are cooked but still firm and delicious!
Need some other St. Patrick's Day recipe ideas?
This Irish Chocolate Mousse with Baileys is delicious, decadent and very rich. I love more traditional recipes like this Irish Potato Soup or Authentic Irish Colcannon (mashed potatoes with kale and scallions).
Actually, this list of 10 Authentic Irish Recipes for St. Patrick's Day has some delicious, rustic, unpretentious recipes great for any time of the year.
More Hearty (EASY) Instant Pot Recipes You'll Love:
If you've tried this Instant Pot Corned Beef Brisket or any other recipe on BoulderLocavore.com please don't forget to rate the recipe and let me know where you found it in the comments below, I love hearing from you! You can also FOLLOW ME FACEBOOK, TWITTER, INSTAGRAM and PINTEREST to see more delicious food and what I'm up to!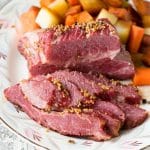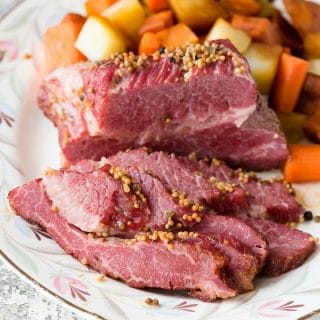 Instant Pot Corned Beef Brisket Recipe
Cooking a corned beef brisket in the Instant Pot yields a supple, flavorful brisket with no effort. The beer tenderizes and flavors the brisket. The vegetables cook in a flash!
Cook Time
1
hour
33
minutes
Ingredients
2-3

pound

Corned Beef Brisket

1

medium

Yellow Onion

, peeled and cut into wedges

3

Garlic Cloves

, peeled and chopped

1 ½

cups (12 fluid ounces)

Dark Ale

(I used Green's Gluten-Free Dubbel Dark Ale; if not gluten-free I suggest Guinness)

1

Seasoning Packet that comes with the corned beef

2

Potatoes

(1 pound weight), peeled and cubed into 1-inch cubes

2

large

Carrots

, peeled and cut into 1 ½-inch lengths
Instructions
Insert the rack into the Instant Pot. Add the onion and garlic to the 6-quart Instant Pot distributing it evenly on the bottom.

Remove the Corned Beef Brisket from the package, reserve the spice packet and rinse the meat thoroughly. Place it in the Instant Pot on the lift-out rack (if there is a fattier side put that facing down) and sprinkle the seasonings evenly on top of the brisket and around it in the pot.

Pour in the beer around the edges of the Instant Pot (to keep the spices on the brisket in place).

Add the lid to the Instant Pot, select MANUAL High Pressure (default pressure setting) and 90 minutes. When done, do a QUICK RELEASE of the pressure, remove the brisket, brush the seasoning from the top of the brisket (more difficult to remove when it has cooled) and allow to rest.

Add the potatoes (on the bottom) and carrots (on top of the potatoes) to the Instant Pot. Seal and select MANUAL for 3 minutes on High Pressure. When done do a QUICK RELEASE and remove vegetables with a slotted spoon.

Slice the Corned Beef across the grain and serve on a platter with the vegetables. The cooking juices may be spooned over the meat to keep it moist.
Nutrition Facts
Instant Pot Corned Beef Brisket Recipe
Amount Per Serving
Calories 385
Calories from Fat 198
% Daily Value*
Total Fat 22g 34%
Cholesterol 81mg 27%
Sodium 1867mg 78%
Potassium 867mg 25%
Total Carbohydrates 15g 5%
Protein 24g 48%
* Percent Daily Values are based on a 2000 calorie diet.