Instant Pot Corned Beef Brisket is very easy and cooks to a juicy, tender consistency with fantastic flavor. A great vegetable trick ensures firm, cooked vegetables making an easy full dinner recipe!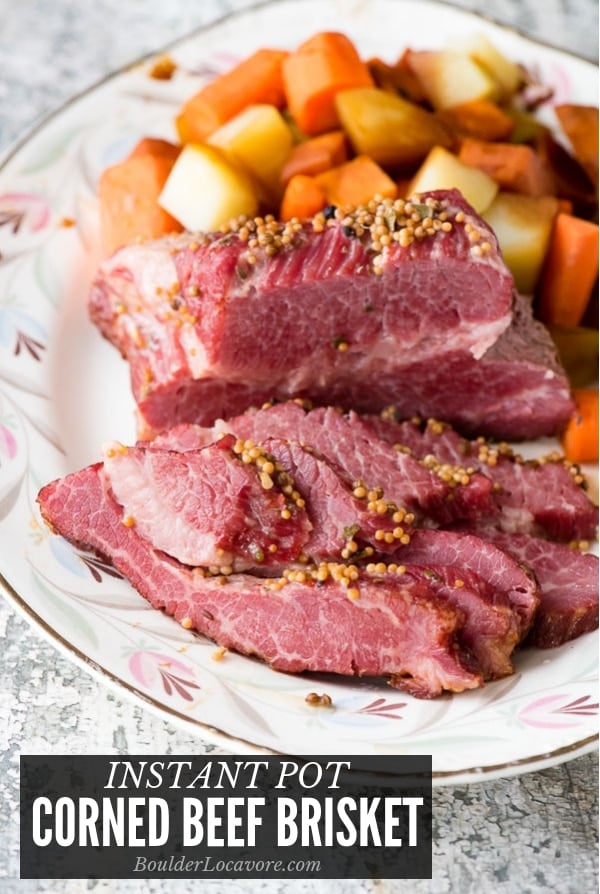 Making Instant Pot Corned Beef Brisket is so easy and also tenderizes the brisket faster thanks to pressure cooking.
A special twist gives great flavor and tenderizes it further: cooking the Instant Pot Corned Beef in beer!
Though not a traditional Irish recipe to celebrate St. Patrick's Day, it is a popular American recipe for the holiday and for good reason!
What is Corned Beef Brisket?
Corned Beef Brisket is a brine-cured beef brisket. The brining adds both flavor and makes it very pink in color.
Once cooked the corned beef has a perfect texture for slicing and eating as a main dish or thinly for sandwiches.
Corned Beef brisket is sold pre-packaged in brine with a specific seasoning packet to cook with it giving it a signature flavor.
Once cooked the Instant Pot Corned Beef Brisket has a mixture of salty, meaty, and tangy flavors thanks to the brining and cooking processes.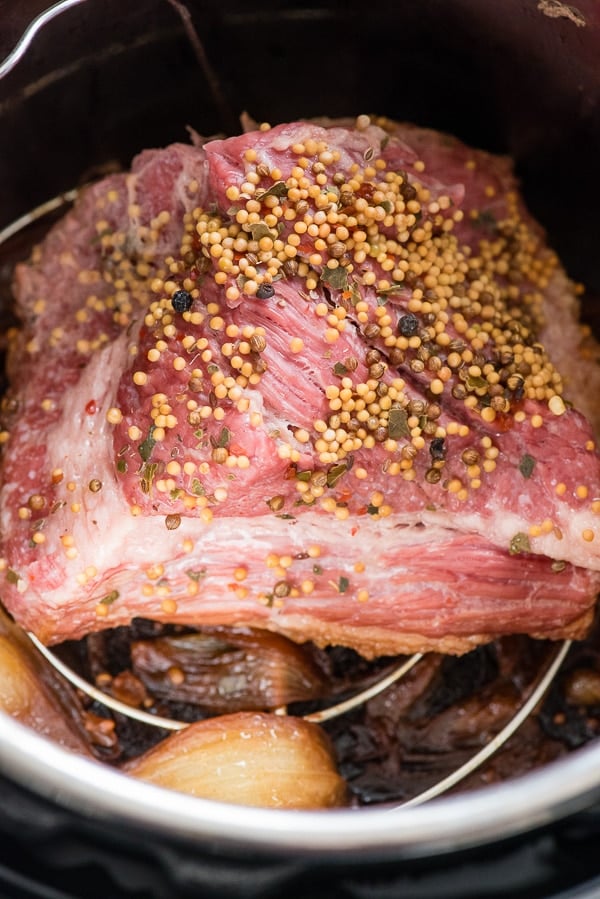 Ingredients in Instant Pot Corned Beef with Vegetables
The addition of vegetables make this a full meal in one pot.
The ingredient list for this recipe is short and simple:
Please check the recipe card below for specifics.
What Beer to Use for Instant Pot Corned Beef ?
I recommend using a dark beer for this recipe. Guinness is a perfect choice.
If gluten-free: I used Green's Gluten-Free Dubbel Dark Ale.
If Holidaily Brewing Co. gluten-free beers are available in your area, Riva Stout is a a great choice.
Note for Non-Beer Drinkers
For those of you who are not into beer, the Instant Pot Corned Beef Brisket does not come out TASTING like beer so never fear.
You also can't get drunk from eating it.
Substitution Option: If you feel strongly about not using beer you can substitute water or chicken stock (beef stock is very strong tasting and I think will affect the end flavor of the brisket).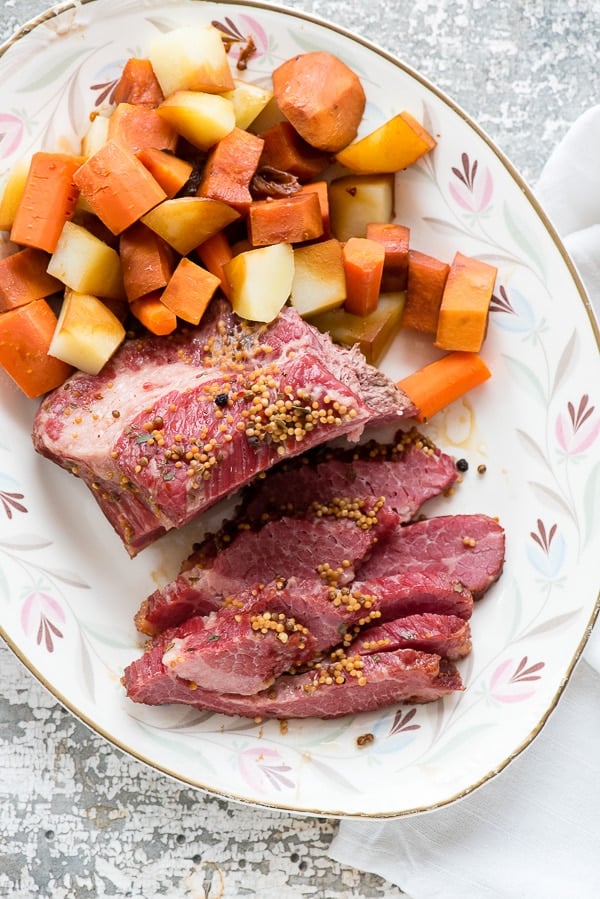 Tips for Preparing Instant Pot Corned Beef
Corned beef brisket is a saltier, fattier cut of meat.
When you buy it, it will have already been brined and the liquid in the package is brine as well.
The brined brisket should be thoroughly rinsed before cooking. It can also be soaked for an hour before cooking to release even more salt.
If you have a very fatty cut, you can trim the excess fat before cooking (it's easy to trim after cooking too).
Also place the fatty side down in the Instant Pot.
I chose to cook the brisket in beer which I have found makes it more tender and flavorful.
The Instant Pot I Use
(Because you asked….) I use this Instant Pot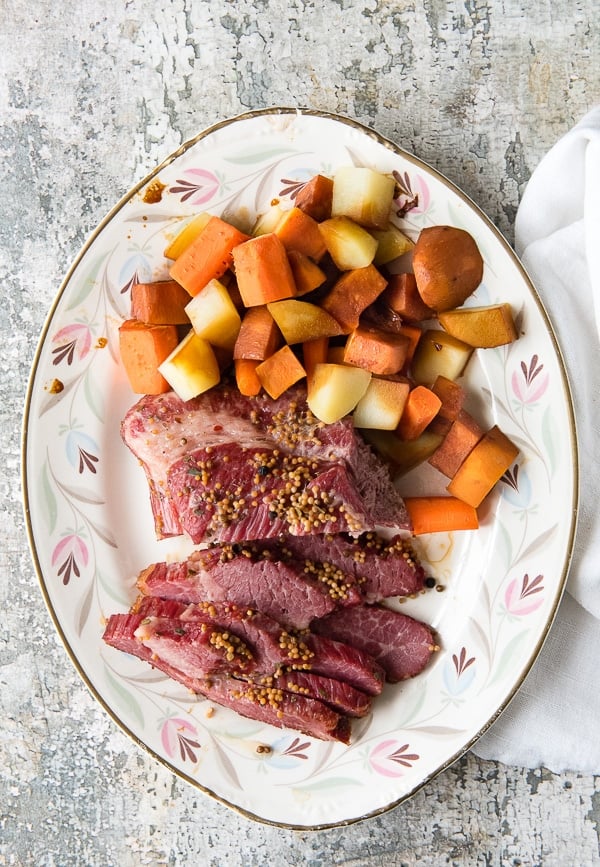 Love Corned Beef Brisket? Buy it Now!
With St. Patrick's Day coming soon corned beef brisket is available in most grocery stores.
Did you know most stores do not carry it year-round?
If you love corned beef brisket, buy extra and stick it in your freezer now so you can make Instant Pot Corned Beef ANYtime!
How to Make Instant Pot Corned Beef – Step by Step:
Cooking Instant Pot Corned Beef is so easy!
Please refer to the recipe card below for detailed instructions.
TIP: Adding the vegetables just at the end ensures they are cooked but still firm and delicious!
Mind-Blowing Instant Pot Tips You Need to Know!
After developing Instant Pot recipes for the past few years, I've uncovered some unexpected, useful tips I think you'll want to know!
Sign-Up below and I'll tell you all my Instant Pot secrets!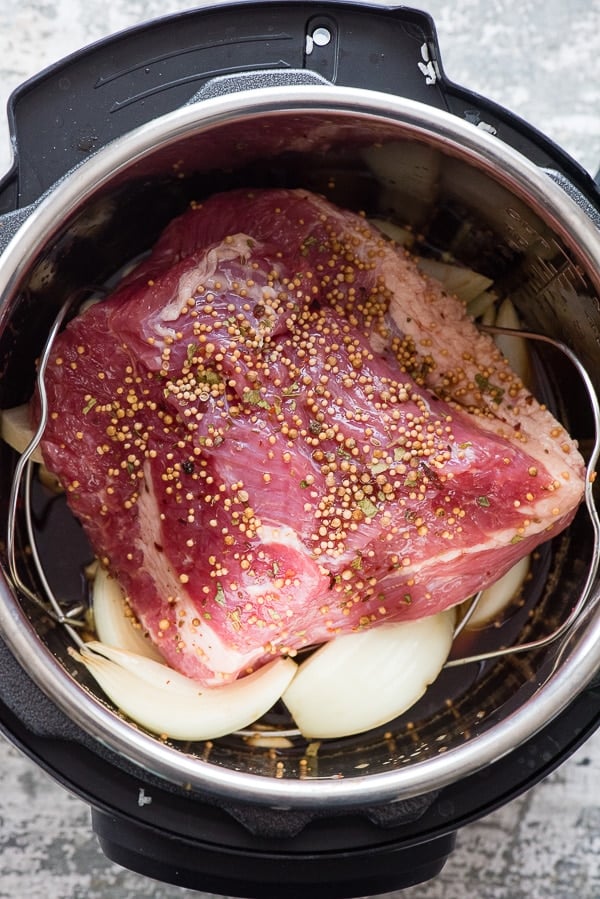 No Instant Pot? No Problem!
For those who have not jumped on the Instant Pot bandwagon, this Slow Cooker Beer-Simmered Corned Beef and Vegetables recipe is also fantastic way to prepare it.
These are always fun to serve especially if serving Instant Pot Corned Beef Brisket for St. Patrick's Day!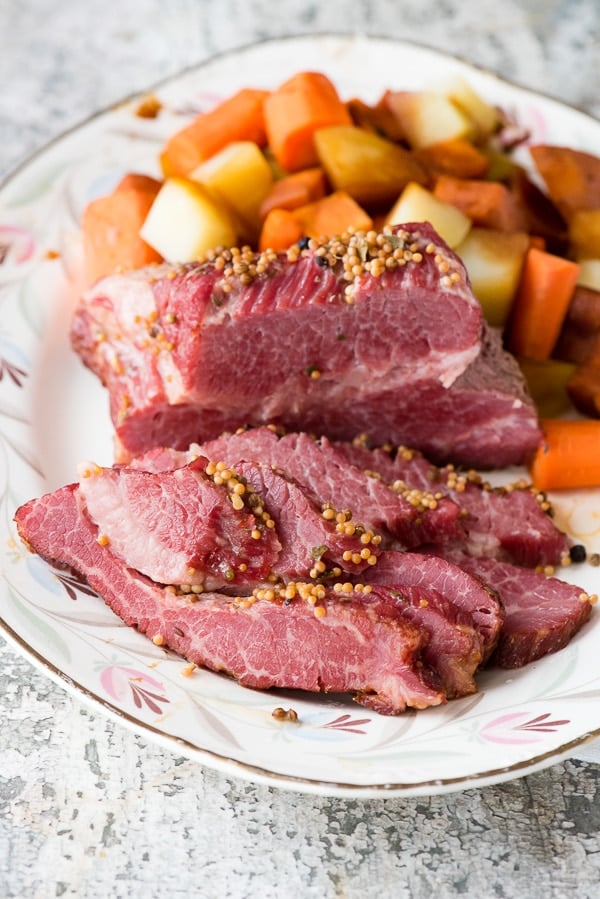 Did you make it? Please RATE THE RECIPE below!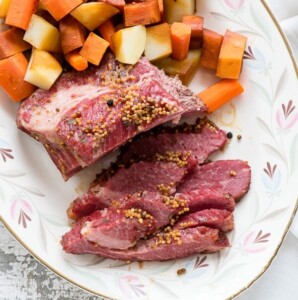 Instant Pot Corned Beef Brisket Recipe
Cooking a corned beef brisket in the Instant Pot yields a supple, flavorful brisket with no effort. The beer tenderizes and flavors the brisket. The vegetables cook in a flash!
Print
Save Recipe
Recipe Saved!
Pin
Rate
Ingredients
2-3

pound

Corned Beef Brisket

1

medium

Yellow Onion

peeled and cut into wedges

3

Garlic Cloves

peeled and chopped

1 ½

cups (12 fluid ounces)

Dark Ale

(I used Green's Gluten-Free Dubbel Dark Ale; if not gluten-free I suggest Guinness)

1

Seasoning Packet that comes with the corned beef

2

(1 pound)

Potatoes

peeled and cubed into 1-inch cubes

2

large

Carrots

peeled and cut into 1 ½-inch lengths
Instructions
Cooking the Corned Beef Brisket
Insert the rack into the Instant Pot.

Add the onion and garlic to the 6-quart Instant Pot distributing it evenly on the bottom.

Remove the Corned Beef Brisket from the package, reserve the spice packet and rinse the meat thoroughly.

Place the brisket in the Instant Pot on the lift-out rack (if there is a fattier side put that facing down) on top of the onions and garlic and sprinkle the seasonings evenly on top of the brisket and around it in the pot.

Pour in the beer around the edges of the Instant Pot (to keep the spices on the brisket in place).

Add the lid to the Instant Pot, select MANUAL High Pressure (default pressure setting) and 90 minutes.

When done, do a QUICK RELEASE of the pressure, remove the brisket, brush the seasoning from the top of the brisket (more difficult to remove when it has cooled) and allow to rest.
Cooking the Vegetables
Add the potatoes (on the bottom) and carrots (on top of the potatoes) to the Instant Pot.

Seal and select MANUAL for 3 minutes on High Pressure.

When done do a QUICK RELEASE and remove vegetables with a slotted spoon.
To Serve
Slice the Corned Beef across the grain and serve on a platter with the vegetables. The cooking juices may be spooned over the meat to keep it moist.
Nutrition
Calories:
385
kcal
|
Carbohydrates:
15
g
|
Protein:
24
g
|
Fat:
22
g
|
Saturated Fat:
7
g
|
Cholesterol:
81
mg
|
Sodium:
1867
mg
|
Potassium:
867
mg
|
Fiber:
2
g
|
Sugar:
1
g
|
Vitamin A:
4010
IU
|
Vitamin C:
52.1
mg
|
Calcium:
49
mg
|
Iron:
5
mg
Originally published March 2, 2017