Three simple ingredients, an hour of oven roasting yields simple comfort food at its best.  Salt and Pepper Roasted Chicken Thighs are moist, succulent with wonderfully crispy skin!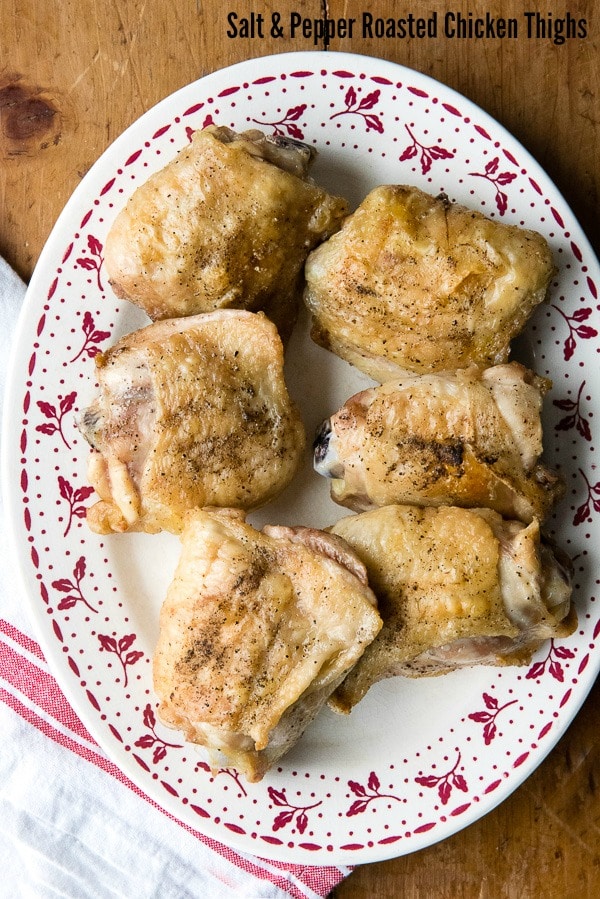 Do you have a favorite dinner recipe that you find is on rotation in your kitchen regularly?  It's that one when you are stumped about what to make for dinner that pops to mind every time?  No matter what season or what side dishes you plan to serve, it works?  I'm sharing mine today and you'll never believe how easy it is!
Salt and Pepper Roasted Chicken Thighs is that recipe for my household.  It's a recipe my husband usually makes and he is a master at it.  How could roasting chicken thighs require a 'master'?  There is a perfect balance between fully cooked chicken that is juicy and succulent with skin this is perfectly crispy but not overdone.  You know what I'm talking about.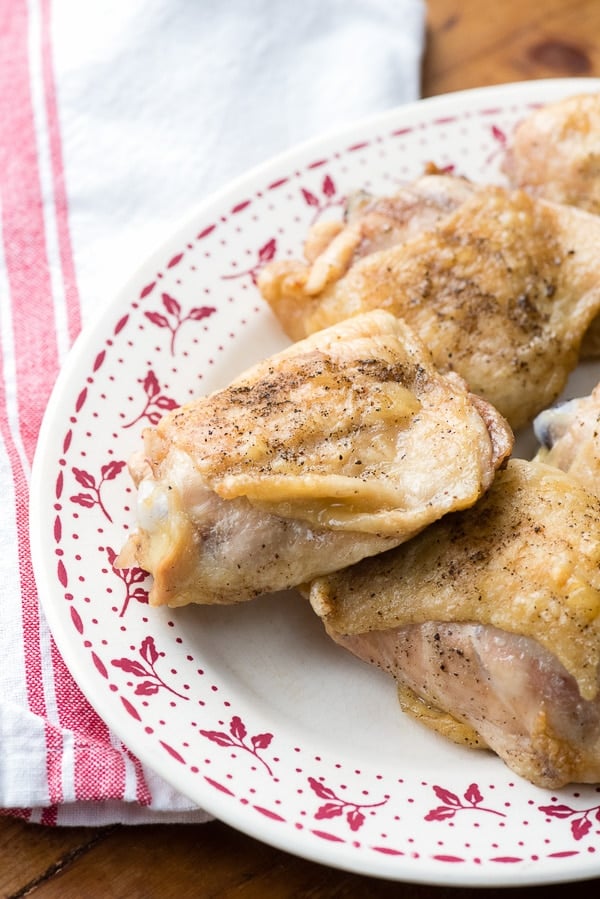 This recipe proves that it doesn't take a long list of ingredients to make something delicious.  With only three simple ingredients Salt and Pepper Roasted Chicken Thighs proves simple can be the most delicious at the dinner table!
I have loved chicken thighs for as long as I can remember.  As a child, that was the part of the chicken I hoped would land on my dinner plate.  Being darker meat, thighs have more flavor and do not dry out like the much coveted chicken breast. Their more substantial texture is completely satisfying too!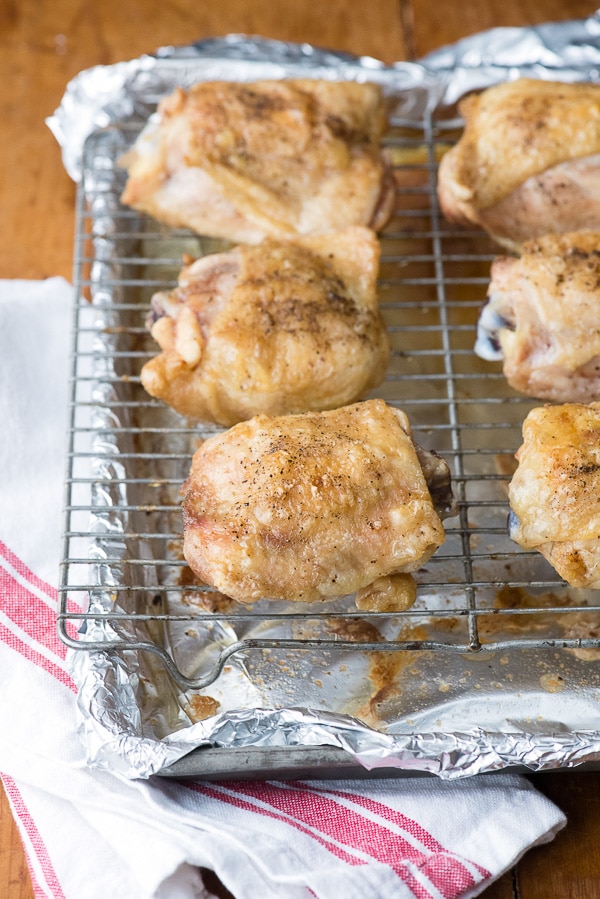 This simple recipe requires noting more than salting and peppering chicken thighs and popping them in the oven for about an hour.  Over time we've found a few tricks however that allow the skin to be crispy and delicious!
A baking sheet with sides is fitted with a flat rack.  This does two things.  Having some air circulation underneath the chicken thigh while cooking helps the skin become crisp.  It also provides that any fat drippings drain into the pan and the chicken thigh is not sitting in them.  The thighs have plenty of flavor; they don't need to sit in the fat.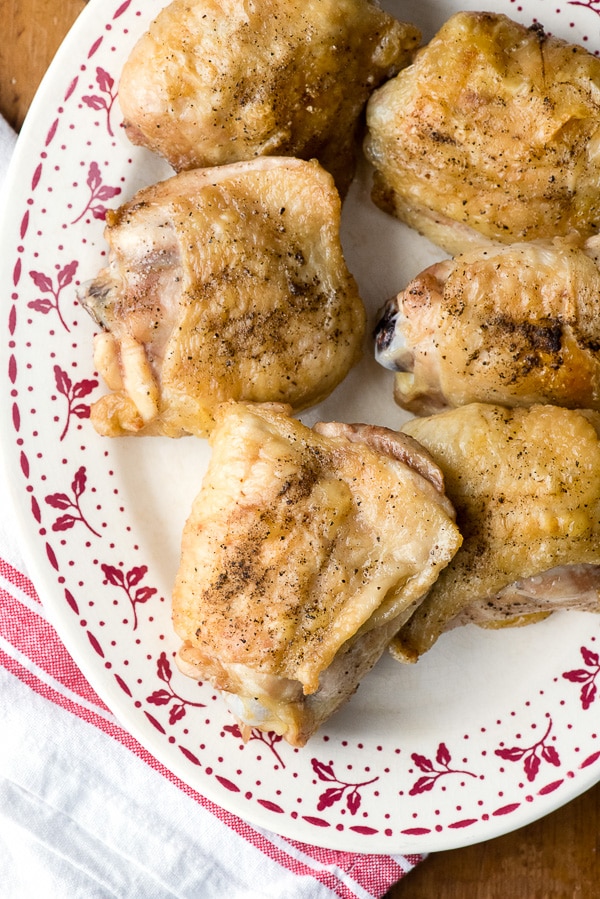 Flipping the chicken thighs mid-way through cooking allows even cooking on all sides as well.  If you want extra easy clean-up you can wrap the pan in foil and then just discard it when you are done!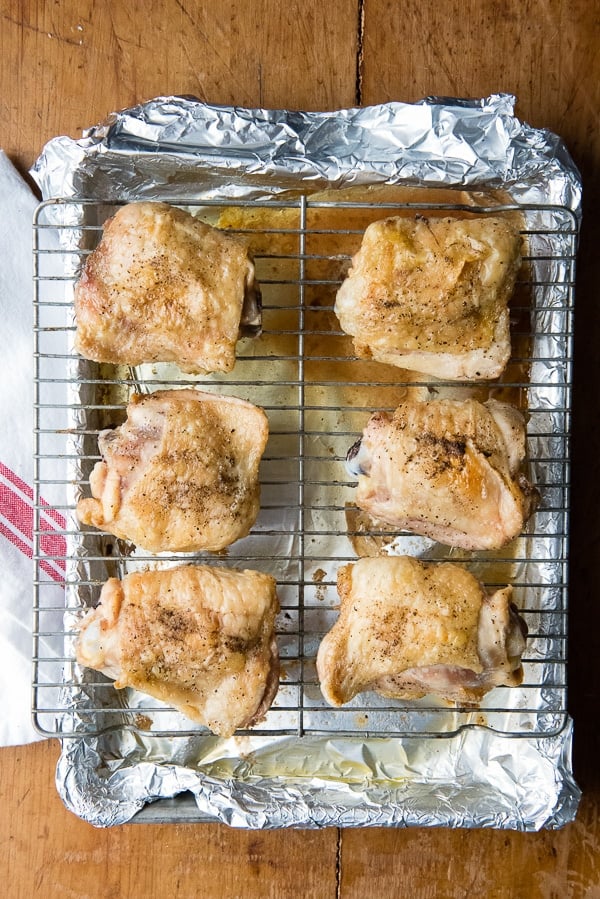 I want to connect with you! Leave a comment and follow me on Facebook, Twitter, Pinterest & Instagram!