Roasted Chicken Thighs with only salt and pepper are moist, succulent with wonderfully crispy skin! Simple comfort food at its best.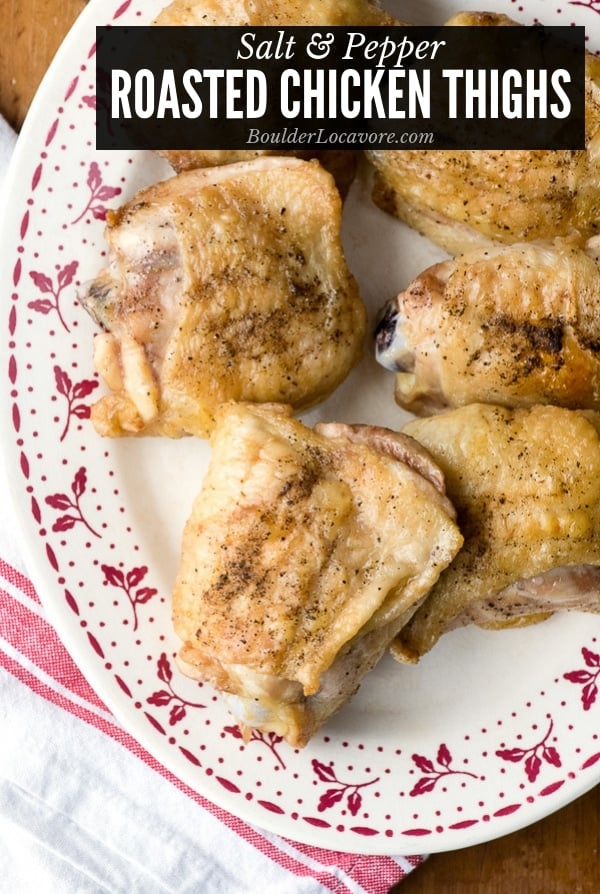 I love 'go to' recipes that are easy, reliable and never disappoint. Today's recipe for Salt & Pepper Roasted Chicken Thighs is a favorite in my house.
This roasted chicken thigh recipe proves that it doesn't take a long list of ingredients to make something delicious.
With only three simple ingredients Salt & Pepper Roasted Chicken Thighs proves simple can be the most delicious at the dinner table!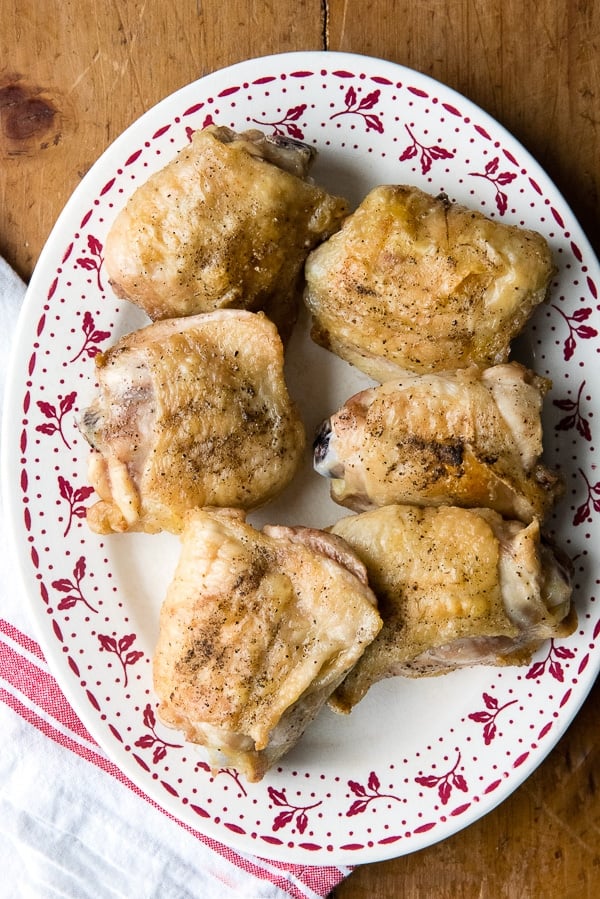 Chicken Breasts vs Chicken Thighs
I have loved chicken thighs for as long as I can remember. As a child, that was the part of the chicken I hoped would land on my dinner plate.
Being darker meat, thighs have more flavor and do not dry out like the much coveted chicken breast.
Their more substantial texture is completely satisfying too!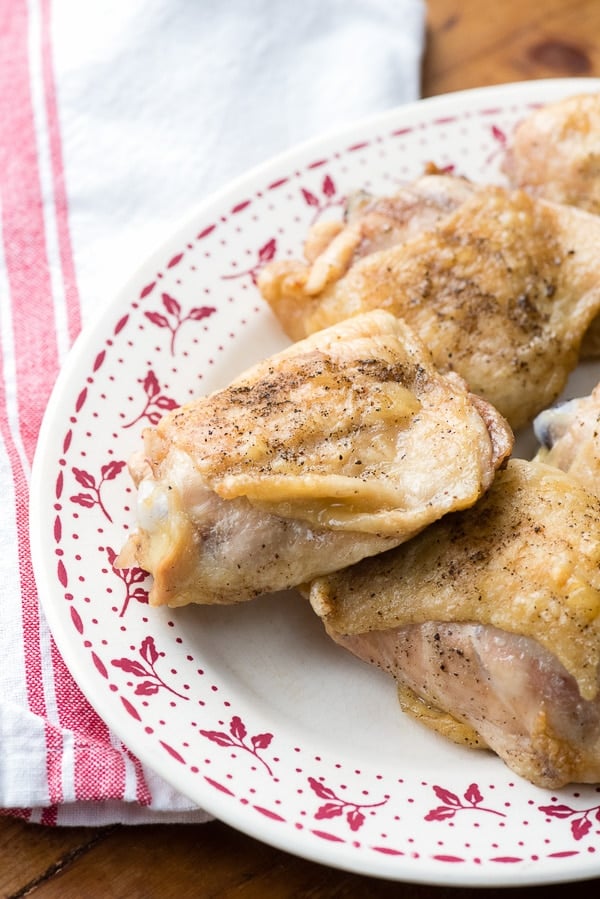 How to Make Roasted Chicken Thighs
This simple roasted chicken thigh recipe is SO easy! How easy?!
Salt and pepper chicken thighs
Roast them in the oven for about an hour.
That's it! You'll never imagine the flavor that will result from such an easy recipe.
What Temperature to Cook Roasted Chicken Thighs?
These roasted chicken thighs are cooked in a 350-degree oven.
How Long to Cook Roasted Chicken Thighs?
Chicken thighs cook for approximately 1 hour.
They are done when pierced the juices will run clear (and will register 165-degrees on an Instant Read thermometer)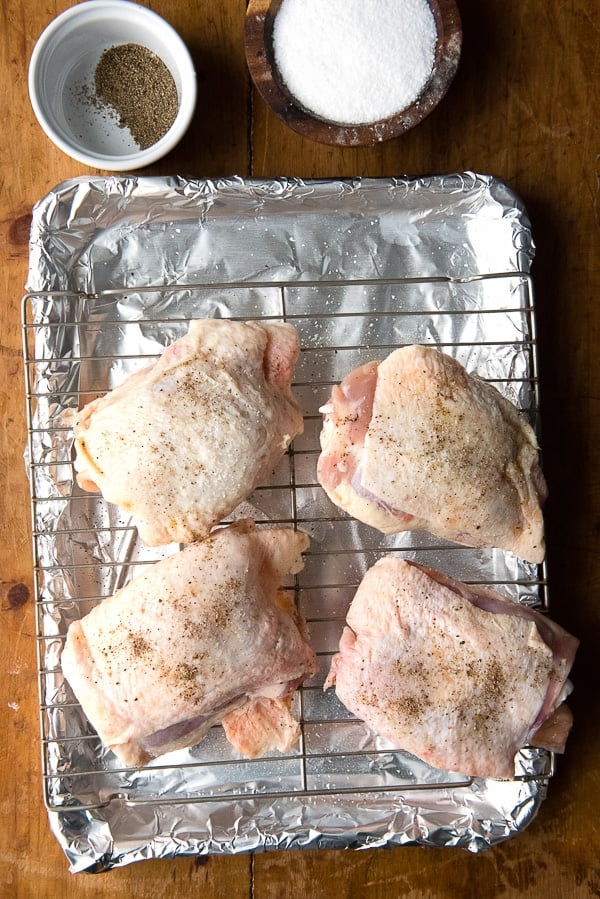 Making PERFECT Roasted Chicken Thighs Every Time (TIPS)
After making this roasted chicken thigh recipe more times than I can count, I have a few tricks for perfect roasting.
They ensure the chicken thighs are juicy and the skin crisps the skin beautifully every time.
TIP #1: A baking sheet with sides is fitted with a flat rack. This does two things:
Allows air circulation underneath the chicken thigh while cooking helps the skin become crisp.
It also provides that any fat drippings drain into the pan and the chicken thigh is not sitting in them.
The thighs have plenty of flavor; they don't need to sit in the fat.
TIP #2: Select chicken thighs all the same size. This allows all the thighs to cook uniformly in the same amount of time
TIP #3: Flipping the chicken thighs mid-way through cooking allows even cooking on all sides as well.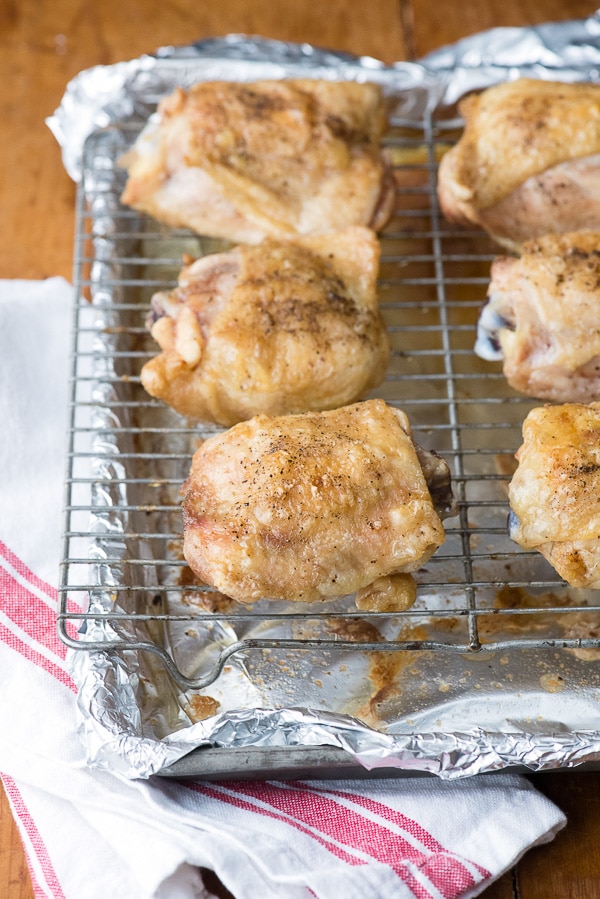 Roasted Chicken Thighs Easy Clean Up TIP
For extra-easy clean-up, wrap the pan in foil and discard it when you are done! No pan washing required.
Supplies for Making Roasted Chicken Thighs
A few supplies make this recipe easy. You probably have them in your kitchen already!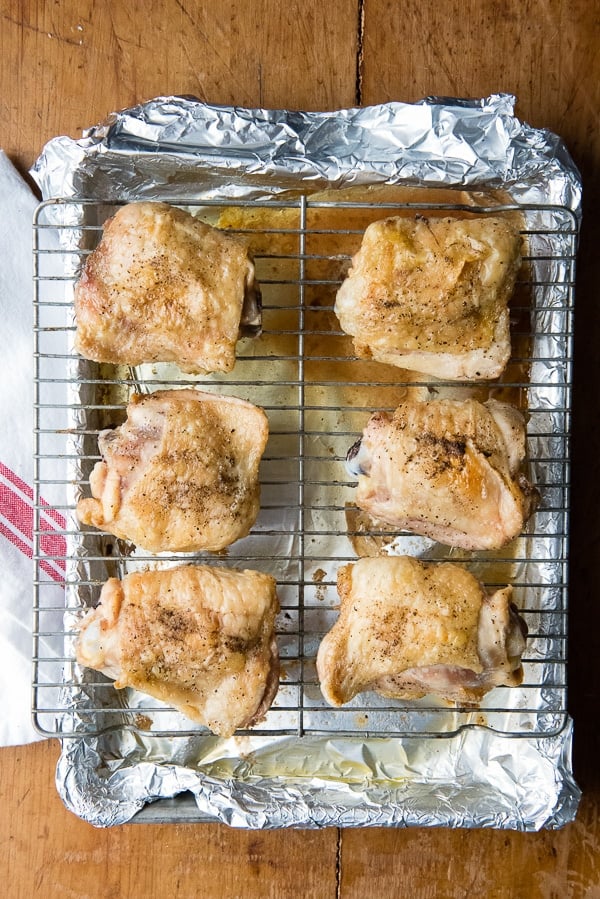 More Recipes You'll Love!
originally published: January 8, 2017