Homemade Banana Pudding tastes like buttery caramelized bananas with the texture of silk! This pudding from scratch will become a decadent favorite!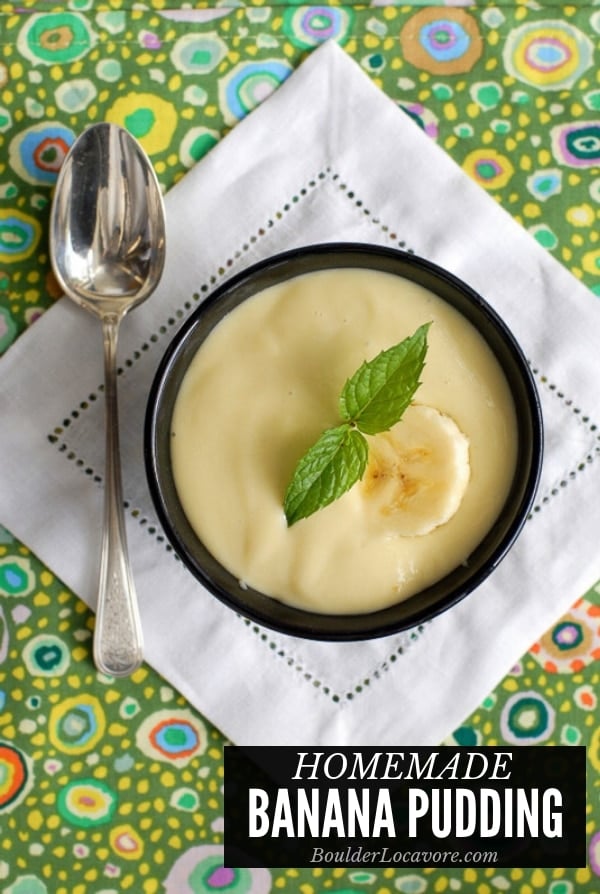 Usually we are all looking for fabulous recipes that are quick, easy and convenient. I am at least.
But sometimes taking extra time to make a recipe from scratch truly makes all the difference in the world.
Such is the case with this luxurious Banana Pudding recipe.
If you've only had pudding from a box mix, your life is about to change!
To be clear, this is a recipe for actual banana pudding; not a banana pudding dessert which includes vanilla wafers and whipped cream.
HOWEVER, it sure would be good in that too!
Homemade Banana Pudding from Scratch
I realize banana pudding may not sound like the sexiest thing on the dessert tray but this homemade banana pudding definitely is.
Banana pudding from scratch is a rich dessert with a texture of silk.
The banana flavor is caramelized and authentic; buttery, very much like that of Bananas Foster.
It's delicious on its own and perfect for recipes calling for banana pudding.
This homemade banana pudding recipe is great for making Trifles or Ice Box Cake.
What's 'So Special' about this Banana Pudding Recipe?
Unlike most pudding recipes, this banana pudding recipe has a special touch:
It's made with homemade 'banana milk'
The bananas are roasted (game changer)
It includes banana liqueur
A whole lot of butter is used.
If that list doesn't win you over, nothing will.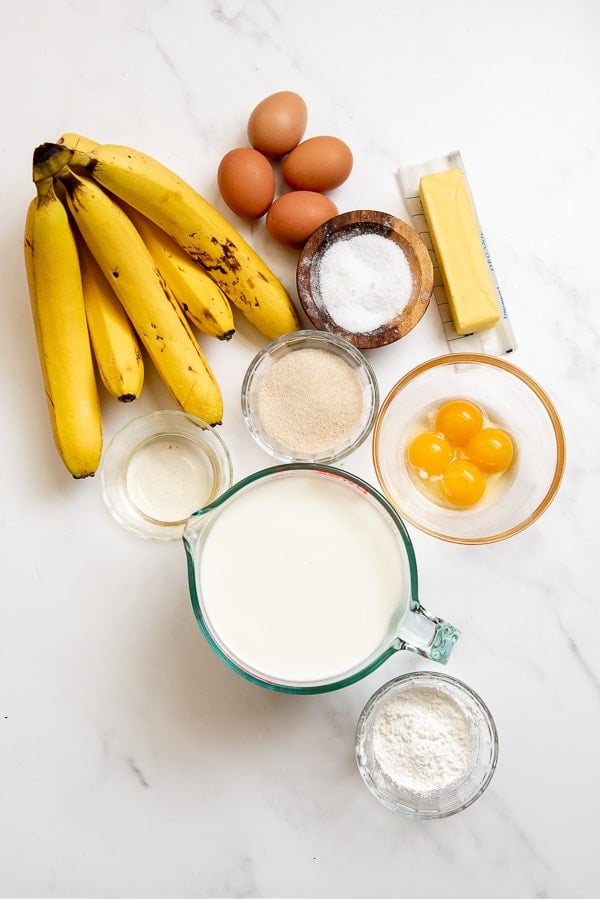 Ingredients in Homemade Banana Pudding
The ingredients in the banana pudding recipe are ordinary ingredients you may have in your kitchen now!
Homemade Banana Milk (made with ripe bananas or roasted bananas, granulated sugar, butter and whole milk)
Granulated Sugar
Kosher Salt
Egg Yolks
Eggs
Cornstarch or Arrowroot Starch
Unsalted Butter
Banana Liqueur
What Gives Banana Pudding Its Color?
It's yellow so you'd guess bananas, right?
It's actually the egg yolks and butter!
Homemade Banana Pudding can be drab in color or even look a bit green'ish. That is from the actual bananas.
Once the egg yolks and butter are added you'll notice it becoming more yellow (see the process photos below).
TIP: if the Homemade Banana Pudding doesn't have an end color you love, add whipped cream and banana slices to top it!
Roasting Bananas for Homemade Banana Pudding
My first experience with roasting bananas was through this banana pudding recipe and I've never looked back.
Roasting bananas is easy and produces a caramelized flavor unlike using very ripe bananas.
I've added them to The Best Hummingbird Cake, Pumpkin Roasted-Banana Quick Bread, Roasted Banana Chia Pudding Breakfast Bowl and more.
To Roast Bananas:
Preheat the oven to 350 degrees.
Place bananas on an ungreased baking sheet. Do not peel or piece the peel.
Place in the middle of the oven for about 12 minutes until the peel has turned black (note: the banana may begin to seep from the peel.)
Once roasted, allow the bananas to cool long enough to peel.
If you are in a time pinch, or want to streamline the banana milk portion of the recipe, ripe bananas also may be used.
What is an Ice Bath?
This recipe uses an 'ice bath', a technique common in custard making for ice cream.
Once a hot custard or pudding is ready to be chilled, it is strained through a fine-mesh strainer, into a bowl set on top of ice.
Using an ice bath creates a quick chill which will stop the cooking of egg-based custards before chilling them for a longer time.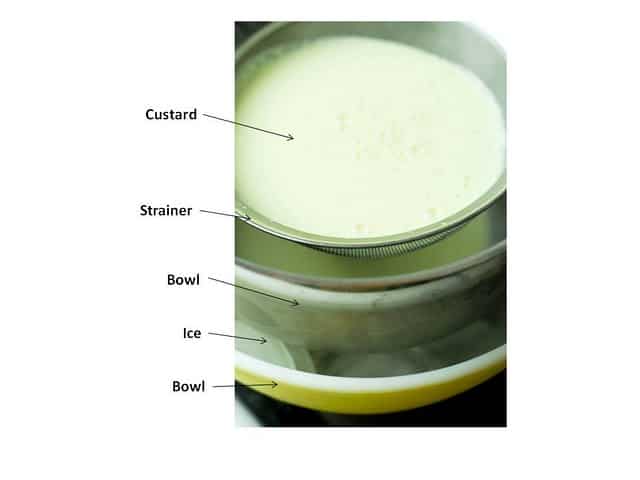 How to Make Banana Pudding
The banana pudding recipe is made in two main parts:
Making the Homemade Banana Milk
Making the Banana Pudding
Though it can all be done in one day, it's easiest to make the banana milk the day prior to making the pudding.
The banana milk can also be made early in the day so it chills fully before making the banana pudding.
For recipe specifics, please check the recipe card at the bottom of the post.
Making Homemade Banana Milk
Place all ingredients into a heavy-bottomed pot and bring to simmer.
Remove from heat, and cool overnight or until fully chilled (photo 1).
Strain mixture, pushing the bananas with a wooden spoon or firm spatula to release all the milk (photo 2).
Set aside for the pudding recipe (photo 3; finished banana milk).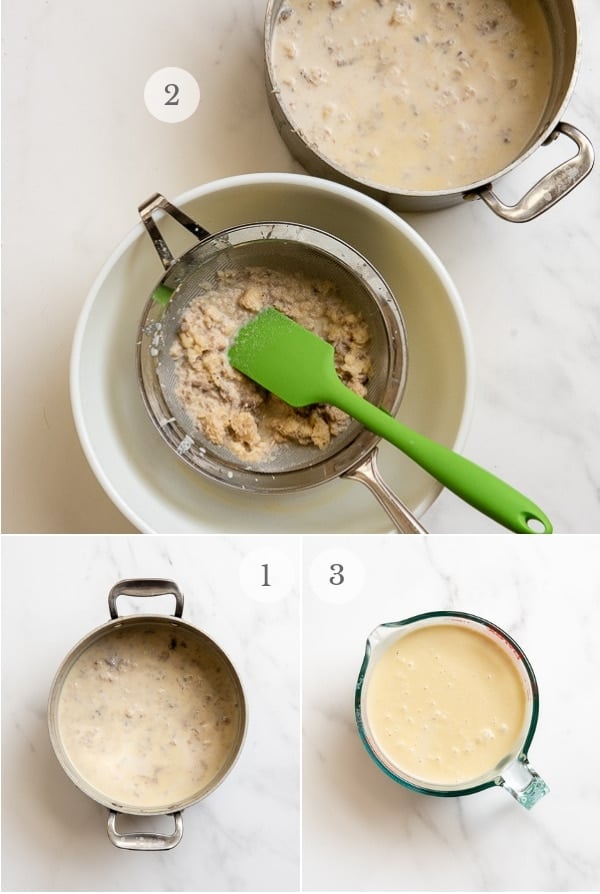 Making Homemade Banana Pudding
In a heavy-bottomed sauce pan, heat banana milk, sugar and salt. Bring just to the start of a boil, stirring frequently.
In a blender, blend the eggs, yolks and cornstarch/arrowroot starch to combine (photo 4).
Pour into a large heat proof bowl (photo 5).
Slowly pour the heated milk mixture into the egg/starch mixture, whisking all the time (photo 6).
Pour back into the saucepan on low-medium. Whisk constantly until mixture is very thick (photo 7).
Remove from heat.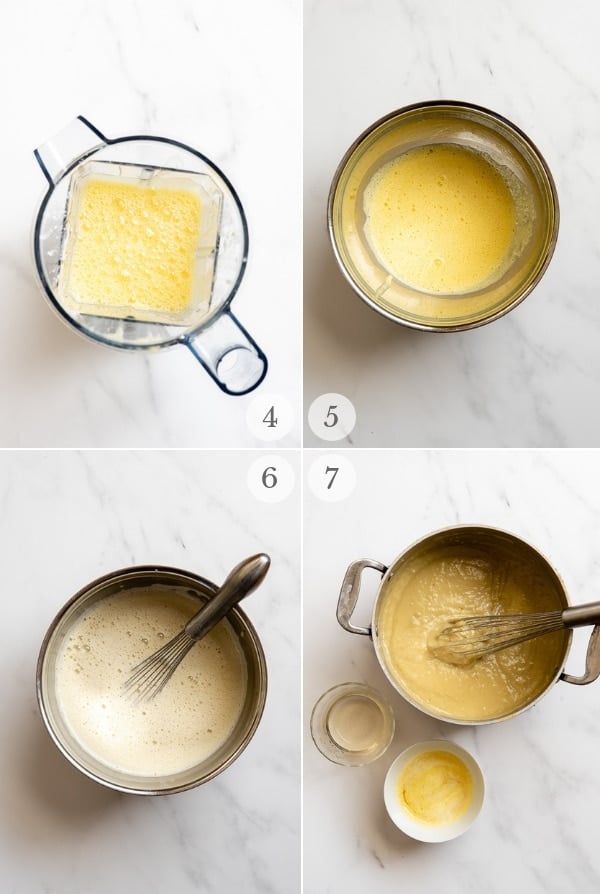 Add the melted butter and banana liqueur, whisking until smooth (photo 7).
Add pudding in batches to the blender. Blend until smooth (photo 8).
Pour into a fine mesh strainer over a bowl set in an ice bath (refer to Ice Bath diagram photo above) and push pudding through the strainer with a spatula. Fully cool.(photo 9)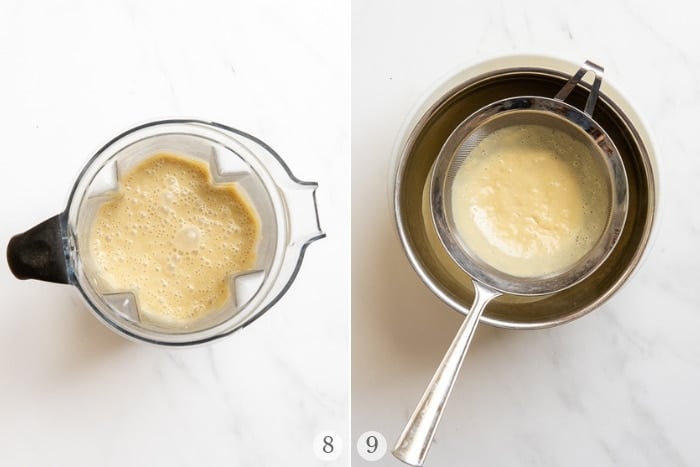 Tip for Tempering the Eggs
'Tempering eggs' is a method of adding a hot liquid to uncooked eggs.
When adding a hot liquid to eggs, the liquid needs to be added very slowly or the eggs will scramble!
I found an easy way to temper the eggs in the banana pudding is to use a soup ladle and slowly drizzle the hot liquid into the eggs while whisking constantly with the other hand.
Supplies for Making Banana Pudding
Rimmed Baking Sheet (for roasting bananas)
Heavy Pot
Wooden Spoon or firm Spatula
Whisk
Blender
Fine Mesh Strainer
Original Recipe Credit – Chef Alex Seidel
I was originally provided this recipe from one of my favorite local chefs, James Beard Award Winner Chef Alex Seidel.
'Top Chef' viewers will have seen him and his Fruition farm featured on the TV show's Colorado season.
We crossed paths at a culinary festival years ago and he gave me this recipe to share with my readers.
I have adapted the original recipe to be home-chef friendly!
Check out his Thai-Style Octupus Ceviche recipe too!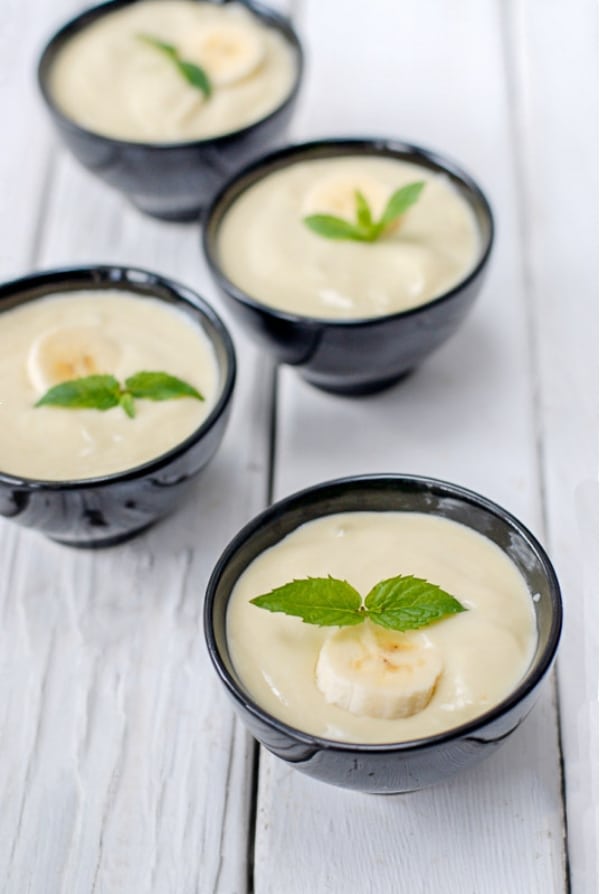 More Recipes You'll Love
Did you make it? Please RATE THE RECIPE below!
Please SUBSCRIBE and FOLLOW ME on FACEBOOK , TWITTER , INSTAGRAM and PINTEREST !
Originally published August 10, 2011; updated February 2019.