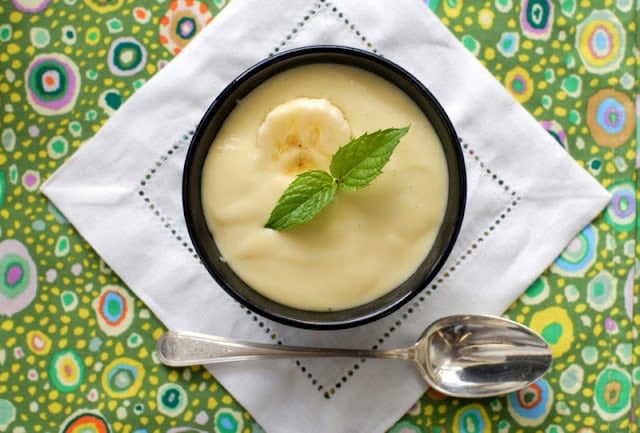 A highlight of attending the Snowmass Culinary and Arts Festival for me was the opportunity to meet Chef Alex Seidel.

 

I truly believe he's one to watch; part of the up-and-coming new culinary regime with his finger on the pulse of the current culinary appetite and interests, as well as is diving into what's cool and forward.
By example, the weekend of the culinary festival he was cooking at a James Beard event in Crested Butte Colorado Friday, doing a how to make sheep's milk cheese demonstration in Snowmass Saturday and participating in Cochon 555 All Stars in Las Vegas Sunday.

 

Let's not forget he does run a restaurant in Denver (Fruition), a farm that feeds Fruition's needs as well as many other local restaurants, is a husband and father.

 

I would guess he subscribes to the Irish proverb 'I'll sleep when I'm dead' knowing his schedule.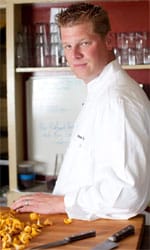 I sadly did NOT meet him in Snowmass.

 

My schedule changed and I was unable to attend his demonstration.

 

I have had the opportunity to be his penpal over a few culinary matters however.

  

Knowing all of his endeavors I really was surprised to hear back promptly and personally to my emails to him.

 

In between planes and events he somehow made the time for my inquiries.

 

One of those was to have a recipe of his to include in a blog post about Snowmass and his personal fabulosity (I did not put the last part in the email).

 

The recipe was lost in cyber space upon his first sending but despite the madness of his weekend he resent it when learning it never arrived, with an apology (too much!).
Though now decoupled from his demo at Snowmass, I had to share his recipe for what I can attest is the most divine Banana Pudding ever.

 

I realize 'banana pudding' may not sound like

 

the sexiest thing on the dessert tray but it is.

 

A beautifully rich dessert with a texture of silk.

 

The banana flavor is clean, smooth, authentic and not overpowering.
I will confess I was walking a bit taller after opening Chef Alex's recipe.

 

It was a REAL chef recipe.

 

Everything in ounces, lots of ounces, no wimpy cups or tablespoons.

 

And it was for about 300 of my closest friends.

 

It also used chefy words like 'temper'.

 

I was stoked he pulled it from the files (or maybe his head) and sent it off not imagining a translator might be needed.

 
Not to rob you of the same thrill but I have reduced the quantity to serve more like 8 of YOUR closest friends and I elaborated a bit on the instruction too (just used smaller, less chefy words).

 

Chef Alex and I did not spend hours on the phone noodling over the best way to present and
tszuj the food.

 

Hoping he'll appreciate a simple sprig of mint and banana slice.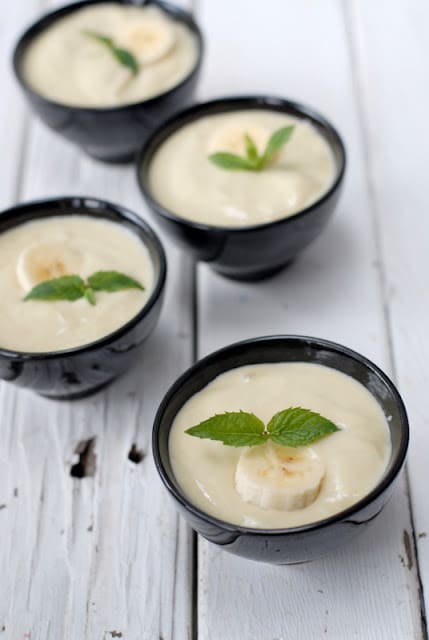 ·

        
30 ounces Banana Milk (see recipe below)
·

        
¼ plus 1/8 teaspoon salt
·

        
6 ¼ ounces egg yolks
·

        
7 ½ ounces eggs (shelled)
·

        
1 ¾ oz cornstarch or arrowroot starch
·

        
1 stick unsalted butter, melted
·

        
2 ounces banana liqueur
1.
 

In a heavy bottomed sauce pan heat banana milk, sugar and salt.

 

Bring just to the start of a boil, stirring frequently.
2.
In a blender, blend the eggs, yolks and cornstarch/arrowroot starch to combine.

 

Pour into a large heat proof bowl.
3.
Slowly pour the heated milk mixture into the egg/starch mixture, whisking all the time.
4.
After the mixture in step 3 is fully combined, put back into the saucepan on low-medium.

 

Whisk constantly until mixture is very thick (for me it took about 8 minutes with the heat closer to medium).
5.
Remove from heat.

 

Add the melted butter and banana liqueur, whisking until smooth.
6.      Add pudding in batches to the blender.  Blend until smooth.  Pour into a fine mesh strainer over a bowl set in an ice bath (basically the bowl receiving the pudding beneath the strainer is set into a bowl with a layer of ice in it) and push pudding through the strainer with a spatula.  Fully cool.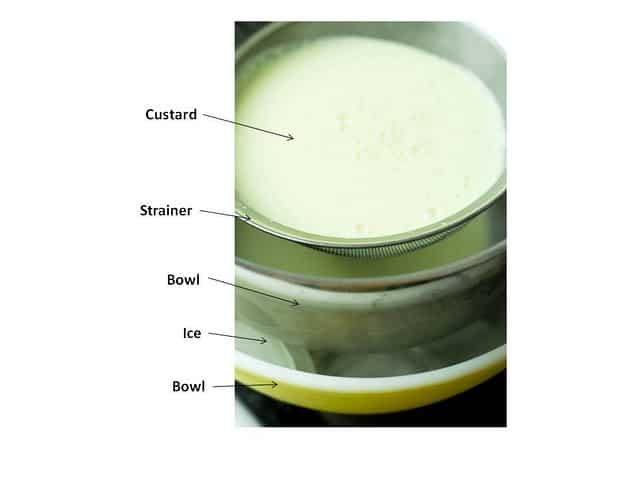 ·

        
25 ounces ripe bananas

 

or roasted bananas (see below)
·

        
2 ½ ounces sugar
·

        
1 ¼ ounces butter
·

        
4½ cups whole milk
1.
Place all ingredients into a heavy bottomed pot and bring to a slight boil.

 
2.
Cool overnight or until fully chilled.
3.
Strain mixture, pushing the bananas with a wooden spoon or firm spatula to release all the milk.

 

Set aside for the pudding recipe.
·

        
5 ripe bananas (not under ripe green bananas or over ripe black or spotty bananas)
1.
Preheat oven to 350 degrees.
2.
Place bananas on an ungreased cookie sheet.

 

Do not peel or piece the peel.
3.
Place in the middle of the oven for about 12 minutes until the peel has turned black and the banana may begin to seep from the peel.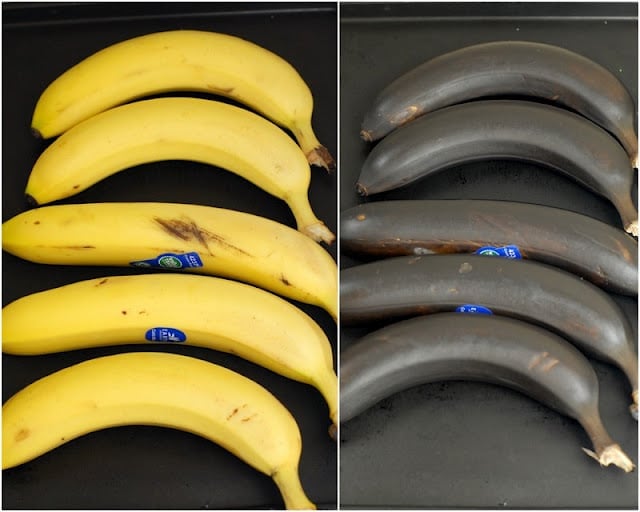 Bananas before roasting and after 12 minutes in the 350 degree oven
4.
Allow to cool enough to peel and proceed with the banana milk recipe above.