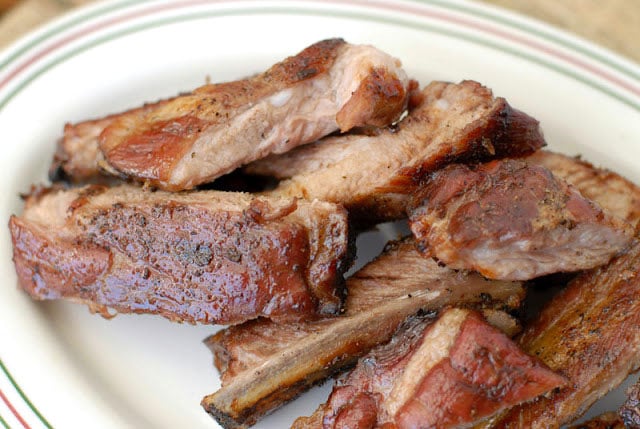 Grilling season is upon us and an all time favorite is of course ribs.

 

I find they can be tricky to grill well, leaving them succulent and moist but still with the proper charring to remember it IS summer.

 

I have a tried and true recipe to share for St. Louis Pork Ribs.
The June/July 2011 issue of Saveur magazine is devoted to barbecuing of all types.

 

There is a great chart in the middle of the issue with a small write up on different cuts of meat.

 

They describe St. Louis ribs as: "These are pork spareribs that have been trimmed of the rib tips, skirt meat and the point so that the shape is neat, and uniformly rectangular.

 

St Louis ribs are long and slender with a nice amount of meat on them'.

 

I personally find them to have just the right amount of fat to add fabulous flavor but not to overwhelm the digestion.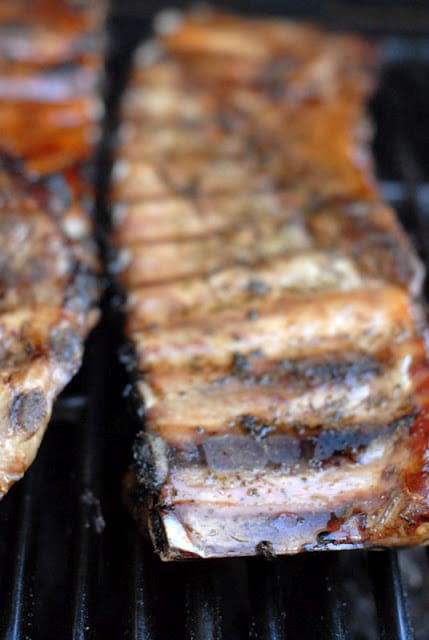 A rack of this style of ribs was about $10 at a better local butcher shop.

 

I made 2 racks for 4 diners planning leftovers.

 

There were a lot of leftovers and they were just as delicious the second….and third time!
·

        
Rack of St. Louis style ribs
·

        
Penzey's spice blend:

 

Mural of Flavors or comparable spice blend*
*this spice blend includes: shallots, onions, garlic, lemon peel, citric acid, chives and orange peel
1.

  

Preheat oven to 200 degrees.

  

Put rack on a foil lined cookie sheet.

 

Salt, pepper and sprinkle spice mix amply on both sides of rib rack.

 

Place in the oven for 3 hours.

 

Flip once halfway through.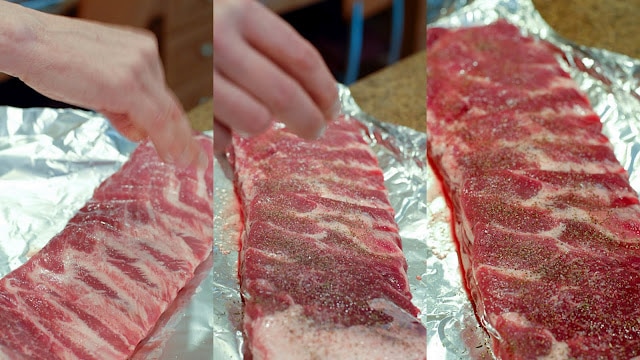 2.

 

Preheat a gas grill to low temperature to finish on low direct heat for approximately 30 minutes.

 

Flip once.

 

Ensure no flare ups or charring.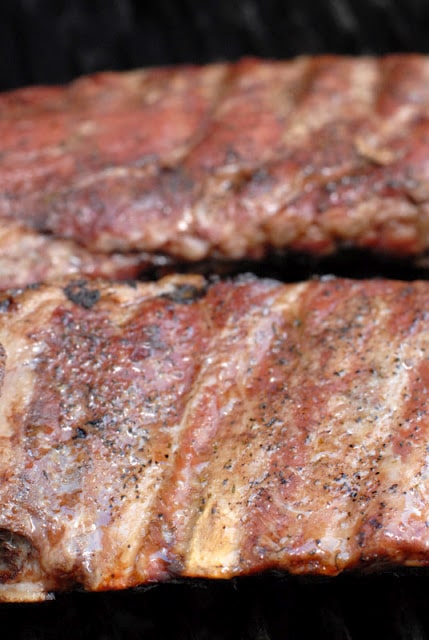 This method allows the ribs are virtually cooked when coming out of the oven but the grilling gives that tell tale flavoring to finish them off without drying them out or blackening them.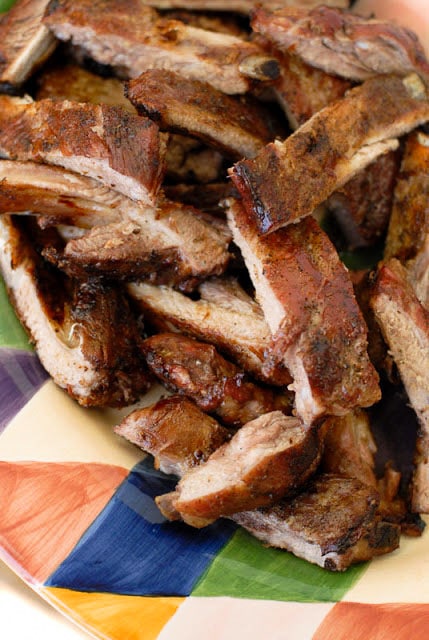 Having lived in Boulder for some time I don't think about doing many 'get to know your town' outings (unless it is food-related, then I'm always on the hunt!).

   

A recent out-of-towner visit prompted trying an unusual outing that lived up to what the visual suggests and did leave me more knowledgeable and entertained.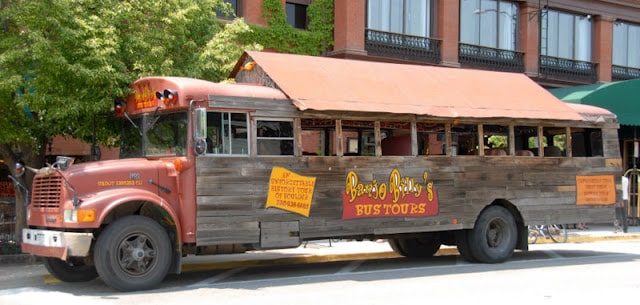 Banjo Billy's
is easily recognized around Boulder.

 

Their vehicle has a school-bus-gone-backwoods-outhouse motif complete with a horn that barks like a dog, whinny's like a horse and issues a wolf 'woo hoo' whistle that our driver/guide particularly enjoyed unleashing on unsuspecting senior women, half naked frat boys and bikini clad collegiates as we traversed the town.

 

The inside of the bus offered a thrift store collection of overstuffed chair and a few saddles in exchange for the expected bench seats, an eastern Indian draped ceiling punctuated by a pom pom covered disco ball, as well as strands of cheesy lights above the windows.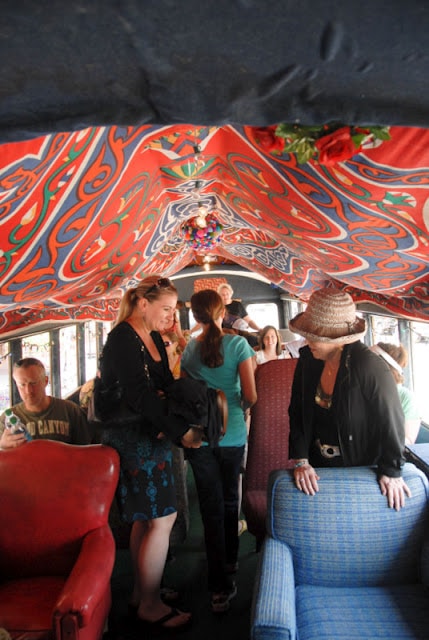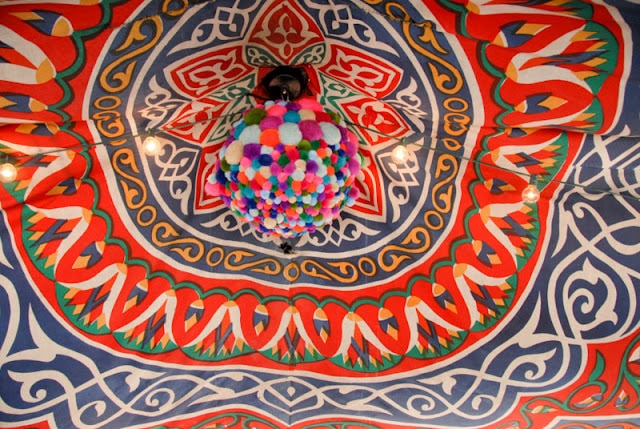 Our Aloha shirt clad driver/host divided us promptly down the middle of the bus cueing each side to yell a ghostly call or the 'dun-dun-dun-DUN' cry when a crime is announced.

 

Who knew there were so many grizzly crimes and ghosts in our berg (and this was not the ghost story tour they conduct each October).

 

This is a 90 minute drive through Boulder, pointing out history, crimes, random facts (I can claim I've

 

seen the local retirement home where the former owner of the horse Secretariat now lives) and that totally makes fun of our quirky culture.

 
They confirmed my understanding that the largest trust fund community outside New York City is in Boulder by mentioning several 'Trustafarians' and their dalliances.

 

Many other stories of local, historically relevant characters as well as identifiable mega-personae in pop culture who'd attended CU (will omit those for fear of lawsuits). Ironically the 7 tour guides of Banjo Billy's tours all have a Master's Degrees; 'and our parents are all so proud', shared our guide.

 

Oh, yes, Boulder is one of the most highly degreed populations in the U.S. too (clearly with not all of those degree holders employed in jobs utilizing those degrees fully).

 

Our guide in addition to his Banjo Billy gig, is an actor (no question from the delivery of the tour info), performs in Murder Mysteries at the historic Boulderado hotel (by the way NEVER stay in room 304; too many crimes and ghosts for my liking) and teaches Economics at a local community college.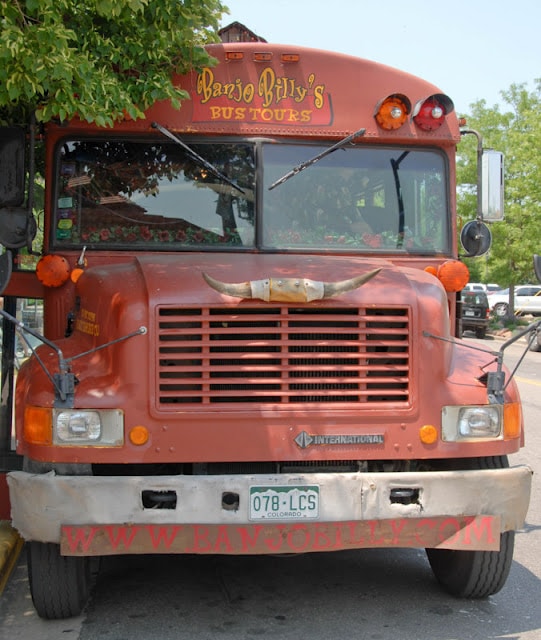 It is kooky-bordering-on-corn-ball fun and informative.

 

They do tours in Boulder and Denver with the mentioned ghost story tour in October AND a local brew tour on Sunday nights.

 

Definitely worth a check out.

 

It is eccentric, affordable, campy and unique.

 

It will be a view of Boulder (or Denver) one will not soon forget.