Tender, succulent St. Louis-Style Ribs are cooked low and slow in the oven and finished on the grill. The flavor of these ribs is the best! Easy recipe.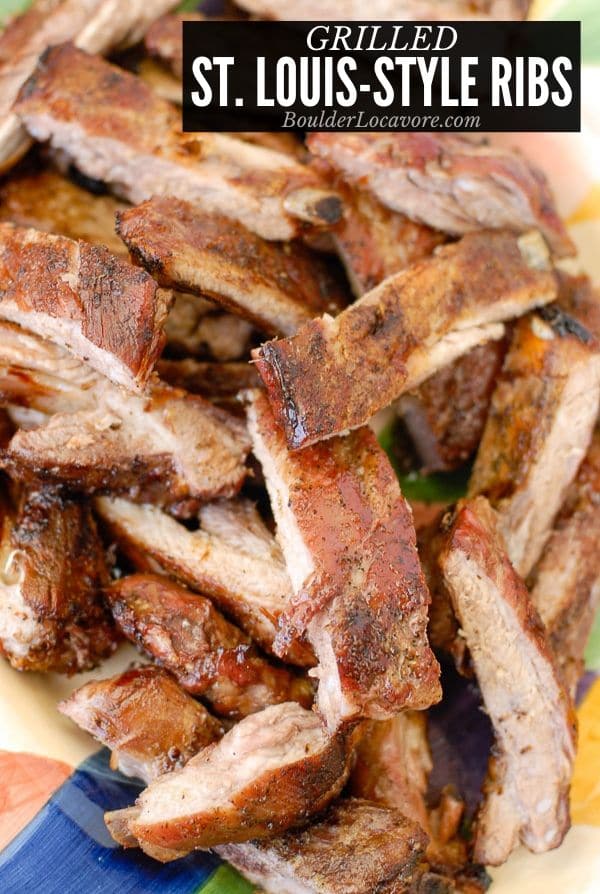 Grilling season is upon us and an all time favorite is of course ribs. I find they can be tricky to grill well, leaving them succulent and moist but still with the proper charring to remember it IS summer. I have a tried and true recipe to share for St. Louis Pork Ribs.
The June/July 2011 issue of Saveur magazine is devoted to barbecuing of all types. There is a great chart in the middle of the issue with a small write up on different cuts of meat. They describe St. Louis ribs as: "These are pork spareribs that have been trimmed of the rib tips, skirt meat and the point so that the shape is neat, and uniformly rectangular. St Louis ribs are long and slender with a nice amount of meat on them'.
I personally find them to have just the right amount of fat to add fabulous flavor but not to overwhelm the digestion (ribs can be very rich).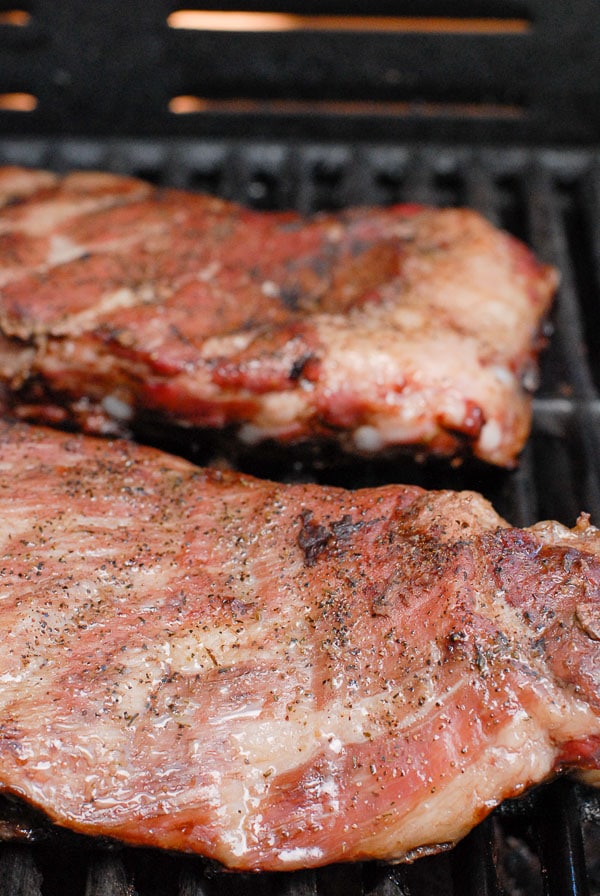 How to Make St. Louis-Style Ribs – Step-by-Step
These ribs are cooked long and slow first in the oven then on the grill.
This allows the flavor to develop and to keep them from drying out.
STEP 1: Preheat the oven to 200 degrees F. Line a large rimmed baking sheet with foil.
STEP 2: Sprinkle the ribs with salt, pepper and a spice mix . Refer to the photos below for guidance on coverage.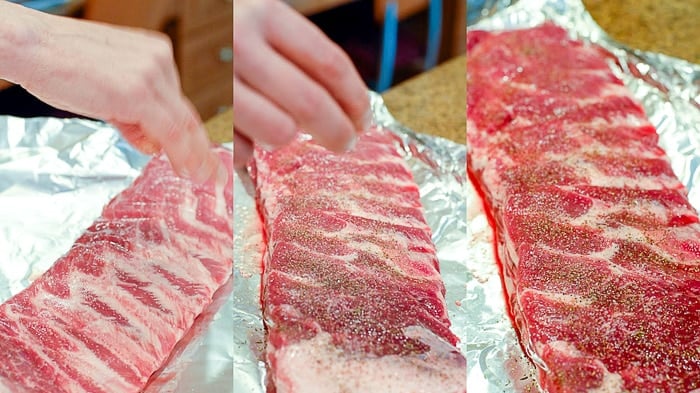 STEP 3: Cook the St. Louis ribs in the oven for 3 hours, flipping the ribs over once halfway through.
STEP 4: About 15 minutes before the 3 hours is done, preheat the gas grill to low temperature.
STEP 5: Grill the ribs approximately 30 minutes over low heat to finish them. Flip once after 15 minutes.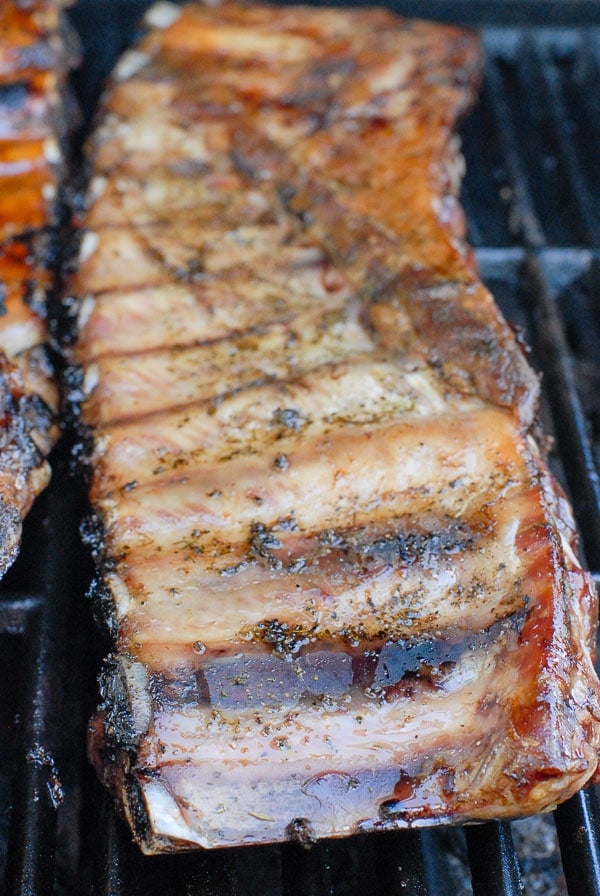 PRO TIP: have a clean food-safe spray bottle of water handy to ensure no flare ups or charring of the ribs.
What Rub to Use
For these ribs I used a Penzey's spice blend called 'Mural of Flavors'.
It contains:
Shallots
Onions
Garlic
Lemon Peel
Citric Acid
Orange Peel
I recommend using a rub for pork preferably with some citrus ingredients.
This will bring out the natural flavor of the ribs vs. taking over with strong spice flavor.
You can also make your own Dry Rub for Ribs. Its easy and full of smoky, sweet and spicy flavor.
How Many People will a Rack of Ribs Feed?
A typical rack of St. Louis-Style Ribs is around 2 to 2 1/2 pounds and will serve 3-4 people.
I prepared 2 racks for 4 diners expecting leftovers. There was an ample amount.
They were delicious when served over the following days, reheated, for 2 additional meals.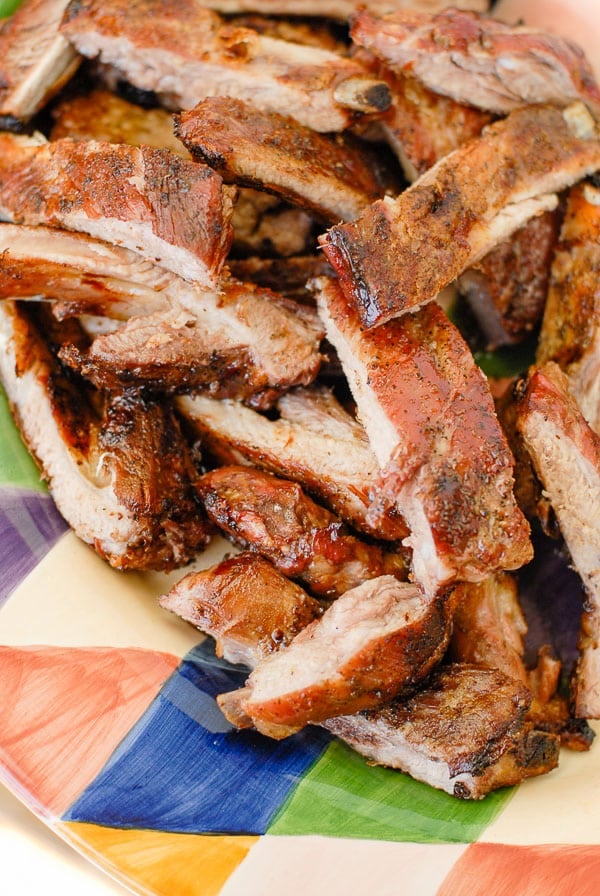 Make it a Meal!
Did you make it? Please RATE THE RECIPE below!
Please SUBSCRIBE and FOLLOW ME on FACEBOOK , TWITTER , INSTAGRAM and PINTEREST !
Recipe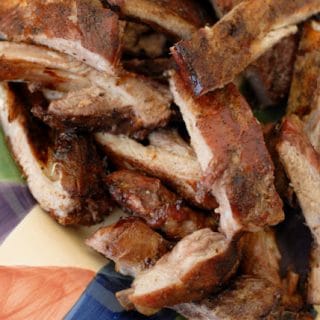 GRILLED ST. LOUIS-STYLE RIBS
This method allows the ribs are virtually cooked when coming out of the oven but the grilling gives that tell tale flavoring to finish them off without drying them out or blackening them. One rack of ribs feeds 3-4. Multiple racks of ribs can be cooked at a time using the same method.
Print
Save Recipe
Recipe Saved!
Pin
Rate
Servings:
4
1 rack will feed 3-4 people
Ingredients
1

rack

St. Louis style ribs

Salt

Pepper

Penzey's spice blend: Mural of Flavors or comparable spice blend*
Instructions
Preheat oven to 200 degrees. Put ribs on a foil lined baking sheet. Salt, pepper and sprinkle spice mix amply on both sides of rib rack.

Place in the oven for 3 hours. Flip once halfway through.

Preheat a gas grill to low temperature to finish on low direct heat for approximately 30 minutes. Flip once. Ensure no flare ups or charring.
Notes
*this spice blend includes: shallots, onions, garlic, lemon peel, citric acid, chives and orange peel
A rack of this style of ribs was about $10 at a better local butcher shop. I made 2 racks for 4 diners planning leftovers. There were a lot of leftovers and they were just as delicious the second….and third time
Nutrition
Calories:
900
kcal
|
Protein:
50
g
|
Fat:
76
g
|
Saturated Fat:
24
g
|
Cholesterol:
260
mg
|
Sodium:
263
mg
|
Potassium:
787
mg
|
Calcium:
49
mg
|
Iron:
3
mg
Originally published: June 9, 2011