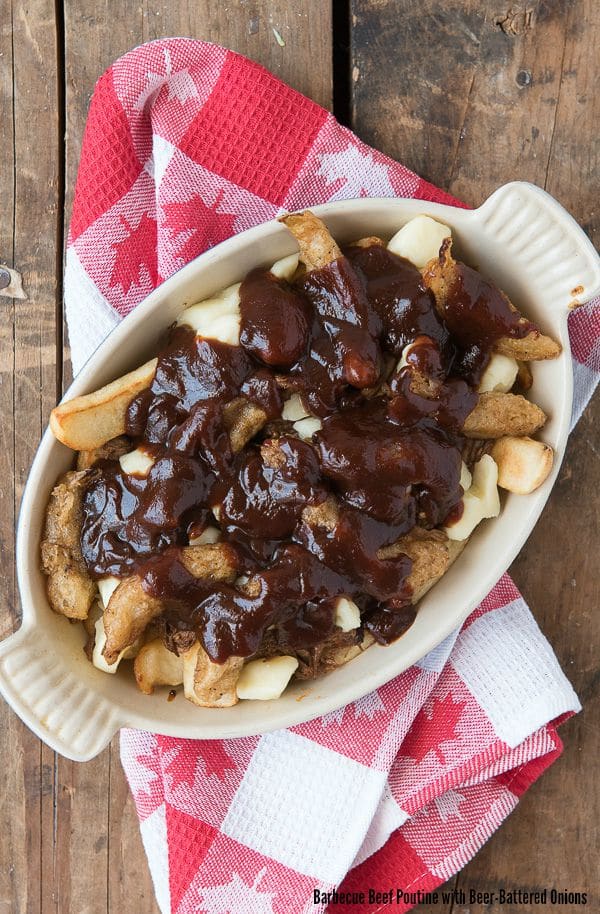 One thing I love about travel, whether internationally or within the U.S., is sampling local ingredients and signature recipes.  Certainly a big draw about traveling through Eastern Canada was the seafood and local produce.  A specific recipe I had my eye on to try was Poutine.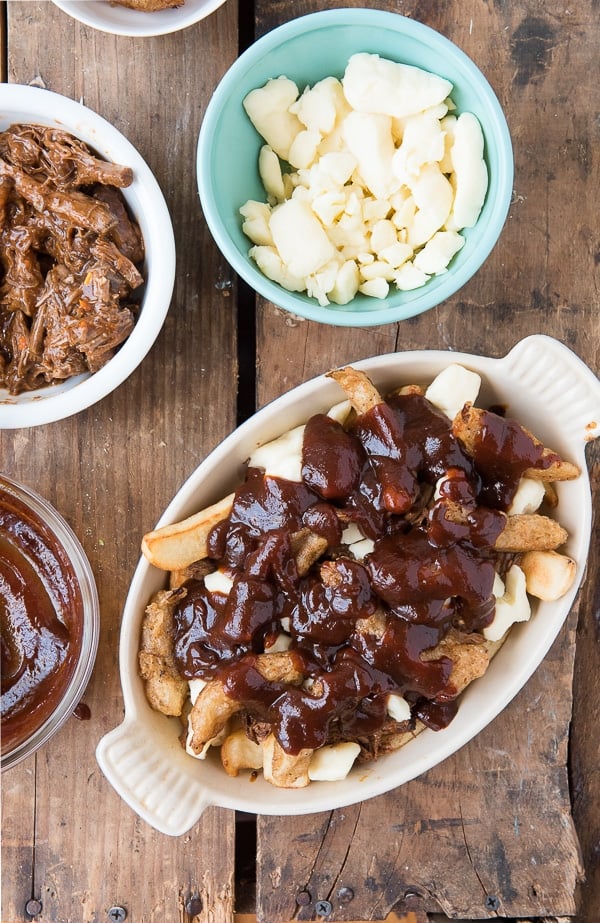 For those who may not be familiar with poutine, it's an iconic comfort food of French Canadian origin found readily in Eastern Canada.  French fries topped with cheese curds and brown gravy is the traditional recipe.  If not familiar with cheese curds, they are as they sound, large curds of cheese (usually cheddar) which have a rubbery or springy texture.  They can be eaten solo or added to recipes such as poutine.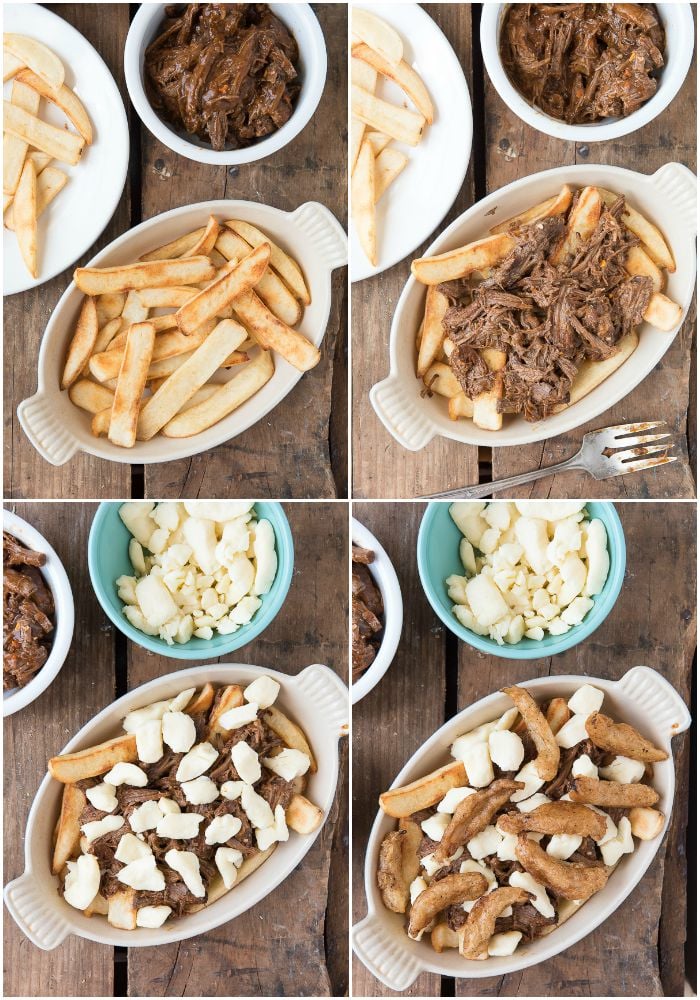 Our first sample was at a stop in Cape Breton where we arrived famished and devoured 2 orders between the four of us.  Clearly satisfying, as not a morsel was left, but I'll admit I'm not a brown gravy lover so the overall flavor was 'okay' by my palate, but not necessarily something I was crazy for.  We noted almost every restaurant when in larger areas offering some form of poutine, often with lobster, for an appetizer or main dish.
When visiting a restaurant in Quebec City best known for the creative burgers (and ability to accommodate gluten-free diners with gluten-free buns), my appreciation for poutine spiked.  Chez Victor offers several versions of poutine, all riffs on the original but including ingredients such as spicy lamb, chicken and buffalo sauce, goat cheese and duck.  We ordered a version with barbecue sauce, beef, bacon and fried onions along with cheese curds but unfortunately learned the onions were not gluten-free so I was only able to taste a few bits that had not come into contact with the onions.   It left me with a determination to make it at home.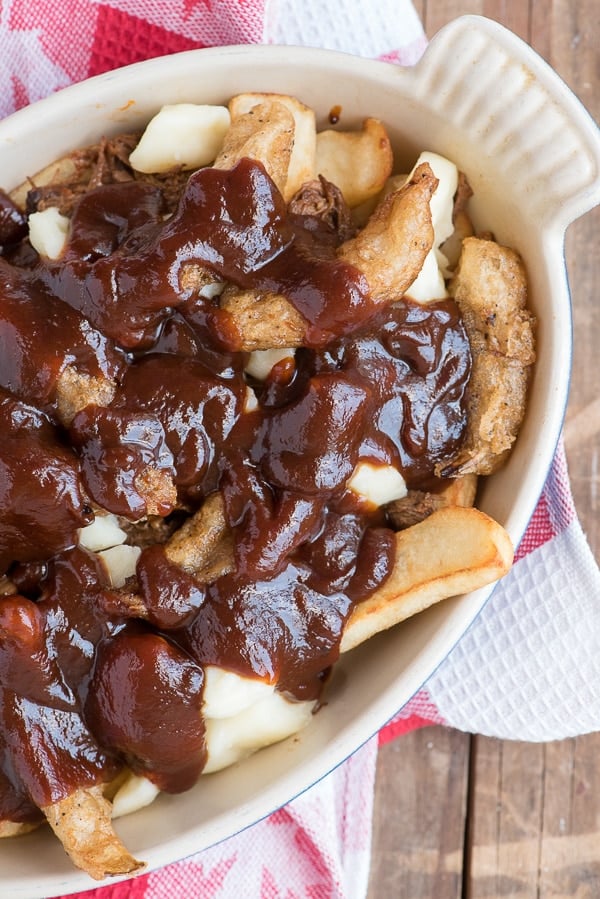 I always tread gingerly when replicating or innovating a national treasure like poutine.  We take our traditional recipes seriously and can take offense at modern spins!  I feel poutine has a comforting quality very similar to nachos for Americans.  They are simple, rustic dishes, easy to prepare and to be shared with a group.  The flavors deliver as a centerpiece of a gathering and the dish doesn't demand one's attention with fussy methods of consumption.  This would be a great option for football parties too! I think you'll agree this version offers all the best of the original version with some added flavors that will make it a well-loved favorite in your home too!
Barbecue Beef Poutine with Beer-Battered Onions
The portions of poutine can be varied based on the number being fed. This base recipe can be added to or subtracted from based on your needs. This amount will make a hearty main portion serving of fries, shredded beef, cheese curds, fried onion strips drizzled with a tasty barbecue sauce derived from the slow cooking of the shredded beef.
The prep and cooking time will vary depending on whether homemade fries are used (recipe link included) or using store purchased. The allotted cooking time covers either type of fries as well as deep frying the onions and making the barbecue sauce. If making the shredded beef recipe (versus using leftovers) include an additional 8 hours. The beef can be made a day prior which lessens the poutine preparation time.
Ingredients
Ingredients for the BBQ sauce (note: if in a time pinch, 1 cup of your favorite store bought barbecue sauce may be substituted):

1 cup liquid from the Slow Cooker Shredded Barbecue Beef
2 teaspoons Cornstarch
1 tablespoons Water
Instructions
Instructions to prepare the BBQ sauce:

Combine the cornstarch and water in a small bowl and whisk together.
In a small saucepan over medium heat, combine the slow cooker liquid and cornstarch mixture. Whisk to combine. Heat until simmering stirring often; cook for 5 minutes until the sauce begins to thicken. Remove from heat and allow to cool to until slightly warmer than room temperature (note: sauce with thicken as it cools).
Instructions for the Poutine:

On a large serving platter, arrange the French fries, topped evenly with the shredded beef, followed by cheese curds, onion strips then drizzled with the barbecue sauce.
https://boulderlocavore.com/barbecue-beef-poutine-with-beer-battered-onions/