These easy Chicken Enchiladas are full of satisfying Mexican flavors with a hearty filling. Prepared red enchilada sauce and loads of cheese make them a dinner time favorite!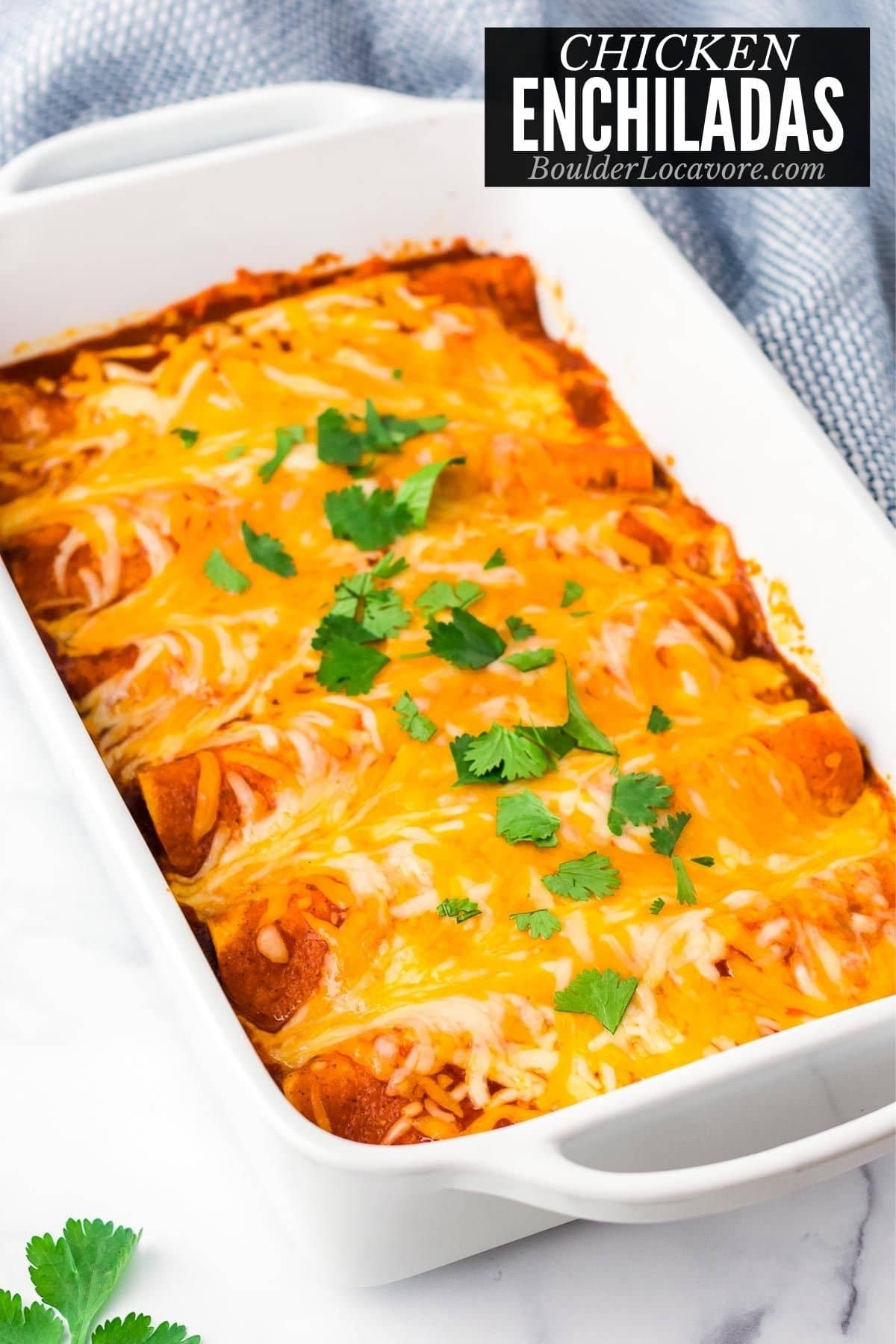 Chunks of moist, succulent chicken breast meat, tangy green chiles, creamy refried beans. This is just the start of what makes these easy chicken enchiladas a family favorite.
Add some flavor-packed red enchilada sauce and loads of cheese and eating in never tasted better!
Serve these with some Cilantro Lime Rice or Gallo Pinto and maybe a margarita or agua fresca!
For a shortcut version try our Chicken Enchilada Skillet recipe!
Must Make Chicken Enchiladas!
If you are a Mexican food lover, making enchiladas at home is a must.
With all the great authentic products available, it's not hard to do.
Haven't had enchiladas before?
They are tortillas filled with a savory mixture covered with a savory (often spicy) sauce.
The filling can include meat, beans, cheese, vegetables or even potatoes. Often at Mexican restaurants you'll choose between beef, chicken or cheese enchiladas.
We think they are the best kind of comfort food when eating out or eating in!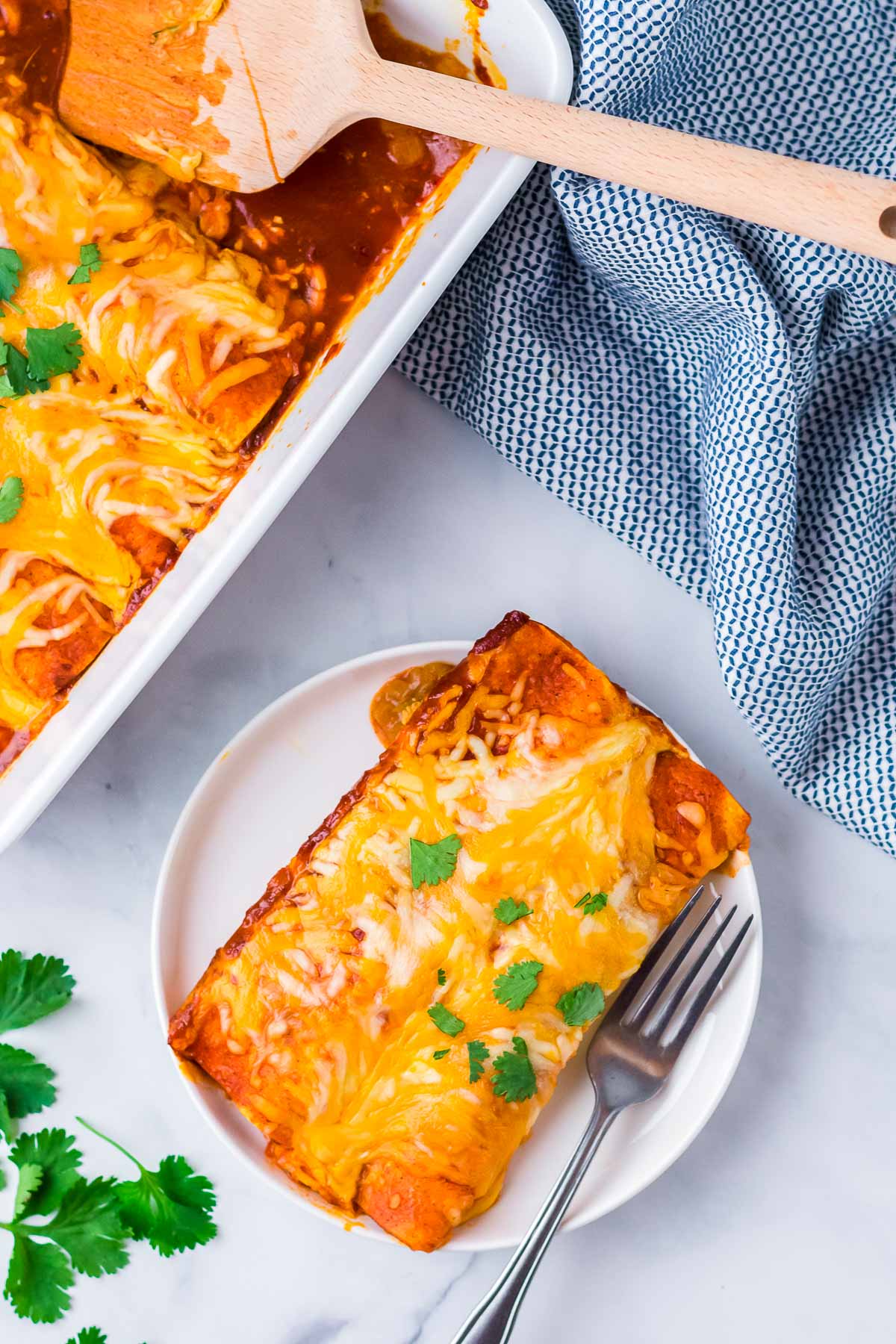 Why make THESE Enchiladas?
They are fast and easy to make
Using authentic products stays true to the traditional flavors but also saves time
The recipe is flexible to substitute homemade versions of the ingredients if desired
There are lots of ways to change them up
Recipe Ingredients + Notes

Olive oil. Used to sauté the onions.
White onion. We used white onions but red onions or yellow onions can be substituted.
Boneless skinless chicken breasts. These will be cut into small cubes for the enchilada filling.
Canned diced green chiles. Use mild chiles. The enchiladas can be made spicier if needed by adding hot sauce when served. If you LOVE heat, use hot diced green chiles.
Flour tortillas. Regular or gluten-free flour tortillas can be used. We used flour tortillas because they are usually more pliable and easier to roll without breaking. If preferred, corn tortillas can also be used.
For gluten-free we love Mission gluten-free tortillas. They are almost identical in flavor and texture to regular tortillas.
Red enchilada sauce. Canned red enchilada sauce makes the recipe prep fast. Homemade red enchilada sauce can also be substituted.
Refried beans. Any refried beans can be used.
Shredded Mexican cheese. Mexican cheese blend gives this great flavor and color. We recommend grating the cheese yourself for best melting (cheddar, colby and monterey jack cheese).
Or use Tillamook's Farm-Style Mexican blend. The cheese doesn't have caking agents that cause it to not melt well as do other prepared cheese blends.
Cilantro. Fresh chopped cilantro is used as garnish when serving.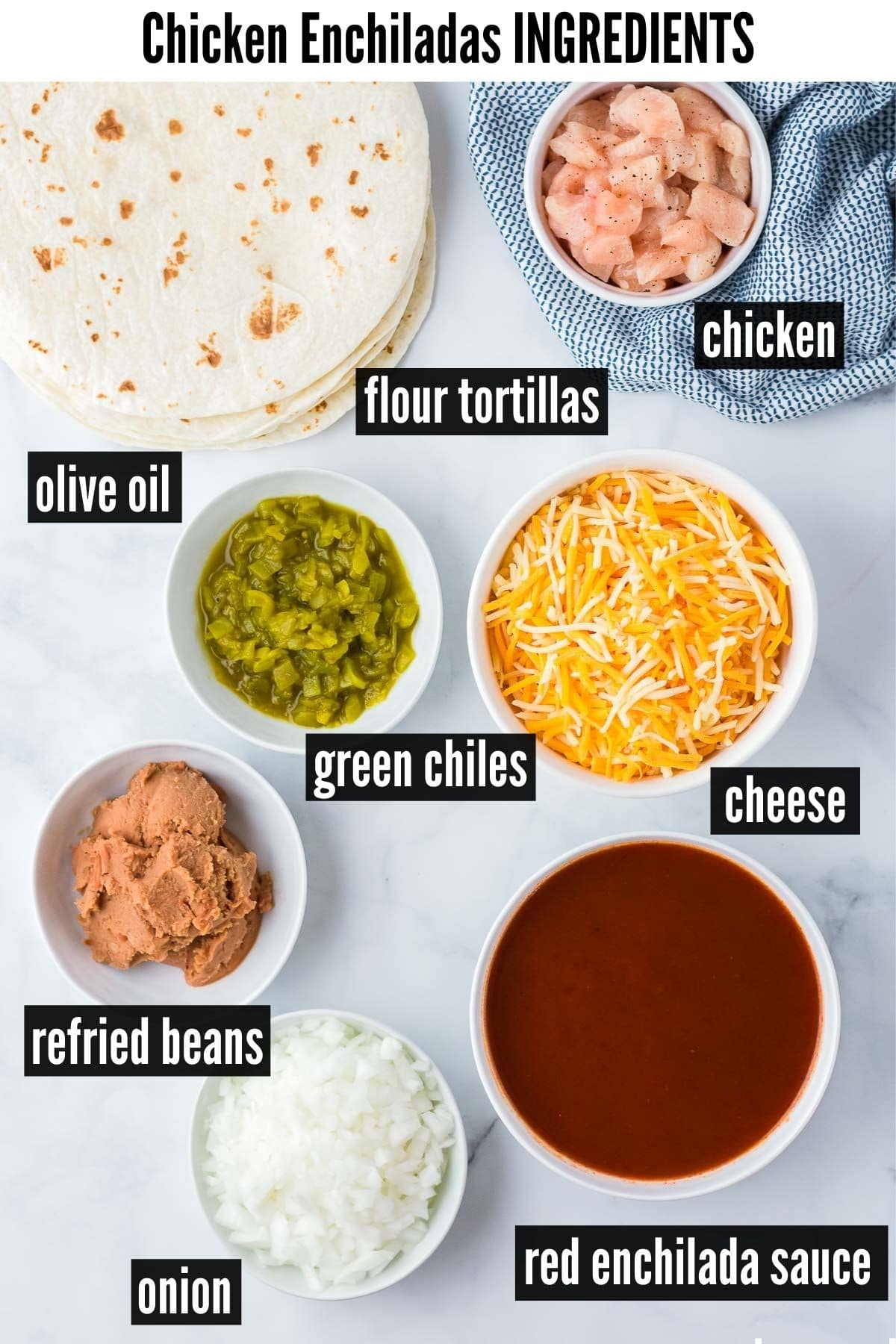 Add some toppings!
The enchiladas are delicious out of the pan with a sprinkle of fresh chopped cilantro.
You don't need to stop there! Here are some topping ideas too:
Sour cream or Mexican Crema. Did you know dairy products are the one thing to make food less spicy? This offers a tangy, creamy topping and is perfect if people don't love spicy food.
Guacamole or sliced avocado
Shredded iceberg lettuce for a cool, crunch
Variations
Rotisserie chicken. For a shortcut or if you have some leftover rotisserie chicken cut that into cubes and add with the refried beans. Skip the chicken cooking time. Cook until the mixture is warmed through.
Shredded chicken. Use homemade shredded chicken (regular or taco flavored shredded chicken)or store bought shredded chicken instead of cubed chicken. Use 2 1/2 cups shredded chicken. Add with the refried beans and warm through.
Make it vegetarian. Swap out the chicken for more vegetables or beans. Black beans, pinto beans, corn, chopped red pepper (saute that with the onions) would all be great.
Add cheese inside and out. We added the cheese on the outside of the enchiladas. You can add some inside and some outside too if desired.
Using corn tortillas. Corn tortillas can be substituted but be sure they are warm before starting. They tend to break more easily especially when rolling the enchilada if they are cold.
Try Green Enchilada sauce. For a different flavor profile try green enchilada sauce. Or a mix! Make it 'Christmas style' as they do in the southwest. Use one in the pan and the other on top of the enchiladas.
Make it SPICY!! If you love the heat in Mexican food, bump it up by using hot red enchilada sauce and/or hot green chiles. You can add some chili powder to the filling mixture when cooking it too. Try chipotle chile powder for some smoky heat.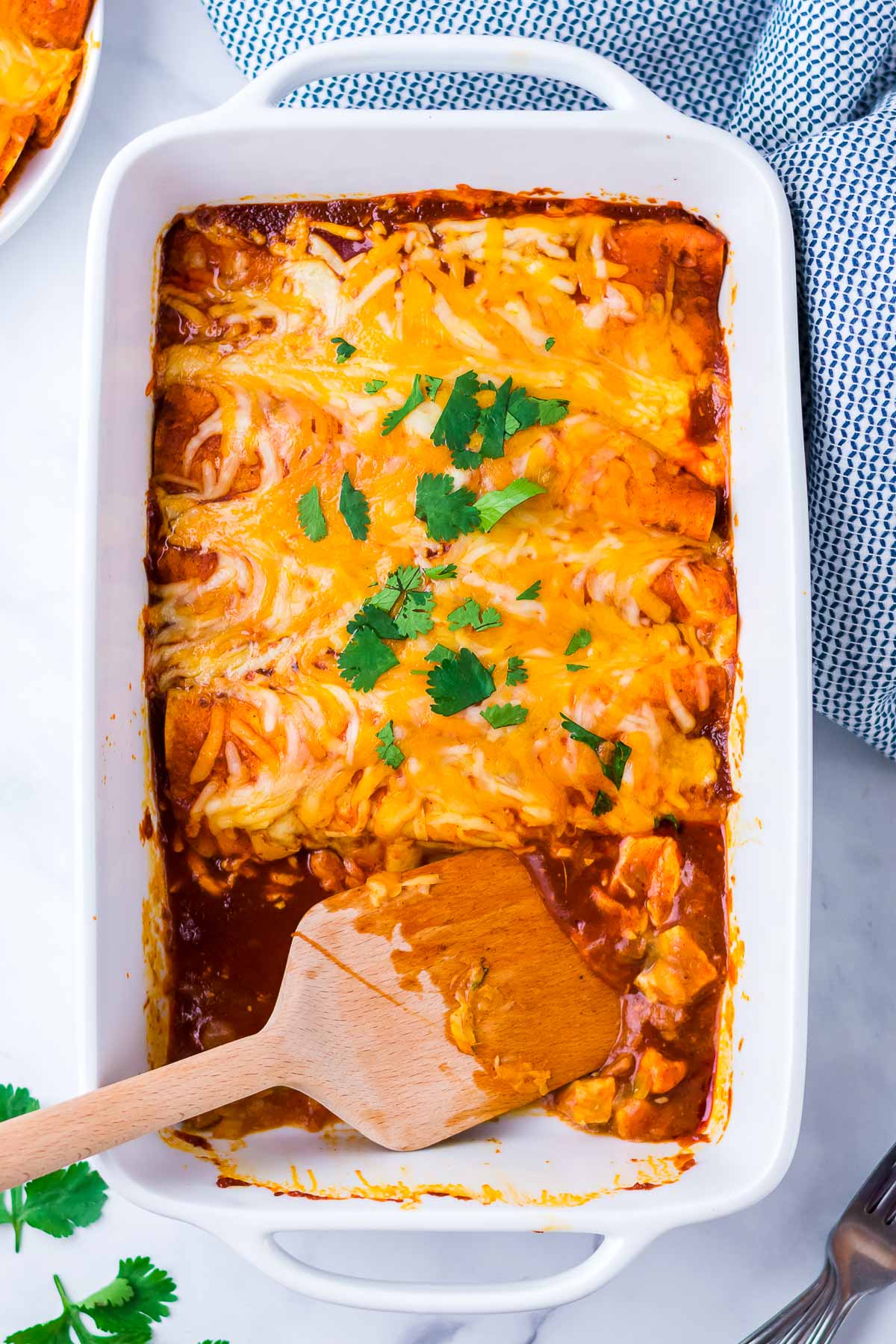 Make a Double Batch!
This recipe makes 6 chicken enchiladas which is the perfect amount for a 9-inch by 13-inch baking dish.
If you want more you can double the recipe to make 12 enchiladas filling two baking pans.
You can also divide the filling between 8 tortillas. This will make smaller enchiladas but 8 will fit in the baking dish.
How to make Chicken Enchiladas – Step-by-Step
STEP 1. Preparation
Preheat the oven to 350 degrees F.
STEP 2. Prepare the chicken enchilada filling
In a large skillet heat the oil over medium-high heat. Sauté the onions until translucent (photo 1).
Add the chicken and green chilies. Cook until chicken is cooked aproximately 7-8 minutes (photos 2-3).
Add the refried beans and 1/4 cup of the enchilada sauce (photos 4-6). Cook 2-3 minutes until combined and heated through (photo 7).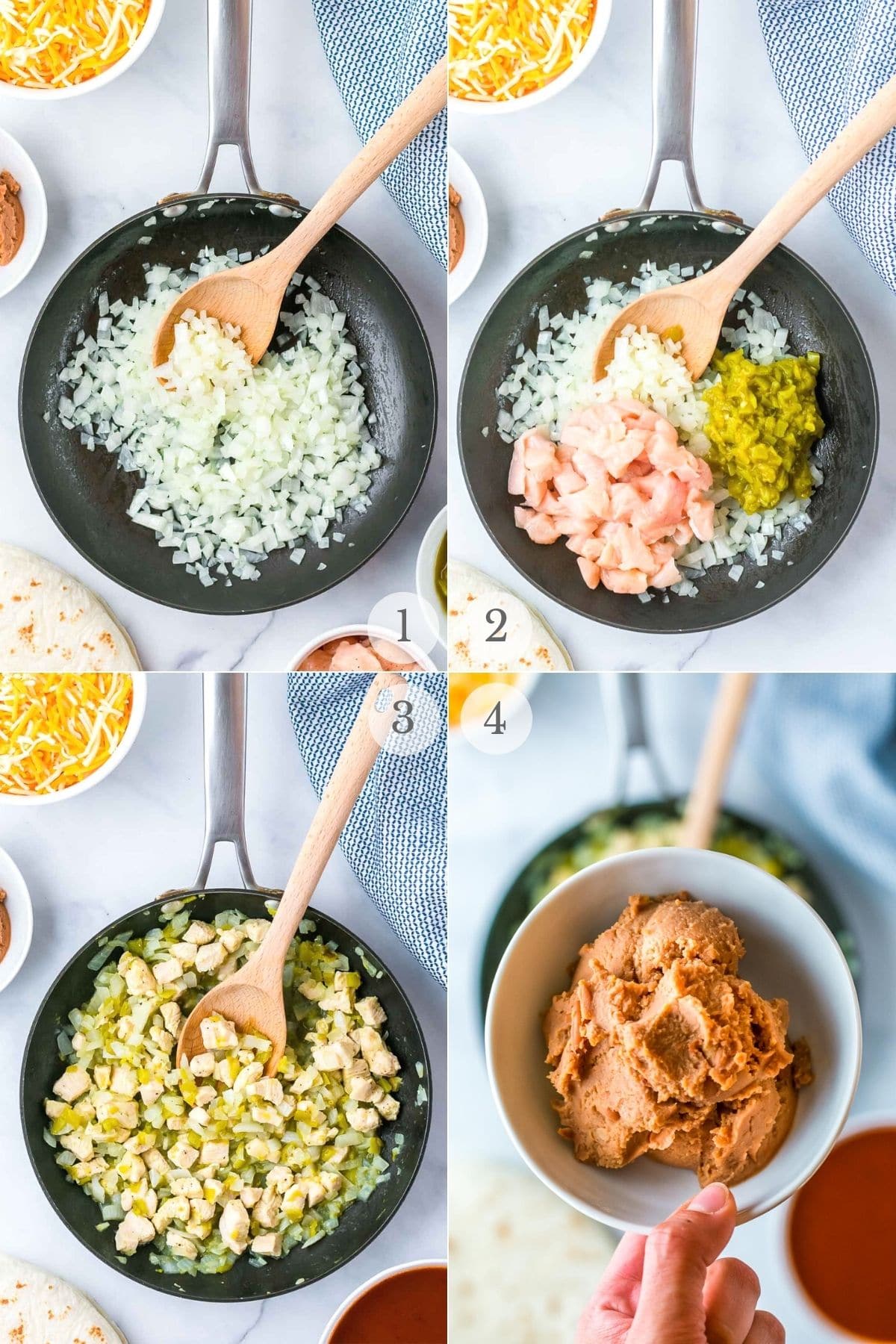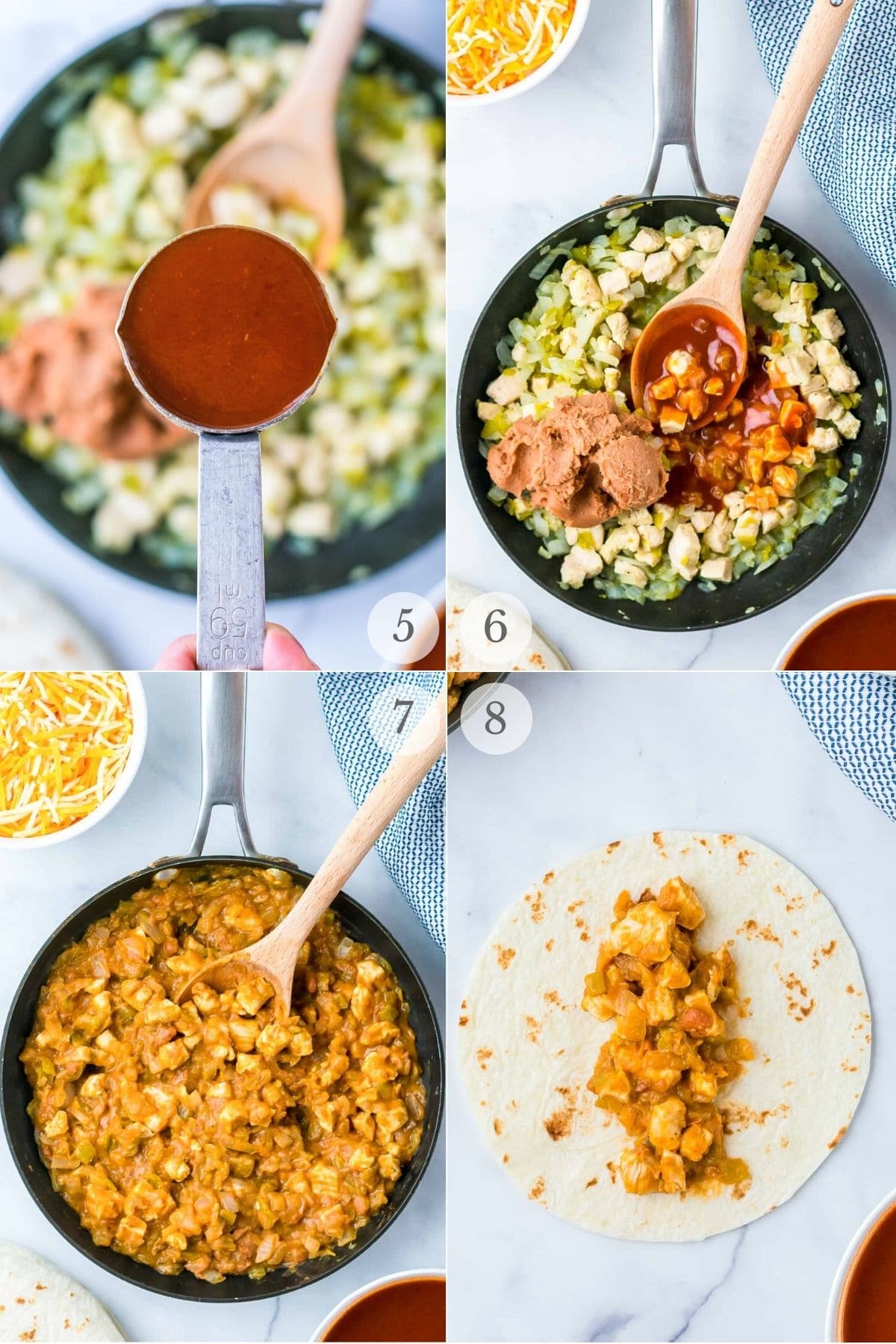 STEP 3. Assemble the enchiladas
Drizzle 3/4 cup of the enchilada sauce into a 9-inch by 13-inch baking disk. Spread to cover the bottom.
Spoon 1/2 cup of the chicken mixture onto the middle of a flour tortilla leaving room at the ends (photo 8).
Roll up the enchilada and place seam side down into the prepared pan (photo 9). Repeat for the remaining enchiladas.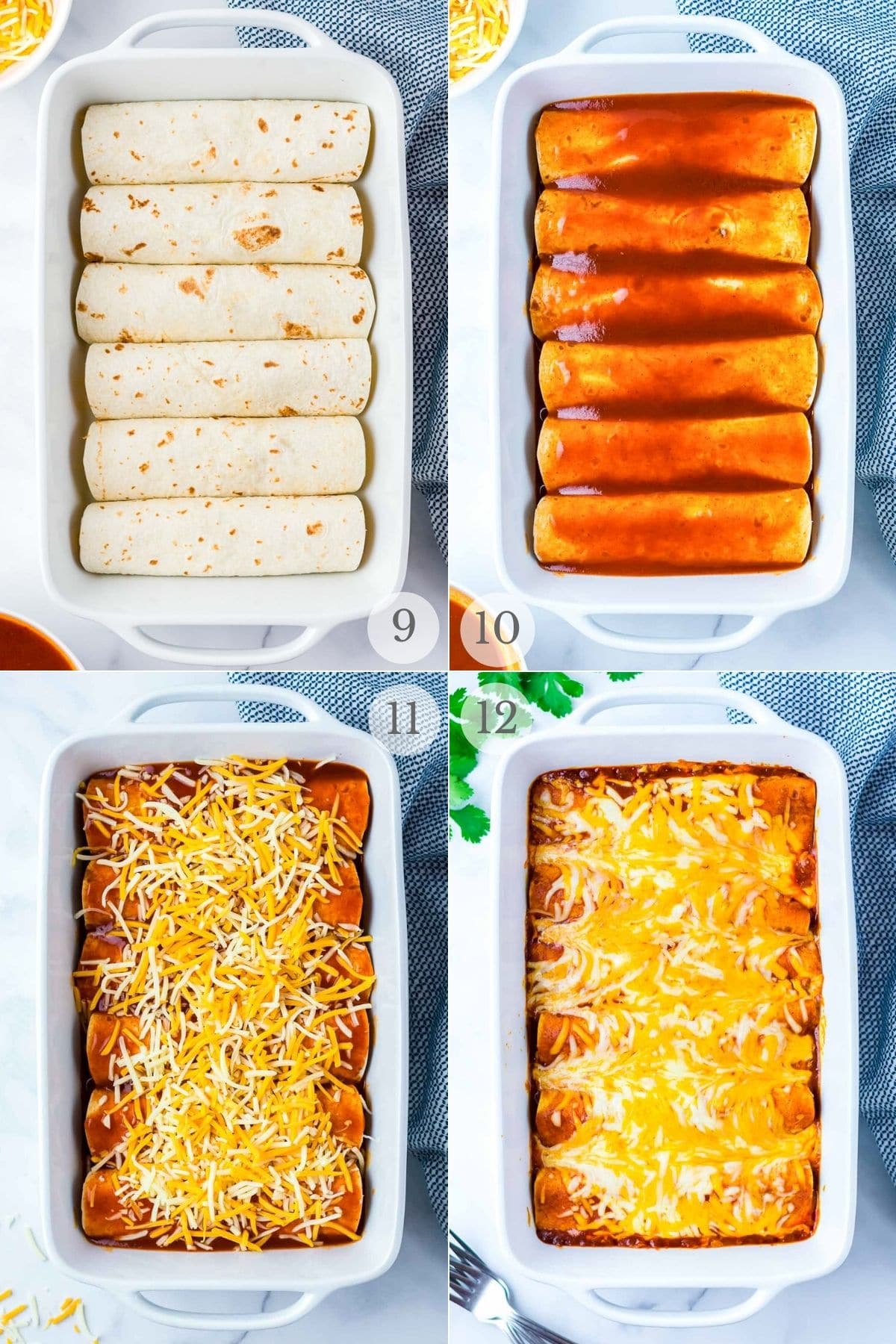 STEP 4. Finish and bake
When all the enchiladas are in the baking dish drizzle the remaining enchilada sauce evenly on top (photo 10). Sprinkle on the cheese (photo 11).
Bake for 20 minutes until the cheese is melted and the edges of the tortillas are slightly crisp (photo 12).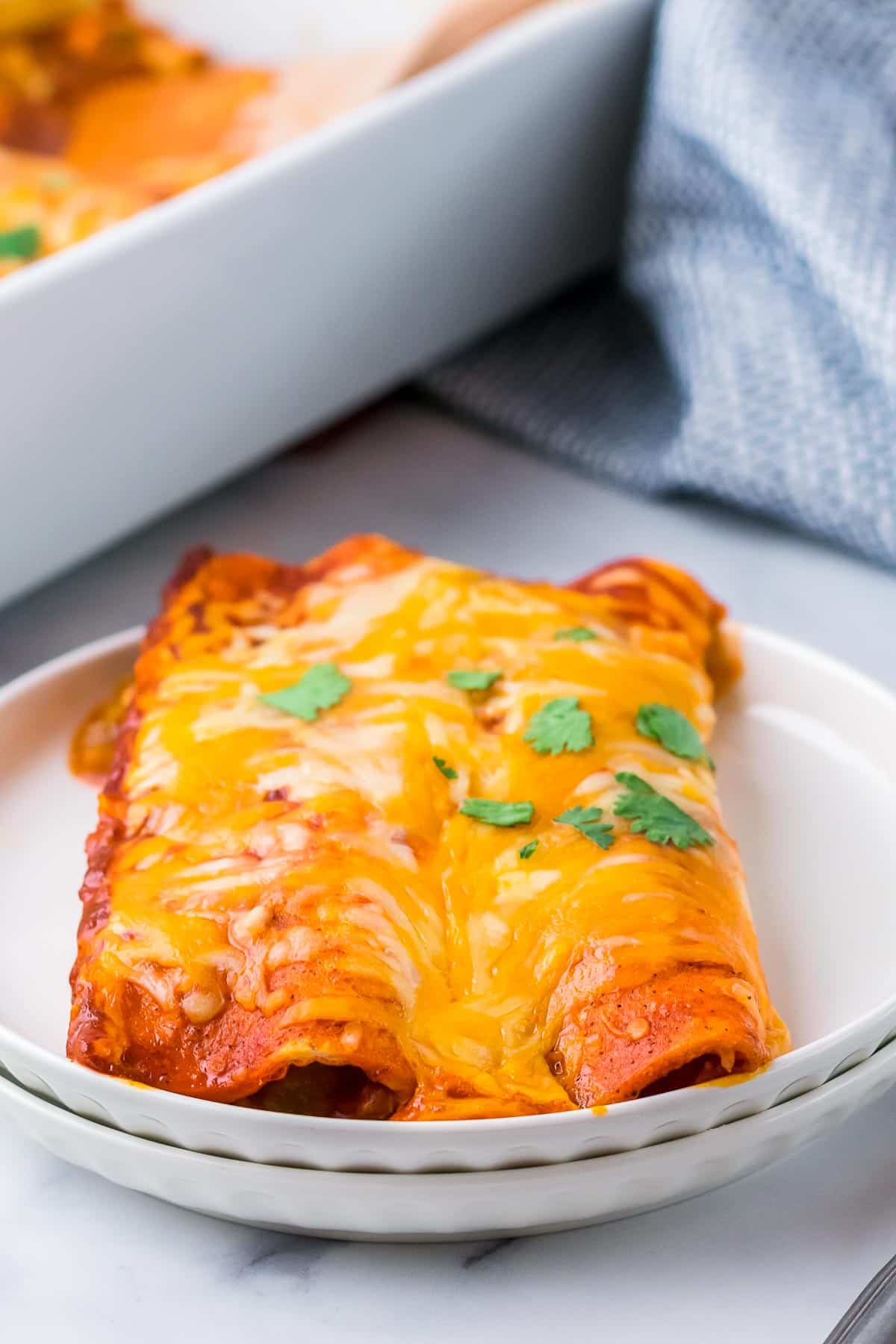 Pro Tips
Start off mild. You can always add spicy heat but you can't take it away. Depending on who is eating the enchiladas, we recommend using mild sauce and diced green chiles. You can always add spicy salsa when serving.
If avid spicy food lovers are dining you can pump up the base recipe with our suggestions in the Variations section.
Grate your own cheese for best melting. As convenient as store bought cheese blends are, they contain an anti-caking agent so the cheese doesn't stick together. This keeps it from melting like regular cheese will.
The one exception we've found is Tillamook brand Thick Farm-Style blends. They make a Mexican cheese blend that's perfect for this recipe. We now use it alot as a time saver.
Serve with sour cream to beat the heat. If you are serving mixed diners who all can't take some heat, serve with sour cream or Mexican crema to top. Dairy products quell spicy flavor (that's why some people drink milk with spicy foods!).
Check canned ingredients if gluten-free. Double check the ingredients for gluten for the canned enchilada sauce. We've found plenty of choices that are 'GF' but ingredients can change over time.
Storing Leftovers
Refrigerator
Allow the cooked enchiladas to fully cool. Cover tightly with plastic wrap or transfer them to an airtight container.
Store for up to 2 days and reheat in the microwave in individual servings.
Freezing Enchiladas
Allow the cooked enchiladas to fully cool. Cover the pan with plastic wrap followed by foil.
Freeze the entire pan (if it is a freezer-safe pan) for up to 3 months.
Thaw in the refrigerator.
How to reheat enchiladas
Cover the top of the baking dish with foil (remove any plastic wrap if previously frozen).
Reheat on 350 degrees until heated through.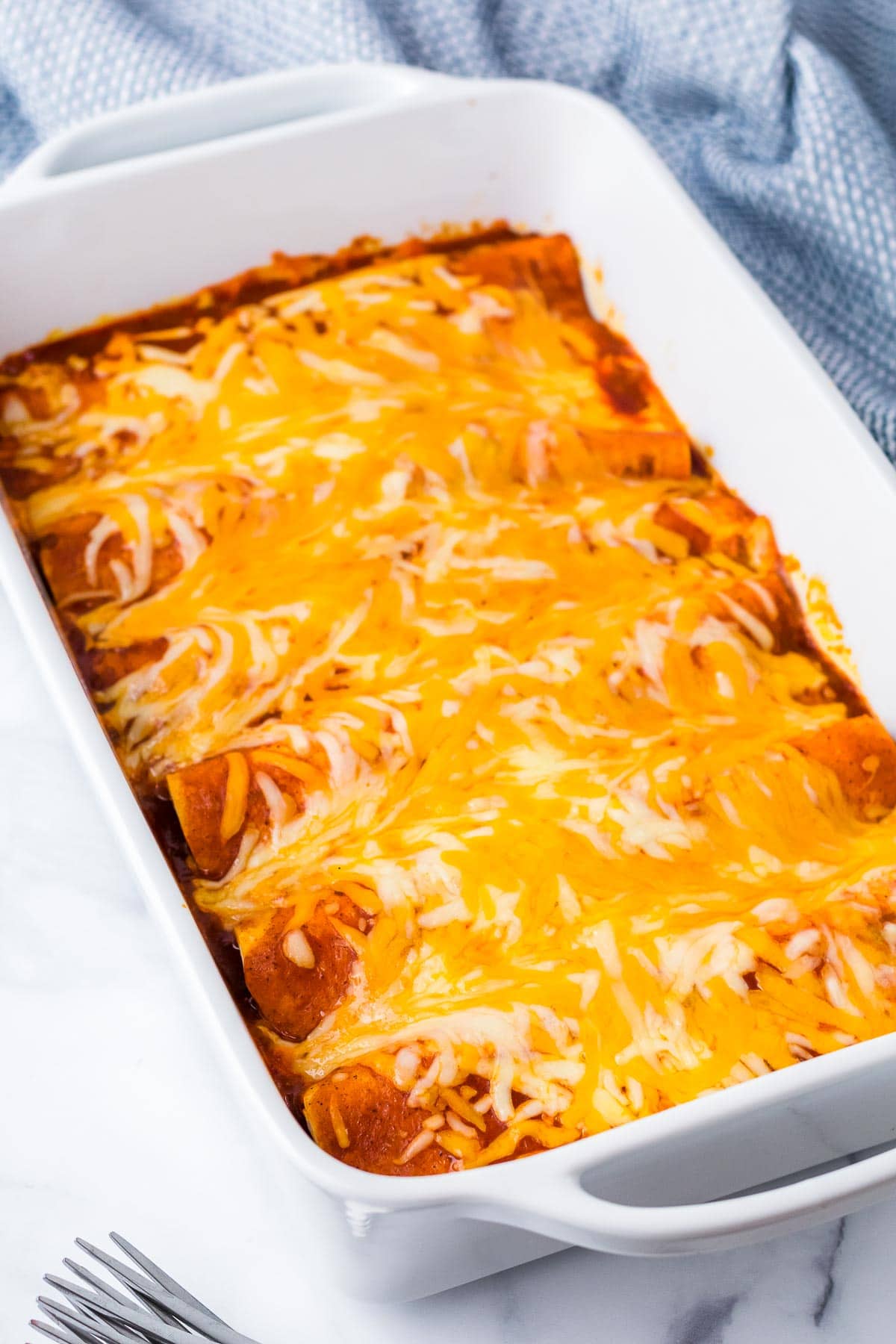 More Recipes You'll Love!
Did you make it? Please RATE THE RECIPE below!
Please
SUBSCRIBE
and
FOLLOW ME
on
FACEBOOK
,
TWITTER
,
INSTAGRAM
and
PINTEREST
!