Pickled Jalapenos add a spicy crunch to many dishes and are SO easy to make at home! Whip up this 10 minute recipe and have a jar in the fridge to add to tacos, sandwiches, burgers and more.

You've had these at your favorite Mexican restaurant.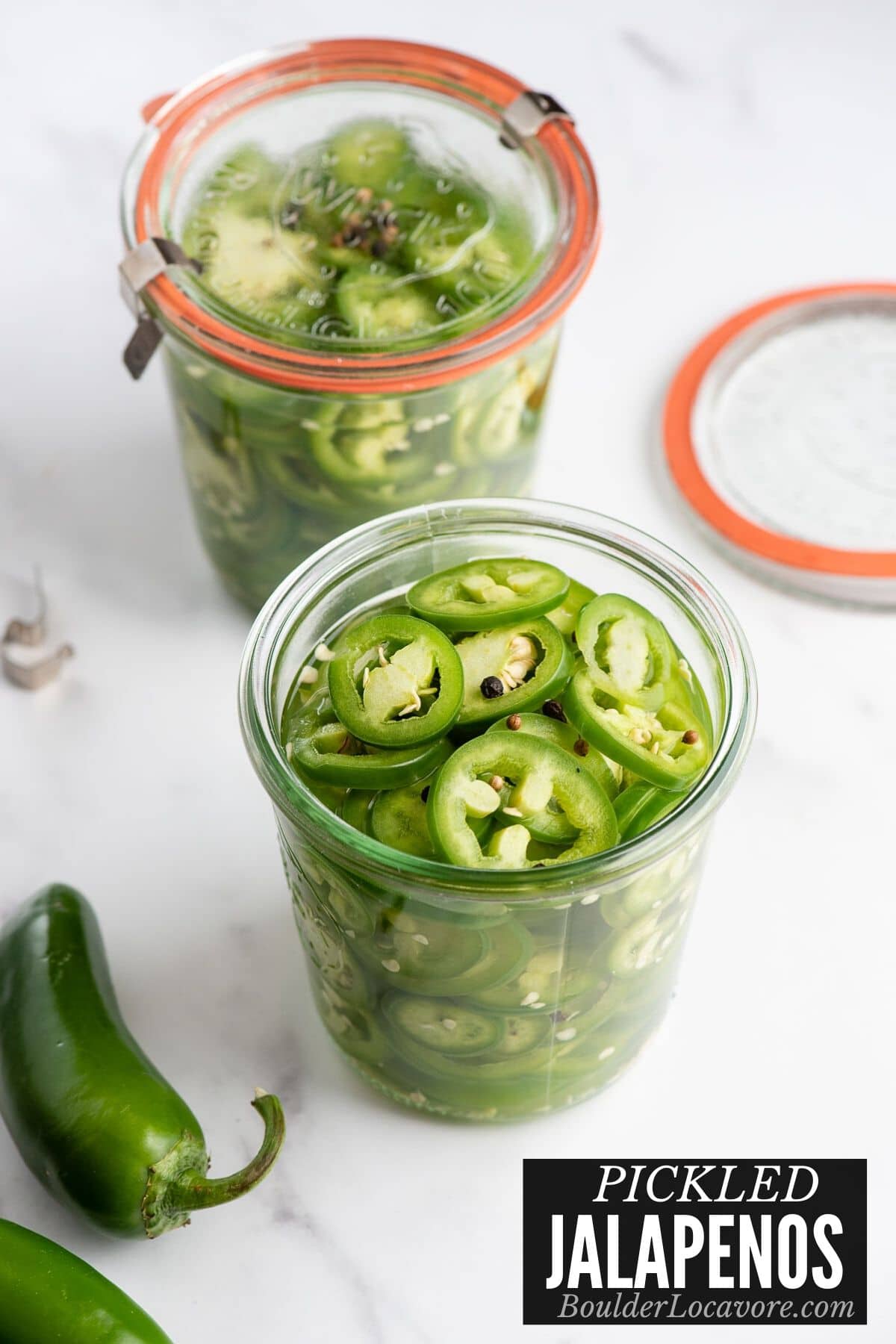 Tangy, spicy pickled jalapenos are the topping that gives almost any dish that special pop of flavor!
This recipe is a favorite because the pickles are crunchy!
Jump to:
Crisp Refrigerator Pickles
These delicious spicy homemade jalapeno pickles don't require any canning or fancy preparation.
Slice up the jalapenos and add them with a simple brine to jars to store in the refrigerator.
They are waiting anytime you have the urge to add them to your favorite recipes.
And that will be often after the first crunchy bite!
Recipe Ingredients
Jalapeno Peppers
Distilled White Vinegar
Water
Salt
Whole Peppercorns
Coriander Seeds
Jars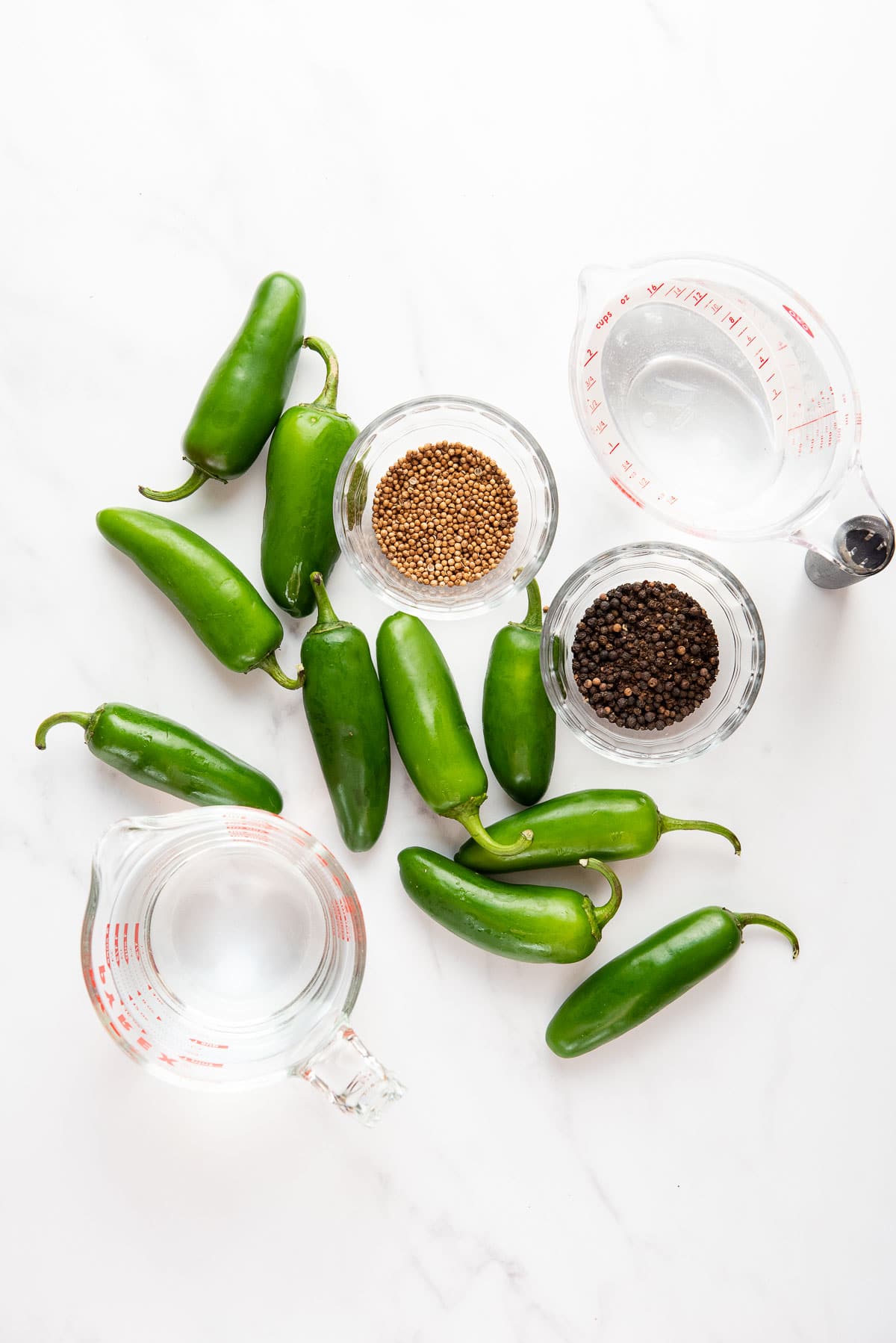 Selecting Jalapenos
Jalapeno peppers are a medium-sized hot pepper ranging from 2-inches to 6-inches in length.
They are a medium green color and are considered hot but more 'medium-hot' compared to other spicier chile peppers.
Because they will be sliced for this recipe the length doesn't matter. Select jalapenos that are a size you'd prefer for the size of the slices.
Also select fresh, ripe and unblemished peppers.
The skin should be smooth and shiny. Refer to the photos in this post.
What Type of Vinegar to Use?
Traditional canning recipes require a specific acidity level to ensure shelf-stable food safety.
Because this recipe is a refrigerator pickle recipe, any vinegar can be used.
Distilled White Vinegar retains the color of the jalapenos and doesn't get cloudy.
This is the vinegar I recommend for this pickle recipe.
Other vinegar like apple cider vinegar or white wine vinegar will give a slightly different flavor.
Rice Vinegar or Malt Vinegar could also be used in a pinch however the color and flavor of the pickles will be different.
NOTE: for gluten-free eaters malt vinegar DOES contain gluten.
What Type of Salt to Use?
Do not use iodized salt. Kosher salt, Sea Salt or even pickling salt may be used.

What Jars to Use?
This pickled jalapeno recipe makes aproximately 4 cups.
That is the volume the jar or jars will need to hold.
Any jars with a lid will work. Be sure they are clean and sterilized (run through the dishwasher or rinse with boiling water).
Mason jars or recycled jars are great.
I love Weck canning jars (shown in the photos) so use those.
They also have plastic snap on lids instead of the glass lids.
I like pint jars which hold about 2 cups of pickles.
No Sugar Recipe
There are many recipes for pickled jalapenos that include sugar.
If you buy a jar at the store and look at the label you'll note they do not contain sugar.
This recipe also does not contain sugar. The pepper slices have a wonderful flavor from the salt brine.
When TO add Sugar
There is a situation when adding sugar has a purpose.
Adding sugar will bring down the heat or spiciness of the jalapenos.
If you'd prefer to dampen the heat add 1-2 tablespoons of granulated sugar to the vinegar-water mixture when boiling.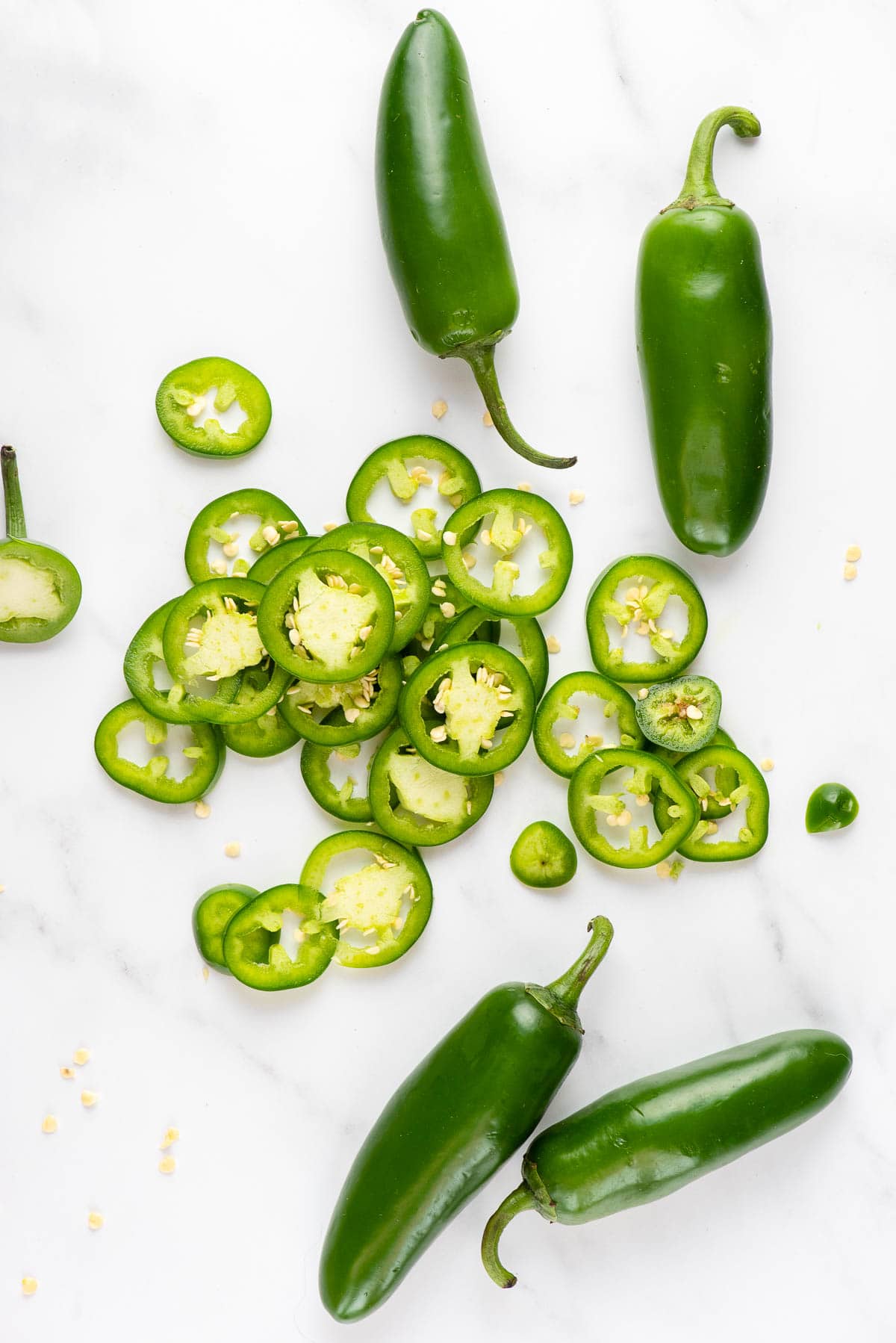 Slicing the Jalapenos
With a Knife
Use a large sharp knife to cut the jalapeno across the pepper to create evenly thick slices.
Using a Mandoline Slicer
To make the jalapeno slices the same thickness using a mandoline slicer is a great choice.
This is my preferred method because it's easy, fast and all slices are the same.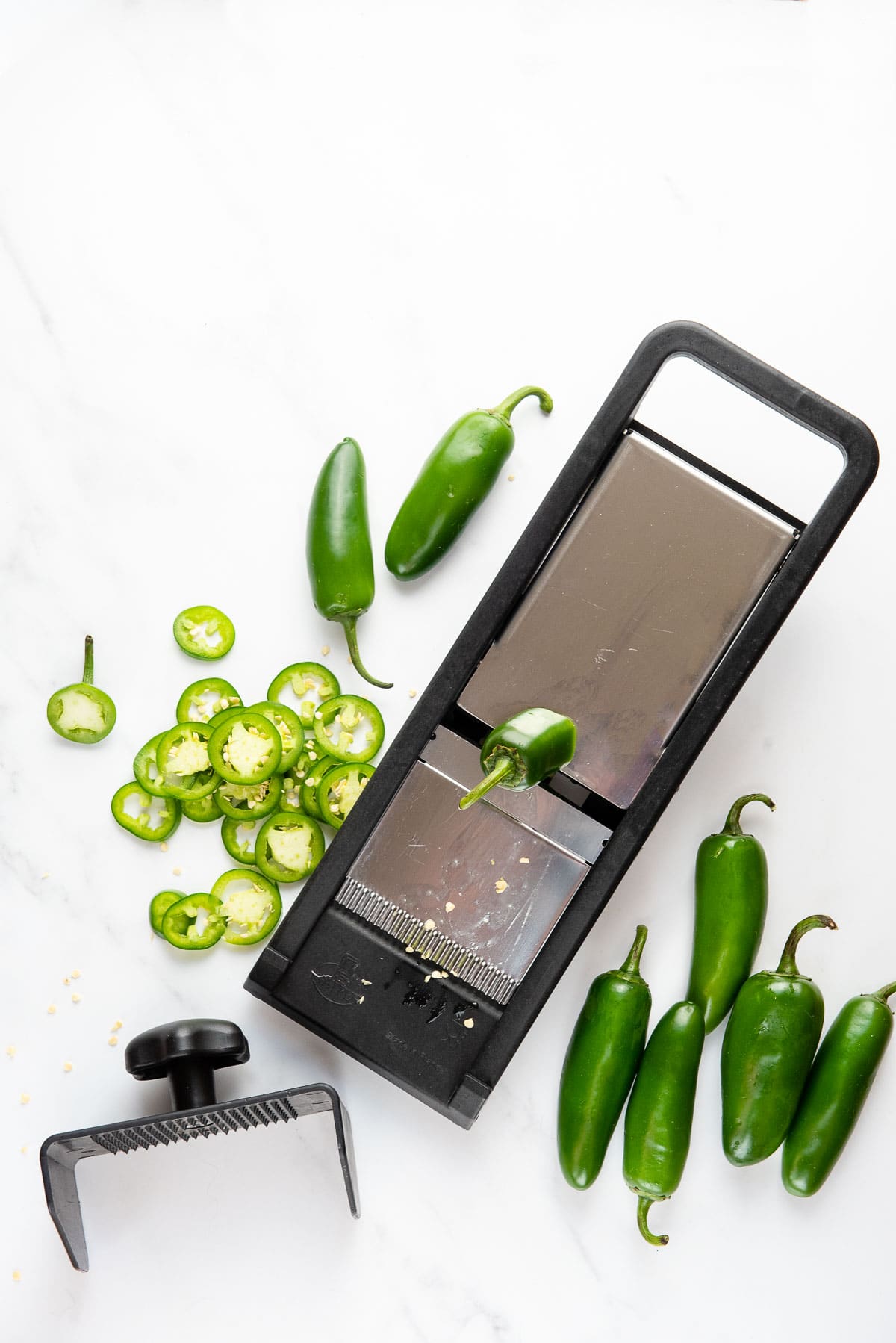 For this recipe 1/4-inch thickness is perfect.
However if you want really slim slices or a thicker slice, a mandoline allows setting that easily.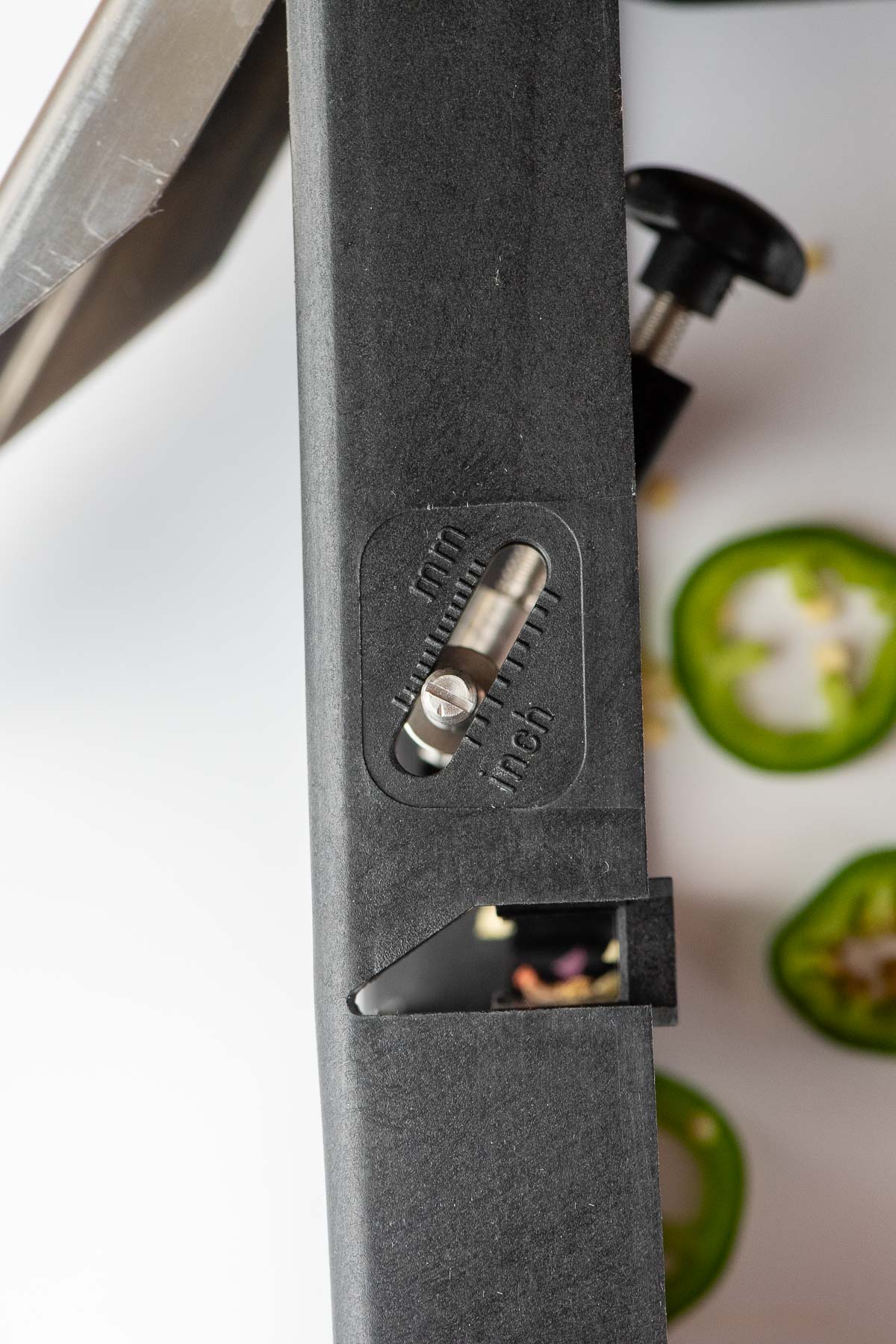 I recommend using a mandoline with a guard.
The guard is a piece that fits on top of the ingredient being sliced to protect your hands from the blade.
Mine is pictured in the photo with the mandoline in the bottom left.
Having said that, it's tricky to use a guard on a jalapeno pepper.
You can manually pull the jalapeno over the mandoline blade, carefully then manually slice the last of the jalapeno when it's too close to the blade.
How to Make It – Step-by-Step
STEP 1: Slice all the jalapeno peppers evenly. I recommend 1/4-inch thickness. They can be sliced as thin as 1/8-inch to as thick as 1/2-inch.
Place the pepper slices into the clean sterilized jars (photo 1).
STEP 2: Combine the vinegar, water and salt in a an (photo 2). Bring to a boil, stirring to dissolve the salt.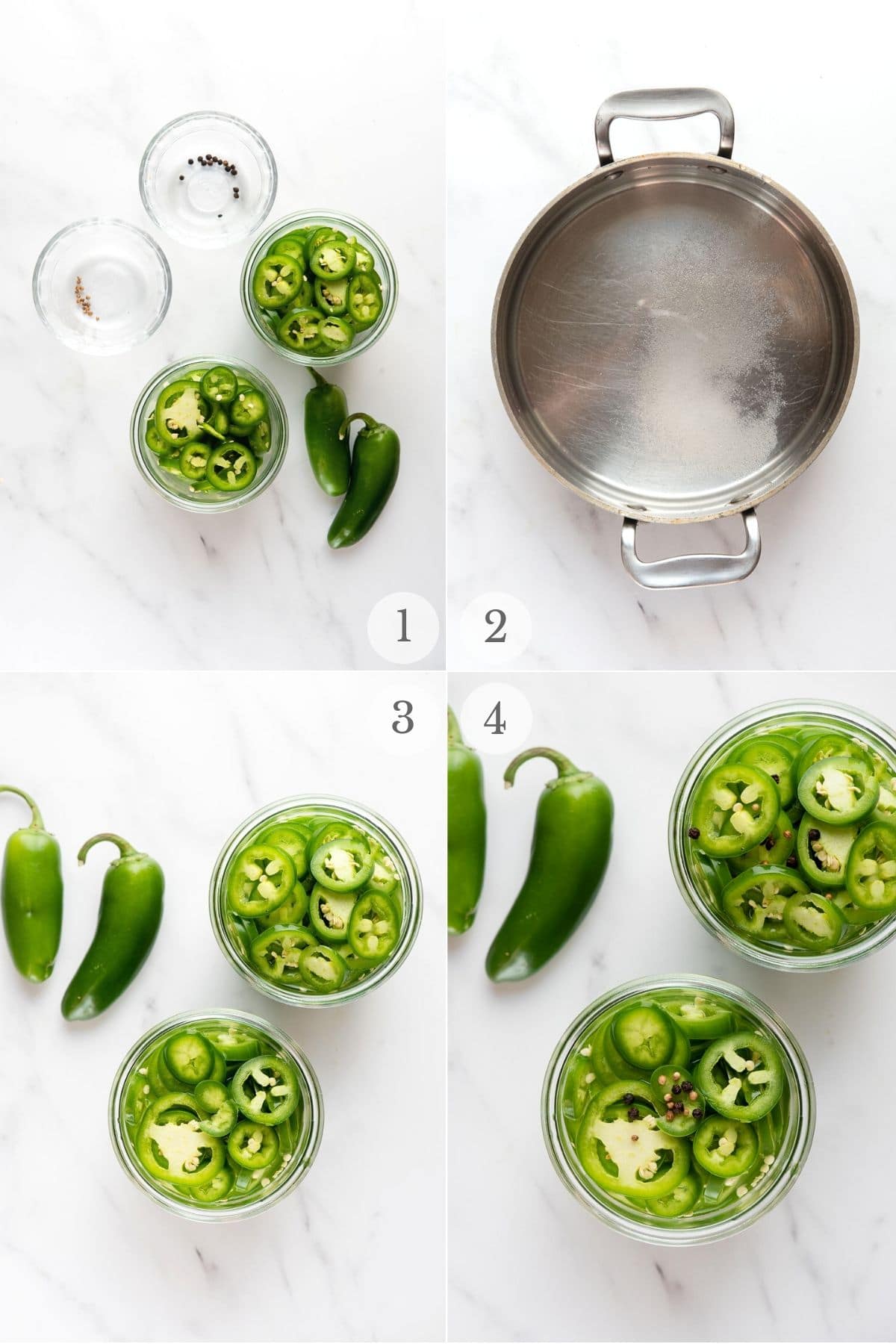 STEP 3: Pour the brine into the jar(s) with the jalapenos (photo 3). Add the peppercorns and coriander seeds on top (photo 4). Seal and refrigerate.
Pro Tips
Wear Gloves or Wash Hands after handling Jalapenos
When slicing jalapenos, or any hot peppers, the spicy oil from the pepper will transfer to your hands.
An accidental scratching of your nose or rubbing your eyes will let you know!
When working with jalapeno peppers wear food safe gloves or be sure to wash your hands thoroughly afterwards.
Do not Boil the Jalapeno Slices
For this recipe the jalapenos are put into the jar and the brine poured in.
The jalapenos are not boiled with the brine.
This keeps the jalapenos from becoming soft. They'll still have a satisfying crunch.
Use Some Sugar to Lessen the Spiciness
If you want less spicy pickles add a bit of granulated sugar to the brine.
Sterilize the Jar(s)
Even though this is not a traditional canning recipe, always sterilize the jars before starting.
Run them through the dishwasher or pour boiling water in them for a minute.
How Soon Can They be Eaten?
As quickly as 20 minutes after making them!
The longer the jalapeno slices sit in the brine the more flavorful they will become.
How Long do They Last?
Keep the pickled jalapenos in the refrigerator for 1-2 months for best results.
How to Use Pickled Jalapenos
There are so many ways to enjoy these spicy little quick pickles I couldn't even name everything.
BUT here are some favorite ways to enjoy them:
On Tacos: Fish Tacos, Tacos Al Pastor, Carnitas Tacos, Street Tacos or Breakfast Tacos. Any kind of taco is better topped with these tangy pickled gems.
On Sandwiches: Pulled Pork Sandwiches, Barbecue Beef Sandwiches, Grilled Cheese Sandwiches, Southwestern Sub Sandwich.
In Salads: Macaroni Salad, Chicken Salad, Mexican Quinoa Salad.
In Soups: Homemade Chicken Soup, Mexican Green Chile Steak Soup, Jalapeno Turkey Noodle Soup.
Garnishing recipes like Queso Fundido dip, Mexican Chicken and Rice Skillet or Grilled Watermelon with Smoked Salt and Jalapeno Rings.
Once you start eating them you'll realize how many dishes are perfect for them! Just like Quick Pickled Red Onions!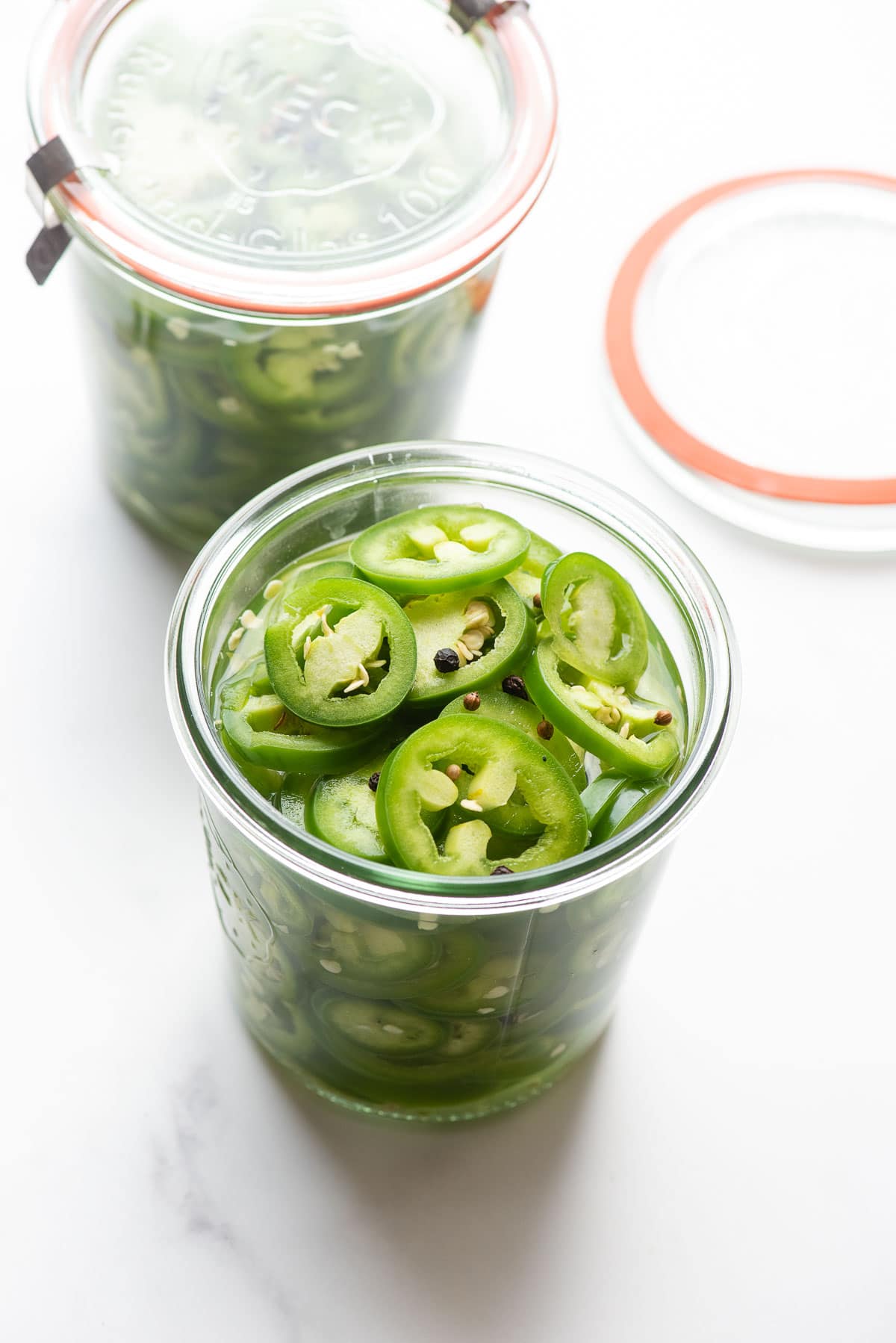 Recipe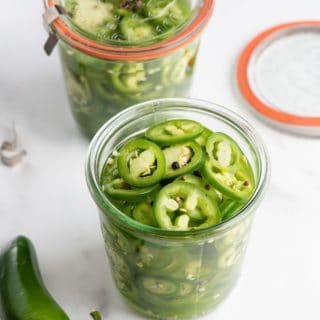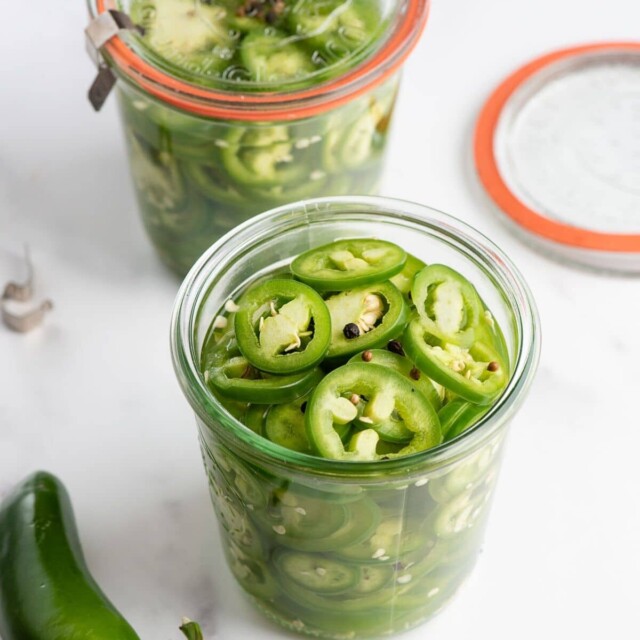 Pickled Jalapenos
This quick pickled Jalapeno recipe takes about 10 minutes and requires no canning! It makes spicy refrigerator pickles with a great crunch!
Print
Save Recipe
Recipe Saved!
Pin
Rate
Servings:
34
2-tablespoon servings (total yield: approximately 4 1/3 cups)
Ingredients
1

pound

Jalapeno Peppers

2 1/4

cups

White Distilled Vinegar

2 1/4

cups

Water

1/2

ounce

Non-Iodized Salt, sea salt or Kosher Salt

10

whole Peppercorns

10

Coriander Seeds
Instructions
Slice the jalapenos 1/4-inch thick, discarding the stems. Using a mandoline is recommended but not required. Consider wearing food-safe gloves or washing hands thoroughly after slicing.

Add the sliced jalapenos to the jar or jars being used.

Combine the vinegar, water and salt into a small saucepan and bring to a boil to dissolve the salt.

Pour the liquid into the jar(s) of jalapenos. Add the peppercorns and coriander seeds.

Seal and place in the refrigerator for up to one month.
Nutrition
Calories:
8
kcal
|
Carbohydrates:
1
g
|
Protein:
1
g
|
Fat:
1
g
|
Saturated Fat:
1
g
|
Sodium:
163
mg
|
Potassium:
37
mg
|
Fiber:
1
g
|
Sugar:
1
g
|
Vitamin A:
144
IU
|
Vitamin C:
16
mg
|
Calcium:
5
mg
|
Iron:
1
mg