Tangy, spicy Buffalo Sauce is a classic and so EASY to make at home. It takes only 5 minutes! This version has passed the 'die hard friends from Buffalo' test as being very close in flavor to the original secret recipe.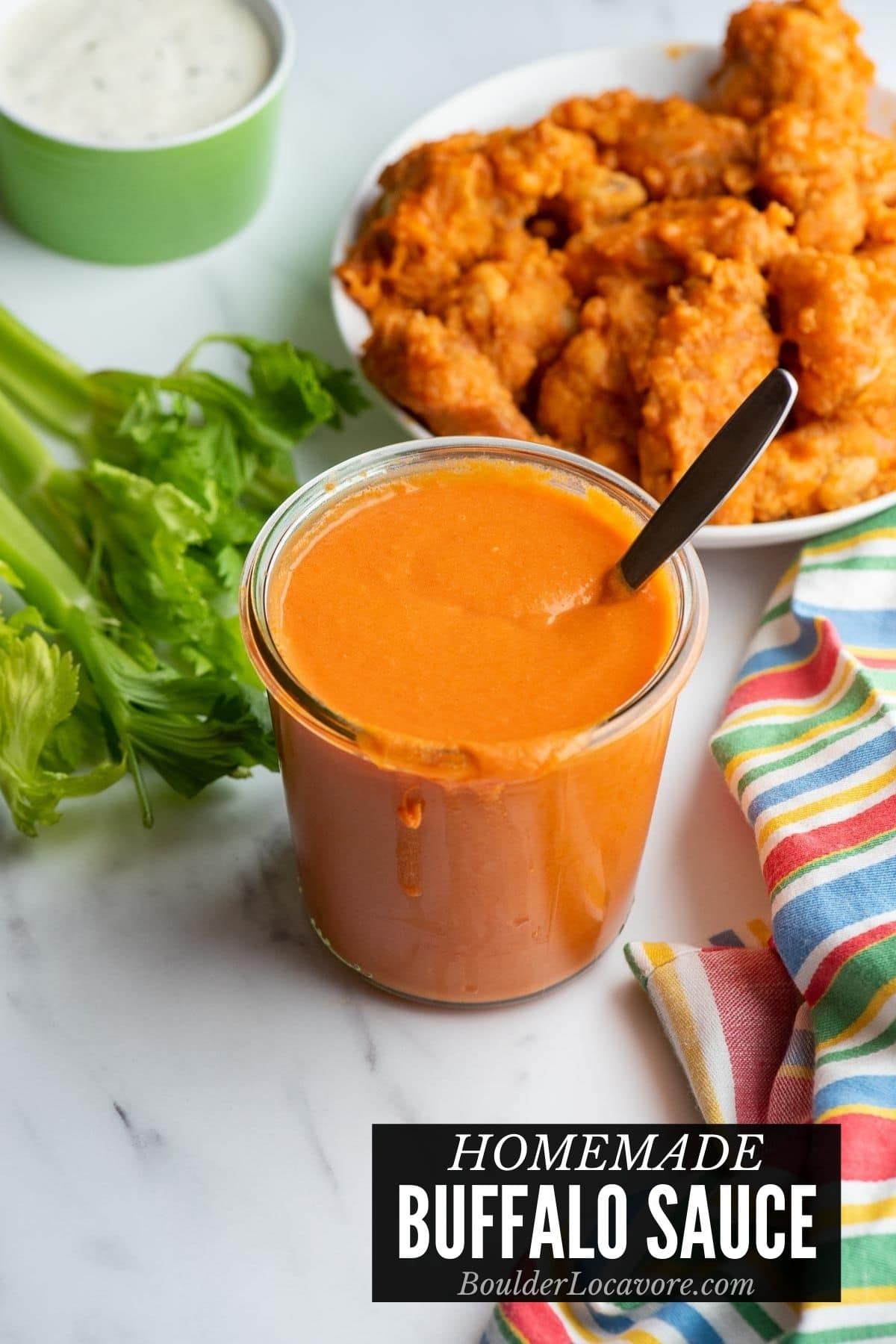 Every person I've ever known from Buffalo New York has been passionate about two things: bowling (and/or hockey) and Buffalo Wings.
No surprise since buffalo wings were invented there.
After a great deal of research and experimentation I've come up with a homemade Buffalo Sauce that has passed the test of my friends from Buffalo.
It's perfect for wings but so many more things. Suggestions included below! It's fast and easy to make at home.
Jump to:
Why is it Called 'Buffalo Sauce'?
Because of where it originated. The Anchor Bar in Buffalo New York is the home of the original buffalo wings.
One evening in 1964 some friends of the bartender came in late and starving. He asked his mother to whip something up for them.
Low on options late at night, she deep fried some chicken wing portions with a 'secret sauce' and the rest is history.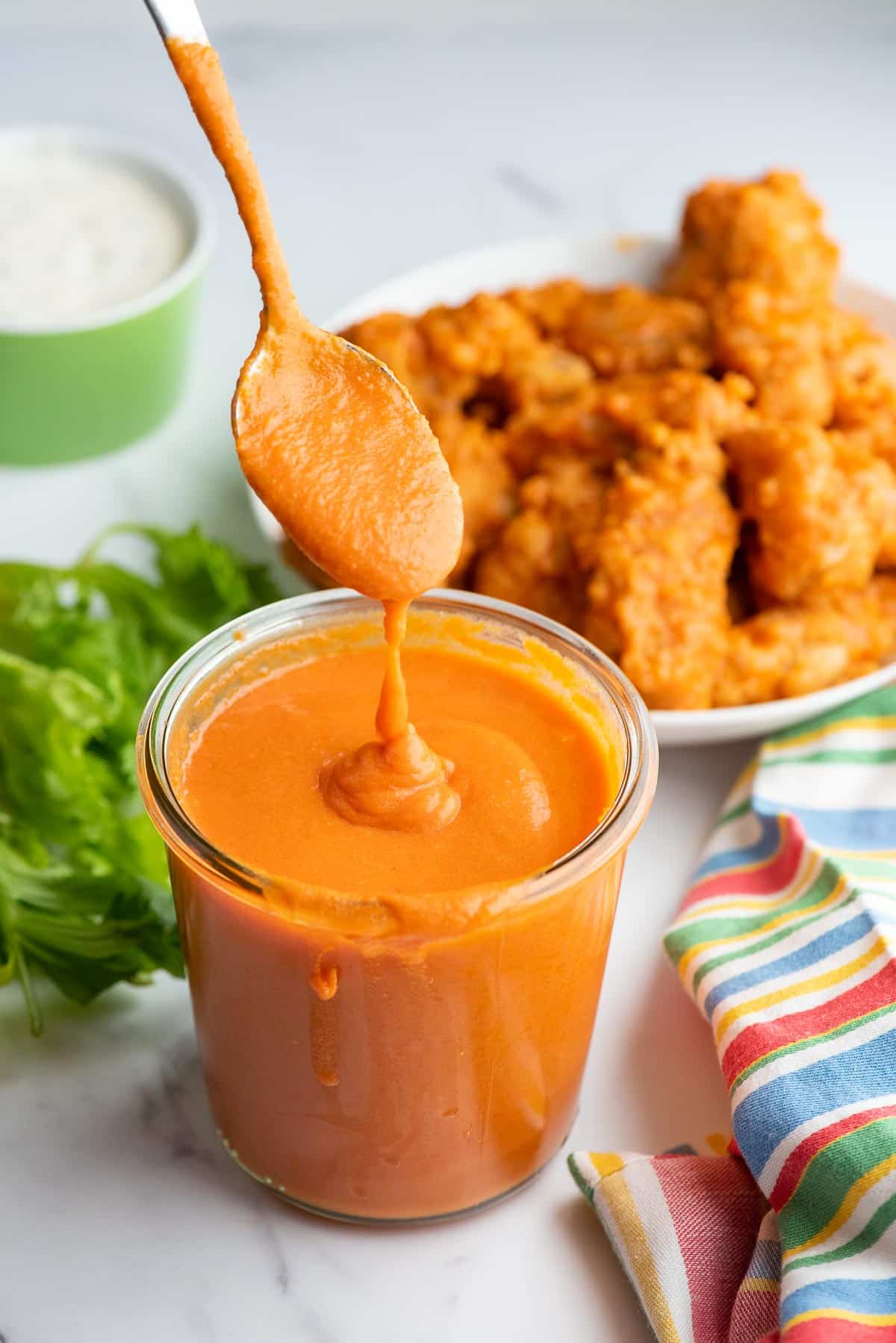 What IS Buffalo Sauce?
It's a tangy, spicy sauce. Think hot sauce with vinegar and some seasonings to make the flavor deep and delicious.
The Secret Ingredient
The original buffalo sauce recipe has never been published.
However locals often have a friend, or friend of a friend, who will tell you buffalo sauce has to be made specifically with Franks HotRed Original Cayenne Pepper Sauce.
They insist that was in the original sauce and that it's a crime to make it with any other hot sauce.
Frank's hot sauce packaging also says: "The great flavor of Frank's RedHot made it the secret ingredient used in the original Buffalo Wings created in Buffalo, N.Y. in 1964."
It's a medium hot sauce with an earthy cayenne flavor. It makes a delicious base for the recipe.
Fortunately Frank's it's a widely available brand at grocery stores and online!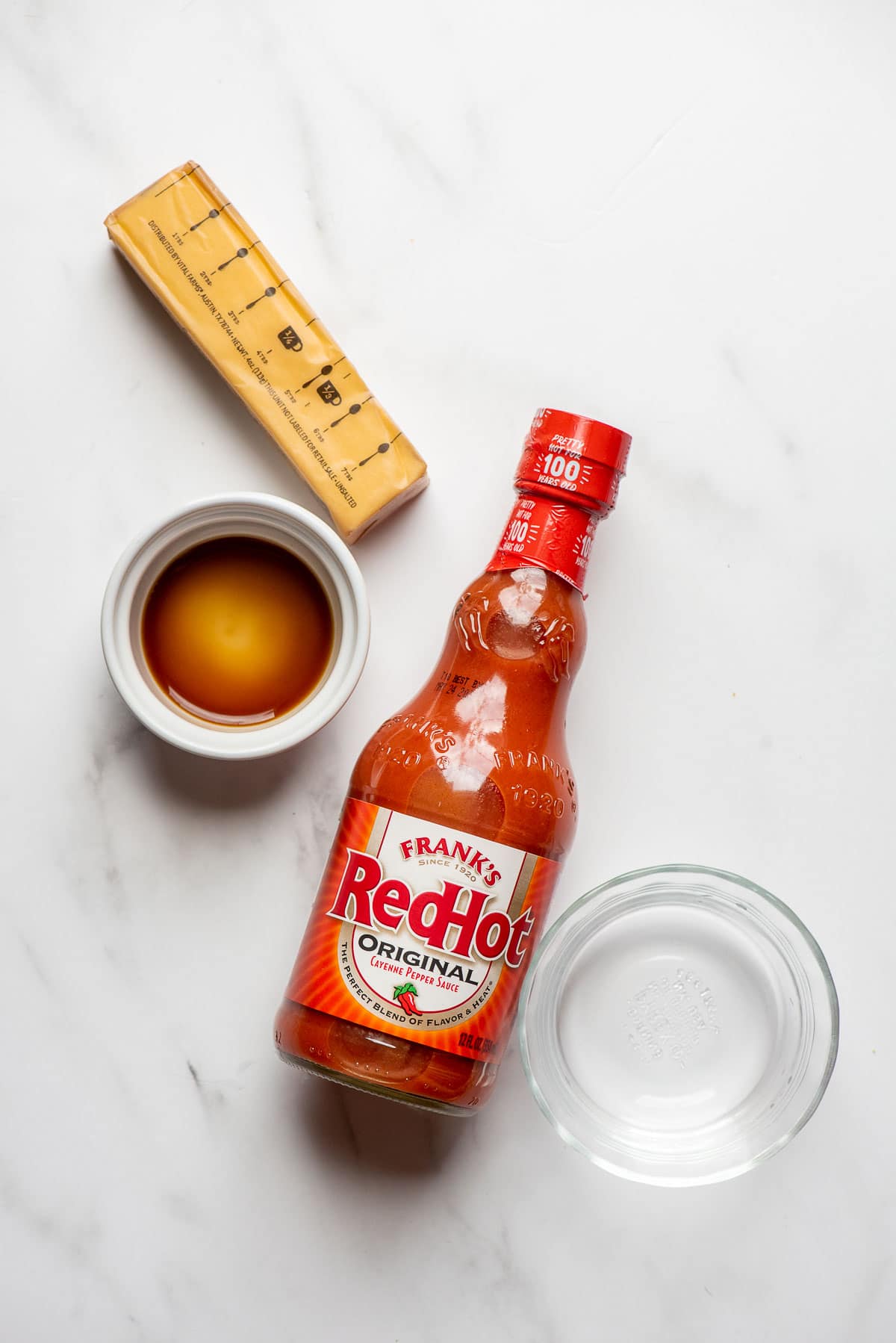 Recipe Ingredients
The recipe is really simple especially when using Frank's Hot Sauce as a main ingredient.
Some maintain all that is needed is the hot sauce and butter but I think this combination is truer to the real original sauce:
Frank's Hot Red Original Cayenne Pepper Sauce – do not use Frank's prepared Wing Sauce. Use the original cayenne pepper hot sauce.
Unsalted Butter – there is salt in the hot sauce so it doesn't need more from the butter. Don't substitute margarine.
Distilled White Vinegar – this vinegar has a strong true vinegar flavor that is perfect for this sauce recipe.
Worcestershire Sauce – that little something that rounds out the flavors to be just right!
Some people add garlic powder but the hot sauce has garlic powder in it. I personally do not add it for the base sauce.
How to Make it Spicier
This recipe is medium spicy. For those who want a super hot sauce add 1/4 teaspoon Cayenne Pepper to the sauce.
Always taste before adding spices to not over add spices.
How to Make it – Step-by-Step
It will take less than 5 minutes to make this delicious sauce!
STEP 1: In a saucepan over LOW heat, melt the the butter. Do not allow butter to simmer or boil. REMOVE FROM HEAT.
NOTE: if the butter is hot when added to the other ingredients the sauce will not mix together well.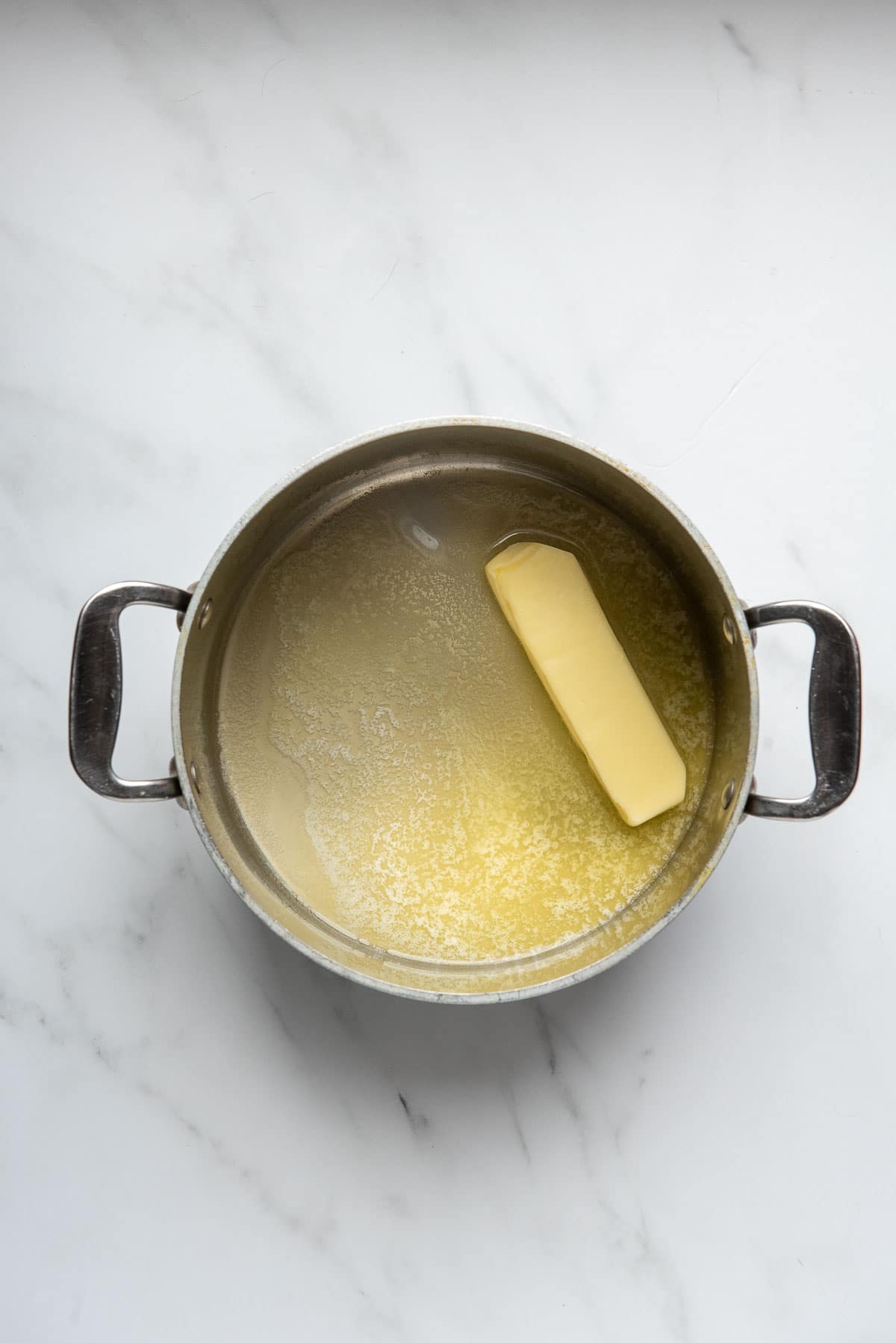 STEP 2: (Off the heat) Add the rest of the ingredients: Frank's hot sauce, distilled white vinegar and Worcestershire sauce.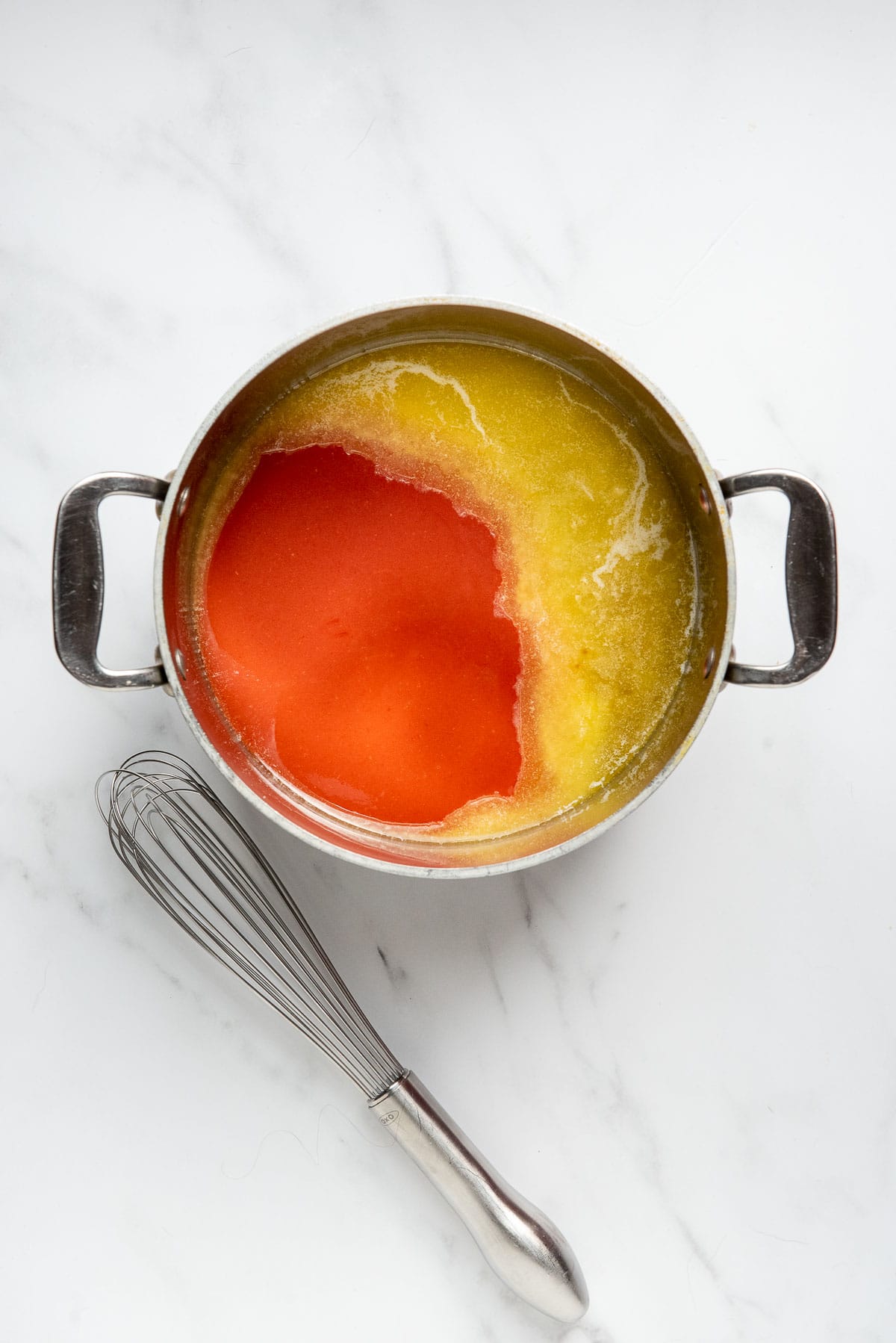 STEP 3: Whisk until the sauce fully incorporates and is smooth.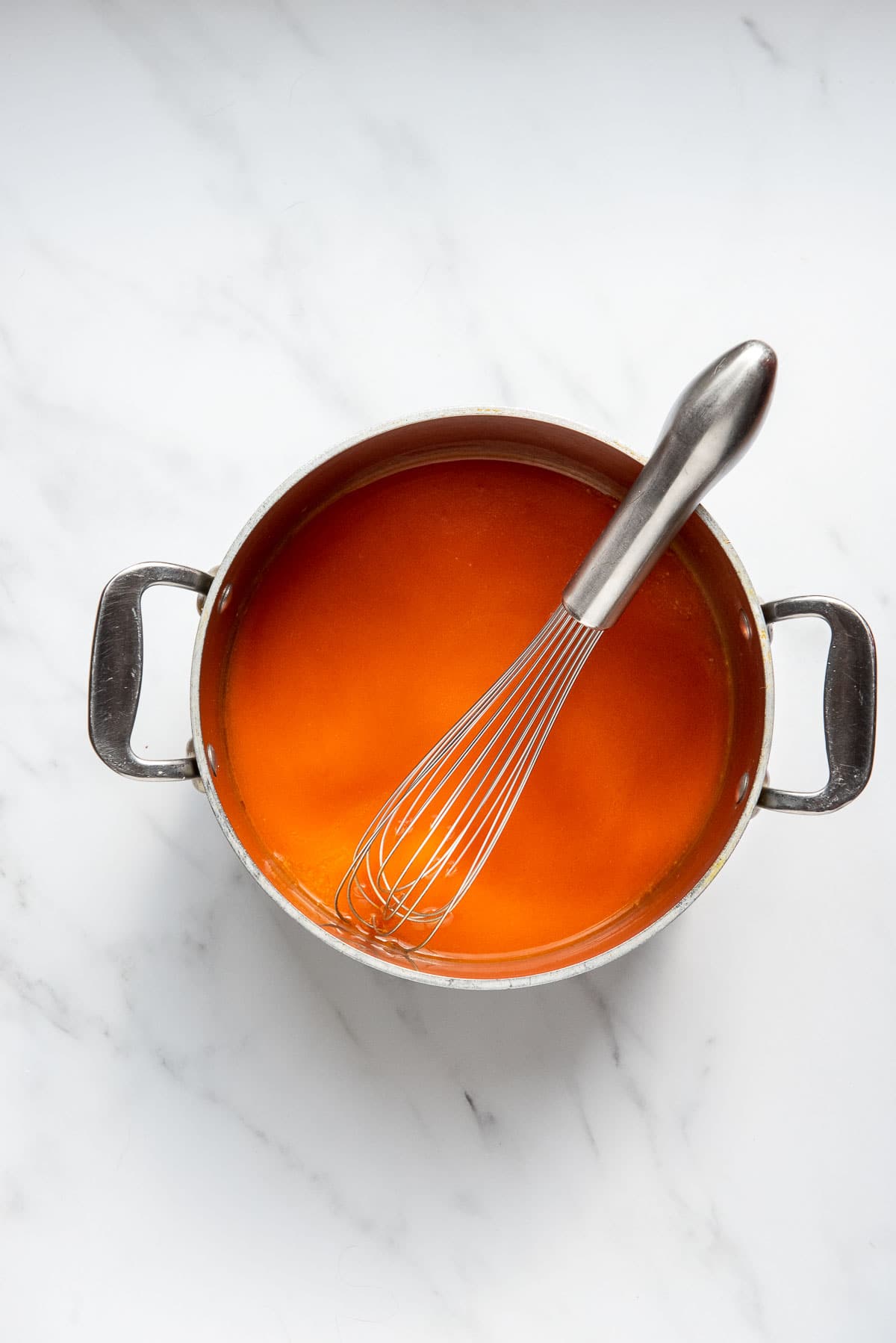 Variations
Add 1-2 diced fresh chopped Garlic or Black Garlic for a more roasted garlic flavor
Try some Honey to sweeten the sauce
How to Use it
Recipes to Use it

Pro Tips
Do not keep the butter on the heat and add the additional ingredients. The sauce will 'break' or separate and will not fully combine.
The butter may also be microwaved to melt it and then the other ingredients whisked in. The sauce will not be warm if doing this however.
How to Store it
Store sealed in a glass container for up to 1 month.
It should not separate when sealed but if it does, stir to combine.
To reheat do so over low heat so the sauce does not separate.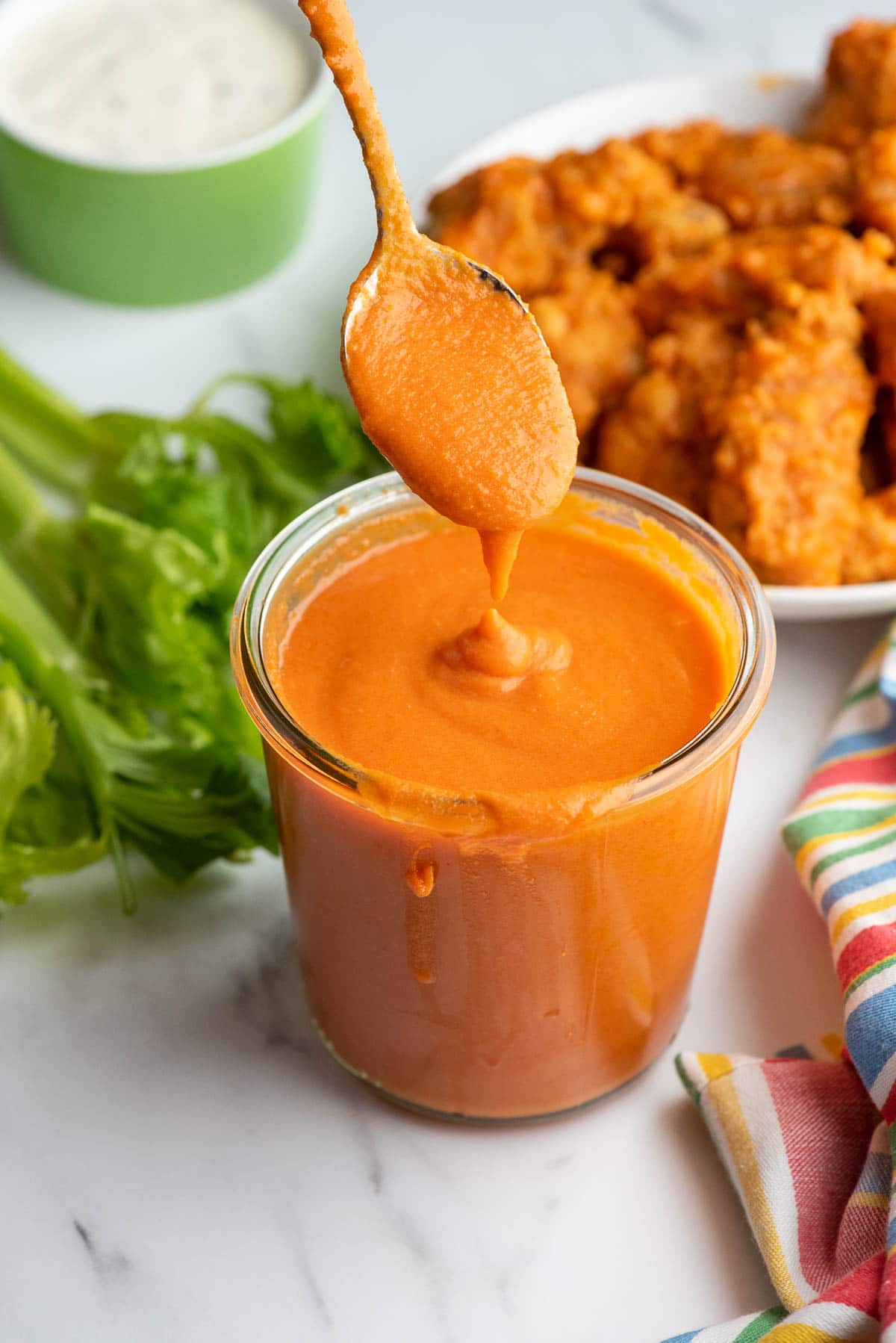 Recipe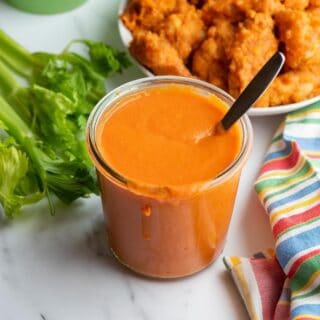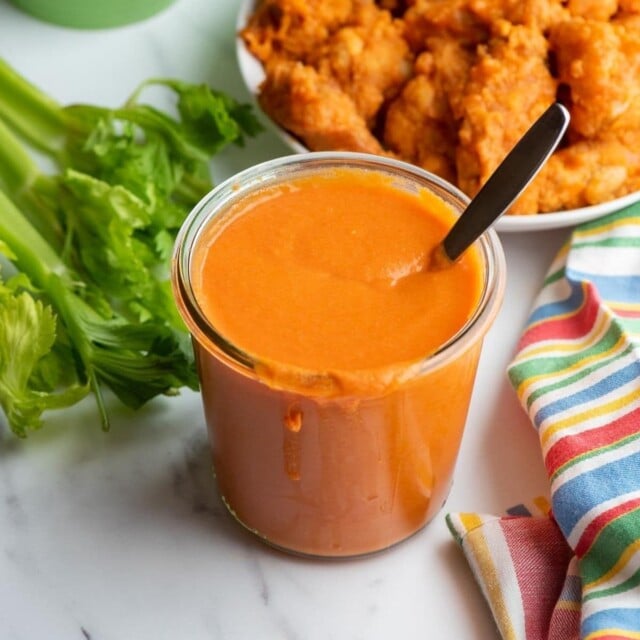 Homemade Buffalo Sauce
Spicy tangy Buffalo Sauce is a classic on chicken wings and so much more! It's easy to make yourself and customize to your taste preferences!
Print
Save Recipe
Recipe Saved!
Pin
Rate
Servings:
10
2-tablespoon servings (total yield 1 1/4 cups)
Ingredients
1/2

cup

Unsalted Butter

2/3

cup

Frank's RedHot Original Cayenne Pepper Sauce

2

tablespoons

Distilled White Vinegar

1/4

teaspoon

Worcestershire Sauce
Optional (to make it hotter/spicier)
1/4

teaspoon

Cayenne Pepper
Instructions
In a small sauce pan over LOW heat, melt the butter. Remove from heat when fully melted.

Whisk in the Frank's Hot Sauce, vinegar and Worcestershire sauce until fully incorporated.

To Make Hotter/Spicier: if after tasting the sauce you'd like it spicier, add 1/4 teaspoon of Cayenne Pepper.

Use immediately or store in a sealed glass container in the refrigerator.
Nutrition
Calories:
84
kcal
|
Carbohydrates:
1
g
|
Protein:
1
g
|
Fat:
9
g
|
Saturated Fat:
6
g
|
Cholesterol:
24
mg
|
Sodium:
426
mg
|
Potassium:
23
mg
|
Fiber:
1
g
|
Sugar:
1
g
|
Vitamin A:
330
IU
|
Vitamin C:
12
mg
|
Calcium:
4
mg
|
Iron:
1
mg