I read no further than the title of this recipe in the now defunct Country Home magazine before becoming completely smitten, tearing it out and stashing it in my 'to make' binder (the old school version of a Pinterest board).

 

Despite the sound of the title, the magazine was cool.

 

No gingham bonnets or cow milking tutorials.

 

It played to the hip, young shabby chic loving crowd who liked distressed authentic finds, interesting current recipes with approachable charm, and who sought to bring a rural feeling vibe into their urbanized lives.

 
I had no imagination of what Hummingbird Cake would be like and I did not care.  Nor did the girl at my neighborhood grocery store who gawked at the recipe title I had in hand at the check out counter and gasped 'Hummingbird Cake!  I don't even know what that is but I want to make it….NOW!'  A kindred victim of good recipe titling.
I can now tell you Hummingbird Cake is a perfect marriage between Banana Bread and Carrot Cake.

 

Lighter than carrot cake, almost crumbly (though still in a moist way) yet bearing the distinct (though not overpowering) flavor of banana.

 

It has a Cream Cheese Pecan frosting which gives a nod toward the Carrot Cake family and the look of something you'd find in a fairy glen.
I set out to make the cake on a snowy day, seemingly perfect for baking.

 

And one might expect an ethereal baking experience when making something like Hummingbird Cake; light, airy and magical.

 

Though the recipe was easy I somehow was over or under caffeinated and it quickly turned into a daylong episode of the Marx Brothers.

 

The oven door would not close leading me to believe the racks inside were from the other oven.

 

Which then lead to me pulling them out from a fully heated oven, burning my hand only to learn the oven door just did not close all the way, period.

 

I then began to bake the batter which seemed a bit 'wet' only to realize I'd not put in the flour portion of the recipe.

 

This I realized half way through the baking of the cake layers.

 
The second making of the cake was much quicker and fortunately did not end in me burning anything down which would have been completely understandable from Round 1.

 

Once the three layers of cake came out of the oven everything slowed to

veritable

r

eenactment of normalcy and proceeded smoothly from there.
I love the look of this cake.

 

It is earthy, rustic but charming at the same tim
e.

 

The recipe provides for enough frosting to lightly frost between the layers and though visually more might seem better, the flavors are perfectly balanced.

 

To me it has the look and taste of a cool weather cake; light cinnamon, roasted bananas and the cream cheese frosting.
The Best Hummingbird Cake
Hummingbird Cake is a fantastic combination of banana bread and carrot cake (sans the carrots) with a completely beguiling name! This recipe never disappoints and delivers a specical treat for any occasion.
Ingredients
Ingredients for the Hummingbird Cake:

3 cups flour (gluten free or regular)
2 teaspoons ground cinnamon
1 teaspoon baking soda
1 teaspoon salt
1 cup granulated sugar
1 cup packed light brown sugar
3 large eggs, room temperature
1 cup vegetable oil
2 teaspoons vanilla extract
1 cup fresh pineapple, crushed (see below)
2 cups roasted bananas*, mashed (approximately 4 large or 6 medium-small bananas with peel left on; instructions below)
1 cup chopped pecans
Parchment paper to line bottom of the cake pan

Ingredients for Cream Cheese Frosting:

1 ½ sticks unsalted butter, chilled
3-8 ounce packages of cream cheese, chilled
1 teaspoon vanilla
1 ½ cups powdered sugar, sifted
1 ½ cups finely chopped pecans
Instructions
Instructions to make Hummingbird Cake:

Preheat the oven to 350 degrees.
*Place bananas on a cookie sheet with peels left on. Bake in the oven for 12 minutes until the skins are black (the bananas may leak which is fine). Remove and let cool until they can be handled. Peel bananas, place in a small mixing bowl and mash. Set aside. Leave the oven heated to 350 degrees.
Butter and flour 3-9 inch round baking pans. Trace the bottom of the pan (for all three pans) onto parchment paper, cut out circle and place in the bottom of each pan.
In a sifter over a large mixing bowl combine the flour, cinnamon, baking soda and salt. Sift into the bowl. Set aside.
In a second large mixing bowl combine the granulated and brown sugar; stir to combine. Add the eggs and stir briskly by hand to combine all ingredients into a smooth mixture.
Whisk the oil and vanilla into the sugar/egg mixture until combined and smooth.
Add the flour mixture all at once and hand stir (do not beat) to combine the mixture fully.

To crush the pineapple:

Place 1 cup of finely diced fresh pineapple in a medium mixing bowl and using a potato masher, crush the pineapple. Add the fruit and juice to the batter. Also add the mashed banana and the pecans. Stir just until combined; do not over stir.
Divide the batter evenly between the three pans. Tap the pans on the countertop to release any air bubbles and place in the 350 degree oven for 25-30 minutes until cake bounces back to the touch and a toothpick inserted in the cake comes out clean.
Allow to cool in pans on racks for 5 minutes then turn out onto cooling racks to fully cool before frosting. Be sure to peel off and discard the parchment paper.

Instructions for Cream Cheese Frosting:

Cut sticks of chilled butter into 1 inch pieces and place in the bowl of a standing mixer (can use a hand held mixer if needed). Beat on low speed, gradually increasing speed to medium until the butter is still cool but has softened together (about 3 minutes).
Cut the cream cheese into 1 inch strips and add to the butter. Mix at medium speed until fully combined, and smooth.
Add the vanilla and slowly add the sifted powdered sugar. Beat until well blended, increasing speed to beat on medium-high for 3 minutes or until the frosting becomes light and fluffy.
Fold in pecans by hand.

Instructions for Cake Assembly:

Place the first layer of cake upside down (the bottom of the cake will be frosted) on the serving plate. Cover with 2/3 cup of frosting. This will be a thin covering.
Place the second layer of cake right side up (flat cake bottom onto the frosting) and frost the top of this layer with 2/3 cup again (note: I found I needed just a bit more to cover this layer).
Place the last cake layer with cake right side up and use the remaining frosting to cover top of cake and the sides.
4. Allow cake to stand at room temperature 30 minutes before serving and store any uneaten cake in the refrigerator. Cake best when made the day prior to serving!
Notes
Adapted from Country Home magazine (2008)
http://boulderlocavore.com/hummingbird-cake/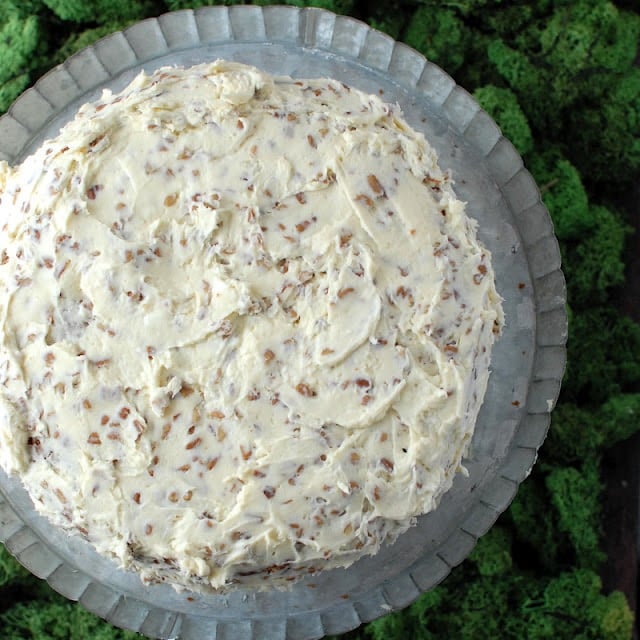 My thanks to reader Lori for prompting me to shake off the reverie of my food crush on this cake long enough to look into its roots.

 

It has been more popular in the southern U.S. with roots seeming to originate in Jamaica where the hummingbird is the national bird.

 

To read more, click here!