The final run for a Super Bowl menu touchdown is happening now and I for one can't imagine watching the Big Game without a great, mouthwatering dip.  I'm not a regular chip-and-dip eater but absolutely love it when the time is right.  I personally prefer something hearty with great flavor (like Green Chile Bacon Cheeseburger Dip), texture and one that feels substantial.  Nothing runny or wimpy for this occasion.  It needs to be a serious scoop and I have just the dip!
My favorite food genre for warmth and comfort would have to be Mexican or Southwestern cuisine.  I love the bold flavors, the textures, and the colors.  Making a Slow Cooker White Green Chile Queso Dip sounded pretty darn perfect to me for a few reasons.  When entertaining there are usually 40 things going on at once.  Replenishing food while hanging out with friends and family can be distracting.  What if you could throw ingredients into a slow cooker and keep it warm for guests to serve themselves?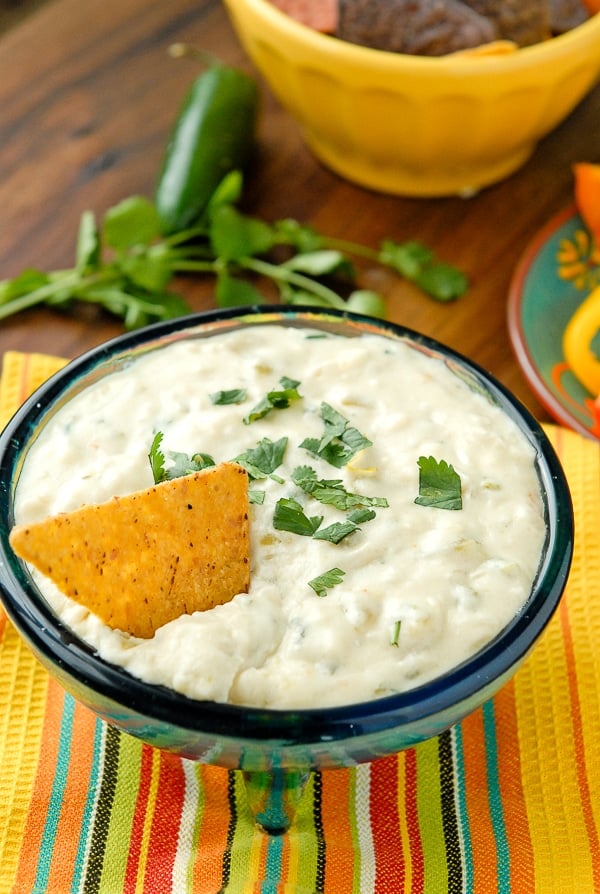 This Queso Blanco Dip is made with authentic Asadero Mexican cheese.  It can be found in well stocked cheese departments at the grocery store or at Hispanic Mercados.  It is a light, creamy white cheese without an overwhelmingly distinct flavor.  It pairs wonderfully with the green chilies and jalapeno to make an appetizing, scoopable dip.  The ingredients are simple and the preparation might be ten minutes tops.  Stirring a few times while the cheese is melting will help it blend nicely together.  After two hours on low, the slow cooker can be set on warm to keep the dip loose and ready for dunking some of your favorite 'dippers'.  Trying to focus on healthier eating, I loved dipping colorful sweet pepper strips.  Any vegetable would be a great option to dip along with colorful corn chips, crackers, tortillas or bread sticks.  The dip itself has good flavor but is not too spicy.  Should you like to spike it up, try using spicy corn tortilla chips.
A wonderful partner dip is Chile con Queso which also is a melted cheese dip with tomatoes (all blended together).  If you are a cheese-lover as I am, these dips really are irresistible!