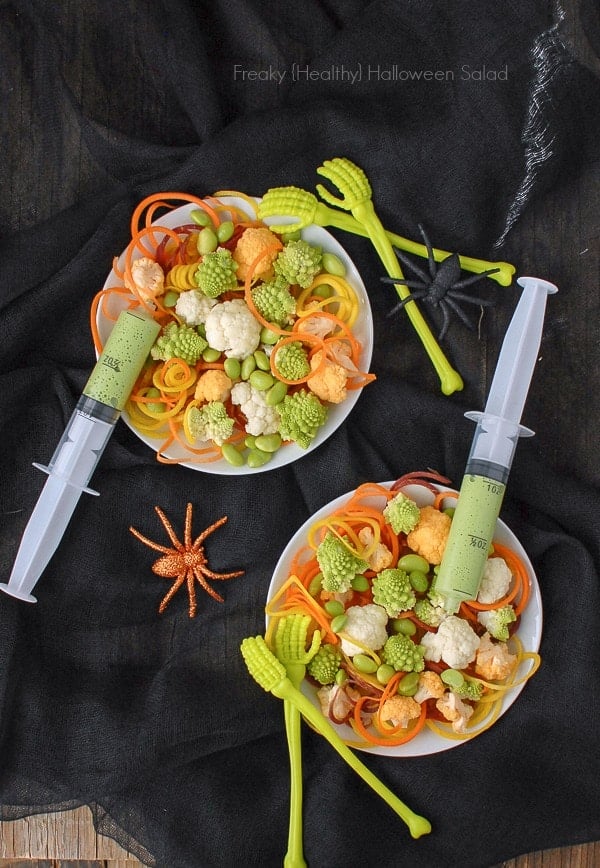 Whether hosting a Halloween party or just setting up a nosh-and-go set of food options for my Trick-or-Treaters, I always try to have some healthy options.  As compelling as it is to eat treats like Red Devil Cupcakes, Great Pumpkin Piñata Cake or Cinnamon Witch Bits, we all know the downfall of the sugar cycle.  Anticipation and excitement seem to only amplify the sugar consumption with adrenaline, guaranteed to plummet sooner versus later.
The key I've found is to make the dishes fun and just as alluring as the sweet treats.  I've had great success with recipes such as Diablo Eyeballs (taco meatballs) in Black Bean Pasta, 'Candy Corn' Chicken Quesadillas, Pumpkin Chipotle Cream Sauce on gluten-free pasta and Black Quinoa with Brown-Butter Sage Butternut Squash and Pepitas.  They get equal play time to 'Off with Your Hand' Halloween Punch and Graveyard Cupcakes!  The reality is a blend of healthy, savory dishes and sweets make for everyone to feel their best.
This time of year is so fun to create some freaky dishes merely with produce in season.  I really wanted a salad to add to my Halloween menu this year and knew tossed greens, even if we grew them in our own garden, just would not cut it.  I began to have visions of nests, and brains (too much binging on past seasons of The Walking Dead), aliens and eggs.  I did not have to look farther than my local neighborhood market!
Thanks to my Spiralizer and the variety of available carrots (traditional orange, light yellow, purple Dragon Carrots which have a bright yellow center) I was able to create a 'nest' of carrot noodles.  Should you not have a Sprializer, using a julienne peeler or even a regular vegetable peeler will produce long, thin shavings of carrots.
Don't you think cauliflower florets look like little brains?  To me they do so that seemed a perfect pairing.  White, orange and purple are usually available which makes for a fun visual.  One of my favorite vegetables is Romensco.  It's in the cauliflower/broccoli family and instead of rounded florets it has prismatic shapes that are outer worldly.  Both these vegetables have always been a favorite of mine to eat raw, which is the same for my children.  Lastly to pick up the protein, bright green edamame (soy beans) out of the shell are sprinkled on the salad.  They are available in the frozen section of most grocery stores already shelled.
The salad is served with a 'if-Ranch-Dressing-and-Green-Goddess-dressing-had-a-baby-what-would-it-taste-like' dressing.  The best of both worlds offers a ghoulishly green dressing with tangy flavors sans the anchovies thinking of little Halloween munchers.  I could not resist serving the dressing plate-side in cocktail shot syringes found in Halloween stores and online.
All in all it's a Freaky {Healthy} Halloween Salad that will stand up to the luscious, sinful treats you serve and at the same time, cleans up well for a fun non-Halloween option too: